New Year's Eve Fireworks in San Francisco 2022/2023


by Jill Loeffler  •

Updated: October 3, 2022
I always enjoy the New Year's Eve Fireworks in San Francisco. It's a gorgeous display over the waterfront near both the Ferry Building and the SF Bay Bridge. 
It's one of the most attended displays every year with hundreds of thousands of people in attendance. The display kicks off at 11:59 pm and lasts for about 15 to 20 minutes. 
On a clear night, it's definitely worth the time and effort it takes to get down here to see this amazing display as you ring in the new year.
Those looking for the best seats arrive around 7 pm. However, you can still arrive an hour and a half to two hours in advance and grab a seat.

To pass the time while you wait, bring along a picnic, some games (we love to play Charades), and enjoy your time with friends and family before the fireworks display starts.
You can also hop aboard a fireworks cruise for dinner, dancing, and a little drinking before the display starts. These sell out quickly and you will find more details on this option below.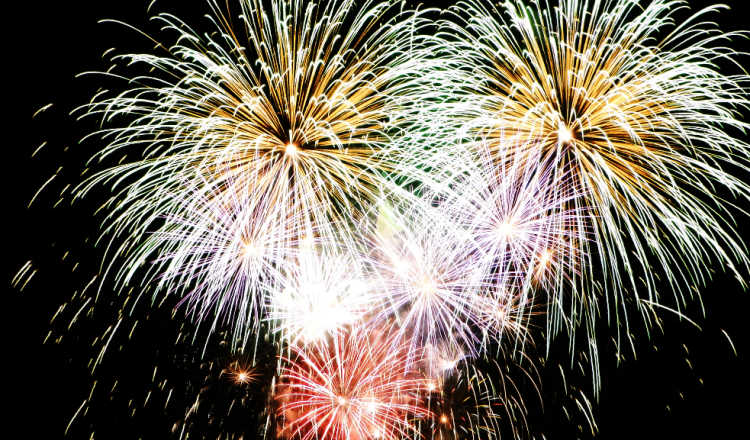 Disclaimer: I receive a small commission from some of the links on this page.

Best Places to See the Fireworks

You can watch the fireworks display anywhere along the eastern side of San Francisco by the waterfront. The fireworks are on a boat that sits in the water between the Ferry Building and the SF Bay Bridge. 
Your best bet (if you have the time to get there early) is to grab a seat somewhere along the waterfront to the south of the Ferry Building. There are huge sidewalks here, where you can stake out a spot and wait for the show to begin.
If you find a spot near the Ferry Building, make sure you are on the waterfront side, not in front by the street. You will see some of the fireworks from this area, but your view will be obstructed.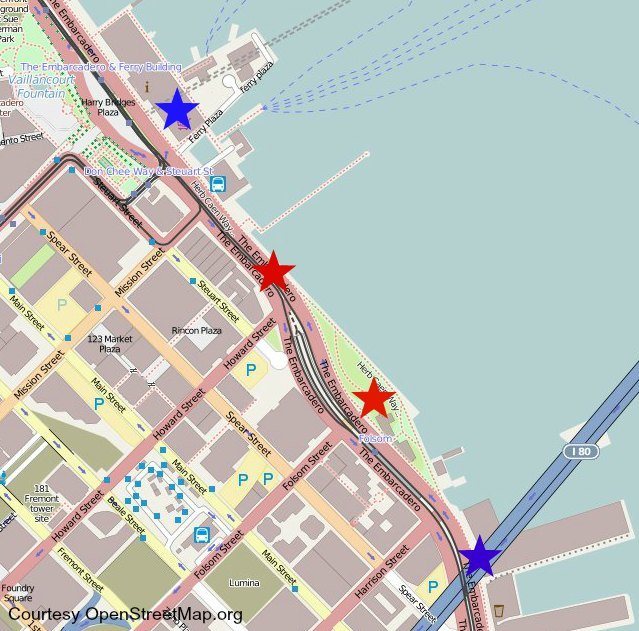 The blue star at the top is the Ferry Building. The blue star at the bottom is the Bay Bridge. The two red stars in between are great spots to check out. 
The one at the top offers quite a bit of sidewalk space with a few benches right along the waterfront. If you get there in time to grab some bench space, it will make waiting a little more comfortable.
The bottom red star is Rincon Park. This is where you can grab a seat on the grass with your blanket and see unobstructed views of the show.

Cruises

If budget is not an issue, I highly recommend getting tickets for a fireworks cruise. This allows you to hang out and enjoy a night of fun while you wait for the display to start.
Many offer dinner and drinks as well as live entertainment. They also have the BEST views of the show once it starts. 
Click here for an overview of the cruises for this year's New Year's Eve Fireworks in San Francisco. 
Restaurants with a View of the Fireworks

There are also several restaurants nearby with a view of the show. These places fill up quickly and often offer a prix fix menu for the evening, so you can eat, have a few drinks, and hang out at your table until the show starts. 
Here are a few places to check out. 
Waterbar: This high-end restaurant has the perfect view of the display. They are right along the waterfront in front of the fireworks display. They serve up sustainable seafood options and have an amazing wine list. 399 Embarcadero
Epic Roasthouse: Right next door to Waterbar is the Epic Roasthouse. This high-end steak house also has amazing food and views of the fireworks. 369 Embarcadero.
Terrene: This restaurant is inside the gorgeous Hotel 1. The entire east wall is windows, so you can easily see the fireworks from here. They also have an outside area, where they often hold a party every NYE. Eight Mission Street
Sens: This Mediterranean Restaurant has an outdoor patio where you get some great views of the show. It's to the north of the Ferry Building, but its on the upper level of the building where you can see the display. 4 Embarcadero Center
Book your tables early as these places fill up quickly. You can book them either through OpenTable.com or directly through the restaurant.

More Fun Things to Do Before the Fireworks Display

Here are a few additional events happening on the afternoon and early evening. More will be added as New Year's Eve approaches.
Museums & Attractions: Visiting some of our top museums and attractions is another fun things to do while waiting for the New Years Eve fireworks in San Francisco. Here are a few ideas to help you plan your day.
Tours & Cruises: You will find a variety of tours and cruises running all day long on New Year's Eve Day. It's a fun way to enjoy the day as you wait for the fireworks to begin. Here are a few of my top pics.

Getting to the Fireworks Display

SF Public Transit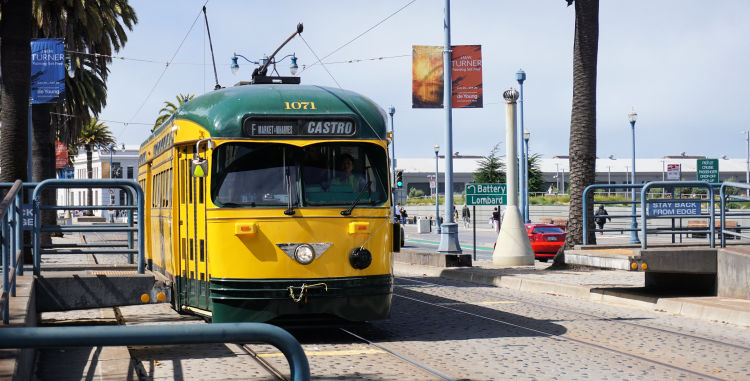 If you are coming from within SF, you can take BART or the Muni Light Rail trains to the Embarcadero Station. You can also take the F-Street Car line to the Ferry Building (it's a bus service all day instead of the trains) or the California Cable Car to the end of the line near the Hyatt Regency.
These buses drop off within a block of the viewing area: 1, 2, 6, 9, 14, and 38.
SF Muni often runs late on New Year's Eve to accommodate everyone trying to get around the city safely. They also add a few additional routes to their late night schedule to make it even easier.
Each year they also offer free transit from 8 pm to 5 am.

BART & Caltrain

If you are coming from the east and south bay, BART is your best option. Take it to either the Embarcadero or Montgomery Street Stations. Both get you within a few blocks of the action.
BART often runs late on NYE, so you have plenty of time to catch the train home after the fireworks.

Caltrain also offers additional trains home after the fireworks display. 

Click here for additional details on BART & Caltrains on NYE.

Driving

I'm sure you won't be surprised when I say that traffic is completely crazy this night. I highly, highly recommend that you take public transit. However, if you do decide to drive, here are a few parking options near the Ferry Building. 
75 Howard Garage: You will find a decent sized garage on the corner of Howard and Steuart. It's close, but will fill up fast. Get here early to find a spot.
Rincon Center: There is also a public parking garage at 121 Spear Street. You enter and exit on Spear between Howard and Mission.
100 Pine Street: This lot is about half a mile from the Ferry Building.
Embarcadero Center: You will also find a reasonable number of spots in the garage under the Embarcadero Center. It's between Clay and Sacramento Streets. You enter on the side streets of Front or Davis.
Washington & Embarcadero: There is a small, flat parking lot here with just a handful of spots. If you are here early, it's a great place to look for parking.
235 Pine Street: Another option that is about a half mile away from the Ferry Building is the garage at 235 Pine Street. 
Places to Stay Nearby

You will find several places within walking distance of the New Year's Eve Fireworks in San Francisco. Given the number of people that attend, I highly recommend finding a hotel nearby to ease the burden of getting home after the show.

Right Along the Waterfront

There are two great places that are within a block or two of the New Year's Eve Fireworks in San Francisco. 
Hyatt Regency: The Hyatt Regency is just across the Embarcadero from the Ferry Building. It's a great place to stay if your budget is not too tight. This four-star hotel offers great amenities and is also close to public transit and other attractions. Check for availability for the Hyatt Regency
1 Hotel: 1 Hotel is also right on the Embarcadero. It's also quite spendy, but a great place to stay if you want to see the fireworks. You can see them from a few places in the hotel, but there is no guarantee you can get a spot inside. However, you can just walk across the street to see the amazing show over the waterfront. Check for availability for 1 Hotel on the Embarcadero
Other Options

There are dozens of other options that are a quick walk or bus ride away. The weather is usually quite mild on New Year's Eve, so it isn't too hard to walk back to your hotel as long as you have on comfy shoes and aren't carrying too much stuff. 
As I mentioned above the buses also run late this day, but they are usually crowded. However, it's a great alternative if you prefer not to walk.
The first option is Union Square. This is where you will find the largest concentration of hotels from two stars budget friendly options to five star beauties. Click here for my recommendations.

You can also stay in Fisherman's Wharf. It's a longer walk, but still beautiful if you love walking and are not in a hurry. Click here to find my recommendations for Fisherman's Wharf. 

Comments? Questions? Suggestions?
I would love for you join me in my private Facebook group! 
It's a great place to interact with me and others that know the area well.
You can ask questions, get advice for your upcoming stay, and then share your photos and advice with others when you return home. It's a great community and the fastest way to get answers to those nagging questions about your visit!