21 San Francisco Bookstores: Best Shops to Pick Up Your Next Read

by Jill Loeffler  •

Published: April 2, 2023
Calling all book lovers! Want to check out some of the best San Francisco bookstores?
My list of 21 offers everything, including historically significant stores, shops with a specific theme, and some fantastic general interest spots.
You'll also find stores that offer both new and used books. I've also included a few that offer some rare and hard-to-find reads you can't find anywhere else.
Some of my top picks include Green Apple Books, City Lights Bookstore, and Omnivore Books which only sells books about food!
At the bottom of the page, you will find some great book-related experiences throughout San Francisco. Some of these are annual festivals, historic printing facilities, and the weekly sale at the SF Public Library.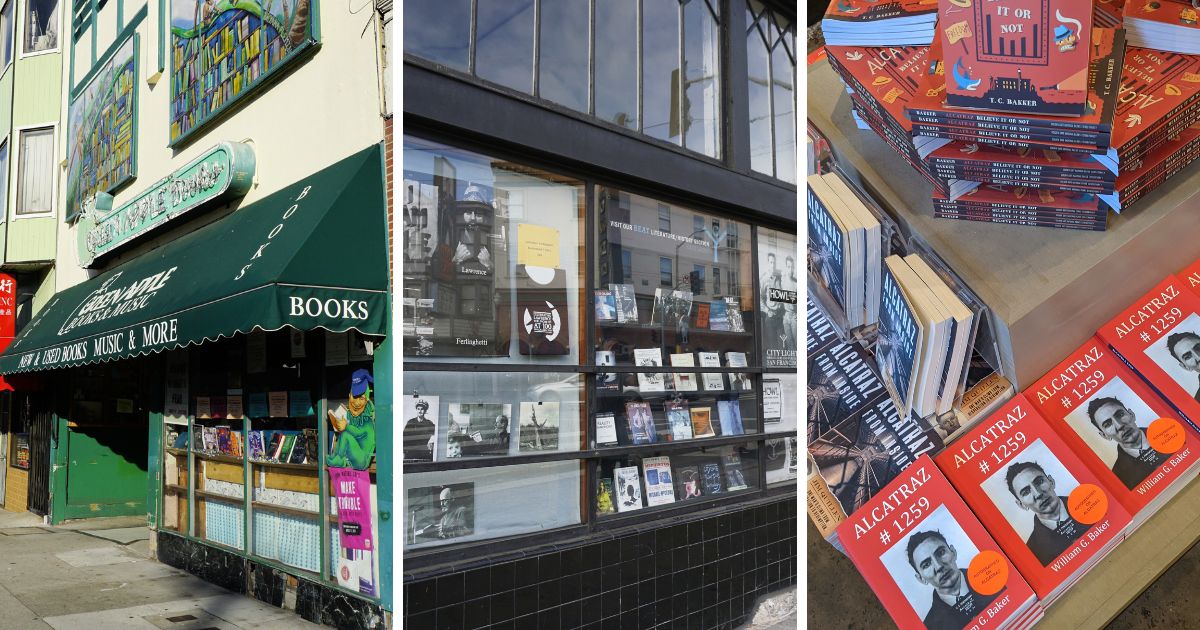 Disclaimer: I receive a small commission from some of the links on this page.

1. Green Apple Books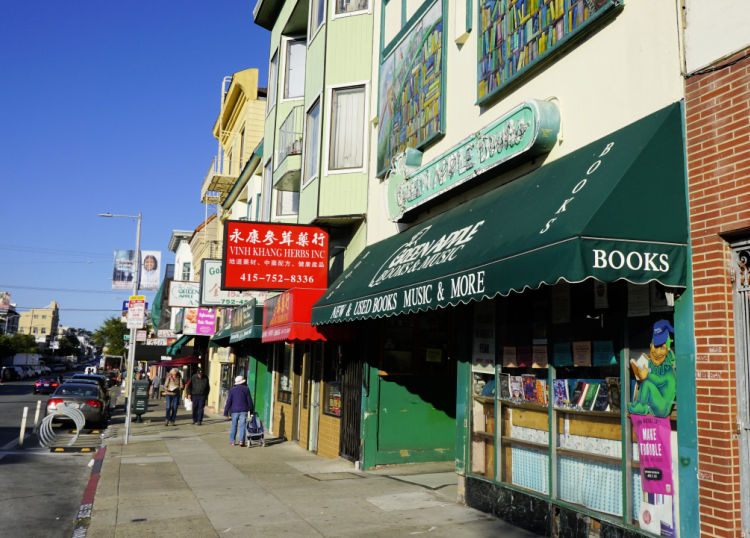 There are three stores in San Francisco:
Store 1: 506 Clement Street
Store 2: 1231 9th Avenue
Store 3: 2195 Fillmore Street
This is hands down one of the local favorites and carries just about everything you can imagine, both new and used.
I love that they host in-store and virtual book events, which means if you like it here, you can keep going once you get home.
No matter where you are in the city, it is easy to find one of the Green Apple bookstores since there are three locations here (though the one at Fillmore and Sacramento Streets is named Browser Books).
>> More about visiting the Inner Richmond
2. City Lights Bookstore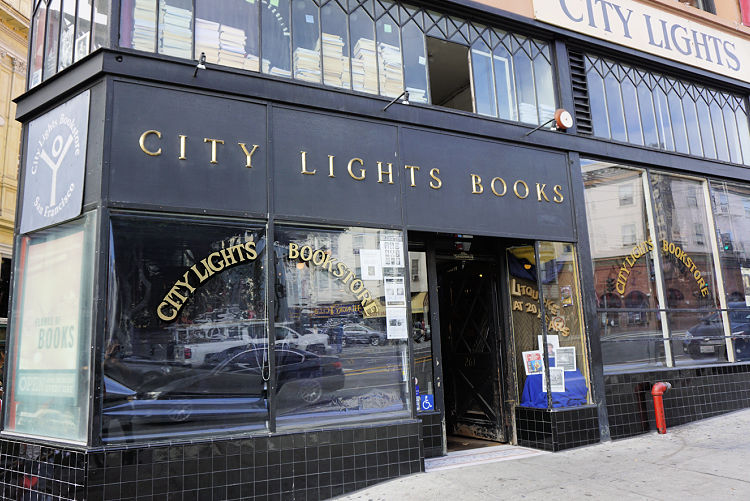 Address: 261 Columbus Avenue (district: North Beach)
This is undoubtedly the most famous bookstore in San Francisco, as it was founded by Beat poet Lawrence Ferlinghetti in 1953 when he realized that the Beat Generation needed a place where their books were not banned.
When you enter City Lights, you will be transported back to a different generation and reality. They are still unconventional, featuring a wide selection of books that go beyond the usual "Top 10."
They continue to support lesser-known and politically edgy writers, so be ready to expand your reading list and your world.
>> More things to see and do in North Beach
3. Book Passage in the Ferry Building
Address: 1 Ferry Building (district: Embarcadero)
Most people don't realize there is a bookstore in San Francisco's historic Ferry Building, so I wanted to highlight it.
The shop offers books on every imaginable topic, from kids' books to cooking to travel. I love coming here because they carry books focusing on the Bay Area.
Since it is in the Ferry Building, I love that I can find a book and then grab a bite to eat, do some shopping, or take it outside and read it as I watch the ships go by on the bay.
>> More to see and do in the Ferry Building
4. Dog Eared Books
Address: 900 Valencia Street (district: Mission)
As a San Franciscan, I love this city's diversity. That is one of the reasons I love Dog Eared Books, as it is a small, female-owned business.
They carry almost every literary category and have games, cards, magazines, and more. It is a fun store to visit, as it is in the popular Mission District, where there is so much to do.
Note: You have to make an appointment to shop at their store and their hours change depending on the day and date. Please call them or check their website for more information.
>> More about visiting the Mission District
5. Borderland Books
Address: 1470 Haight Street (district: Haight-Ashbury)
Science Fiction, fantasy, horror, and mystery lovers have found their inner sanctum in the Haight District!
Simply stated, any of those types of books or audiobooks that you could want, you will probably find there. And, if you can't, the staff will make sure to put you on the right track and help you. They freely admit all they want to do is read, read, read, so they've probably read it before.
You can find books that range from beat-up reads to 1st editions in perfect condition. It is, dare I write it, Heaven...or maybe Hell depending on your reading preference!
>> More about visiting the Haight-Ashbury District
6. Christopher's Books
Address: 1400 18th Street (district: Potrero Hill)
Located in an old house, this has become one of the prettiest bookstores in San Francisco.
Christopher's Books is well respected for having an excellent selection of independent and lesser-known books. Although it is a smaller space, you can find many excellent nooks for reading pleasure.
I like that their new book area has commentary by the writers to give you more information.
This is truly a cute and "bookwormy" bookstore that will make you feel like you are in your study.
>> More things to see and do in Potrero Hill
7. Omnivore Books on Food
Address: 3885A Cesar Chavez Street (district: Noe Valley)
As you may have guessed, this San Francisco bookstore focuses entirely on food and everything culinary-related. However, it is much more than that.
This is the place for you if you're a foodie hungry for books, magazines, or special food events. They carry the latest and most original collections, with 1st editions and rare books on hand. You can even purchase classic menus here!
They delve deep into the world of cooking, exploring issues of race, sex, and more. This is a significant bookstore unlike any other in the Bay Area.
>> More about visiting Noe Valley
Great SF Food Tours
8. Folio Books
Address:  3957 24th Street (district: Noe Valley)
Located in the beautiful Noe Valley, Folio Books offers a general selection of books and sells puzzles, games, and more.
I like that they have curated collections, so when I want to focus on a subject, such as Indigenous Cultures, I ask them (or click on the link on the website), and they will give me a list of several books for that category.
They also sell signed copies from local authors and hold regular events. I love that this bookstore epitomizes the heart of San Francisco as it is owned by people who are proud to be queer and female.
Note: They are only limited hours, so please call or check their website in advance.
9. Chronicle Books
Address: 680 2nd Street (district: South Beach)
Chronicle Books has been an independent publisher in San Francisco for over 50 years, since the Summer of Love, and to this day continues to reflect the diversity, spunk, and innovation of the local culture.
This bookstore is found on the first floor of their publishing headquarters, in an old maritime machine warehouse not far from Oracle Park. They only carry Chronicle Books products, but not to worry--you'll find a huge range of great reads as well as gifts. 
Their collection includes 35 New York Times bestsellers, as well as fun coffee table books on art and design, food and drink, and more. They also produce puzzles, games, children's books, and stationery items.
This San Francisco company is all about design, and the atmosphere and the books just call for you to open them.
10. Black Bird Bookstore
Address: 4541 Irving Street (district: Outer Sunset)
The Outer Sunset neighborhood is a great place to hang out, escape the crowds, and read a book while having a hot chocolate or coffee. It is one of the quieter areas in the city.
Now, if that sounds like your perfect day, you will want to check out Black Bird Bookstore. Compared to some of the other bookstores in San Francisco, this one is very content with staying small.
They wanted to be this way to let everyone feel welcome, including kids. There is a lovely back patio and a reading nook there, too. The coffee shop also has pastries, so it's a great place to grab a small snack as you read.
Note: They are dog friendly, so if you are traveling with your buddy, bring him or her inside!
>> More about visiting the Outer Sunset
11. The Booksmith
Address: 1727 Haight Street (district: Haight-Ashbury)
I love this wonderful bookstore since it has many counter-culture books that fit its Haight-Ashbury neighborhood.
It is a perfect place for both adults and kids to grab a book, as the owners, a married couple, wanted to ensure everyone is included.
To that point, there is an excellent area for books in different languages to help you feel at home, no matter what country you are from.
They also do their best to find signed or special editions of books if you ask them.
12. Kayo Books
Address: 814 Post Street (district: Lower Nob Hill)
This is NOT your usual bookstore. It is unlike any other you've visited anywhere else.
Kayo specializes in vintage paperbacks, counter-culture, LGBTQI, and so much more. I love going there to browse through the books and find something I've never heard of, let alone even imagined, to take home.
They have all kinds of vintage and used books, some of which are highly collectible. The owners are always trying to expand their book collection, and you can lose yourself in their floors of anything and everything.
They have one of the largest collections of "pulp" paperbacks and art I've seen anywhere.
They don't have set hours, so you'll have to call ahead to make an appointment, or you can swing by and hope they are open.
>> More things to do in Lower Nob Hill
13. Books, Inc.
There are three locations in San Francisco:
2251 Chestnut Street (district: Marina)
601 Van Ness Avenue (district: Civic Center)
3515 California Street (district: Laurel Heights)
The main Books, Inc. is located in the Marina. It is a favorite of locals and visitors to SF. It is a chain with three more stores in SF, two in the East Bay and one in the North Bay. But don't worry, they are as local as can be since they started here in the 1800s.
Since they are one of the larger bookstores in the Bay Area, you will find pretty much anything you are looking for, including kids' and young adult reads, fiction, non-fiction, and more.
Their book events are fantastic and bring in some of the top writers from around the world.
It is a comfortable place to grab a book, pull up a seat, and just read for a bit if you want to relax and mellow away from the Marina's bustling energy. They also have locations in other parts of the city.
Note: They are also connected to Compass Books which has 2 locations in SFO Airport at terminal 2 and the other at terminal 3.
14. Bolerium Books
Address: 2141 Mission Street, #300 (district: Mission)
Compared to Books, Inc., you will only find a specific collection of books here. Bolerium has dedicated itself to finding the best material focused on labor movements, civil rights, LGBTQI life and freedoms, and more.
Other genres include Asian-American activism and movements from around the world in other languages. They even have collections on the Far Right. They also have posters, leaflets, and other collectibles on hand.
Bolerium works with many libraries and archives, so they can get literature that almost no one else can get.
Being that they are so specialized, they are only open by appointment. They request you call or email them with your interests. Trust me, it is an experience you will never forget.
15. Bound Together: An Anarchist Collective Bookstore
Address: 1369 Haight Street (district: Haight-Ashbury)
This bookstore is proud to be an anarchist bookstore that focuses on material related to civil, human, cultural, and political rights of all people.
Since they are volunteer-run, they are a small outfit. They have a variety of essential writings, posters, and magazines about cultures and people.
Their purpose when they started in 1976 was to change the culture and make a movement that could inspire all people, and they continue to do that today.
For that reason, they sometimes have incredibly inspiring speakers and allow for discussions that rarely happen at other bookstores.
They are usually open Monday through Sunday, but since they are volunteer-staffed, it is best to call ahead and set up an appointment.
16. Argonaut Book Shop
Address: 788 Sutter Street (district: Lower Nob Hill)
Before I tell you about the books here, I'm going to tell you about the owner, Bob. Bob knows EVERYTHING about San Francisco and the Bay Area. He is a treasure trove of information and you will be amazed when you speak to him.
As for the books, Bob's focus is on antiquarian books that are hard to find or even out of print. If you want to know anything about the history of the area or even California, this is the place to go.
The rare books here are not just regional. You can also find fantastic kid's books, so it is worthwhile to stop in no matter the reason. You will even find some signed first editions, depending on what books you are looking for here.
If that isn't enough, check out the engravings and old maps for fun. I can spend hours here enjoying this space.
>> More to do around Union Square
17. Alcatraz Island Bookstore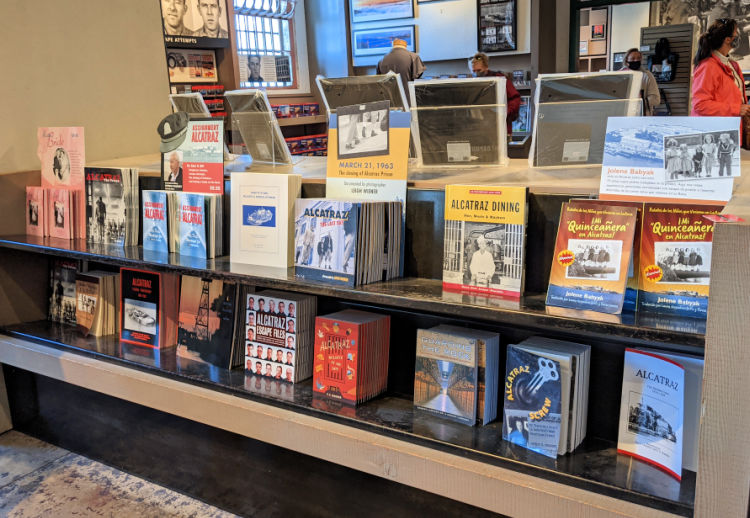 This listing is cheating a little, as you can only get to this store if you tour Alcatraz Prison. However, if you are on the island, you should check out the gift shop, as they have a fantastic selection of books on the history of Alcatraz.
You'll find everything from personal accounts of living on the island to overall biographies of prisoners such as Al Capone, Robert Stroud (the Birdman of Alcatraz), and others. There is also a section about some of the escape attempts from the island.
The last time I visited, they were selling autographed copies of a book written by one of the last prisoners alive.
It's a great place to find a wide selection of Alcatraz and Native American Occupation books in San Francisco.
>> More about visiting Alcatraz Island
18. Kinokuniya Bookstore
Address: 1581 Webster Street in the Japan Center mall (district: Japantown)
Located in the beautiful Japantown neighborhood, Kinokuniya is without the go-to bookstore when you need anything related to Japan or Japanese culture. The first Kinokuniya to open in the US, they have been in San Francisco for over 50 years.
This is the perfect place for manga or anime lovers since they have a vast selection. The first floor is entirely dedicated to this genre.
On the second floor, you'll find general English and Japanese books written by Japanese authors. There are also many magazines and other paraphernalia around the store.
They also have unique stationery and gifts you can buy that are always entertaining. These are constantly changing, so you'll find something new whenever you visit.
As it is one of the most famous locations for books and more, many famous writers and artists speak here, and there are often special events.
>> All about visiting Japantown
19. Medicine for Nightmares Bookstore & Gallery
Address: 3036 24th Street (district: Mission)
This is a unique bookstore in San Francisco. It's small but has an exciting selection.
Bilingual visitors will be pleased to find that a decent amount of books, probably about 20%, are in Spanish. I also really like their illustrated books. In addition to adult literature, there are also children's books, greeting cards, and more.
I also love that they have a small gallery in the back, where I can check out new art, along with the books they have, and find something new every time I go into it.
They have all kinds of art on the wall, so you might spend your visit looking at them. I know I've done that.
20. Eastwind Books & Arts
Address: 1435 Stockton Street (district: North Beach)
This bookstore can be easy to miss since it is located in the basement. Started originally by community activists in the 70s, it was designed to help people learn about Asia and Asian cultures.
There are two levels to the bookstore: The first is the Chinese and English book section, where there are many books in both languages. Some include books on religion, culture, martial arts, philosophy, and more.
They range from books for the youngest kids up to the oldest adults. It is almost impossible to catalog everything they have here or do it justice.
There are lots of books to help you learn Mandarin or Cantonese, so if you are working on becoming bilingual or multilingual, this is a must-visit.
The second floor has a video department with CDs, DVDs, and more. They even have an area where they sell instruments! So, if you are looking for a great variety of videos and print material relating to Chinese and Asian culture, Eastwind Books & Arts is the place for you!
21. William Stout Architectural Bookstore
Address: 804 Montgomery Street (district: North Beach)
As you can guess by the name, this bookstore is dedicated to architecture and everything related to that art form.
They also have loads of books on design, including jewelry, costumes, furniture, and so much more.
And, if they don't have it, they can find it for you. The staff is incredibly nice and knowledgeable, so don't feel intimidated, even if you are new to this specialty.
With over 70,000 books in this store, you are sure to find something you like and spend a lot more time than you could have imagined.
I have to admit I don't know much about architecture, so I wander in sometimes, check out the books, and enjoy the beauty of what has been built in this world.
Other Book-Related Experiences in San Francisco
If you are a book lover like me, you will also love this section. It includes a variety of book and literary experiences, from annual festivals to book-themed bars.
San Francisco Center for the Book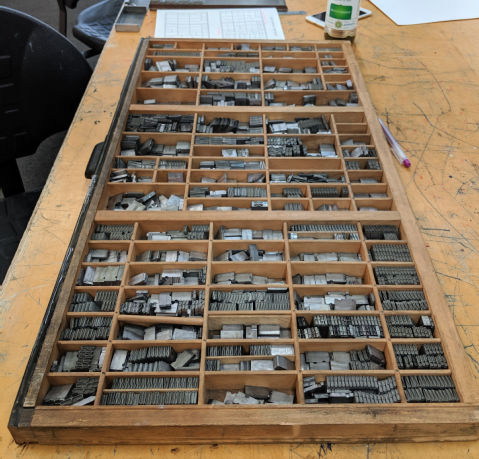 Address: 375 Rhode Island Street

It is hard to explain without writing a book on it. They have artwork, classes, speakers, and pretty much anything and everything related to how books are printed, bound, and used in the world.
The Arion Press
Address: 1802 Hays Street in the Presidio
Using historic metal typefaces, Arion Press prints several limited-edition books each year. It is wonderful to watch them at work, and the tours are outstanding. I also highly recommend visiting the gallery.
Litquake
The biggest literary festival in San Francisco takes place in October each year. There are hundreds of events and around 500 speakers, including some of the most famous writers in the world. There are also lots of fun parties, too.
>> Find out more about this annual event
Public Library Big Book Sale
Address: 1630 17th Street
Every month there is a "Big Book Sale" at the Friends' Donation Center, where every book is $5 or less. Each month has a different theme, and it is a blast!
Step Sale at the Main Library
Address: Larkin Street Steps (100 Larkin Street)
This is a great place to find books, CDs, DVDs, and even vinyl records! It runs every Wednesday, and you can always find something fun. They also have an eBay store.
The Interval at Long Now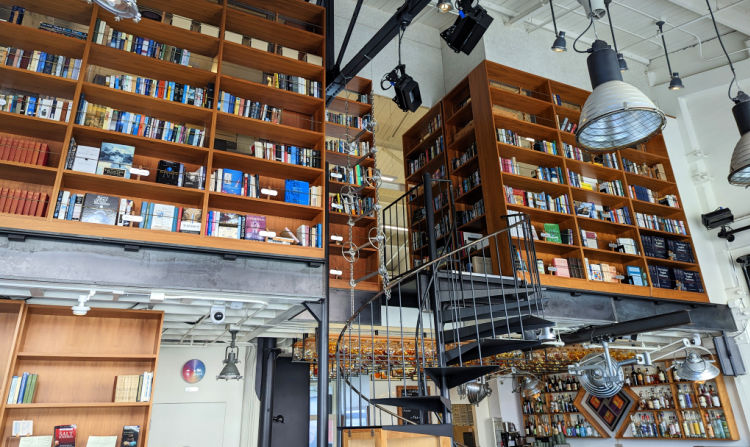 Address: 2 Marina Boulevard in Fort Mason Center, Building A
It looks like a bar, with some books, but it is much more than that. All the books here are dedicated to societies, how to keep them alive and help rebirth them if needed. They have many exciting and innovative events.
Comments? Questions? Suggestions?
I would love for you to join me in my private Facebook group! 
It's a great place to interact with me and others who know the area well.
You can ask questions, get advice for your upcoming stay, and then share your photos and advice with others when you return home. It's a great community and the fastest way to get answers to those nagging questions about your visit!