Union Square Restaurants in San Francisco: 20 Top Options for Every Occasion

by Jill Loeffler  •

Updated: January 10, 2023
It's easy to get overwhelmed with the selection of Union Square restaurants in the heart of San Francisco. You will find more than a hundred options, but not all of them are worth your time.

I've created a list of my 20 favorites, split up into categories: my top cheap eats, a few date night ideas, elegant fine dining experiences, and places to go for breakfast and brunch.

If you are looking to save a little on your dining in SF, I've also included some ideas on how to save during your stay. Read on for more information to help you plan out your stay in the Union Square district.

Disclaimer: I receive a small commission from some of the links on this page.

5 Best Cheap Eats

Union Square restaurants can be pricey. However, if you know where to look you will find some great options for less than $25 per person. Here are a few of the places I love to check out when my budget is tight or I'm looking for a casual night out on the town.
1. Pinecrest Dinner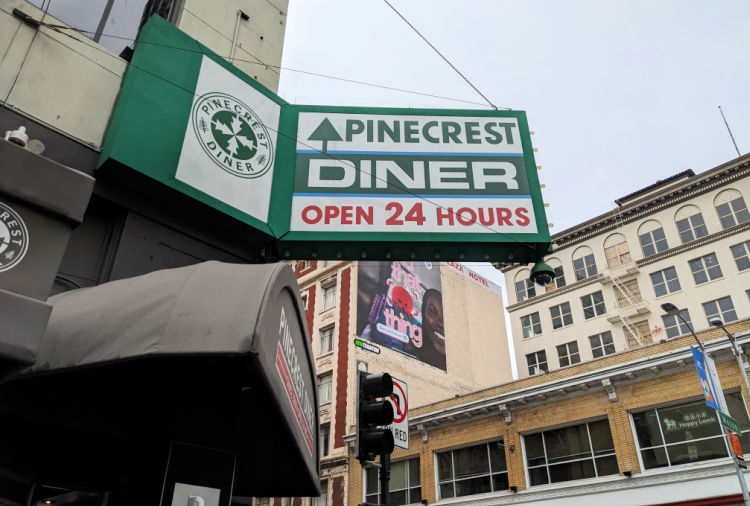 This is an old school dinner on the western end of the district with some great options. You'll find classic diner fare such as sandwiches, salads, and burgers.
Their lunch menu is less expensive then their dinner menu which puts you at or over $20 bucks per person. This is one of the Union Square restaurants that will fill you up and not break your budget.
Location: 401 Geary Street
2. SF Wraps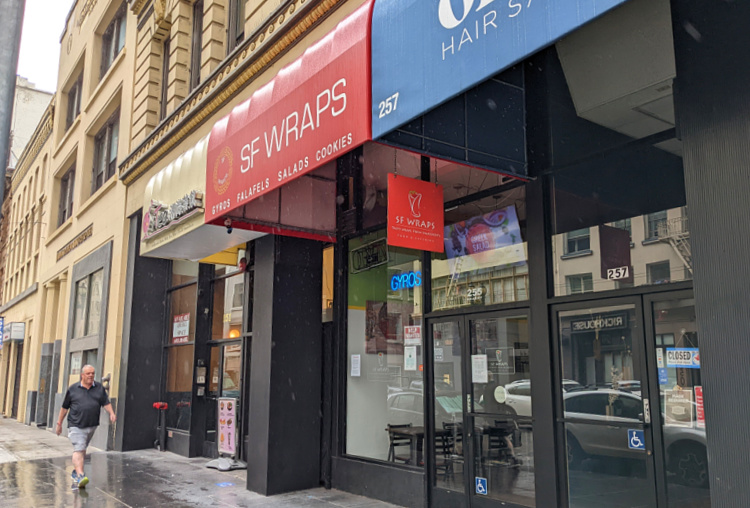 Another one of the budget-friendly Union Square restaurants is SF Wraps. This place seems to always be open (11 am to 2 am most days) and their Mediterranean wraps are filling.
Both their wraps and their plates come in at around $12 to $20 per dish so you can also grab a drink or another side and still say under $20 per person.
Location: 255 Kearny Street
3. Super Duper Burger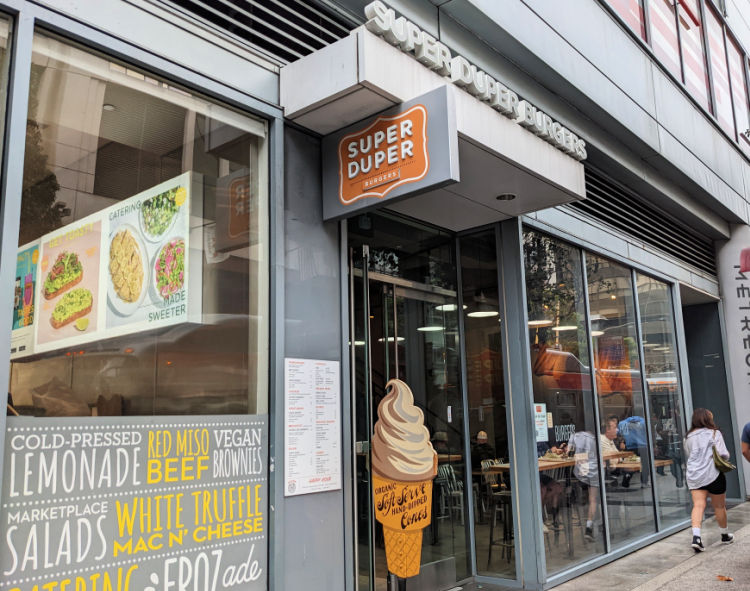 If you are looking for a quick bite to eat, then check out Super Duper Burger. It's a fast food joint with tasty burgers and fries and a filling meal will cost around $10 per person.
You will find them at on Market between 3rd and 4th. They are open for breakfast during the week and open until around 11pm most nights of the week.
Location: 721 Market Street
4. Bartlett Hall
If you want to grab a beer with your meal, then head over to Bartlett Hall during Happy Hour. This is when you can pick up some cheap eats and also enjoy some beer specials.
They have several items for $7, so you can try a couple of their small plates. In addition, their house beers are also just $5 during Happy Hour.
It runs on Monday through Friday from 3 pm to 6 pm (excluding holidays and major sporting events).
Location: 242 O'Farrell Street
>> More great bars to check out around Union Square
5. Sakana Sushi Bar & Grill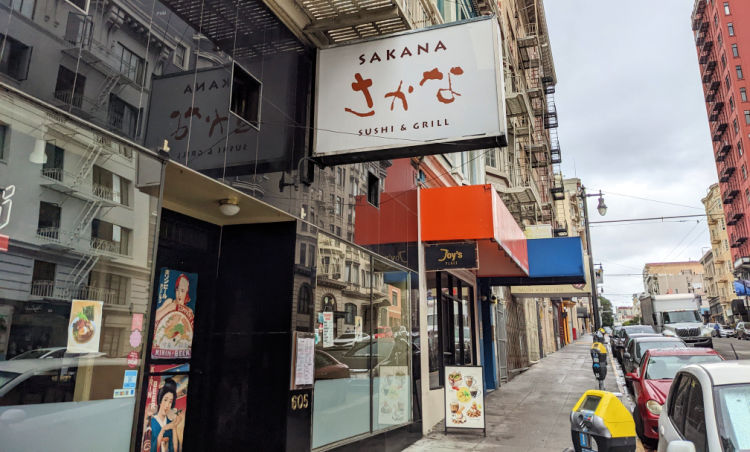 One of the best Union Square restaurants serving sushi at a decent price is Sakana Sushi Bar & Grill. Just a few blocks off the square, you will find this place packed with locals.
You can get a roll or two for less than $20 to fill up after a day of seeing the sights.
Location: 605 Post Street
>> More great cheap eats in Union Square and around SF
>> Outdoor options around Union Square and SF
More Ways to Save on Union Square Restaurants

You will also find some great deals on Union Square restaurants on both Groupon and Restaurant.com.

Groupon

Groupon is one of the first places I look for deals around Union Square and all of San Francisco. They offer a variety of deals. How their deals work is you usually buy a dollar amount at a discount and it can only be used at that restaurant.
For example, you will buy $25 for only $15, which cuts down quite a bit on the overall cost.
You can also pick up some discounts at no cost to you. For example, they have several deals running where you can get up to 15% to 30% off your meal just by downloading the deal to your app. It doesn't cost you anything but is a great way for the restaurants to drive in more business.
>> Visit Groupon to check out top deals around Union Square and SF
5 Fun Date Night Picks

Are you looking for the best Union Square restaurants in San Francisco for a date night? Some of my picks are quiet and romantic, while others offer a wonderful experience for a nice evening on the town. Here are a few places that I think you will enjoy.
1. Bouche 
This narrow little French restaurant with its woodsy wine bar and artsy interior has such a cozy atmosphere, you really get a European dining experience for your perfect date night. 
They offer a seasonal prix fixe menu for $55 a person in which you can choose your appetizer, entree, and dessert. The wine and beer selection is amazing, and the foie gras is not to be missed! The service is also incredibly warm.
Location: 603 Bush Street
2. Cesario's
This is a low-key Italian spot in the heart of union Square. They offer classic Italian dishes and are open for breakfast, lunch, and dinner.
It's one of the less expensive date night options on my list.
Location: You will find them on the main level of the Marines' Memorial Club and Hotel at 601 Sutter Street.
3. John's Grill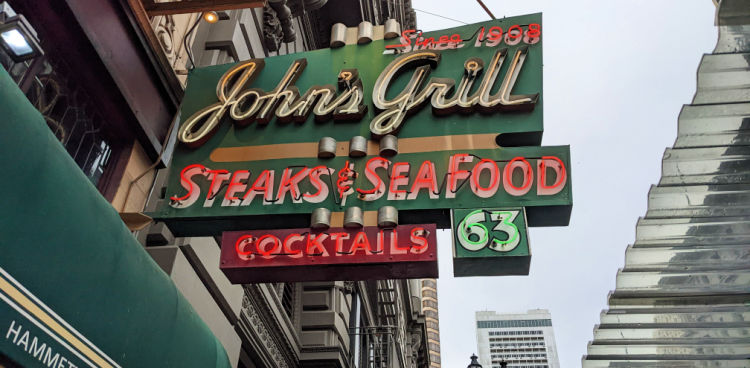 This is an old-school spot in San Francisco that's been open since 1908. It's a higher end steak and seafood joint that is perfect for a special night out on the town.
I love the wood décor and the food is amazing.
Location: 63 Ellis Street
4. 54 Mint
One of the best Italian Union Square restaurants is 54 Mint. They hand make their bread, pastas and desserts every day, so everything is fresh and flavorful.
Some of my favorites here include tonnarelli and the risotto.
Location: 16 Mint Plaza
5. Morton's Steakhouse
One of the most popular Union Square restaurants is Morton's Steakhouse. It's in the heart of the district and open every night for dinner.
It's a great date night spot as it's also close to many of our top theaters.
Location: 400 Post Street

Where to Stay Near these Union Square Restaurants

Are you looking for top hotels around Union Square? This part of San Francisco has the largest concentration of hotels and lodging in all of the city. I recommend it if you plan to visit several different districts or want to easily check out some of our top museums.
You can find some great hotels deals by clicking the links below.
You can also find some of my top recommendations in this district or compare staying in Union Square to staying in Fisherman's Wharf.

5 Best Fine Dining Restaurants

This list of five offers you the chance to check out some of the city's best fine dining at Union Square restaurants. They are perfect for special occasions, a splurge night out on the town, or a chance to talk business with co-workers or partners.
1. Sons & Daughters
This SF restaurant has a small dining room that seats less than 30 people. Each night, they carefully prepare a set meal with several courses.
Their tasting menu is about $200 per person and you can add on the wine pairing for around $100 per person. It's small, the dishes are amazing, and it's a great fine dining option in Union Square.
Location: 708 Bush Street
2. Estiatorio Ornos, a Michael Mina Restaurant
The Michelin-star chef closed his namesake restaurant in 2021 to transform it into the fine dining establishment it is today, with a focus more on Mediterranean seafood than on Middle Eastern cuisine.
The tasting menu is about $195 per person with the option to also add on the wine pairing, but there are also a-la-carte options. They are open Wednesday through Sunday for dinner.
Location: 252 California Street
3. O' by Claude Le Tohic
This high end spot in Union Square offers both French and new American dishes. They offer a few small plates, but are mostly known for their sophisticated tasting menus.
You do need to make reservations in advance and they will call you a day or two before your meal to discuss what you plan to order. It's a great fine dining option in Union Square.
Location: 165 O'Farrell Street
4. Parallel 37
This fine dining option is located within the Ritz Carlton about six to seven blocks away from the heart of Union Square. It's a classic new American restaurant that offers a wonderful menu with items such as Niman Ranch lamb, local black cod, and Brandt Beef bone-in ribeye.
They also have some of the best cocktails in town.
Location: 600 Stockton Street
5. The Cavalier
If you are more in the mood for British cuisine, then head over to this lesser known option, The Cavalier. Set inside Hotel Zetta, this lovely restaurant serves dishes such as oysters, scallops, black cod, and pork chops.
Some of my favorites include their Fish and Chips and the Smoked Dungeness Crab. They are open for both lunch and dinner.
Location: 360 Jessie Street

5 Best Breakfast/Brunch Spots

This final list focuses on what many claim to be the most important meal of the day: breakfast. Some have traditional breakfast and lunch hours, while others offer breakfast all day. Others feature a fun brunch option for leisurely weekends.
1. Sears Fine Food
This is one of the few Union Square restaurants that has been around for over 75 years. The Sears family establishment serves generous portions of your favorite diner classics, but is especially famous for their "18 Swedish pancakes" plate, served all day.
Other breakfast items, like the popular French toast and eggs benedict, are served until 2 pm.
Location: 439 Powell Street
2. Pinecrest Diner
This is a great option for people who love breakfast for dinner. Breakfast is served as long as they're open, everyday from 7 am to 11 pm. If you've got an appetite, their popular country fried steak comes with two eggs, hash browns, and toast for a hearty breakfast.
The Brioche French toast and the Denver omelets are also scrumptious. Free refills on coffee is another great plus.
Location: 401 Geary Street
3. Honey Honey Cafe and Crepery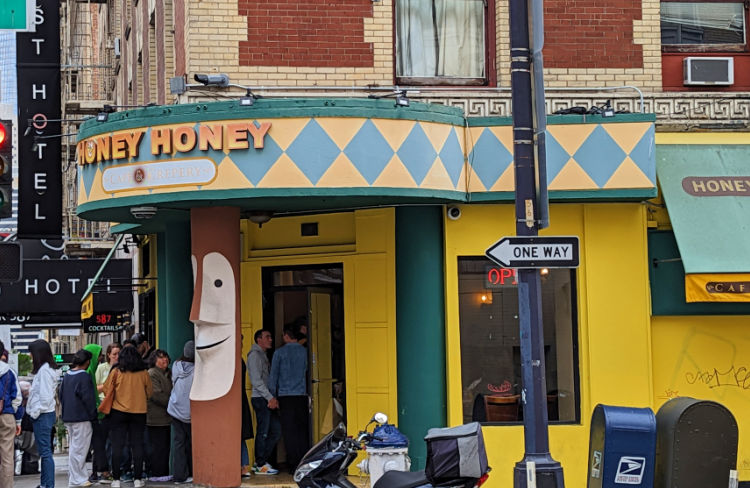 As far as Union Square restaurants go, this is THE place for crepes, whether you're craving something sweet like the Baklava Crepe with walnuts and cinnamon, or you're in the mood for something savory like the locally inspired Half Moon Bay Crepe with crab cakes.
They're known for their crepes, of course, but they also serve some nice Eggs Benedict and Eggs Florentine.
Location: 599 Post Street

4. Roxanne's Cafe
This cozy Union Square spot is great for brunch with a European touch, as they also serve up Italian cuisine. I love their delicious croissant breakfast sandwiches, but the most popular plate is probably the Roxanne Grande, which gives you a little of everything, including pancakes, eggs, bacon, and potatoes.
They are only open until 4 pm for breakfast and lunch. They are open from 4 pm to 9 pm for dinner.
Location: 570 Powell Street
5. Heist
This place offers an incredibly fun and diverse menu, and manages to do everything really well. It's a fantastic option for parties who can't decide between a classic breakfast plate or a breakfast burrito; something sweet or something savory; vegan, gluten-free or meaty.
I personally go for the chocolate pancakes with a glass of horchata.
Location: 678 Post Street
Fun Food Tours

If you want to dig into the San Francisco food scene even more, then check out some of the great food tours that are offered around town. You will find them in districts such as Chinatown, North Beach, and the Mission.
You will walk through each district as you learn more about its famous cuisines. You will also get a chance to sample several different dishes. Learn more about them here. 
Comments? Questions? Suggestions?
I would love for you to join me in my private Facebook group! 
It's a great place to interact with me and others who know the area well.
You can ask questions, get advice for your upcoming stay, and then share your photos and advice with others when you return home. It's a great community and the fastest way to get answers to those nagging questions about your visit!