Union Square Restaurants in San Francisco: 15 Top Options for Every Occasion
It's easy to get overwhelmed with the selection of Union Square restaurants in the heart of San Francisco. You will find more than a hundred options, but not all of them are worth your time.

I've created a list of 15 of my favorites. To help you decide, I've added in my favorite cheap eats, a few date night ideas and also five of the best fine dining experiences in this district.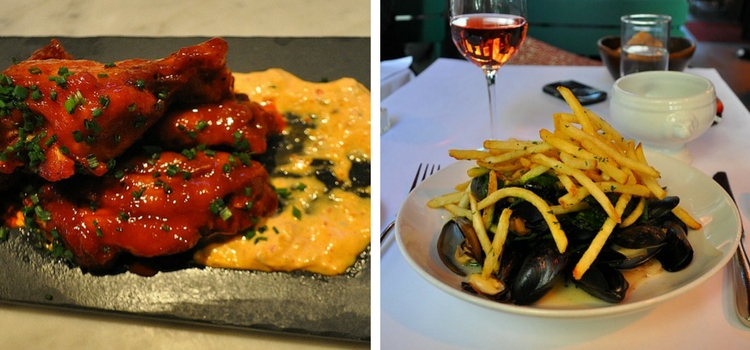 If you are looking to save a little on your dining in SF, I've also included some ideas on how to save during your stay. Read on for more information to help you plan out your stay in the Union Square district.

Disclaimer: I receive a small commission from some of the links on this page.

5 Best Cheap Eats

Union Square restaurants can be pricey. However, if you know where to look you will find some great options for less than $20 per person. Here are a few of the places I love to check out when my budget is tight or I'm looking for a nice, casual night out on the town.
Hogwash: This gastropub is perfect for anyone looking for a tasty sausage sandwich and an ice-cold beer. They are open for lunch and dinner with a great crowd in the evenings. Their Burnin' Brock is one of my favorites and they also have a vegetarian option. This is one of the Union Square restaurants that will fill you up and not break your budget. 582 Sutter Street.
SF Wraps: Another one of the budget-friendly Union Square restaurants is SF Wraps. This place seems to always be open (11am to 2am most days) and their Mediterranean wraps are filling. Both their wraps and their plates come in at around $12 to $20 per dish so you can also grab a drink or another side and still say under $20 per person. 255 Kearny Street.
Super Duper Burger: If you are looking for a quick bite to eat, then check out Super Duper Burger. It's a fast food joint with tasty burgers and fries and a filling meal will cost around $10 per person. You will find them at on Market between 3rd and 4th. They are open for breakfast during the week and open until around 11pm most nights of the week. 721 Market Street
Bartlett Hall: If you want to grab a beer with your meal, then head over to Bartlett Hall during Happy Hour. This is when you can pick up some cheap eats and also enjoy some beer specials. They have several items for $5, so you can try a couple of their small plates. In addition, their house beers are also just $5 during Happy Hour. It runs on Monday through Friday from 3pm to 6pm. 242 O'Farrell Street
Sakana Sushi Bar & Grill: One of the best Union Square restaurants serving sushi at a decent price is Sakana Sushi Bar & Grill. Just a few blocks off the square, you will find this place packed with locals. You can get a roll or two for less than $15 to fill up after a day of seeing the sights. 605 Post Street
More Ways to Save on Union Square Restaurants

You will also find some great deals on Union Square restaurants on both Groupon and Restaurant.com.

Groupon

Groupon is one of the first places I look for deals around Union Square and all of San Francisco. They offer a variety of deals. How their deals work is you usually buy a dollar amount at a discount and it can only be used at that restaurant. For example, you will buy $25 for only $15, which cuts down quite a bit on the overall cost.
You can also pick up some discounts at no cost to you. For example, they have several deals running where you can get up to 15% to 30% off your meal just by downloading the deal to your app. It doesn't cost you anything but is a great way for the restaurants to drive in more business.
>> Visit Groupon to check out top deals around Union Square and SF
Date Night Picks

Are you looking for the best Union Square restaurants in San Francisco for a date night? Some of my picks are quiet and romantic, while others offer a wonderful experience for a nice evening on the town. Here are a few places that I think you will enjoy.
Cafe Claude: This French restaurant is one of my favorites. They serve up traditional French dishes and have a wonderful wine menu. Inside, you will find a lively atmosphere with live music several nights a week. I love the outdoor area with tables lined up side-by-side, yet plenty of room to enjoy your evening out. 7 Claude Lane.
Hops & Hominy: This gastropub is the perfect pick for a more casual date night. They serve up Southern comfort food alongside some top American craft beers. They are tucked away down a pedestrian alley (off Grant Ave, between Sutter St & Post St). 1 Tillman Place
54 Mint: One of the best Italian Union Square restaurants is 54 Mint. They hand make their bread, pastas and desserts every day, so everything is fresh and flavorful. Some of my favorites here include tonnarelli and the risotto. 16 Mint Plaza
Morton's Steakhouse: One of the most popular Union Square restaurants is Morton's Steakhouse. It's in the heart of the district and open every night for dinner. It's a great date night spot as it's also close to many of our top theaters. 400 Post Street.
Where to Stay Near these Union Square Restaurants

Are you looking for top hotels around Union Square? This part of San Francisco has the largest concentration of hotels and lodging in all of the city. I recommend it if you plan to visit several different districts or want to easily check out some of our top museums.
You can find some great hotels deals by clicking the links below.
You can also find some of my top recommendations in this district or compare staying in Union Square to staying in Fisherman's Wharf.

5 Best Fine Dining

My final list of five offers you the chance to check out some of the best fine dining at Union Square restaurants. They are perfect for special occasions, a splurge night out on the town, or a chance to talk business with co-workers or partners.
Sons & Daughters: This SF restaurant has a small dining room that seats less than 30 people. Each night, they carefully prepare a set meal with several courses. Their tasting menu is about $200 per person and you can add on the wine pairing for around $100 per person. It's small, the dishes are amazing, and it's a great fine dining option in Union Square. 708 Bush Street.
Michael Mina: Another one of my favorite Union Square restaurants is Michael Mina. This used to be in the heart of Union Square, but now is a few blocks away. This amazing place also offer a four or five course tasting menu where you can select from two or three options within each course. The tasting menu is about $150 per person with the option to also add on the wine pairing. They are open nightly for dinner. 252 California Street
Parallel 37: This fine dining option is located within the Ritz Carlton about six to seven blocks away from the heart of Union Square. It's a classic new American restaurant that offers a wonderful menu with items such as Niman Ranch Lamb, Local Black Cod, and Brandt Beef Bone-In Ribeye. They also have some of the best cocktails in town. 600 Stockton Street
Restaurant Jeanne D'Arc: This French restaurant is not as expensive as the others but offers an elegant experience. Located in the lower level of the Cornell Hotel de France, this is one of the Union Square restaurants that make you feel like you were transported to Europe for the evening. With elegant decor and a nightly tasting menu, this place is hard to beat. 715 Bush Street
The Cavalier: If you are more in the mood for British cuisine, then head over to this lesser known option, The Cavalier. Set inside Hotel Zetta, this lovely restaurant serves dishes such as oysters, scallops, black cod, and pork chops. Some of my favorites include their Fish and Chips and the Smoked Dungeness Crab. They are open for both lunch and dinner. 360 Jessie Street
Fun Food Tours

If you want to dig into the San Francisco food scene even more, then check out some of the great food tours that are offered around town. You will find them in districts such as Chinatown, North Beach, and the Mission.
You will walk through each district as you learn more about its famous cuisines. You will also get a chance to sample several different dishes. Learn more about them here.