Outdoor Dining in San Francisco: 21 Great Options


by Jill Loeffler  •

Published: November 11, 2022
You'll find outdoor dining restaurants in San Francisco in districts all around town. There are dozens of places with permanent outdoor patios and a few with temporary parklets.
My list includes everything from high-end seafood spots to casual places with sidewalk seating which might be in the form of picnic tables.
Here you will find some of the best outdoor dining options in Fisherman's Wharf, Union Square, downtown, and some of the other best restaurants I love all around San Francisco.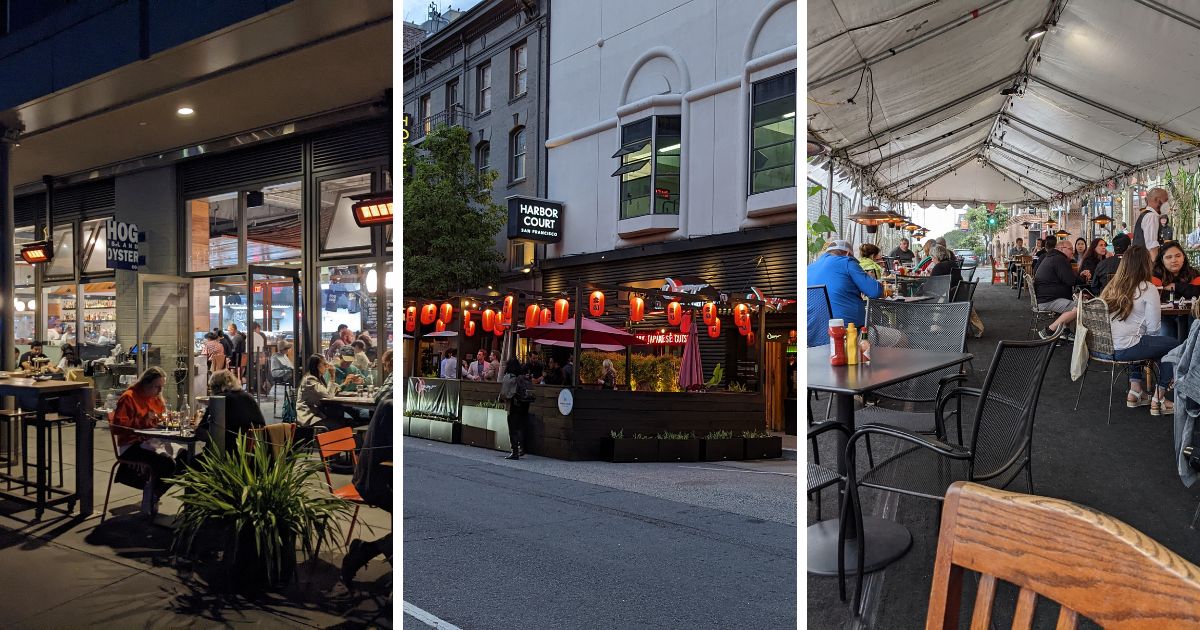 8 Best Options in Fisherman's Wharf

This district in San Francisco offers dozens of outdoor dining options. You'll find everything from sidewalk tables to full patio seating. Many of these options are along Jefferson Street, the main pedestrian walkway in this neighborhood.
You'll also find several options along the boardwalk in Pier 39. These are just a few of my favorite picks.
The Buena Vista

Located on Jefferson Street, The Buena Vista is an excellent choice for al fresco dining in San Francisco. With plenty of outdoor seating and a variety of dishes, this is a favorite of locals and a must for visitors.
The theme is classic American dishes such as Dungeness crab, burgers, and a variety of lunch and dinner options, with a heated patio for evenings. They also offer indoor dining for those cool and windy San Francisco nights.
Prices range from $10 upwards.
Address: 2765 Hyde St (@ Beach), San Francisco, CA 94109
>> Find out more about this historic gem
The Codmother Fish and Chips

A popular traditional fish and chip vendor, The Codmother is a catering truck occupying a permanent spot in Fisherman's Wharf and is highly regarded for excellent seafood at sensible prices when dining in San Francisco.
With just a few picnic tables you may find it hard to get a seat at busy times, but don't let that put you off as the delicious food is well worth it. Locally sourced fish and chips at $16.99 gives an idea of the prices, which we believe are competitive for the quality.
Address: 496 Beach Street, San Francisco, California 94133
Surisan

The Korean-themed menu at Surisan, a friendly and lively restaurant popular with San Francisco locals as well as visitors, offers a wide choice of noodle dishes at sensible prices.
Highly recommended are the Korean BBQ sets - $49 for a meal for two - and the fried chicken dishes, or go American with one of their choice of burgers.
A permanent spacious outdoor patio is ideal for enjoying a meal in the sun.
Address: 505 Beach Street, San Francisco, CA 94133
San Francisco Brewing Company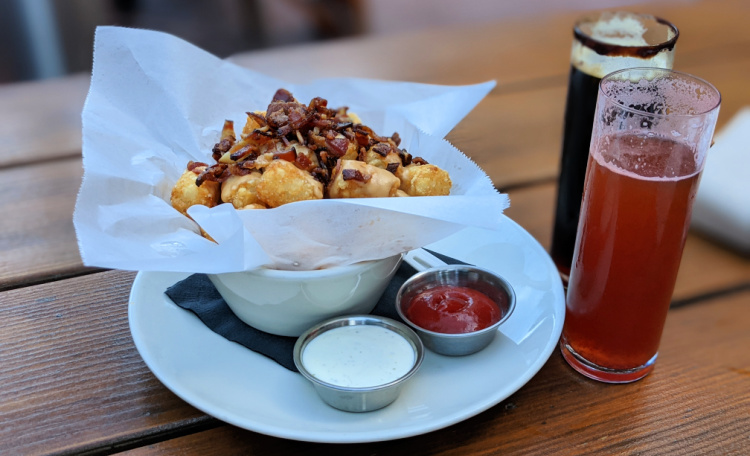 Located within the courtyard of Ghirardelli Square, San Francisco Brewing Company is a great choice for outdoor dining.
Sample delightful beers brewed on-site in this wonderful outdoor patio setting, and choose from a sensibly priced menu that includes local specialities such as clam chowder, a wide choice of burgers, pizzas, and classic fish and chips.
Prices range from $17 to $25 and the drinks menu is comprehensive.
Address: 3150 Polk St. SF 94109 Ghirardelli Square
>> More things to see and do in Ghirardelli Square
>> More great breweries around SF
Wipeout Bar & Grill

Walk along the Pier 39 boardwalk and you can't miss Wipeout Bar and Grill, one of the best outdoor dining choices in Fisherman's Wharf and San Francisco.
Offering a choice of traditional American food - burgers, steaks, surf and turf, and locally sourced seafood dishes - and with a delightful outdoor space, this is a place for casual restaurant dining and dishes start at around $10 with many under $20.
Address: Pier 39, San Francisco, CA 94133
>> Fun things to see and do in Pier 39
Scoma's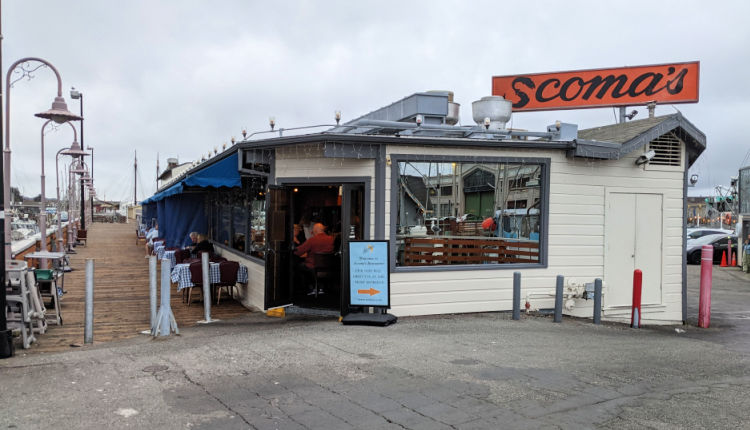 There are many outdoor patio dining options along the waterfront, yet few have been in business as long as the famous Scoma's. Seafood is the order of the day here and the 'Pier to Plate Menu' is served all day, and uses locally sourced ingredients where possible.
Try the Dungeness crab cakes at $23 for an appetizer, or if you want burgers there are many on the menu. Prices can be high here, but it's worth the visit to this legendary restaurant.
Address: 1965 Al Scoma Way, Pier 47, Fisherman's Wharf, San Francisco, CA 94133
>> Additional places for amazing seafood
Capurro's Restaurant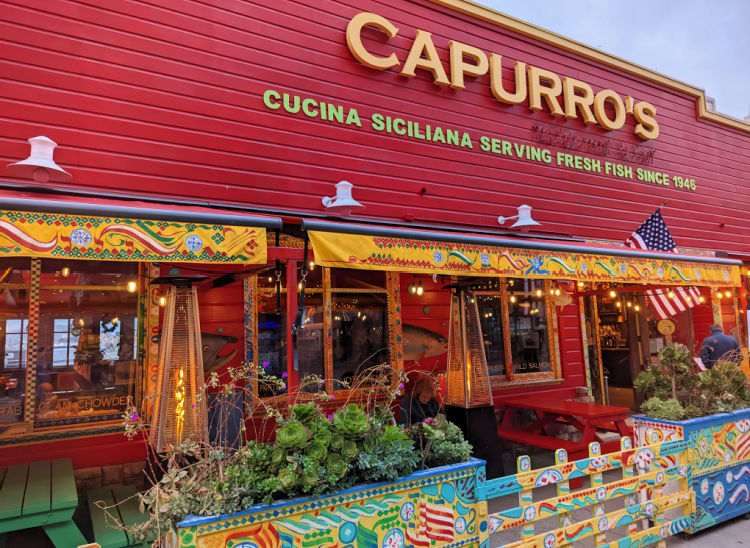 Famous as the original seafood restaurant in Fisherman's Wharf, Capurro's is a local favorite and has been in business since 1946.
The relaxed atmosphere of the outdoor patio dining area makes it a popular choice for lunch, and the restaurant serves everything from fish and chips, plenty of crab dishes, and a fish of the day that depends on the catch.
Prices are sensible with everything less than $30.
Address: 498 Jefferson St, San Francisco, CA 94109
Cioppino's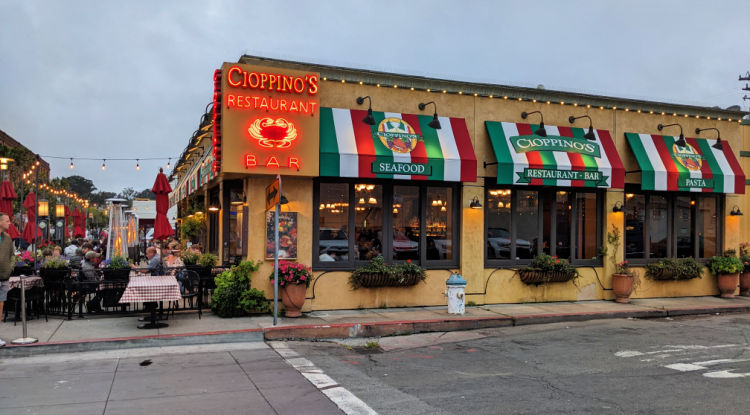 Another restaurant along Jefferson Street, Cioppino's offers a variety of Italian-themed fresh pasta dishes, plus a wide range of seafood options and has a delightful outdoor patio with sidewalk seating.
Pasta dishes are priced around $20, but we recommend you check out the signature dish, the Cioppino.
A wonderful mix of crab, clams, mussels, and various fish, and worth the outlay at $45, this is a meal that should not be missed when in San Francisco.
Address: 400 Jefferson Street (across from The Cannery), San Francisco, CA
>> More about visiting Fisherman's Wharf
>> More great places to eat in Fisherman's Wharf
Disclaimer: I receive a small commission from some of the links on this page.

Popular Fisherman's Wharf Activities
8 Best Options in Downtown San Francisco

This list of 8 in downtown San Francisco includes options in the Ferry Building, in Union Square, the Financial District, and South of Market.
In addition to those listed here, you will find a variety of small outdoor dining spots all around these districts. My list includes those with highly rated food and options set back from the street a little bit.
However, just walking around this area, you will find dozens of additional options.
>> More fun things to do in downtown SF
Gott's Roadside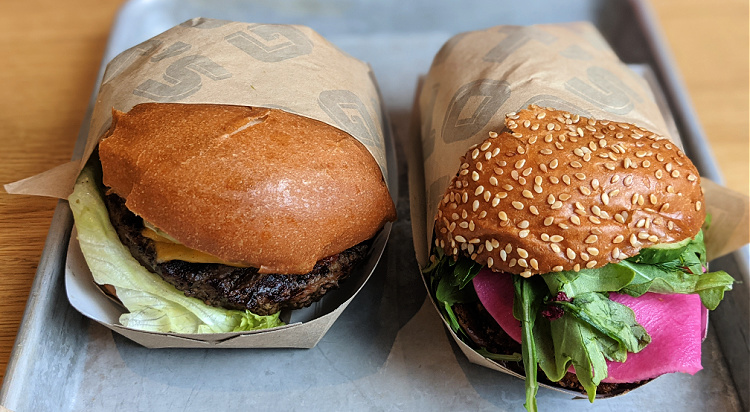 Located in the iconic Ferry Building, facing the Embarcadero, Gott's Roadside caters for private events in what can only be described as a stunning setting.
A choice of two outdoor patio spaces - one seating up to 200, the other 72 - can be hired for parties and events, with Gott's providing award-winning catering.
Check out their boxes which can be pre-ordered and picked up, or contact them for prices.
Address: 1 Ferry Building #6, San Francisco, CA 94111
>> More about the Ferry Building
>> Additional places in SF for the best burgers
Barcha

Off the busy street and with a stunning outdoor dining setup, Barcha specializes in Turkish and Persian dishes and is hugely popular with locals.
The lunch menu is appealing with the likes of Turkish Shawarma lamb and beef sandwiches being a prime example at just $21.
A choice of excellent salad dishes at $15 makes for an enjoyable and affordable lunch in a prime spot in San Francisco.
Address: 28 Fremont Street, San Francisco, CA, 94105
Delarosa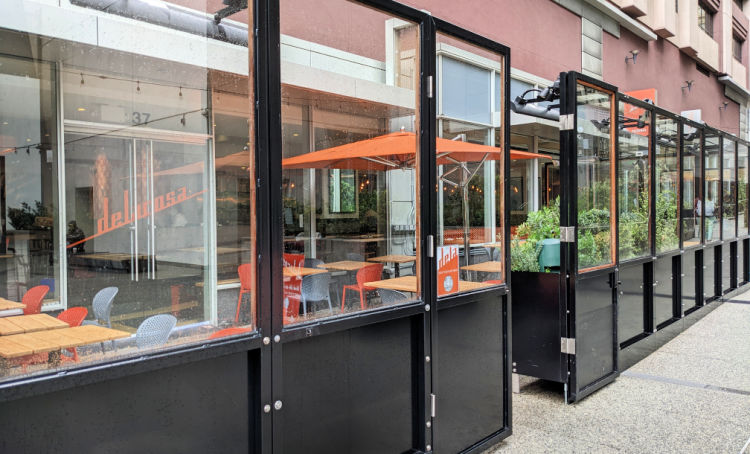 For classy and relaxed outdoor dining along the car-free Yerba Buena pedestrian path, there is little in downtown San Francisco to match Delarosa.
The Italian dishes are served family-style at communal tables making for a unique and casual dining experience, and we recommend you also sample the amazing inventive cocktails.
With pasta dishes for around $20 and a choice of antipasti options between $10 and $20, this is a great place for a family lunch. They also do a really good pizza that is not to be missed.
Address: 37 Yerba Buena Ln, San Francisco, CA 94103
>> More about visiting the South of Market District
Waterbar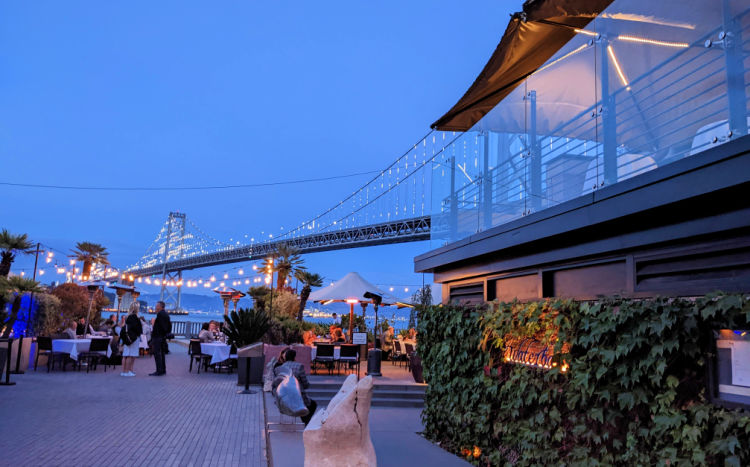 An outdoor waterside setting is one appealing factor of Waterbar, which offers stunning views of the iconic Bay Bridge which is why it's on our best outdoor dining list.
Locally sourced seafood dishes are a specialty here, with oysters from around $4 to dishes such as oven-roasted whitefish on the lunch menu at $27.
Visit during the day for a relaxed and friendly atmosphere or wait until the sun goes down and experience outdoor dining SF style with a great choice from the dinner menu.
Address: 399 The Embarcadero, San Francisco, CA 94105
Burma Love - Downtown

Burmese cuisine is a rarity even in cosmopolitan San Francisco, yet Burma Love is a hidden gem among the many restaurants downtown with outdoor seating.
A choice of Burmese curries at around $25 come highly recommended, as do the various chicken dishes.
Asian cuisine does noodles like no other, and Burma Love has a great selection at under $20. This is street food in Burma, and a delight to find in Downtown San Francisco.
Address: 8 Mint Plaza, San Francisco, CA 94103
Hog Island Oyster Company

Located in the iconic San Francisco Ferry Building, and with a charming enclosed patio along the waterfront, Hog Island Oyster Company is a simply superb eatery with views of Bay Bridge, Treasure Island, and the ferries coming and going from SF.
Various oysters are available - depending on the latest catch - with 6 for $21 a great deal, or you can choose from traditional fish and chips at $26, plus a variety of small plates, grilled oysters, and many more seafood dishes.
Address: 1 Ferry Building 11A, The Embarcadero, San Francisco, CA 94111
Perbacco

You will find Perbacco on California Street where there is a comfortable and pleasant outdoor dining area in which you can enjoy a relaxed casual meal.
A varied lunch menu offers a full range of Italian cuisine, with antipasti dishes alongside pasta and shellfish dishes. Dinner is equally impressive with a choice of traditional Italian food plus dishes including pork loin and roast beef.
With the dinner menu priced at between $14 and $30, this is a sensibly priced downtown restaurant.
Address: 230 California Street, San Francisco, CA 94111
The Irish Bank

The outdoor seating area at The Irish Bank is in a car-free alley, and the menu is as eclectic as it gets.
The restaurant and bar occupy an old bank building, and you can choose from dishes such as traditional fish and chips at $17, although we recommend an Irish classic - Irish Stew, made with prime Angus beef - at an affordable $15.
A choice of burgers, sausage and beans, and other classic dishes are also well priced. You have to check out the Irish whiskey when you visit.
Address: 10 Mark Lane, San Francisco, CA 94108
>> Additional Irish pubs in SF
5 Other Great Outdoor Dining Options Around San Francisco

This is just a small sample of the additional options for outdoor dining in San Francisco. You will find dozens of places all around SF, but these are some of my favorites.
All offer a large outdoor dining area with plenty of tables. They also have amazing food that I know you will love!
The Ramp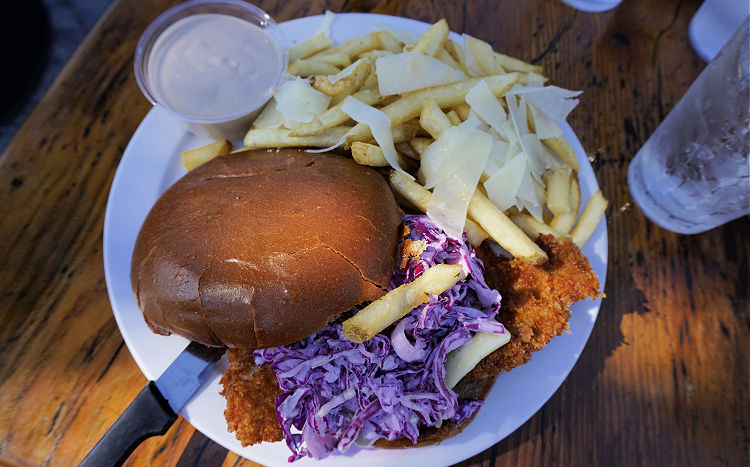 A casual and welcoming restaurant in the Mission Bay Area of San Francisco, The Ramp is a popular choice for al fresco dining.
A lively and enjoyable venue, you can watch big matches on the TV screens and take advantage of happy hour on Monday to Wednesday between 3 and 5pm.
Offering a choice of traditional American and international cuisine there is something for everyone on a menu where the most expensive item is less than $30.
Address: 855 Terry Francois Blvd. San Francisco, CA 94158
>> More to see and do in Mission Bay
El Techo

Head to the Mission Bay district and check out El Techo and its superb rooftop bar. With a happy hour Monday to Friday between 4 and 6pm you can sample the amazing cocktails the bar is famous for.
The menu is influenced by Latin American street food with small plates such as chips and salsa for a mere $5, main courses including Pollo en Adobo - marinated chicken and trimmings - at $23, and a half pound roast pork shoulder at $24.
Address: 2516 Mission St, San Francisco, CA 94110
>> More to see and do in the Mission
Foreign Cinema

The Foreign Cinema offers a unique dining experience in which foreign and independent films are screened against the white wall in the covered spacious patio, while you indulge in an eclectic menu that is simply delightful.
Oysters are available for around $4 and in multiples, while highly recommended is the Chef's Charcuterie, with its mixture of cured pork, duck, and vegetables. A great experience and wonderful food at sensible prices.
Address: 2534 Mission Street, San Francisco, CA 94110
Stinking Rose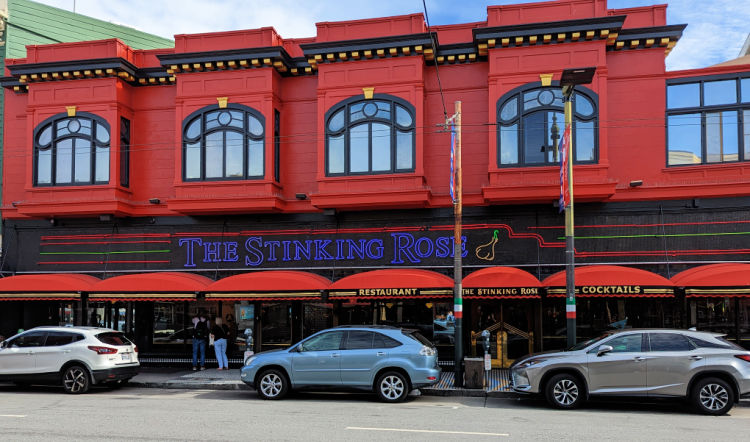 The Stinking Rose offers comfortable outdoor dining along Columbus Avenue in their new location. The daily menu is largely Italian - and plentiful garlic is involved - with garlic mussels a popular choice at around $20.
I like the seafood platter at $35, while meat lovers will appreciate the garlic ribeye steak at $35. Popular with locals who appreciate the unique atmosphere and eclectic choice, this is a recommended eatery if you want something different.
Address: 430 Columbus Avenue, San Francisco, CA 94133
>> More to see and do in North Beach
More Spots Along Columbus Avenue in North Beach

In addition to outdoor dining at the Stinking Rose, you will find more than a dozen other outdoor sidewalk dining along Columbus Avenue in North Beach.
Some other top spots here include Pat's Cafe (one of my favorite breakfast spots in the area), Piazza Pellegrini (a nice Italian spot), and Mona Lisa Restaurant (a budget-friendly Italian restaurant).
Park Chalet

Enjoy fine dining on the grass at Golden Gate Park at Park Chalet, an excellent restaurant offering a wide choice of dishes.
An all-day menu with starters such as crispy fried oysters at just $12 and classic Pacific clam chowder at $11 is perhaps the one to go for to enjoy a relaxed and casual outdoor dining experience in this stunning location.
With a choice of burgers at around $20 and traditional fish and chips at $23, this is a great venue for a family meal.
Address: 1000 Great Highway, San Francisco, California 94121
>> More about Park and Beach Chalet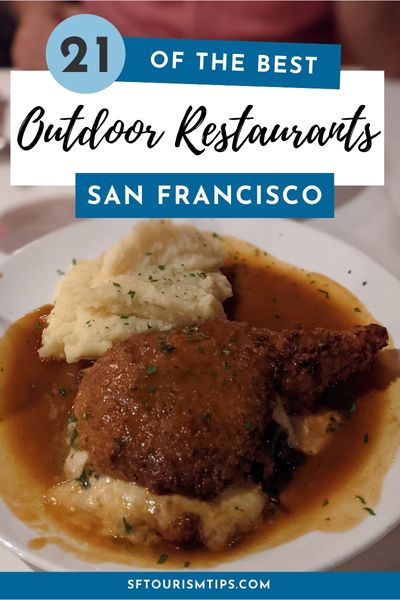 Comments? Questions? Suggestions?
I would love for you to join me in my private Facebook group! 
It's a great place to interact with me and others who know the area well.
You can ask questions, get advice for your upcoming stay, and then share your photos and advice with others when you return home. It's a great community and the fastest way to get answers to those nagging questions about your visit!