15 Best Bars in Union Square San Francisco

by Jill Loeffler  •

Published: June 29, 2023
What are the best bars in Union Square, San Francisco? My list offers you a great variety of options from top sports bars to those with wonderful happy hours, and the best places to check out the views.
Many of these are my old favorites in this area. I've also included some new options that are a must-visit.
I have no doubt you will have an amazing time at these places, and you explore all that San Francisco's nightlife has to offer.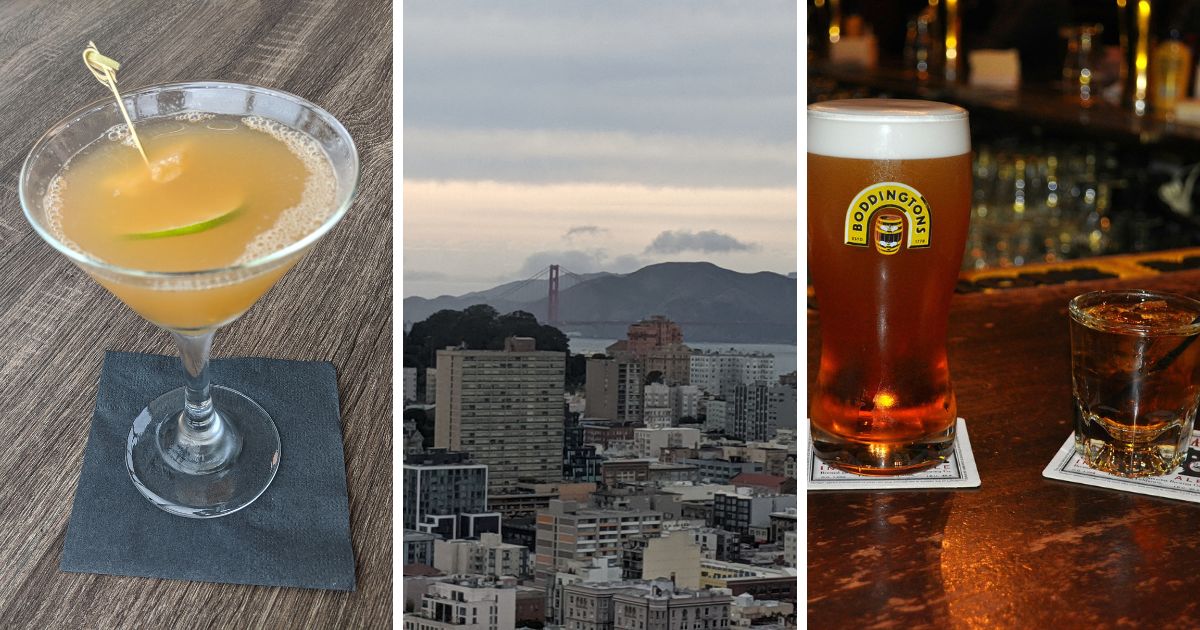 Disclaimer: I receive a small commission from some of the links on this page.

1. Tunnel Top

Address: 601 Bush Street
Union Square is the place to be for drinks and food in San Francisco. The Tunnel Top bar is a popular choice with locals and visitors thanks to its superb location and its lively and friendly atmosphere.
Open until 2 am every day, this dive bar is the place to be for a choice of fabulous cocktails, beers, wine, and more, with a guaranteed trendy crowd wanting to be seen. No night out is complete without visiting Tunnel Top, and it can also be booked for groups and events. A great place to spend an evening, make a note of it!
2. CityScape in the Hilton San Francisco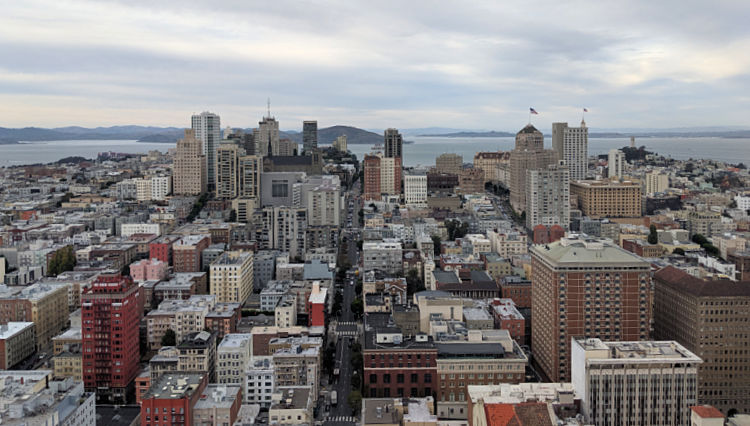 Address: Inside the Hilton San Francisco, 333 O'Farrell Street
There is little that matches sitting in CityScape in the Hilton San Francisco at sunset with a glass of fine wine. The panoramic views out to the bay include iconic sights such as the Golden Gate Bridge. It's just one of the reasons this friendly and relaxed wine bar remains one of my favorite spots in Union Square.
The San Francisco skyline is a perfect backdrop to an evening with friends, and the wine, cocktail, and beer menu at CityScape is second to none. This really is among the best bars in the city, and the views alone are simply not to be missed.
>> Great restaurants with a view around SF
3. The Zombie Village

Address: 441 Jones Street
For something different, I recommend you check out San Francisco's premier tiki bar, the fun, and friendly Zombie Village. Tiki culture belongs in San Francisco, and it's one of the best places to find a slice of South Seas paradise in this wonderful city.
Inspired by the famous and much-missed Skipper Kent's Zombie Village - the original that was destroyed by fire - the new bar Zombie Village recreates the cocktail menu from that iconic venue, making this wonderful bar a true one-off that is simply a break from reality.
If you've had a long day at work or touring the sights, Zombie Village is the place for you.
More Tips for Visiting Union Square
4. Pacific Cocktail Haven

Address: 550 Sutter Street
The acclaimed Pacific Cocktail Haven in Union Square is one of the most prestigious cocktail bars in the USA.
Bartender and owner Kevin Diedrich is not short of accolades himself, having been nominated several times for "Best American Bartender," and he has created a lively and popular bar that is at once a neighborhood bar as well as a tourist favorite.
With a fantastic drinks menu, where better to pull up a stool at the traditional long bar and enjoy your favorite in the company of great people and in a fabulous and welcoming atmosphere?
5. Golden Gate Tap Room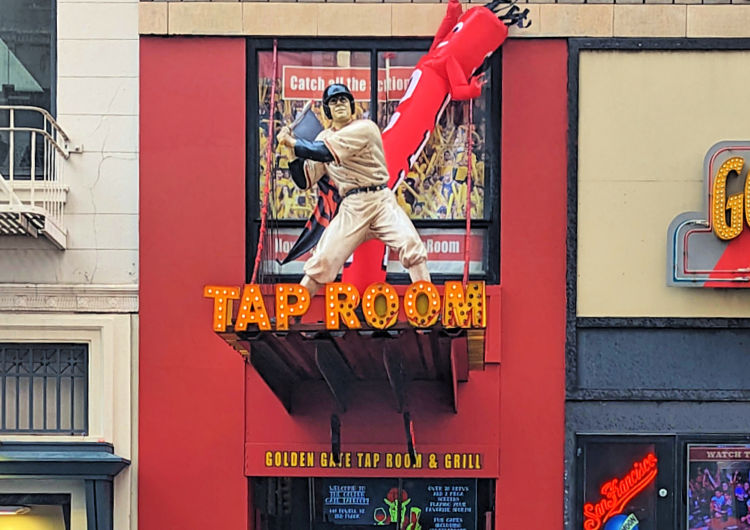 Address: 449 Powell Street
A block away from Union Square is the Golden Gate Tap Room, a sports bar with more than 100 beers on the menu! This is a place to unwind after a long day, with traditional games such as pool, foosball, arcade games, and more to enjoy, and 20 screens showing the big games.
Friendly, lively, and in a great spot, the Golden Gate Tap Room and Grill offers a food menu of burgers, fries, pub snacks, and much more with vegan and vegetarian options included. It is the perfect place to hang out and watch your favorite team or simply to enjoy a light lunch and a cold beer.
>> More great sports bars around SF
6. Clock Bar

Address: Inside The Westin St. Francis Hotel, 335 Powell Street
The wonderfully nostalgic Clock Bar can be found in The Westin St. Francis Hotel on Union Square. The decor evokes San Francisco of old, with art deco influences and turn of the 20th-century style to the fore.
A relaxed and welcoming atmosphere makes the Clock Bar a place to relax in surroundings that are delightful and welcoming, and you can choose to sit at the bar or find a table and chat with friends.
Popular with young and old alike, the Clock Bar's casual dress code invites you to enter and enjoy without needing to dress up to the nines. Visit the Clock Bar and see for yourself the detail that has gone into making this a place to be.
7. Johnny Foley's Irish House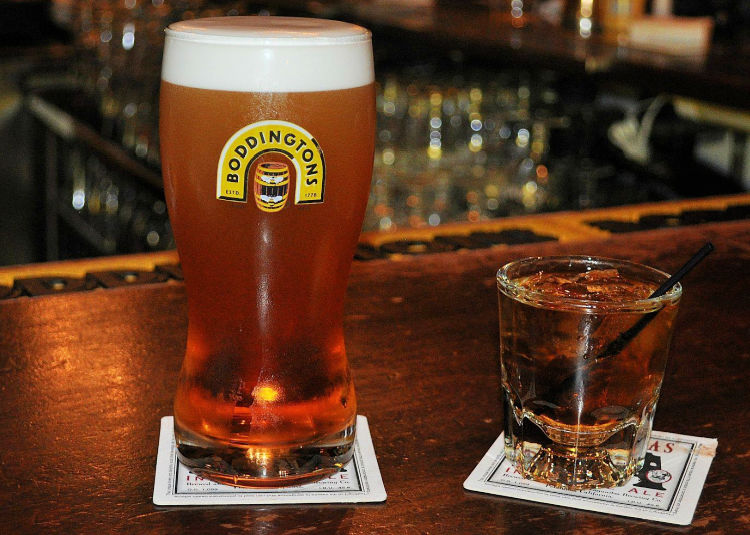 Address: 243 O'Farrell Street
A visit to San Francisco should include a trip to Johnny Foley's Irish House. A restaurant and bar - I like to sit at the bar most of the time - the food here is simply superb, the menu being a mix of Irish and Californian cuisine.
If you're not here for a meal, that's no problem, they're happy to serve you from their excellent drink menu, and with live music often laid on, this is a lively yet relaxed bar with friendly clientele and a warm welcome.
The fun atmosphere at Johnny Foley's is just what you'd expect from an Irish-influenced bar, so check it out when you're in town.
>> More great Irish pubs in SF
More Great San Francisco Nightlife Options

8. Redwood Room by the Clift

Address: Inside the Clift Hotel, 495 Geary Street
The Redwood Room in the Clift Hotel is a San Francisco bar steeped in legend. Recent renovations have seen the room restored to its former glory retaining the redwood walls - which legend has that it comes from one tree - and the famous bar made from an 800-year-old redwood.
The artwork on the walls, by none other than Gustav Klimt, has been rehung as it should be and is entirely in line with the art deco styling of this quite magnificent room.
The Redwood Room is not just a bar, it's a reminder of how special San Francisco is and remains a must-see bar for visitors.
9. Owl Tree

Address: 601 Post Street
Something of a hidden San Francisco gem is Owl Tree, a gloriously decorated bar close to Union Square.
With a wonderful mahogany bar, this quirky bar is favored by locals who like to sit at the bar or in one of the luxuriously furnished booths, while the upstairs room is perfect for enjoying cocktails with friends and taking in the fine views of the street.
The screens in the lower bar show the big games, and the place can get lively when the sports fans come in. A perfect place for a relaxed drink or a lively evening, Owl Tree is worth checking out.
10. Bourbon & Branch

Address: 501 Jones Street
Experience the atmosphere of the prohibition age at Bourbon & Branch, a long-established bar that was in fact a genuine speak-easy in the day. This quirky and fun bar has a set of house rules that echo those of a speak-easy - a secret bar that sold alcohol during the prohibition age - and visitors are strongly advised to visit "The Library."
This is a secret room accessed only by way of pressing the buzzer and using the password "books." You will then be escorted to The Library by your hosts to enjoy illicit cocktails! The main bar is in itself pretty special, and no trip to San Francisco would be complete without experiencing Bourbon & Branch.
11. Bartlett Hall

Address: 242 O'Farrell Street
The modern yet stylish decor of Bartlett Hall in Union Square combines with traditional bar furnishing to give it a warm and friendly feel the minute you walk in. Known for its excellent happy hour deals, you'll find the range of craft beers to be impressive and the cocktails pretty special.
This is a great place to eat if your taste is traditional American food, or simply to settle down with a beer and catch up with friends. Comfortable and lively at times, this is among the popular bars in the square so be sure to get in early to secure a table.
>> My favorite breweries around San Francisco
>> Find more of my favorites for happy hour
12. Lost Cat Bar & Bites

Address: 587 Post Street
The Lost Cat Bar and Bites is famous for its signature cocktails, each of which is made only from fresh fruit and other ingredients sourced locally. A charming and friendly bar staffed by knowledgeable bartenders, it's popular with all ages thanks to a great atmosphere and superb cocktails.
Food is offered in the form of bar snacks suitable for enjoying with drinks, and it's fair to say that cocktails look as beautiful as they taste. If original, artisanal cocktails are your thing, you will certainly enjoy an evening at Lost Cat, so check it out while you're visiting Union Square.
13. Iron Horse Cocktails

Address: 25 Maiden Lane
Iron Horse Cocktails is famous as a former drinking spot favored by stars of the screen such as Frank Sinatra, Dean Martin, Sammy Davis Jr., plus many other celebrities and politicians. It was also the venue for Marylin Monroe and Jo Di Maggio's wedding reception!
Iron Horse remains a place to be seen and is now known for its superbly crafted cocktails created by expert bartenders. Comfortable and welcoming, you get an instant sense of the '50s and 60's nostalgia at Iron Horse and can imagine sitting at the bar next to one of the superstars of the era back in the Golden Years of Hollywood. A place not to be missed.
14. The Irish Bank

Address: 10 Mark Lane
Occupying its own lane near Union Square is The Irish Bank. As an authentic and traditional Irish bar, it is known for its lively yet relaxed atmosphere and friendly welcome. The inside is bedecked with fascinating old antiques, mirrors, and pictures, which give a unique but unmistakably Irish look.
You can't go to an Irish pub and not try a Guinness, and from the cocktail menu, I recommend the classic Irish Coffee. Enjoy a traditional Irish lunch here that will set you up for an afternoon of shopping or sightseeing, or choose from the many pub dishes on the menu.
15. Bottle Club Pub

Address: 555 Geary Street
The Bottle Club Pub is a wonderful place that harks back to an era when American Whisky was traded by enthusiasts in colorful decanters. The glorious traditional interior is complete with a long bar lined with pub stools, and behind is the legendary "Great Wall" of spirits, which is a revolving contraption with bottles on both sides!
There is nothing to match it in San Francisco. The Bottle Club Pub has a superb selection of beers and wines, but it's for the decanted whisky cocktails that people come here especially. Try it, you will not regret it, and the spectacle of the Great Wall will be a highlight of your visit.
>> Find a list of more of my favorite bars around SF
Where to Stay in Union Square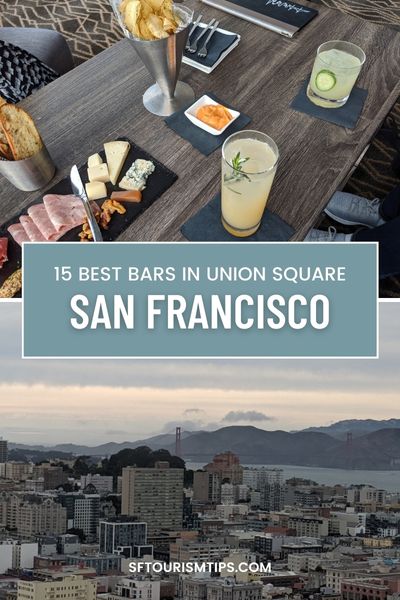 Comments? Questions? Suggestions?
I would love for you to join me in my private Facebook group! 
It's a great place to interact with me and others who know the area well.
You can ask questions, get advice for your upcoming stay, and then share your photos and advice with others when you return home. It's a great community and the fastest way to get answers to those nagging questions about your visit!