San Francisco Bars: My 15 Favorites and Ones I Know You Will Enjoy
Proof of vaccination is now required for certain indoor activities. Learn more here. 
My list of San Francisco bars offers you the chance to step back in time to soak in SF's history. You can also grab a glass of wine, a unique cocktail, and enjoy the best happy hour.

This list was a tough one since there are so many great choices in SF. My favorites change frequently as new options open and others close, so check back often for updates!

1. Vesuvio Cafe

The Vesuvio Cafe is a San Francisco institution. This North Beach cafe and bar was a popular hangout spot for the writers, poets, and other artists of the Beat Generation in the 1950s. Some of its most famous customers included Jack Kerouac, Neal Cassady, and Lawrence Ferlinghetti.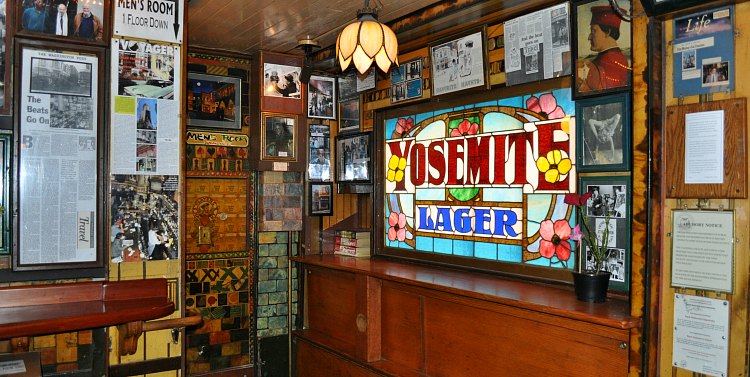 They often spent hours here talking, writing, and of course, drinking. Today, you can order a cocktail and walk around as you relive the history of the Beat Generation, whose relics are plastered all over the walls of this cafe. The drinks are expensive, but it's a fun stop for those who love history and culture.
Address: 255 Columbus Avenue
District: North Beach
Best For: History lovers
2. 21st Amendment

The 21st Amendment is a great spot for pub food and craft beer. I've been going here for years and it's one of my favorite San Francisco bars. You can either grab a drink at the bar or sit at a table for lunch or dinner. I love their summer "Hell or High Watermelon" wheat and their "Brew Free! Or Die" IPA. It's also one of my favorite places to stop by either before or after a Giants game.
Address: 563 2nd Street
District: South of Market (SOMA)
Best For: Casual night out on the town with friends or drinks before an SF Giants game
3. Lush Lounge

The Lush Lounge is famous for their VERY stiff drinks. They have an amazing happy hour and cocktails "with limits". That's right. At this bar, they will only let you order up to two margaritas, or other cocktails, because the drinks are so strong. The atmosphere is fun, although it gets a little crowded later in the evening. My favorite time to come here is at the start of happy hour or a sunny afternoon on the weekends.
Address: 1221 Polk Street
District: Tenderloin
Best For: Happy hour, cocktails
4. Toronado

If you love to sample new beers, then head over to Toronado in the Lower Haight District. This beer mecca offers more than 40 beers on tap from all around the world. They range from local brews, such as those from Magnolia Brewery, as well as international options from Germany, Belgium, and Iceland. It's one of the top San Francisco bars.

One last note is you can head next door to order a gourmet sausage from Rosamunde and eat it at your table in Toronado.
Address: 547 Haight Street
District: Lower Haight
Best For: Beer lovers
5. Park Chalet

The Park Chalet is the little sister of the well-known Beach Chalet restaurant. I love the laid-back atmosphere of the Park Chalet. They offer great beers happy hour specials. It's one of my favorite places to sit outside on a warm day. You get eye-level views of the green grasses of Golden Gate Park and it's a relaxing place to hang out with friends and family.
Address: 1000 Great Highway
District: Outer Richmond
Best For: Happy hour, outdoor seating on sunny days
6. Redwood Room

The Redwood Room is one of the places I always take my out-of-town guests. This classic bar has an old world feel with modern touches. The wooden bar is gorgeous and serves up yummy cocktails. It's another spot I like to visit earlier in the evening before it gets too crowded. However, if you love mingling with people from all over the world, head over for the late-night fun that usually starts around 10pm.
Address: 495 Geary Street (on the first floor of the Clift Hotel)
District: Union Square/Tenderloin
Best For: Early evening cocktails, late night partying
7. Smuggler's Cove

Smuggler's Cove is a funky, pirate-themed bar with more than 400 rare rums, which they turn into a variety of colorful, tasty cocktails. It does take a little longer to get your drinks here, as their expert bartenders individually craft each one. This three-story bar offers intimate seating areas and a lot of fun decor. All of this is what puts it on my list of the best San Francisco bars.
Address: 650 Gough Street
District: Hayes Valley
Best For: A night out on the town for Rum lovers
8. Noc Noc

This funky bar typically serves the late-night crowd, so it's the perfect place to relax with a cold beer during happy hour. They have a variety of beers on tap and in the bottle.

They focus on craft beers, so you will not find any of the usual beers like Coors, Bud Light, or PBR. Their beer selection is constantly changing, so you will almost always find something new. Noc Noc's happy hour offers great deals on local pints.
This is one of the San Francisco bars that is a local favorite. Read more about it and find some other cool bars on my Lower Haight page.
Address: 557 Haight Street
District: Lower Haight
Best For: Craft beers
9. Lizzie's Starlight Ballroom

This recently renovated gem offers views of Union Square and surrounding areas. Set high up on the 21st floor, Lizzi's Starlight Ballroom is a classy cocktail lounge that reflects the story of the alleged affair between Sir Francis Drake and Queen Elizabeth I.
The space is light and cheery, and you'll love their tasty cocktails. They also have a decent selection of beer and wines by the glass including red, white, and sparkling.
If you are hungry, check out their menu. You will find small bites with items such as truffle fries and avacado toast. You will also find a burger and a couple of other larger dishes.
Address: 450 Powell Street (in the Sir Francis Drake Hotel)
District: Union Square
Best For: Early evening cocktails, late night ballroom dancing (with reservations)
10. Zeitgeist

A great local bar is Zeitgeist in the Mission. It's small inside but has a huge outdoor area with almost a dozen picnic tables. They also have more than 40 beers on tap. On a warm, sunny afternoon, this is the perfect place to stop and unwind. It's also fun at night, when it gets busy. They offer a limited number of food items such as burgers, bratwurst, and grilled cheese.
Address: 199 Valencia Street
District: Mission
Best For: Casual afternoon beer, or a fun night on the town
11. Slim's

Slim's opened in 1988 by R&B legend Boz Scaggs. It's one of the San Francisco bars that features bands from a variety of genres including jazz, R&B, blues, alternative, metal, hip-hop, top 40, and more. The shows are mostly general admission and standing room only.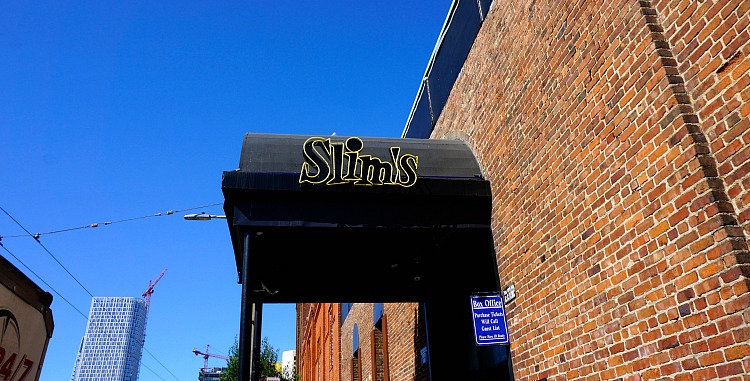 There is a small balcony that has seats for up to 30 guests. You can reserve these spots as part of their Dinner & Admission tickets (which include a 3-course meal). They also offer a bar menu for those who purchase the general admission tickets. Slim's has won numerous awards and is a great place to catch a live show in San Francisco.
Address: 333 11th Street
District: SOMA
Best For: Live music entertainment
More: Find a schedule of SF's concerts and live music shows each month
12. El Techo de Lolinda

El Techo de Lolinda is one of the few rooftop San Francisco bars. It also includes a restaurant and is in the Mission District. They serve Latin American street food and wonderful cocktails. The bar is located on the fifth floor with excellent views of the local area.
This place attracts a friendly crowd who love to mix and mingle. I also recommend making a reservation, so you can get a table along the edge for the best views. If you want a heartier meal, head downstairs to their full restaurant called Lolinda, an Argentinean steakhouse.
Address: 2518 Mission Street
District: Mission
Best For: Great views, fun atmosphere, Latin street food
13. Top of the Mark

This bar and restaurant on the top floor of the famous Mark Hopkins Hotel is one of the more upscale and pricey San Francisco bars in the city, but worth a visit for the stunning views. The atmosphere is dressy, so you'll want to be prepared.
A visit to the Top of the Mark is a nice occasion to get dolled up and enjoy a drink or two before hitting the town. The restaurant here is usually reserved far in advance, but feel free to ask for a table if you have time to wait.
Address: 999 California Street
District: Nob Hill
Best For: Amazing views of the city
14. Bartlett Hall

Bartlett Hall is a new bar on the scene close to SF's Union Square. It has a gorgeous dark wood interior and you can see the brewing kettles for their beers in the back. This brewery and pub offers some great happy hour drink specials as well as deals on their tasting menu.

They have their own beers on tap, as well as other local selections. During happy hour, they offer great prices on a couple of their top beers, one white wine, and one red wine. Their food menu also includes just a few items from their larger menu such as a pizza, the wings (which are AMAZING), and a salad.
Address: 242 O'Farrell Street
District: Union Square
Best For: Homemade brews, happy hour
More: Find a list of my favorite happy hour spots
15. Press Club

If you're looking for a nice change from the usual beer and cocktails, I definitely recommend checking out this classy wine bar. It features a nice selection of wines from only a small group of wineries. Best of all, it's close to Union Square and several downtown attractions, and is a great place to have a drink after catching a movie at the Metreon.
Address: 20 Yerba Buena Lane
District: Financial District/SOMA/Union Square
Best For: Dates and small parties
More: Find more of my favorite wine bars in SF
Top San Francisco Bars by Neighborhood

Mission District | North Beach | The Castro | Union Square | Marina