San Francisco Bars: My 25 Favorites and Ones I Know You Will Love

by Jill Loeffler  •

Updated: August 5, 2023
My list of San Francisco bars offers you the chance to step back in time to soak in SF's history. You can also grab a glass of wine, sip a unique cocktail, and enjoy the best happy hour.

This list was a tough one to make since there are so many great choices in SF. My favorites change frequently as new options open and others close, so check back often for updates!

Disclaimer: I receive a small commission from some of the links on this page.

1. Vesuvio Cafe

The Vesuvio Cafe is a San Francisco institution. This North Beach cafe and bar was a popular hangout spot for the writers, poets, and other artists of the Beat Generation in the 1950s. Some of its most famous customers included Jack Kerouac, Neal Cassady, and Lawrence Ferlinghetti.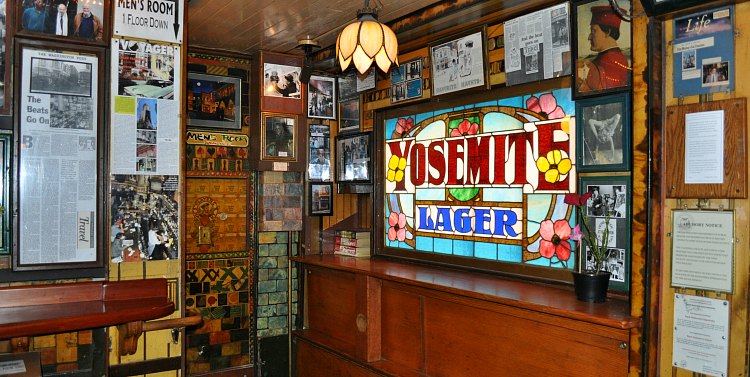 They often spent hours here talking, writing, and of course, drinking. Today, you can order a cocktail and walk around as you relive the history of the Beat Generation, whose relics are plastered all over the walls of this cafe. The drinks are expensive, but it's a fun stop for those who love history and culture.
Address: 255 Columbus Avenue
District: North Beach
Best For: History lovers
2. 21st Amendment

21st Amendment is a great spot for pub food and craft beer. I've been going here for years and it's one of my favorite San Francisco bars. You can either grab a drink at the bar or sit at a table for lunch or dinner.
I love their summer "Hell or High Watermelon" wheat and their "Brew Free! Or Die" IPA. It's also one of my favorite places to stop by either before or after a Giants game.
Address: 563 2nd Street
District: South of Market (SOMA)
Best For: Casual night out on the town with friends, or drinks before an SF Giants game
>> Check out some additional great breweries around SF
3. Lush Lounge

The Lush Lounge is famous for their VERY stiff drinks. They have an amazing happy hour and cocktails "with limits". That's right: at this bar, they will only let you order up to two margaritas, or other cocktails, because the drinks are so strong.
The atmosphere is fun, although it gets a little crowded later in the evening. My favorite time to come here is at the start of happy hour or on a sunny afternoon on the weekends.
Address: 1221 Polk Street
District: Tenderloin
Best For: Happy hour, cocktails
4. Toronado

If you love to sample new beers, then head over to Toronado in the Lower Haight District. This beer mecca offers more than 40 beers on tap from all around the world.
They range from local brews, such as those from Magnolia Brewery, as well as international options from Germany, Belgium, and Iceland. It's one of the top San Francisco bars.

Address: 547 Haight Street

District: Lower Haight
Best For: Beer lovers
5. Park Chalet

The Park Chalet is the little sister of the well-known Beach Chalet restaurant along SF's Pacific Coast. I love the laid-back atmosphere of this restaurant and beer garden. They also offer great happy hour specials. 
This is one of my favorite places to sit outside on a warm day. You get eye-level views of the green grasses of Golden Gate Park and a relaxing spot to hang out with friends and family.
Address: 1000 Great Highway
District: Outer Richmond
Best For: Happy hour, outdoor seating on sunny days
6. Redwood Room

The Redwood Room is one of the places I always take my out-of-town guests. This classic bar has an old world feel with modern touches. The wooden bar is gorgeous and serves up yummy cocktails.
This is another spot I like to visit earlier in the evening before it gets too crowded. However, if you love mingling with people from all over the world, head over for the late-night fun that usually starts around 10 pm.
Address: 495 Geary Street (on the first floor of the Clift Hotel)
District: Union Square/Tenderloin
Best For: Early evening cocktails, late night partying
>> More great bars around Union Square
7. Smuggler's Cove

Smuggler's Cove is a funky, pirate-themed tiki bar with more than 400 rare rums, which they turn into a variety of colorful, tasty cocktails.
It does take a little longer to get your drinks here, as their expert bartenders individually craft each one. This three-story bar offers intimate seating areas and a lot of fun décor. All of this is what puts it on my list of the best San Francisco bars.
Address: 650 Gough Street
District: Hayes Valley
Best For: A night out on the town for rum lovers
8. Noc Noc

This is one of the San Francisco bars that is a local favorite. The funky bar typically serves the late-night crowd, so it's the perfect place to relax with a cold beer during happy hour. They have a variety of beers on tap and in the bottle.
They focus on craft beers, so you will not find any of the usual brands like Coors, Bud Light, or PBR. Their beer selection is also constantly changing, so you always have the chance to discover something new. Noc Noc's happy hour offers great deals on local pints.
Address: 557 Haight Street
District: Lower Haight
Best For: Craft beers
9. Cityscape Bar & Lounge

Known as the "Tallest Skybar in San Francisco," you will get the best views of the city and bay here compared to anywhere else. Set high up on the 46th floor of the Hilton San Francisco in Union Square.
The Cityscape is a classy cocktail lounge that reflects the story of the alleged affair between Sir Francis Drake and Queen Elizabeth I.
The space is light and cheery, and you'll love their tasty cocktails. They also have a decent selection of beer and wines by the glass including red, white, and sparkling.
If you are hungry, check out their menu. You will find small bites with items such as cheese and charcutierie boards, truffle crips, Togarashi Edamame, and a few others.
Address: 333 O'Farrell Street (atop the Hilton San Francisco Union Square)
District: Union Square
Best For: Early evening cocktails, late night ballroom dancing (with reservations)
10. Zeitgeist

One of the great local San Francisco bars is Zeitgeist in the Mission. It's small inside but has a huge outdoor area with almost a dozen picnic tables. They also have more than 40 beers on tap.
On a warm, sunny afternoon, this is the perfect place to stop and unwind. It's also fun at night, when it gets busy. They offer a limited number of food items such as burgers, bratwurst, and grilled cheese.
Address: 199 Valencia Street
District: Mission
Best For: Casual afternoon beer, or a fun night on the town
11. The Alchemist

Just a block away from Oracle Park where the SF Giants play, you'll find The Alchemist bar and lounge in a somewhat-hidden second-floor space that provides both indoor and outdoor seating.
The fantastical decor complements their magical concoctions, as their unique cocktails—with names like "El Shaman" and "Valley of the Voodoo Dolls"—include house-made infusions and handcrafted syrups and tinctures. A visit here makes for a memorable experience with great service.
Address: 679 3rd Street
District: South Beach (near Oracle Park)
Best For: Craft cocktails, pre- or post-ballgame, larger groups
12. El Techo

El Techo de Lolinda is one of the few rooftop bars in San Francisco that offers excellent view of the local area. It also includes a restaurant where they serve Latin American street food as tasty as their wonderful cocktails. 
This place attracts a friendly crowd who love to mix and mingle. I recommend making a reservation, so you can get a table along the edge for the best views. If you want a heartier meal, head downstairs to their full restaurant called Lolinda, an Argentinean steakhouse.
Address: 2516 Mission Street
District: Mission
Best For: Great views, fun atmosphere, Latin street food
>> Find some great late night eats around the Mission and throughout SF
13. Top of the Mark

This bar and restaurant on the top floor of the famous Mark Hopkins Hotel is one of the more upscale and pricey San Francisco bars in the city, but worth a visit for the stunning views. The atmosphere is dressy, so you'll want to be prepared.
A visit to the Top of the Mark is a nice occasion to get dolled up and enjoy a drink or two before hitting the town. The restaurant here is usually reserved far in advance, but feel free to ask for a table if you have time to wait.
Address: 999 California Street
District: Nob Hill
Best For: Amazing views of the city
14. Bartlett Hall

Bartlett Hall is one of my favorite bars on the scene close to SF's Union Square. It has a gorgeous dark wood interior and you can see the brewing kettles for their beers in the back. This brewery and pub offers some great happy hour drink specials as well as deals on their tasting menu.

They have their own beers on tap, as well as other local selections. During happy hour, they offer great prices on a couple of their top beers, one white wine, and one red wine. Their food specials also include just a few items from their larger menu such as a pizza, wings (which are AMAZING), and a salad.
Address: 242 O'Farrell Street
District: Union Square
Best For: Homemade brews, happy hour
More: Find a list of my other favorite happy hour spots
15. Press Club Wine Bar

If you're looking for a nice change from the usual beer and cocktails, I definitely recommend checking out this classy wine bar. It features a nice selection of wines from only a small group of wineries.
Best of all, it's close to Union Square and several downtown attractions, and is a great place to have a drink after catching a movie at the Metreon.
Address: 20 Yerba Buena Lane
District: Financial District/SOMA/Union Square
Best For: Dates and small parties
More: Find more of my favorite wine bars in SF
16. SF Brewing Co.

This brewery specializes in small-batch experimental brews that you can enjoy indoors or in their outdoor beer garden.
Local flavors include the Alcatraz Amber Ale and the Fog City Hazy IPA. More than just beer, they offer a fully-stocked bar with a continually updated cocktail menu and great pub fare.
Every weekend during the summer, you'll also find live music to enjoy with your drinks. 
Address: 3150 Polk Street
District: Fisherman's Wharf
Best For: Afternoon gathering with friends
More: See what else you can do while in Ghirardelli Square
17. Golden Gate Tap Room

The Golden Gate Tap Room downtown is a beer-lover's dream, with over 100 options on the menu, including 60 on tap. You can't beat the wide selection of drinks they have here, not to mention the more than 30 screens for watching whatever team you came to cheer on.
It's a lively place for happy hour with room for big groups and a variety of games, including skee ball, pool, foosball, and shuffleboard.
Address: 449 Powell Street
District: Union Square
Best For: Games, sports, and beer
More: Additional great sports bars around SF
18. San Francisco Athletic Club

This is another fun sports bar to check out, and you can make booth reservations to enjoy their in-booth sound systems with their HD screens.
The bar offers wine, cocktails, and beer. The food menu has everything you could want while watching a game: tacos, burgers, wings, hot dogs, salads and sandwiches—and a special brunch menu on weekends!
Address: 1750 Divisadero Street
District: Lower Pacific Heights
Best For: Sports fans
More: Check out what my perfect day in Pac Heights looks like
19. Twin Peaks Tavern

This iconic corner bar in the Castro really gives you a taste of San Francisco.
In fact, the city granted it historic landmark status—not because it was constructed in the 1880s, but because it was remarkably the first gay gathering place to have full-length clear windows, meaning people could see in and the LGBT community didn't have to hide.
Be aware that they take cash only (though there is an ATM upstairs if needed).
Address: 401 Castro Street
District: The Castro
Best For: The queer community and local historic vibes
20. The Irish Bank

Tucked away in a little alley near Union Square, the Irish Bank is a fantastic Irish pub that serves up good drinks and food. Apart from the classic Guinness and Smithwicks, you can enjoy a range of imported and local beers, wine, cocktails, and an impressive selection of Irish whiskeys.
You'll find a few traditional dishes on the menu, such as their Irish breakfast with sausage, bacon, pudding, and beans (breakfast served daily until 3 pm).
And if you're around in March, don't miss their annual St. Patrick's Day weekend block party!
Address: 10 Mark Lane
District: Union Square
Best For: Friendly pub atmosphere
21. Tonga Room and Hurricane Bar

At this funky throwback tiki bar in the Fairmont Hotel, guests sit around what was once the indoor swimming pool, later remade by a Hollywood set designer into the exotic "lagoon" it is today with tropical, colorful rains. You'll find a Hawaiian-inspired menu that includes mai tais, zombies, and other umbrella-laden tropical cocktails.
If you happen to be here on any given night at 7 pm, you'll pay an extra $15 for Island Groove, the live band that entertains from a floating boat. 
Address: 950 Mason Street (the Fairmont Hotel)
District: Nob Hill
Best For: Fun themed atmosphere
22. Pacific Cocktail Haven

This bar is newer on the scene, but very popular since its inception. They offer an incredible menu of novel cocktails inspired by creative flavor combinations and Asian Pacific ingredients.
Some favorites include the Fo' Swizzle with tequila and passionfruit, Kung Fu Pandan with Japanese whisky and salted pandan, and the Tuk Tuk Tea with cognac and Thai tea, among many other fun drinks.
Address: 550 Sutter Street
District: Union Square
Best For: Cocktail lovers looking for something original
23. The Library at Bourbon and Branch

In the spirit of Prohibition-era speakeasies, you need the password to get into this special hideaway within the Bourbon and Branch bar. You can make reservations ahead of time for the full experience, or stop by on any given evening and ask to be escorted to the Library—a luxurious hidden cavern filled floor to ceiling with books!—to sample some classic cocktails.
This is truly a special place. The whiskeys here are top-notch and you won't find them mixed with any syrup, juice, or extract that they haven't made themselves. 
Address: 501 Jones Street
District: Tenderloin
Best For: Impressing your date; intimate underground (literally!) gatherings with friends
24. Li Po Cocktail Lounge

This historic joint is famous for its Chinese Mai Tais. Sweet and strong, they consist of rum, pineapple juice, and "Chinese liqueur," and have become so popular the bar has even trademarked it!
The lounge opened in 1937 in the heart of Chinatown, and if you're looking for a cultural experience with an authentic atmosphere that's different from your average bar, this is your place to try something unique. You can stop in on any afternoon or evening until late.
Address: 916 Grant Avenue
District: Chinatown
Best For: A strong mai tai to kick off the night
More: See what else you can do on a perfect day in SF's famous Chinatown
25. The Ramp

Originally a 1950s bait shop on the SF Bay waterfront, The Ramp is now a funky, casual patio restaurant. This is a great place to visit during the day, as they open for late morning brunch and close by 8:30 pm on weekdays (10 pm on weekends). They offer a full drink menu of wine, beer, and cocktails, and often have live music that you can enjoy outdoors with a view. 
Address: 855 Terry A Francois Boulevard
District: Between Mission Bay and the Dogpatch
Best For: An afternoon on the bay
Top San Francisco Bars by Neighborhood

More Great Nightlife Options
Comments? Questions? Suggestions?
I would love for you to join me in my private Facebook group! 
It's a great place to interact with me and others who know the area well.
You can ask questions, get advice for your upcoming stay, and then share your photos and advice with others when you return home. It's a great community and the fastest way to get answers to those nagging questions about your visit!