SF Sports Bars: My 20 Top Picks

by Jill Loeffler  •

Published: October 4, 2022
Are you looking for the best SF sports bars? My list offers a variety of options in Fisherman's Wharf, Union Square, downtown SF, and all around the city.
You'll find options for NFL, MLB, and NBA games. You'll also find great places to watch college football, hockey, and soccer.
You can also watch one of the local teams such as the San Francisco Giants, Golden State Warriors, or the San Francisco 49ers.
Some of these are dedicated sports bars, and others are regular bars or restaurants with various TVs around the establishment.
5 Best Sports Bars Near Fisherman's Wharf
You will find several sports bars near Fisherman's Wharf. These are just a few of my favorites.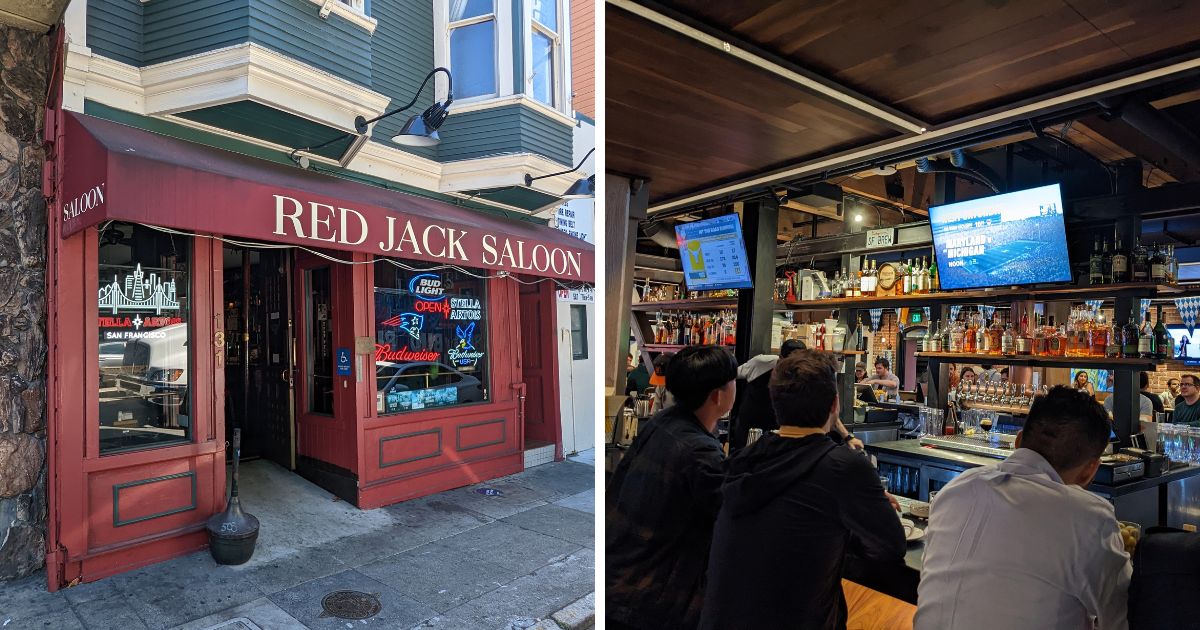 Disclaimer: I receive a small commission from some of the links on this page.

Players Sports Grill & Arcade
Located on the iconic Pier 39 is Players Sports Bar and Arcade, a must for sports and beer fans with 35 TVs and 15 beers from around the world on tap.
A lively, friendly, and popular destination, this is the place if you're looking for a traditional American sports bar experience. Burgers and pizzas are staples of the menu, and the wonderful Luau lounge provides wonderful views of San Francisco Bay and Alcatraz Island.
You'll hear the term "Iconic" used about many things in San Francisco, but it's truly appropriate for Players.
Address: Pier 39
>> More things to see and do on Pier 39
San Francisco Brewing Company
The San Francisco Brewing Company offers a selection of craft beers made on-site and an excellent menu of locally sourced dishes. Their latest beer – Karl (named after our famous fog) – is a delightful New England style IPA at 6.8% and full of flavor.
The Alcatraz Amber is a favorite of mine, and you can try experimental brews pulled straight from the tank – a unique experience in SF sports bars.
For beer lovers, this is one classic sports bar that needs to be on your bucket list, and it's worth keeping up to date with their events list as there's always something happening.
Address: Ghirardelli Square
>> More things to see and do in Fisherman's Wharf
Disclaimer: I receive a small commission from some of the links on this page.

Best Fisherman's Wharf Activities and Tours
The Red Jack Saloon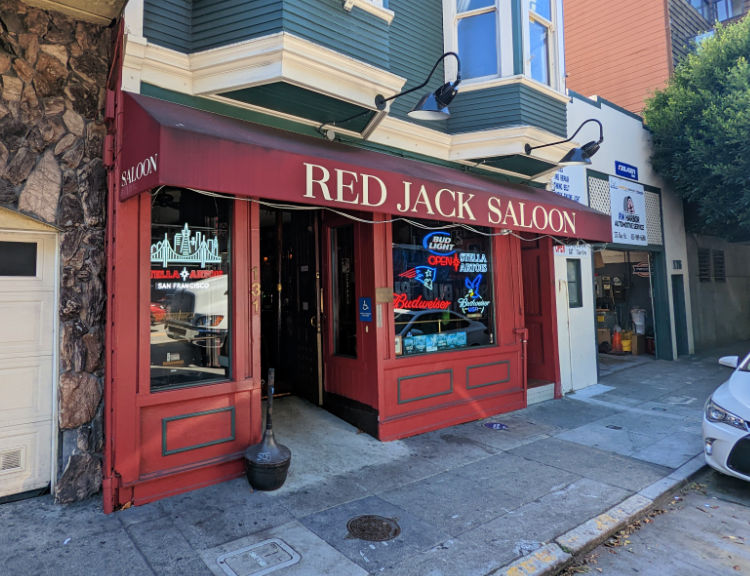 If a busy and lively bar offering a vast range of craft beers and sports on TV is your thing, The Red Jack Saloon might be the place you are looking for in SF. A friendly welcome is always on hand, and the menu is as expected from this type of bar, plus a few little extras.
This is the sort of bar you'll chance upon once in a while – it's popular with locals and tourists – and is strongly recommended by many satisfied customers.
It is a true New England-style bar in a great San Francisco location.
Address: 131 Bay Street
International Sports Club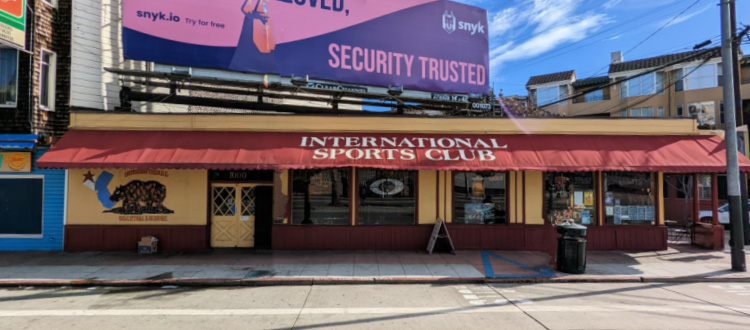 Sometimes all you want is a simple and traditional bar where you can hang out, make friends, and try a choice of delicious beers from far and wide. And, if you are looking for a bit more, a game of pool and sports on the TV might also help.
If that is what you want, then this is the place for you since that is exactly what you get at the International Sports Bar.
There are no gimmicks here – although you may chance upon one of the times during the day when the pool tables are free or perhaps hit happy hour when prices are greatly reduced – but no matter when you visit, you get is a great fun, friendly, and often lively bar that attracts a cool crowd of sports fans and the beer-loving tourists.
Address: 1000 Columbus Avenue
The Boardroom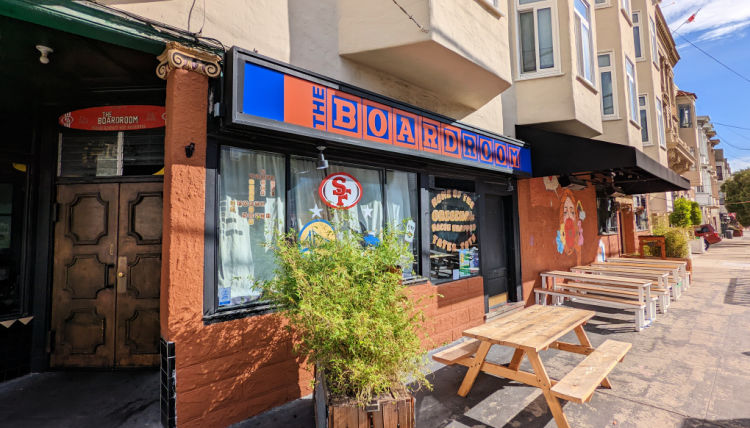 Often reviewed as one of the greatest bars in San Francisco, The Boardroom is a trendy joint frequented by beer and sports lovers and a fun place to try some of the beers on offer.
With 20 taps to choose from, you have a great choice!
The Boardroom is also famous for its stunning Irish coffee – made with its homemade Bailey's recipe – and shows major sports on the large TV screens.
An outdoor patio is perfect for soaking up the sun and enjoying brunch from the excellent menu. It's well worth a visit if you're in town.
Address: 1600 Powell Street in North Beach
5 Best Sports Bars in Union Square and Downtown SF
You will also find various places to watch the game near Union Square and Downtown SF.
Bartlett Hall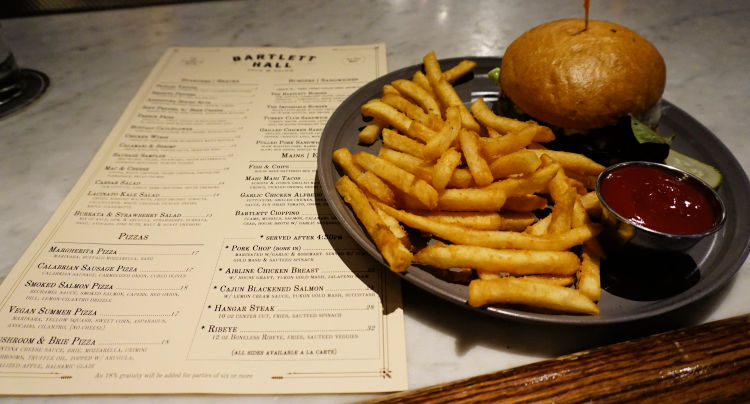 Bartlett Hall is famed for its superb small-batch brews of ales and lagers with a seven-barrel brewery on site. Using traditional brewing methods to ensure quality and taste, the bar is a wonderful place to drink and choose lunch or dinner from a menu including pub classics and burgers.
If cocktails are your thing, then Bartlett Hall is among the best destinations for you, but for us, it has to be the ales. What could be better than traditional fish and chips and a pint in such delightful surroundings?
Address: 242 O'Farrell Street
>> More great bars around Union Square
>> More places to eat in Union Square
Golden Gate Tap Room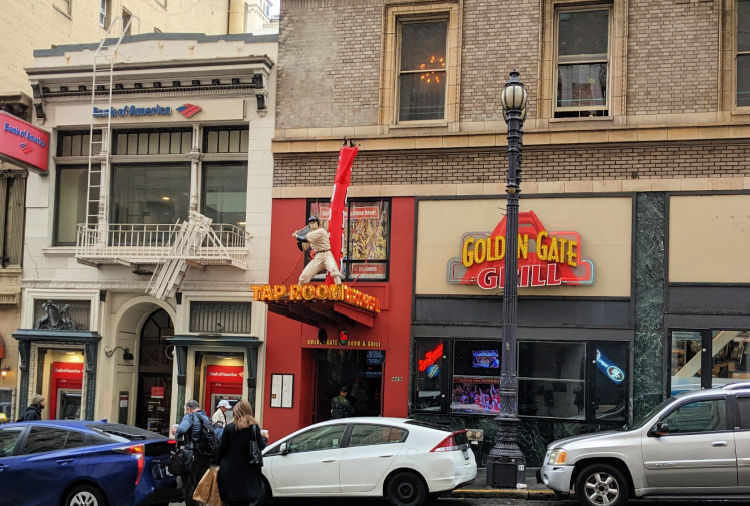 The Golden Gate Tap Room is perfect for watching all the big games. Just one block from Union Square, this lively and popular bar and restaurant is where locals hang out and a friendly and welcoming one for people not from SF.
With 100 beers on tap – you have an unbeatable choice, and I strongly recommend the Brew Free or Die from San Francisco's own 21st Amendment Brewery.
The food menu is a great mixture of snacks and platters, and the wide choice of arcade games makes this the ideal choice for winding down at the weekend.
Address: 449 Powell Street
>> More things to see and do in Union Square
Royal Exchange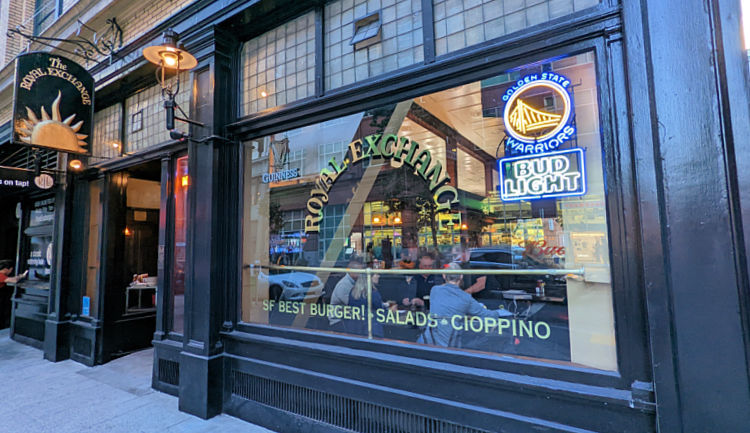 A traditional long bar lined with high stools is hard to find, but The Royal Exchange offers you exactly that. A wide choice of carefully curated ales – try the famous San Francisco favorite Anchor Steam's Steam Beer for one – and a great traditional food menu makes this a superb hangout for locals and the sports fan.
Welcoming, friendly, and accommodating, this is a bar that gives you old-school charm with 21 TVs showing the big matches and events, and you'll love the ambiance and the expert service behind the bar.
Address: 301 Sacramento Street
>> More things to see and do in downtown SF
The Lark
Colorful and friendly, and with a great choice of quality beers, The Lark is a fine choice if you want to watch the big games with a delicious ale.
For whisky – or whiskey – lovers, this is the place with possibly the most extensive selection of Scottish, Irish, and American varieties in all of San Francisco.
This is a bar for catching up with old friends, winding down after a long week at work, and simply relaxing and enjoying fine ales and a great choice of spirits. Lark Bar is an experience you cannot miss in San Francisco.
Address: 29 3rd Street 
>> More things to see and do in the South of Market District
The Chieftain Irish Pub & Restaurant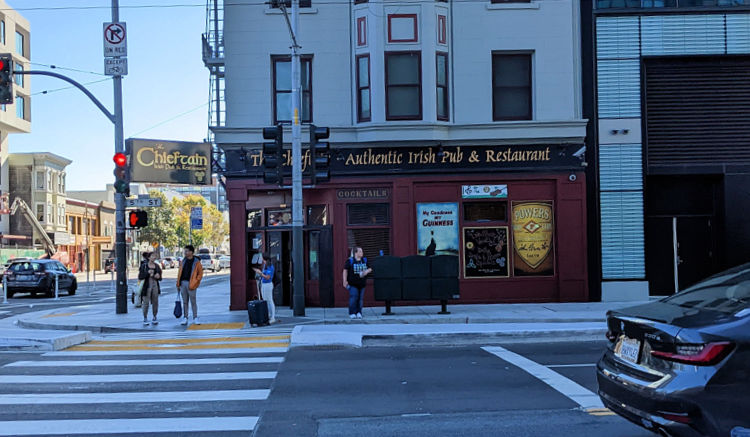 Nobody does traditional pubs as well as the Irish, and I can strongly recommend a trip to The Chieftain for an enjoyable pub experience like no other.
Showing American and European football plus matches from around the world, this lively yet relaxed bar is one for the true pub connoisseur and is rated among the best sports bars in SF.
Traditional burgers, bangers and mash, and other pub classics can be washed down with a glass of San Francisco Brewing Company's Pale Ale , one of the many delightful pumps, bottled ales, and lagers that they offer. Try The Chieftain once, and I guarantee you'll be back for more.
Address: 198 5th Street
>> More of my favorite Irish Pubs
10 Other Great Options around the City
You will also find a variety of great locations to watch sports throughout San Francisco. Many of these attract a large number of locals, and they are awesome places to hang out and watch games.
Richmond Republic Draught House
One of my favorite bars in SF is Richmond Republic Draft House. This is a locals' bar, but don't let that put you off, as there's always a friendly and welcoming crowd in this pub, which specializes in draft ales.
The list changes regularly as barrels are exchanged, but the favorite on the current menu is the superb Mango Hard Seltzer produced from tiny Fick's Beverage Co. in San Francisco. They also have loads of ales, pilsners, and other beers that you will love.
With so many choices of here, including barleywines, and tvs that show loads of games, this is the sort of bar you will visit and wish you lived locally – or you may be lucky enough to do so!
Address: 642 Clement Street
>> More to see and do in the Inner Richmond
>> More to see and do in the Richmond District
Greens Sports Bar
With 18 draught beers and large screens showing the NFL, college football, and other big sports events, Greens Sports Bar in Russian Hill is a popular and welcoming bar popular with locals and tourists.
With 25 TVs, you're sure to get a good view every time, and the choice of ales is impressive. A classic pub fare food menu is the perfect company for a fruity, cold ale, and the atmosphere is one of warmth and happiness in this truly traditional American sports bar.
Try it, you'll see what I mean, and you'll come back again.
Address: 2239 Polk Street
>> More places to eat and hang out in Russian Hill
Final Final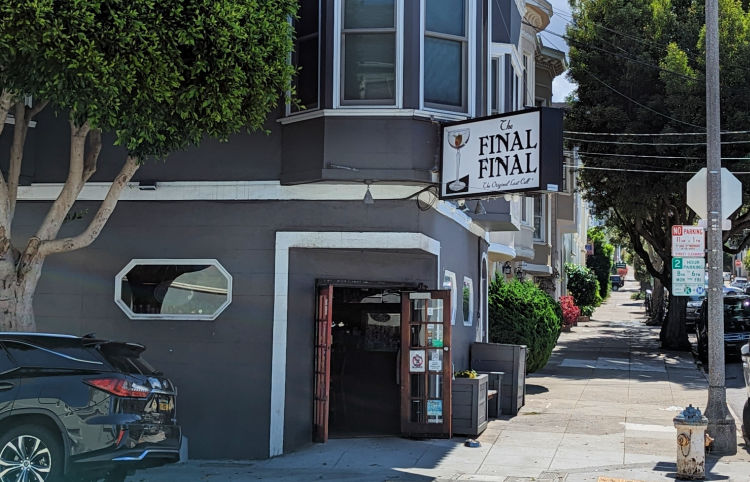 The snappily named Final Final offers a fantastic range of draft ales and lagers, including classics such as ones from Boddington's Brewery or Guinness, alongside craft ales of various types.
Sometimes when I go here, I like to order the Fort Point KSA (a wonderful Kolsch beer), which is produced just a bit north of San Francisco, for something a little different.
The menu is classic but limited as the kitchen is small, but I recommend a trip to this delightful bar as you will agree it's a great find among San Francisco sports bars.
It's also a popular spot for those in Cow Hollow and the Marina.
Address: 2990 Baker Street
>> More about visiting Cow Hollow
>> More things to see and do in the Marina District
Nickie's Bar & Restaurant
Offering a menu of traditional pub fare cooked to the highest standard by an in-house chef, Nickie's is a go-to destination for sports, good food, and beer lovers in the Lower Haight region of SF.
A friendly and welcoming pub with a choice of classic beers alongside craft ales and fine wines, this is where you can relax with a pint and watch NFL and other major sports.
I like the Scrimshaw Pilsner – a fresh and delightful lager that goes perfectly with the house Irish Breakfast, and there is plenty to choose from if you are an ale fan. A great place to hang out and is highly recommended.
Address: 466 Haight Street
>> More great places to check out in the Lower Haight
San Francisco Athletic Club
If you want to sit outside and have a beer while watching major sports on the TV, then the San Francisco Athletic Club is hard to beat. Inside is a tribute to sports of all kinds with an interesting display of sports memorabilia. However, for the true sports fan, the outdoor patio with its big screen is the place to be.
Traditional pub food is the order of the day, and the selection of ales on tap is impressive. Being that San Francisco has a historic gangster past, I enjoy Speakeasy Brewery's Prohibition Amber Ale, a classic ale that will go with any food order, and there is plenty of choice in lagers, pilsner, wine, and cocktails.
A place that has something for everyone who loves a traditional pub, it's worth a look.
Address: 1750 Divisadero Street
>> More about visiting the Pacific Heights area
Hi Tops Sports Bar
Being that San Francisco is known as the "Gay Mecca of the World," a visit to the our fair city wouldn't be complete with going to the Hi Top. It is famous for being a LGBTQI bar and a sports bar also, so it is must visit.
Few sports bars in San Francisco have as exciting an atmosphere when a game is on as the Hi Tops Bar. To say this place gets lively is an understatement – it is usually packed solid! That doesn't take away from its attractiveness, as a session at Hi Tops is something you must experience when in the city.
Burgers and other pub classics fill the menu, and when it comes to ale, I recommend the superb Temescal Pils from Temescal Brewing produced just across the bay in Oakland, among many other excellent choices.
There is nowhere else like this place, so if a fun and lively atmosphere is your thing, try Hi Tops.
Address: 2247 Market Street
>> More things to check out in the Castro District
The Kezar Pub
The home of Liverpool FC fans in San Francisco, The Kezar Pub is a traditional American sports bar and offers a great atmosphere, a superb selection of beers, and good pub food.
A welcoming and friendly pub that is easy-going and enjoyable at all times gets lively during matches and is equipped with 20 TVs.
A classic choice would be fish and chips washed down with one of the superb IPAs, and there is plenty of choice for lager lovers.
It doesn't get much better if you're looking for a pub in the Haight-Ashbury district.
Address: 770 Stanyan Street
>> More about the Haight-Ashbury district
Blackthorn
As traditional as a pub gets, Blackthorn is a popular hangout and shows all the big games on its large screens. Famous for cocktails, the bar also stocks a range of craft ales and lagers, wine, and spirits.
A layout is a classic long bar, and while it gets busy during games, there is plenty of space to accommodate everyone. This is a proper pub, with high stools and tables, so if that is what you're looking for in SF, you've found it!
Address: 834 Irving Street
>> More in SF's Sunset District
>> More in the Inner Sunset area
Aura Dogpatch
A casual and friendly restaurant that doubles as a great sports bar, Aura Dogpatch is a unique location in a world of its own. Aura is a great place to settle back with a some small bites, a nice draft beer, and sports on the TV.
This is a popular bar with locals thanks to its well-chosen and sensibly priced snacks and meals. One of my favorites is the Sticky Dry Fried Wings which are made in their special Korean style.
Their beers range from a mix of classics such as Guinness, Bud, and more, plus a selection of craft and draft ales, including the wonderful Lagunitas Pale Ale which is produced just north of San Francisco. They also have loads of mixed drinks if you want something else.
Address: 2368 3rd Street
>> More things to see and do in the Dogpatch District
1920Bar
Classic pub food and great beers, plus arcade games and sport on TVs, make 1920Bar an appealing destination for a bite to eat, a cold pint, and wonderful location to watch the big game.
A friendly and traditional bar with a modern touch, this is a great pub that is mellow but also fun and gets jumping when the games are on. Also their Jalapeno Bomb with crab meat and spicy salmon is not to be missed!
A choice of draft, canned, and bottled ales, with many of them imported from Japan, make this unlike any bar you will find elsewhere in "The City by The Bay." Make sure to check out the Koshihikari echigo beer if you can!
Address: 1808 Clement Street
Comments? Questions? Suggestions?
I would love for you to join me in my private Facebook group! 
It's a great place to interact with me and others who know the area well.
You can ask questions, get advice for your upcoming stay, and then share your photos and advice with others when you return home. It's a great community and the fastest way to get answers to those nagging questions about your visit!