25 Fantastic Restaurants with a View in San Francisco

by Jill Loeffler  •

Published: January 31, 2023
Restaurants with a view in San Francisco allow you to soak in the beauty of the Golden Gate Bridge, SF Bay, or other parts of the city as you dine.
My top picks include fine-dining restaurants and several more casual options. Many offer fresh seafood, vegetarian dishes, and American dishes such as burgers.
Many are located along the waterfront, including in Fisherman's Wharf, along the Embarcadero, and Mission Bay. You'll also find some in the heart of the city with views around downtown San Francisco.
I've included both full-service restaurants and some lounges with small plates and fantastic cocktails.
Disclaimer: I receive a small commission from some of the links on this page.

1. The Ramp San Francisco

Address: 855 Terry Francois Blvd.

If you're looking for restaurants with a view, San Francisco has many fine choices, not least The Ramp. Right on the water's edge, The Ramp offers unrivaled views of San Francisco Bay and features outdoor and indoor seating, but the outdoor patio is my top pick.
The menu is built around traditional American dishes with the usual burgers, fries, fish & chips, and a variety of sandwiches, plus a full menu of beers to wash it all down.
This is the place to go for good food at great prices and live music on certain evenings.
It's one of my favorite waterfront restaurants in San Francisco.
>> More things to see and do in Mission Bay
2. Epic Steak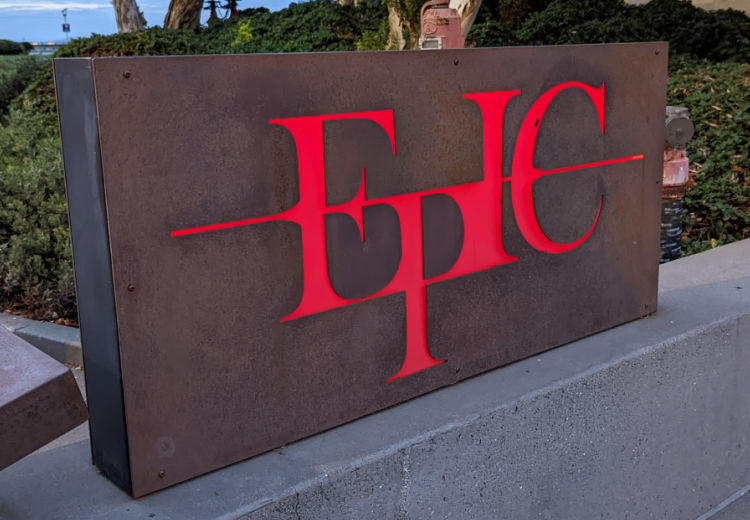 Address: 369 The Embarcadero
Epic is a more upmarket restaurant than many on the list, with top chef Parke Ulrich bringing something unique and new to the traditional steak house menu.
This quality food passes muster every time, made all the more enjoyable thanks to stunning views of the Bay, Treasure Island, and the Bay Bridge. The heated patio is the place to grab a table for a romantic evening meal at a fantastic restaurant.
This is one of two popular waterfront restaurants you will find just south of the Ferry Building.
>> More places to see and dine along the Embarcadero
3. Scoma's in San Francisco Fisherman's Wharf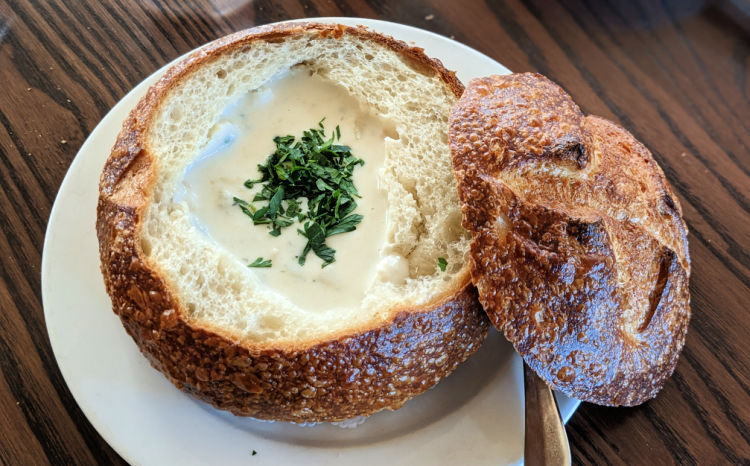 Address: 1965 Al Scoma Way

The famous Scoma's has been serving locally caught seafood, cooked to perfection, from its superb waterside venue for many years.
With fantastic views of San Francisco Bay and the renowned 'Pier to Plate' promise - locally caught fish are freshly landed at the restaurant's pier - with everything from crab, shrimp, and scallop dishes, as well as salads and sides.
Check out the award-winning wine list too.
>> More great fresh seafood spots in San Francisco
More Fun Things to Do in Fisherman's Wharf
4. Fog Harbor Fish House

Address: PIER 39 Beach Street & The Embarcadero

Serving a certified sustainable menu of locally caught seafood, Fog Harbor Fish House may offer the best views of all the local restaurants.
With amazing views of the Bay, Alcatraz, and the magnificent Golden Gate Bridge, this long-established restaurant offers an exquisite menu, including Dungeness Crab, Clam Chowder, and many more classic San Francisco seafood dishes.
A must for fine food lovers.
You'll find this waterfront restaurant on the upper level of Pier 39 in San Francisco Fisherman's Wharf.
>> Additional things to see and do on Pier 39
5. Barrio in Ghirardelli Square

Address: 900 North Point, Unit J101

Occupying a prime spot by the harbor at North Point, Barrio in Ghirardelli Square is a fine restaurant with north-facing views of San Francisco Bay, Alcatraz, and Sausalito.
The historic ships at the Hyde Street Pier nearby add to the tranquil appeal.
The menu is a mix of American and Mexican, giving diners a diverse and welcoming choice. The Halibut Taco Platter is a popular choice (and one of my favorites), as is the fabulous 16oz pork chop, which takes some serious eating.
>> More about Ghirardelli Square
6. McCormicks & Kuleto's

Address: 900 North Point Street
A North Point restaurant with superb views of the Bay and landmarks, McCormicks and Kuleto's is a highly regarded restaurant offering a menu of fresh seafood dishes using locally sourced ingredients.
If meat is more your thing, choose one of the magnificently aged steaks from local ranches, and there are many excellent salad dishes for vegetarians.
This restaurant is where couples can enjoy a romantic dinner with delightful views.
It's also located in Ghirardelli Square in San Francisco Fisherman's Wharf.
>> Find more great steakhouses around SF
7. Greens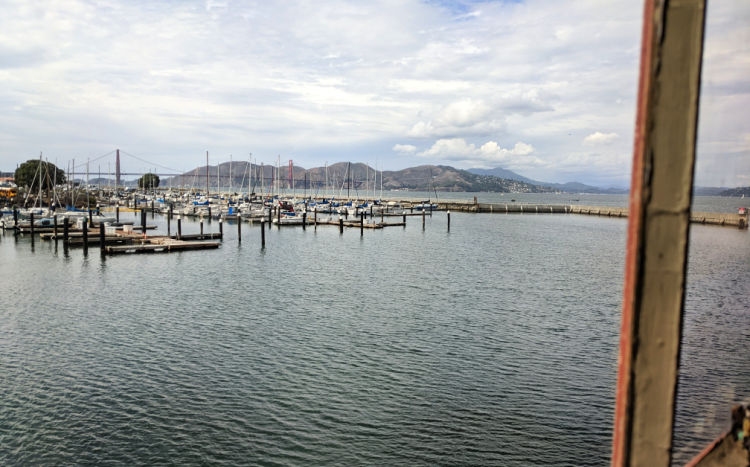 Address: 2 Marina Boulevard, Fort Mason, Building A
The unique and fascinating history attached to Greens Restaurant adds to its appeal. Opened in 1979, Greens single-handedly changed the American approach to vegetarian and vegan food, and today is regarded as the best of its kind in San Francisco.
A menu of inventive and delicious dishes driven by renowned Head Chef Katie Reicher reflects the desire to take vegetables to another level, and Greens certainly succeeds.
It's by far one of the city's finest vegetarian establishments.
You will find this waterfront restaurant in the Fort Mason Center, about 5 minutes west of San Francisco Fisherman's Wharf.
>> Additional places for great vegetarian cuisine in San Francisco
Fun Food Tours
8. Beach Chalet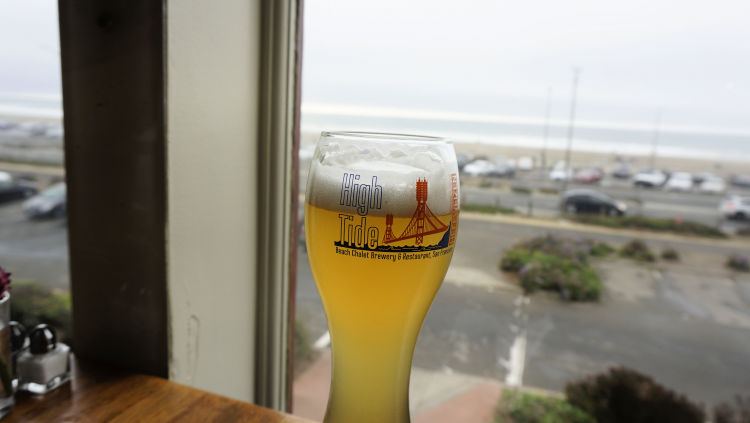 Address: 1000 Great Highway @ Ocean Beach

The West-facing Beach Chalet offers superb views of the Pacific Ocean and the glorious Ocean Beach that it overlooks.
With a menu that mixes fine local seafood dishes - Pacific Chowder and freshly caught fish and chips - with excellent steaks, chicken, and vegetarian dishes, there is something for everyone at Beach Chalet.
Live music is on certain days, and on-site is the restaurant's brewery that brews a selection of fine craft ales—a fun place to enjoy great food.
You'll find it on the western end of San Francisco Golden Gate Park
>> More about eating at the Beach Chalet
9. Boudin Bakery

Address: Bistro Boudin, 160 Jefferson Street
The second-floor setting of Boudin Bakery provides fantastic views of Alcatraz and the Bay, which you can enjoy while eating fine food from an exciting and eclectic menu.
A choice of plated meals - including classics such as Clam Chowder, Dungeness Crab, plus a range of chicken, steak, and vegetarian options offers a great choice in an attractive and welcoming setting.
The buffet menu is also impressive, with a choice of packages for those who want a little bit of everything!
You'll find their full service restaurant along Jefferson Street in San Francisco Fisherman's Wharf.
>> Additional details about eating at Boudin Bakery
10. El Techo

Address: 2516 Mission Street

The rooftop setting of El Techo gives it a unique aspect with fine views of the Mission District and the surrounding areas.
Their Latin American-inspired menu is a popular choice with San Francisco locals. Traditional dishes such as Cochinita Pibil - roast pork with spicy onions, beans, and tortillas, sit alongside a choice of chicken, fish, and vegetarian options.
The food is well-priced, and El Techo is also locally famous for its fine and exciting cocktails.
>> Fun things to see and do around the Mission District
11. Waterbar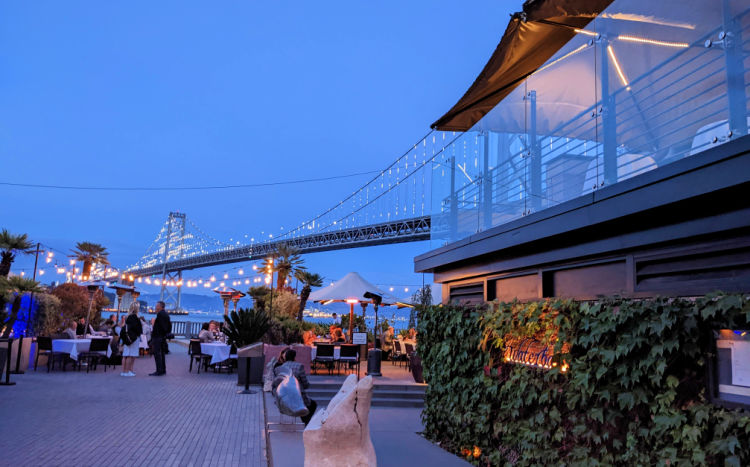 Address: 399 The Embarcadero

With unbeatable views of the Bay and the Bay Bridge through tall windows, Waterbar has built a deserved reputation as among the best seafood restaurants in San Francisco.
A beautifully appointed venue and the food is as good as the views. Local Clam Chowder always goes down well, plus the choice of salad and fish dishes on both lunch and dinner menus should please everyone.
The kid's menus cater nicely to the little ones.
It's near another top pick on my list, Epic, and is just south of the Ferry Building.
12. Hog Island Oyster Company in the Ferry Building

Address: 1 Ferry Building

The Hog Island Oyster Company occupies a space in the iconic San Francisco Ferry Building, with fine views of the Bay Bridge. Oysters are, as should be expected, the major appeal here, with the menu offering no fewer than eight varieties.
Other dishes include fish and chips, a choice of shrimp dishes, and many other locally caught seafood choices. This one is well worth a visit if you are an oyster lover.
>> More about the Ferry Building
13. Perry's San Francisco

Address: 155 Steuart Street

Perry's is in a fine spot along the San Francisco Embarcadero, with beautiful views of the Bay and the Bridge. A choice of traditional burgers and locally caught seafood, including crab cakes, calamari, and fish and chips, makes for a varied menu that should please everyone.
There are options for vegetarians, plus an excellent selection of soups and salads. Also available are a Pot roast and a selection of steaks.
14. Park Chalet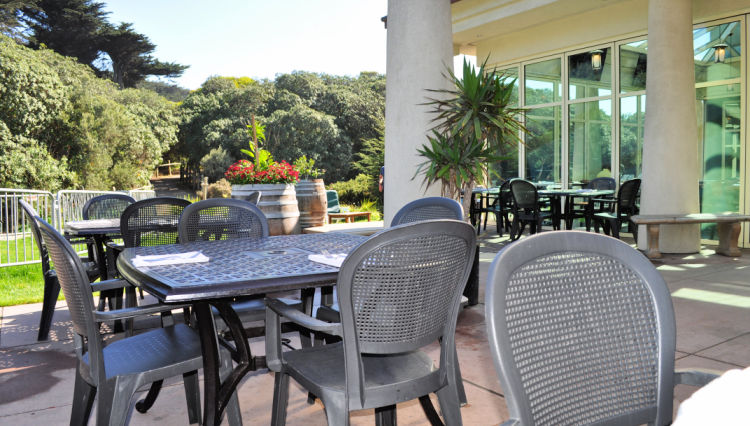 Address: 1000 Great Highway

The unusual glass ceiling at Park Chalet helps provide fabulous views of San Francisco Golden Gate Park.
Among the popular dishes here are local traditional favorites such as fish & chips and chicken dishes. Tuesday is 'Taco Tuesday' when Park Chalet goes authentic Mexican.
Maine Lobster Roll is a superb choice for shellfish lovers who will appreciate the varied flavors of the garnish accompaniments.
More Fun Things to Do in Golden Gate Park
15. ATWater Tavern

Address: 295 Terry A Francois Blvd

Facing East across San Francisco Bay is AT Water Tavern, an excellent venue offering a varied menu catering for all.
For burger fans like me, the Tavern Burger - with its Angus Beef burger - is a must, while seafood lovers will enjoy the traditional fish and chips and a seafood stew and lobster ravioli.
Vegetarians have a great choice, including the Impossible Burger, which is created entirely from plants!
>> More great burger spots around San Francisco
16. Red's Java House

Address: 30 Pier

The popular Red's Java House looks towards the magnificent Bay Bridge across the San Francisco Bay.
A restaurant with a menu based around traditional selections, such as a variety of burgers and cheeseburgers, is a place to go for a family meal.
Also on the limited but adequate menu are a 'Daily Lunch Special,' including a meatball sandwich, sausage sandwich, and fish and chips, each on a different day.
I used to work nearby and would head to Red's Java House for lunch at least once a week. It is a true San Francisco gem.
17. Mission Rock Resort

Address: 817 Terry A Francois Blvd

Mission Rock Resort couples fine views of the San Francisco Bay with a traditional seafood menu as the main focus.
Eight varieties of oysters are available, and local dishes such as clam chowder, Dungeness Crab, and Wild King Salmon are specialties.
Fish and Chips are another popular dish, and there is plenty to keep vegetarians happy, including a selection of fine salads.
18. The View Lounge

Address: 780 Mission Street

A Tapas bar with fine views of the Bay Bridge to the East and Oakland across the bay, the View Lounge makes the most of its excellent vista with large windows.
The View Lounge is all about carefully crafted small plates and is a popular happy hour venue for business people. It is also famous for its fine selection of cocktails.
Worth a visit for happy hour or a late-night cocktail.
19. Cityscape San Francisco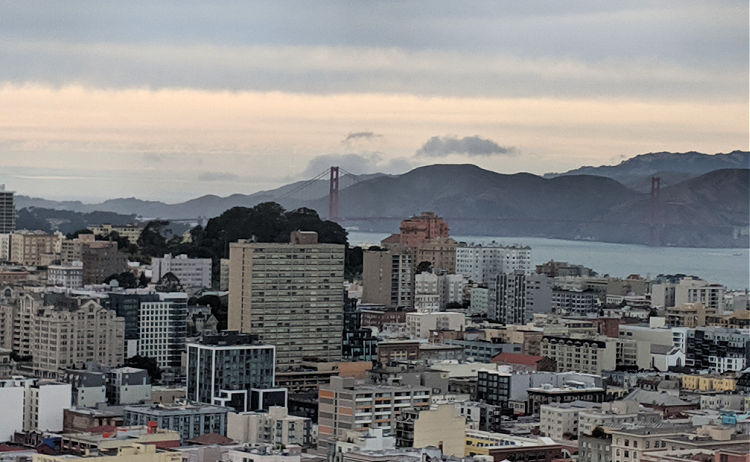 Address: Hilton San Francisco Union Square | Tower 1, 46th Floor

Cityscape is primarily a bar with an absolutely stunning panoramic view of the San Francisco skyline, Golden Gate Bridge, the Bay, and Alcatraz. It is worth the visit for the simply breathtaking views alone.
With a superb selection of fine wines, cocktails, beers, and spirits, Cityscape also offers a limited menu of small plates such as an artisan cheese board, shrimp cocktail, charcuterie board, and more.
A pleasant and friendly place to go for a snack and a drink.
You will find it on the top level of the downtown hotel, Hilton Union Square.
>> More information and how to book rooms at the Hilton Union Square
20. KAIYO Rooftop Bar

Address: 701 3rd Street (on the ground floor of Hyatt Plaza Hotel)

Kaiyo Rooftop Bar is located on the 12th floor of the Hyatt Place Hotel and offers stunning views of San Francisco and the surrounding area. If you're looking for cuisine with a difference, how does Japanese with Peruvian influence sound?
I urge you to make a reservation and try it, as the house Kaiyo roll, for example, is simply delightful with its combination of crab, salmon, tempura, and a selection of vegetables. There's a lot to take in here, so book in advance.
21. Top of the Mark
Address: 999 California Street

The iconic Top of the Mark has been on the 19th floor of the InterContental Mark Hopkins Hotel for over eighty years. Primarily a bar specializing in cocktails, fine wines, spirits, and craft beers, they do serve a series of appetizers that you may want to try.
Wild mushroom flatbread, short rib sliders, and a varied charcuterie board are just a few of my favorite choices.
It has a fantastic panoramic view, including the Golden Gate Bridge, San Francisco Bay, Alcatraz Island, and beyond.
Visit if you're in the San Francisco Nob Hill District and take in those spectacular views of the Golden Gate Bridge and beyond.
>> Read reviews and book a room at the InterContinental Mark Hopkins San Francisco, an IHG Hotel.
>> More things to see and do in Nob Hill
22. Rooftop 25
Address: 25 Lusk Street

With beautiful views of the surrounding area, Rooftop 25 is a popular bar with locals and visitors. The food menu is a mix of steaks, local seafood, and salads.
The venue's ambiance is just right and brings a mix of food lovers and those simply wanting an evening in a pleasant venue.
Rooftop 25 can be booked for private parties and events and is worth stopping by if you happen to be passing.
23. Sessions at the Presidio
Address: 1 Letterman Drive, Presidio

Open seven days a week, Sessions at the Presidio is near the Chestnut Gate and offers fine views of the area. The Sessions Menu, available for eat-in or take-out, is a varied one that will appeal across the board.
From Oysters to bolognese, salmon, and lamb chops, something here will whet your appetite.
Vegetarians and vegans are served a great choice of dishes, and you can't visit without trying one of the signature cocktails.
24. Restaurants with a View SF: Hillstone
Address: 1800 Montgomery Street

Hillstone Restaurant is a fine dining experience in a wonderful location with views across San Francisco Bay to the east. The restaurant does have a dress code, so check before you book.
The menu is a good mix of burgers and fish dishes, steaks and omelets, and a choice of sandwiches and salads.
Prices are not excessive for a restaurant of this quality, and the venue is pleasant and welcoming.
This fine dining restaurant is also close to Fisherman's Wharf.
25. Swiss Louis Italian and Seafood Restaurant
Address: PIER 39, Beach Street & The Embarcadero
With fine views of the Golden Gate Bridge and San Francisco Bay, Swiss Louis Italian and Seafood Restaurant has been a local institution since the 1930s.
The original restaurant opened in the North Beach District and moved to Pier 39 in 1978.
This casual and friendly establishment features a menu that mixes locally sourced seafood dishes and traditional pizza made the Italian way.
Popular with families and groups, prices are sensible, the food is great, and it's an enjoyable place to dine and take in the views.
It's located in the Fisherman's Wharf District.
Comments? Questions? Suggestions?
I would love for you to join me in my private Facebook group! 
It's a great place to interact with me and others who know the area well.
You can ask questions, get advice for your upcoming stay, and then share your photos and advice with others when you return home. It's a great community and the fastest way to get answers to those nagging questions about your visit!