Perfect Weekend in San Francisco with Kids: Fun Family-Friendly Itinerary
Are you looking for ideas for a perfect weekend in San Francisco with kids? Do you want to make sure to find the best ideas that your entire family will love?

This suggested two-day itinerary offers you several fun family-friendly activities. You will check out Fisherman's Wharf, head out on a bay cruise, and spend some time at the California Academy of Sciences.
Read on to learn more about what to see and do during your San Francisco family vacation.
Disclaimer: I receive a small commission from some of the links on this page.

Perfect Weekend in San Francisco with Kids: Day 1

Day one of your perfect weekend in San Francisco with kids starts in Golden Gate Park. You will then visit the Golden Gate Bridge, head over to Lombard Street, and then end the day at Pier 39.
California Academy of Sciences: Start your day with a visit to the California Academy of Sciences. This large museum features a four-story rainforest, a planetarium, a natural history museum, and an aquarium.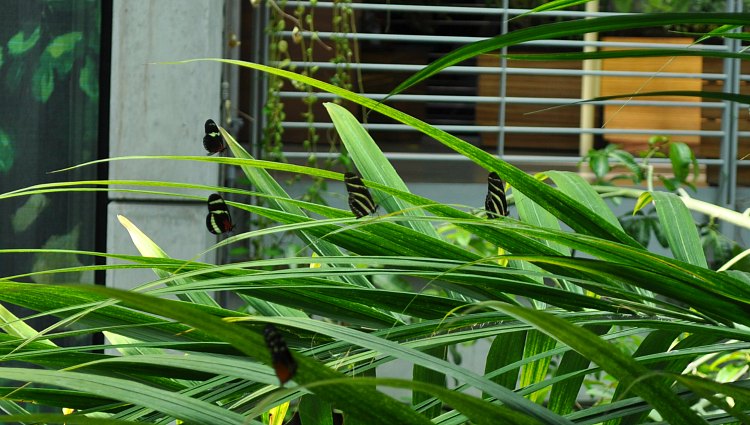 It's home to several live animals including a rare white alligator named Claude, some very cute penguins, plus plenty of birds and butterflies. The earthquake simulator is also popular as you can feel what it would be like to be in a major earthquake.
You will want to get to the museum when it first opens. I then recommend heading straight over to the Morrison Planetarium to get tickets to a show. Planetarium tickets are on a first come, first served basis, so you will want to pick yours up right away if you want to see a show.
You could spend all day here, but I recommend that you plan to stay for about 3 hours.
Make sure to head here to book your tickets in advance so you don't have to wait in line when you arrive.
Lunch: You can either enjoy lunch at the café inside the museum or head over to the Inner Sunset for a quick bite to eat. You will find recommendations in that district here.
Golden Gate Bridge: After lunch, you will make your way over to the Golden Gate Bridge. It will be mid-afternoon, but it will still be cool and probably windy. Make sure you have your jackets for this part of the visit.
Once you arrive at the Golden Gate Bridge (a taxi or Uber is the fastest route from the Inner Sunset), head to the small outdoor museum to learn more about this top San Francisco attraction first. You will learn a little about its history and see a model that shows you how the bridge works.
You can then head onto the bridge's eastern walkway. The bridge is 1.7 miles long, but you don't have to walk the full distance over to the Marin headlands. Most people walk to the southern tower, which only takes a few minutes.
Looking up at the southern tower will give you a great sense for the height of this amazing bridge.
You can spend up to 2 hours at the Golden Gate Bridge.
Lombard Street: Next, you will head over to one of the crookedest streets in the world, Lombard Street. You can pick up the #30 bus which will drop you off just a couple of blocks away. Get off the bus at Lombard and Van Ness. You will then need to climb a steep hill and after that you will reach the top of Lombard Street.
If you decide to take a taxi or Uber, it is faster. However, they will not be able to drop you off at the top of the hill so you will probably still need to climb at least a one block long steep hill. You can also ask them to drop you off at the bottom, so you can slowly walk up Lombard Street instead of walking down.
You will find sidewalks and steps on both sides of Lombard Street. Soak in the views and watch the cars slowly make their way down its hairpin turns. The best photo of it is at the bottom looking back up at this wonderful, bricked street.
You will probably spend about an hour here.
Players Sports Grill & Arcade: Once you are done at Lombard Street, make your way over to Pier 39 for dinner and some entertainment. You can walk (it's about a mile, but there are cool things to see along the way) or take a taxi or Uber. The walk is downhill most of the way, which makes it easy.
I love to recommend the Players Sports Grill and Arcade for families because it has something for everyone. The kids can play video games as you watch some sports while having a drink after a busy day. Their menu is full of everything from tasty salads to impressive burgers. They have a great selection of beers on tap as well as some fun, tropical cocktails.
After you are done here, I'm sure you will be ready to call it a night and get ready for tomorrow's adventures.
Where Should You Stay

You might be wondering where you should stay during your perfect weekend in San Francisco with kids. I would recommend staying in the Fisherman's Wharf District.
You will end Day 1 in this district. You will spend most of day 2 here too. It's the best option for kids as you can walk to almost everything you need.
Here are just a few of the best family-friendly hotels in Fisherman's Wharf:
Hotel Zephyr: This is always my first pick in Fisherman's Wharf. The hotel is in the heart of the action and about a 5-minute walk from Pier 39. They have a cool outdoor courtyard with some fun areas for you to relax and unwind after a full day of sightseeing. They also have some games for kids and a bar where you can enjoy an adult beverage to close out your day. Find booking and reviews.
The Wharf Inn: This is a popular place for families because the rooms are a decent size and the prices are great for this area of the city. They have a couple of suites also that would allow you room to spread out. The downside is that the inn isn't very big, so the rooms go quickly. Find information to book a room here.
Argonaut Hotel: Another fun family-friendly hotel is the Argonaut. It's on the western end of the Fisherman's Wharf district. The hotel features a nautical theme throughout. It's also right across the street from the water and there are a lot of great restaurants nearby. Check out room rates and reviews here.
>> Here are some additional top hotels around Fisherman's Wharf
Perfect Weekend in San Francisco with Kids: Day 2

On day two of your perfect weekend in San Francisco with kids, you will spend the day exploring Fisherman's Wharf. You'll start the day with a morning bay cruise.
Bay Cruise: The 60-minute bay cruise is the most popular. It's starts and finishes in Fisherman's Wharf. After leaving the wharf, you will head west along the northern waterfront. You will see Fort Mason and cruise past Crissy Field.
You will then head under the Golden Gate Bridge. Your cruise will turn around here and head back under the Golden Gate Bridge a second time.
Your cruise heads east toward Alcatraz. You will circle The Rock and then head back to your starting point on Fisherman's Wharf.
Along the way, you will listen to narration about San Francisco's attractions and history. You will also get some great views of Sausalito and the SF Skyline.
Aquarium of the Bay: After your bay cruise, you will then head back over to Pier 39. This is where you will find the Aquarium of the Bay.
This is a cool aquarium and is home to only plants and animals that live in the SF Bay. I think it's great to do this right after the bay cruise because you get a sense for where these animals live in the wild.
The top level has just a few aquariums. The bottom level is where you will find a large number of animals and fish from the bay. There are two walk-through aquarium tunnels as well as some touch pools. Here the kids can touch a starfish and other local creatures.
You will spend about two hours here. Find tickets.
Other Pier 39 Activities: You will then spend the rest of your day checking out Pier 39. You can head over to the 7D Experience which is a theater room where you work with the audience to fight off the bad guys. You can also check out the LaZer Challenge, the Mirror Maze, or jump on the historic carousel. You can also do a little shopping as well as grab a bite to eat.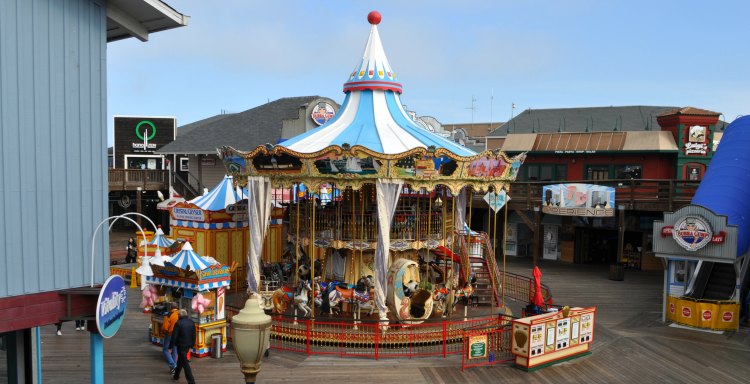 Additional Ideas for Your Stay
Your perfect weekend in San Francisco with kids will keep you busy and your entire family happy. Here are a few additional ideas for you if you have more than just a weekend.
Exploratorium: The Exploratorium is a hands-on science and human perception museum. It's a place for kids to explore and learn about the world around them. Learn more.
Stairways: You will find dozens of colorful and interesting staircases all around SF. You can climb them or run down them as you explore the city on foot. Find a list of my 8 favorites.
Whale Watching: The waters of the Pacific Ocean just off the coast of San Francisco are a great place to go whale watching. You can head out for a morning or afternoon tour. Your entire family will enjoy these trips as you search for whales, dolphins, turtles, and a variety of species of birds. Learn more here.
Comments? Questions? Suggestions?
I would love for you to join me in my private Facebook group! 
It's a great place to interact with me and others who know the area well.
You can ask questions, get advice for your upcoming stay, and then share your photos and advice with others when you return home. It's a great community and the fastest way to get answers to those nagging questions about your visit!