Things to Do in San Francisco with Teenagers: 20 Fun Events, Attractions, & Activities

by Jill Loeffler  •

Updated: August 30, 2022
The best things to do in San Francisco with teenagers include biking across the Golden Gate Bridge, seeing a Broadway show on stage, and exploring some of our top family-friendly museums.

In addition, you can also attend one of our famous street festivals, check out the 7D Experience on Pier 39, or cheer on one of our local sports teams.
Read on for a full list of 20 of the best activities for teenagers in San Francisco.
Disclaimer: I receive a small commission from some of the links on this page.

1. Bike Ride Across the Golden Gate Bridge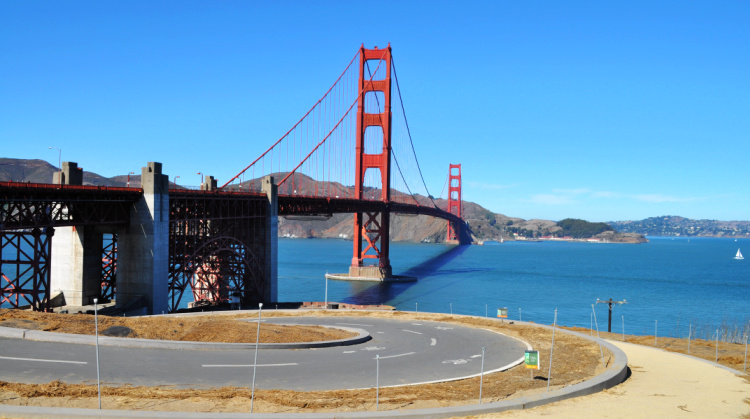 The bike path leading to the entrance for bikes on the Golden Gate Bridge.
One of my favorite things to do in San Francisco with teenagers is the Golden Gate Bridge bike tour.
Not only will you get to ride along the waterfront and up and over the 1.6 mile-long architectural wonder, you'll get to hang onto the rental bikes for the rest of the day so you and your teens can continue exploring on your own after the guided portion ends.
>> Find out more details about the bike tour on GetYourGuide
>> Get discounts for this and other biking tours on Groupon
2. 7D Experience

What is a better way to please your teens than letting them play video games in the heart of SF's most popular tourist district! But at this Pier 39 attraction, I bet you'll want to play too.
That's because it's not just any video game, it's also a ride in a special theater equipped with 20 moving seats, 3D glasses, and weapons to fend off the bad guys. This activity is fun for the whole family!
>> View what you can expect at the 7D Experience
3. Oracle Park Tour

Any baseball fans in the family? If so, don't miss the opportunity to go behind the scenes at the SF Giants' Oracle ballpark. This is the famous park where home run balls are fished from the bay by excited kayakers and fans can slide down the inside of a giant Coke bottle!
But the exclusive tour will take you to even cooler places that only the team and staff go, including the dugout, the visitors' batting cage and clubhouse, the press box, and a luxury suite.
>> Visit the SF Giant's Oracle Ballpark
4. Catch a Game with a Local Sports Team

If you really want to make your teen's visit to the SF Bay Area a memorable one, take them to a Warriors game, Giants or A's game, or 49ers game. We are so lucky to have the hottest team in basketball, and not just one, but two, MLB teams.
We also have one of the best NFL teams in our backyard.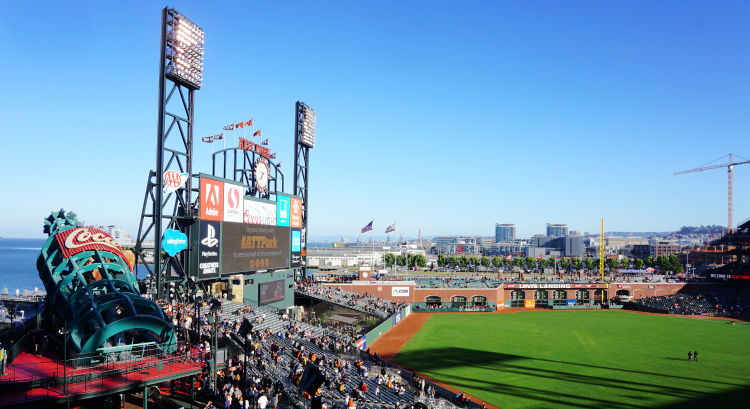 Giants game at Oracle Park in the South of Market District.
In addition, you'll find professional hockey and soccer in the South Bay.
>> Find out more about local sports teams and upcoming games
5. Street Festivals & Parades

One of the most interesting things to do in San Francisco with teenagers is to attend the city's unique festivals and parades.
They occur all throughout the year, for holidays such as St. Patrick's Day and Carnaval, in honor of figures like Martin Luther King, Jr. and Cesar Chavez, and for cultural events like Chinese New Year and Gay Pride.
These festivals are not only a great source of entertainment with their variety of costumes, dances, and more, but also a fantastic way to learn about other cultures and customs.
>> Take a look at all the annual parades and festivals
6. Climbing Gyms

If you're traveling with teens who've got a lot of energy and are looking for adventure, head over to one of SF's three rock climbing gyms.
Two of them, Planet Granite and Mission Cliffs, offer an exciting range of top-rope routes, where climbers are strapped in with a harness, as well as free-climb bouldering problems.
The third gym, Dogpatch Boulders, is the largest bouldering gym in the US. Get active and have some indoor fun with the thriving community of local climbing enthusiasts.
>> Details and directions to Planet Granite near the Golden Gate Bridge
>> Info about Mission Cliffs and Dogpatch Boulders (part of the Touchstone Climbing family)
7. House of Air

If your teens STILL have energy left to spare, the House of Air will take care of that. This indoor "Adrenaline Park" is a blast for adults and kids, taking the boundless fun of trampolines to the next level.
Your family will literally be bouncing off the walls in the matrix of 42 conjoined horizontal and vertical trampolines.
You'll find this impressive facility right next to the climbing gym at the Presidio by the Golden Gate Bridge.
>> Check out this indoor play gym's website
8. Amazing Race Challenge with Urban Adventure Quest

Do your teens love to solve puzzles? Then head out on one of two fun urban amazing races with Urban Adventure Quest. Your family works together as a team using clues to solve puzzles that will lead you through different parts of San Francisco.
Simply download the app to your phone and you can start the adventure anytime you want. It's a fun way to see the city and spend a couple playing together as a family.
>> Visit their site for details
9. Whale Watching Tour

The Pacific waters just off the coast of San Francisco are the premier place to look for whales in the wild.
No matter what time of year you decide to visit, you'll have the opportunity to see at least one species of whale--gray, blue, humpback, sperm, or orca--in addition to the porpoises, dolphins, and seals that play out there all year round.
Boarding a boat to cross under the Golden Gate out to the ocean on a whale watching tour is one of the most exhilarating things to do in San Francisco with teenagers.
>> Read more about whale watching in SF
10. Street Art & Murals

Did you know that there are over 1,000 murals in San Francisco? You'll find beautiful commissioned works in a number of public SF buildings, as well as gorgeous, colorful street art all over town, covering walls, sidewalks, and even drainage pipes and garbage cans.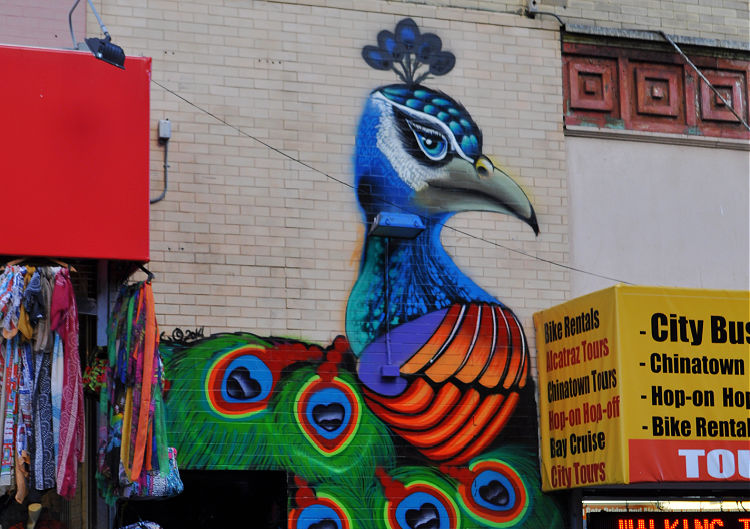 Street art in the Chinatown district in SF.
You'll find art in every nook and cranny of the city, which makes hunting for it an endlessly rewarding activity for creative teens and their families. You will find large concentrations in the Mission, North Beach, and Chinatown.
>> Find out where you'll find the most street art in SF
11. Muir Woods
Take your family to one of the most beautiful forests in the country, Muir Woods. This National Park sits nestled in the mountains just north of San Francisco, on the other side of the Golden Gate Bridge.
This is the perfect opportunity to have your teens unplug from their devices and enjoy some of nature's best. You'll love hiking with them among some of the oldest and tallest trees in the west, the giant Coastal Redwoods.
>> Discover the trails of this famous park
>> Find additional redwood forests to visit near SF
>> Additional National Parks in and around SF and the Bay Area
12. Bowling

One of the most classic things to do in San Francisco with teenagers is spend some time at the bowling alley. You have two options in the city: the Presidio Bowling Center near the Walt Disney Museum in the Presidio, and Yerba Buena Ice Skating and Bowling Center in SoMa.
They are both open every day of the year, including holidays, feature fun lighting on the lanes, and offer tasty food and drink menus.
>> More about the Presidio Bowling Center
>> More about the Yerba Buena Ice Skating and Bowling Center
13. Fire Engine Tour

This popular 75-minute tour offers your whole family a unique vantage point for sightseeing--a seat aboard a vintage red fire engine, suited up in a firefighter jacket.
You'll feel ready to take on anything as your driver-guide takes the small tour group from Fisherman's Wharf through the Presidio, across the famous Golden Gate Bridge, and into the charming town of Sausalito.
>> Check out this fun alternative to bus tours
>> More fun bus tours around SF
Hotel Deals for the Family

Find great deals in SF on top hotels. Click the links below for details.

Booking: Find great deals all around San Francisco for your upcoming stay! 

TripAdvisor: What's the #1 hotel in San Francisco? Read reviews & find hotel deals on TripAdvisor!
VRBO: In addition to hotels, you'll also find some great places to stay locally through VRBO. Book an apartment or a room and feel more like a local. Find some great places to stay on VRBO here. 
14. City Tour

Do you want to check off a long list of things to see and do while on vacation with your teens in San Francisco?
A great way to see a lot in a short amount of time is the Deluxe Half-Day City Tour, which takes you to all the major attractions, including Golden Gate Park, Ocean Beach, the Victorian homes, the Palace of Fine Arts, Twin Peaks, and so much more.
The best part is, you'll still have the rest of the day to focus on the activities on which your family wants to spend the most time.
>> Discover more info about this convenient city tour
15. Alcatraz Prison Tour

Another favorite among things to do in San Francisco with teenagers is taking a tour of Alcatraz Island.
This ex-federal prison used to host the worst of the worst criminals in the US, some famous for their crimes and others more famous for their escape attempts, in which they would have to swim a mile through frigid waters to get to shore.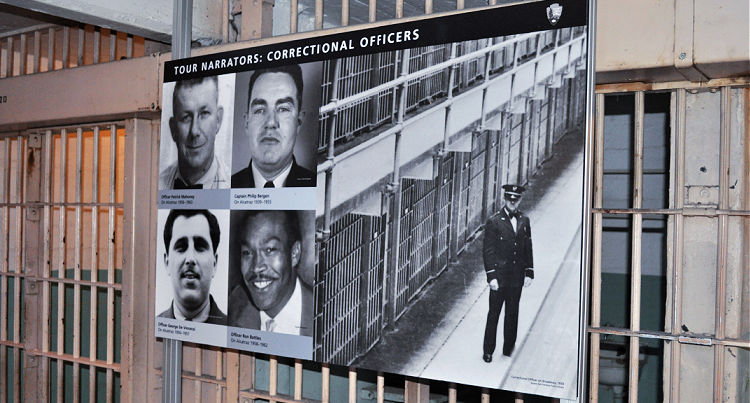 A picture of the correctional officers that narrate part of the tour on Alcatraz Island.
Definitely take your teens here if they like history or have seen movies featuring this unique SF attraction.
>> How to book your tour to Alcatraz
16. California Academy of Sciences

The California Academy of Sciences is a fascinating attraction for the whole family, as it houses so many different exhibits.
Inside one fun, ecological building that's topped with a unique garden, you'll find a world-class aquarium, a planetarium, a four-story living rainforest, and a natural history museum featuring a towering T-Rex skeleton.
There is so much to see and do here, it's no wonder it's the most popular museum in SF. Find it in Golden Gate Park.
>> Book skip the line tickets to enter right when you arrive
>> Details about the Academy of Sciences
17. Aquarium of the Bay

If your teenagers have an affinity for the bay and ocean, take them to the Aquarium of the Bay at Pier 39 for an up-close look at all the marine life that surrounds the city. Inside, you'll find dazzling displays of colorful fish, jellyfish, octopi, and more.
One of the coolest features are the two walk-through aquariums, where you can watch sharks and stingrays swimming around you.
>> Find out more about this fun aquarium
18. Angel Island

A trip to Angel Island is a great option for families with teenagers who love history or nature. In the early 20th century, this land was used as a detention center for immigrants on the West Coast, most of whom were Chinese.
Now you can learn about its history at the island's museums, in addition to enjoying over 13 miles of hiking and biking trails.
You'll have to ferry past Alcatraz to reach the larger Angel Island in the SF Bay.
>> See what the island looks like and tips for visiting
19. Kayaking

For those teenagers who crave yet more action on the water, head over to CityKayak, located in SoMa near Oracle Park. Here, you can rent kayaks and stand-up paddle boards by the hour or sign up for a guided trip based on your skill level.
Trained instructors will make sure you're comfortable and safe before setting off to explore McCovey Cove, where home run balls make a splash, or the waterfront alongside downtown SF.
Advanced kayakers might go all the way to the Golden Gate Bridge or Alcatraz Island.
>> Check out their website for more details
20. See a Show

Finally, one of the best things to do in San Francisco with teenagers who are more artistically inclined is to take them to a show. San Francisco offers the best of the arts, from live music and theater, opera and ballet, to musical comedies.
You'll find performances in all of these genres nearly all year long. Check out the calendar below to make your plans and purchase tickets.
>> A full calendar of SF shows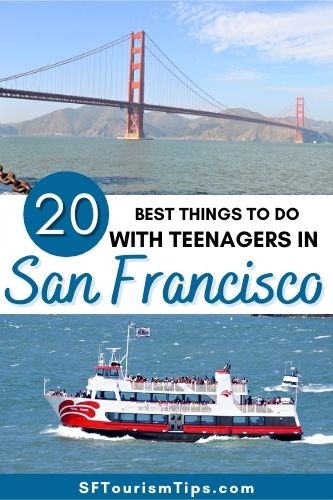 Comments? Questions? Suggestions?
I would love for you join me in my private Facebook group! 
It's a great place to interact with me and others that know the area well.
You can ask questions, get advice for your upcoming stay, and then share your photos and advice with others when you return home. It's a great community and the fastest way to get answers to those nagging questions about your visit!