San Francisco Bus Tours: Discover the Five Best City Tours

by Jill Loeffler  •

Updated: May 18, 2022
One of the easiest ways to see the city is on one of these San Francisco bus tours. Discover everything you need to know about each one including the SF attractions you'll see, how long each one lasts, and the estimated price per person.

In addition, find a few tips on how you might be able to save money on these and other San Francisco adventures.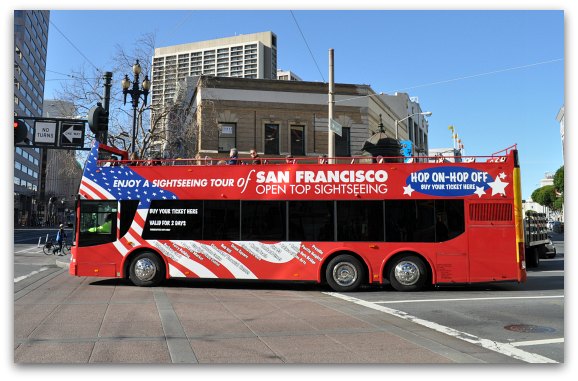 Disclaimer: I receive a small commission from some of the links on this page.

1. Hop On/Hop Off

The Hop On/Hop Off Bus is one of my favorite San Francisco bus tours. It takes you directly to all of the attractions, but then allows you to visit them at your own pace. As you ride from attraction to attraction, you will also learn about the history and key facts of each one.
This one has 20+ stops including Chinatown, the Golden Gate Bridge, and Haight Ashbury. Other stops include Golden Gate Park, The California Academy of Sciences, and Fisherman's Wharf.
If you decide not to stop at all, the entire round-trip journey takes about two hours.
On this double-decker, open-air bus, you will also have amazing views of the city with plenty of picture-perfect moments. It's one of the best ways to see SF on your own without the hassles of trying to figure out how to get from one attraction to the next.
Details: Runs daily, choose from a one or two day pass
Check Availability: Hop On/Hop Off Bus
Additional Options: Find more details on these and other top Hop On/Hop Off Tours
2. Movie Sights Tour

If you love movies, this tour is a must! It will take you past more than 50 filming locations all around San Francisco.
Sit back, relax, and soak in famous scenes from around SF on the buses large screens. After each scene, the screens will go up and you'll be looking at the live location you just saw in the movie! 
Drive past filming locations for movies such as Mrs. Doubtfire, Dirty Harry, and Vertigo. See where scenes from Bullitt, Full House, and Interview with the Vampire filmed.
It's a fun 3 hour bus tour! 
>> Find out more and check for ticket availability
3. Alcatraz and San Francisco City Tour

This tour is little different than the other San Francisco bus tours on this page. It's one of the most popular and includes both a city bus tour and a tour of Alcatraz Island.
It starts at 10 AM with a nice drive along the waterfront. During your tour, you'll see a number of San Francisco's famous attractions including Chinatown, Fisherman's Wharf, and several historic Victorian homes. You'll also drive past the Palace of Fine Arts, through North Beach, and even the Presidio National Park.
Your tour makes three photo stops. One is at the Golden Gate Bridge, another is within Golden Gate Park, and the final stop is at Twin Peaks - where you can get some of the best views of the entire city of San Francisco (weather permitting).
In addition to the bus tour, you get the chance to visit San Francisco's number one attraction - Alcatraz Island. After your ferry ride over to the island, you'll take an audio walking tour of the prison and have some time to explore on your own.
It's a full day of sightseeing, but one of the best ways to see all that San Francisco has to offer.
Details: This tour lasts approximately 8 hours. The timing of your tour to Alcatraz varies based on dates and availability. You will be notified 24 hours in advance on the exact timing of your Alcatraz visit.
Learn More: San Francisco City & Alcatraz Combo Tour
More: Additional top city tours in SF
4. City Lights Evening Bus Tour

San Francisco is gorgeous during the day, but it shines even more at night. On this evening bus tour, you get the chance to admire SF at dusk.
You will ride around on a double decker coach with open top (or glass top). From the bus, you will see the Chinatown Dragon Gate, Union Square, and the Golden Gate Bridge.
It also includes two short walking tours for some great photo ops.
Your knowledgeable guide offers live commentary, so you know the information is current.
Details: It departs from Fisherman's Wharf at Leavenworth and Jefferson at 6:30pm nightly
Tickets: Night Tour
>> Find additional night tours all around SF.
5. San Francisco Fire Engine Tour

Have you ever wanted to ride around in a fire truck? If so, then here's your chance.
This San Francisco tour is not really in a bus, but instead a Big Red Shiny Mac Fire Engine. It's a truly unique way to see some the top sites of San Francisco.
This two-hour tour starts in San Francisco's Fisherman's Wharf. From here you travel through the Presidio and Fort Point. Your open-air tour then takes you over the world-famous Golden Gate Bridge.
Your next stop is Sausalito - a beautiful small town that sits right on the San Francisco Bay. After your visit to Sausalito, you head back for a stop at Fort Baker. Here you can get some amazing photos of the gorgeous Golden Gate Bridge.
You'll then hop back in your shiny red fire engine for another drive across the Golden Gate Bridge. Your tour ends with a cruise along Union Street in San Francisco's Marina District and a return drive to the Cannery in Fisherman's Wharf.
Details: This tour lasts approximately 90 minutes and begins and ends in Fisherman's Wharf at the Cannery.
Learn More: San Francisco Fire Engine Tour
>> Find additional fun things to do with kids in SF.
Top Hotels

Other Hotel Options
Are you looking for the best deal on your upcoming stay in San Francisco? Make sure to check here for the lowest rates on SF hotels. Click here today to find the best locations, rooms, and prices today!

Comments? Questions? Suggestions?
I would love for you to join me in my private Facebook group! 
It's a great place to interact with me and others who know the area well.
You can ask questions, get advice for your upcoming stay, and then share your photos and advice with others when you return home. It's a great community and the fastest way to get answers to those nagging questions about your visit!