San Francisco Movie Tour

Do you love movies? Are you curious to see where some of the most famous ones where shot in San Francisco? If so, then take a ride on the movie tour bus.

This tour doesn't just point out the places where certain scenes were shot. They show you the clips as you slowly cruise past each location in person. 
On this three-hour journey, you will get the chance to see the exact spot where scenes from more than 50 movies were filmed. Some of these include classic films such as Vertigo, Dirty Harry and The Graduate.
Others shot here include The Rock, The Princess Diaries, The Social Network and Interview with a Vampire.
I loved this tour as they did an amazing job synchronizing the clips with the locations. At times, I felt like a star that just stepped off the movie set.

This is why I think this well-choreographed trip is a must for all movie lovers!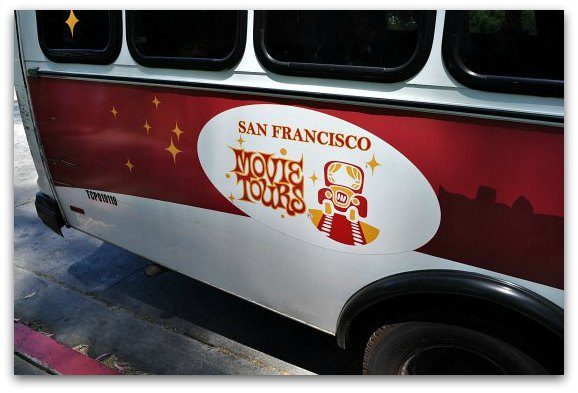 Disclaimer: I receive a small commission from some of the links on this page.

The Tour

Your adventure starts in Fisherman's Wharf. Within seconds, you pass by the location of the very first scene. As you cruise the neighborhood, you see places where films such as the Birdman of Alcatraz, A View to a Kill and When a Man Loves a Woman shot scenes.
From here, you then venture into the infamous North Beach neighborhood. Almost a dozen shows used backdrops from this gorgeous district including Nine Months, Dirty Harry and Mrs. Doubtfire.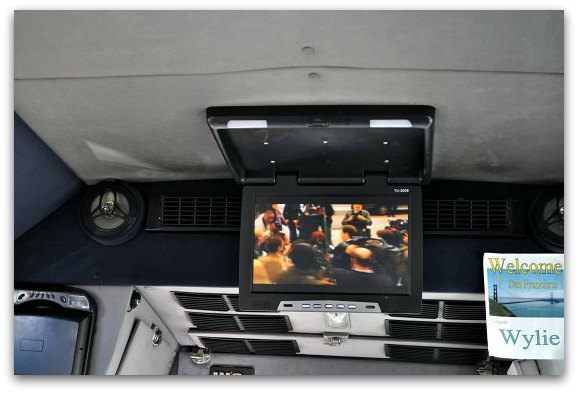 The screen showing clips during the ride
Your journey then takes you through the Financial District and Union Square. You drive past the bar where The Jazz Singer (1927) was filmed. You also see the spot where scenes from Rent and Interview with a Vampire occurred.
You then head down Market Street toward City Hall. This amazing structure has been used in several shows including Milk, Indiana Jones: Raiders of the Lost Ark, and A View to a Kill.
City Hall is the first of four stops on this San Francisco movie tour. Not only do you get to see where several films were shot outside, but you also get the chance to spend a little time (on your own) inside. It's free to enter and one of the most interesting buildings in SF.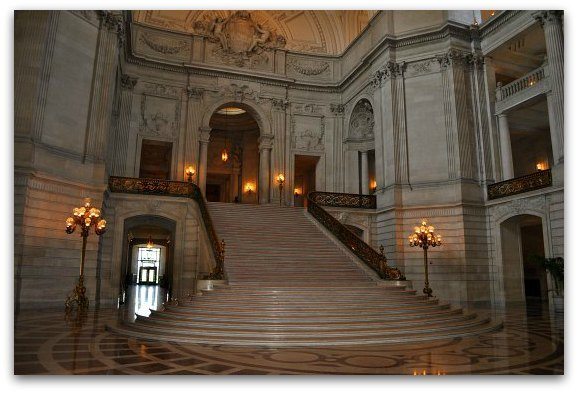 After your 20-minute break, you will jump back on the bus and continue to the Haight Ashbury district. Here you will drive by the houses where The Grateful Dead and Janis Joplin once lived. 
As you head west, you pass through Golden Gate Park where scenes from Star Trek IV: A Voyage Home, Dirty Harry and The Woman in Red were shot. 
You will then head north to the Presidio. Here you get another quick 5-minute photo break at Inspiration Point.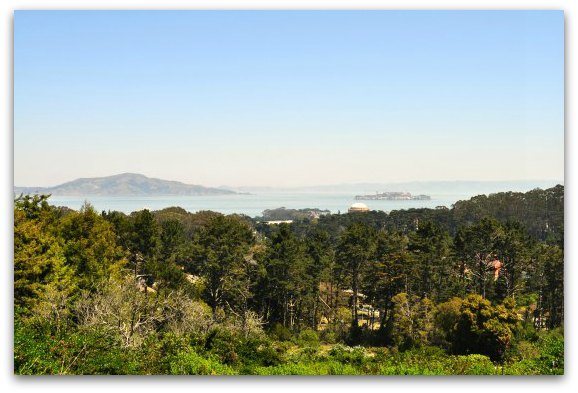 More than a dozen shows used the Presidio for scenes. Here you will see where clips from Zodiac, Murder in the First and Escape from Alcatraz were shot.
The next highlight is the Golden Gate Bridge. This famous attraction is seen in several movies from Herbie Rides Again to Star Trek.
Right below the bridge at Fort Point is your fourth stop. Here you will take a 15-minute break. You can also get some amazing photos of the Golden Gate Bridge.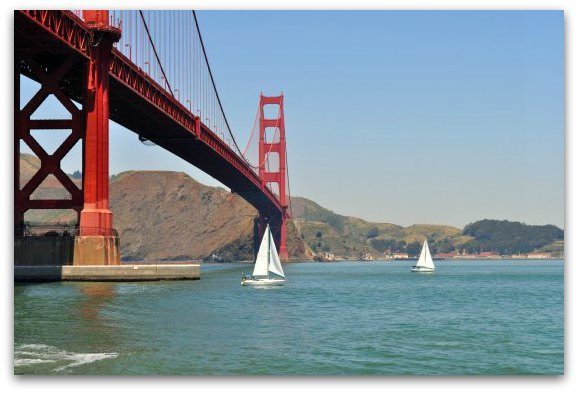 The final part of your adventure takes you through Pacific Heights. Famous scenes shot here include The Princess Diaries, Basic Instinct and Guess Who's Coming to Dinner. 
This is also the area of your last photo stop - the house used in Mrs. Doubtfire.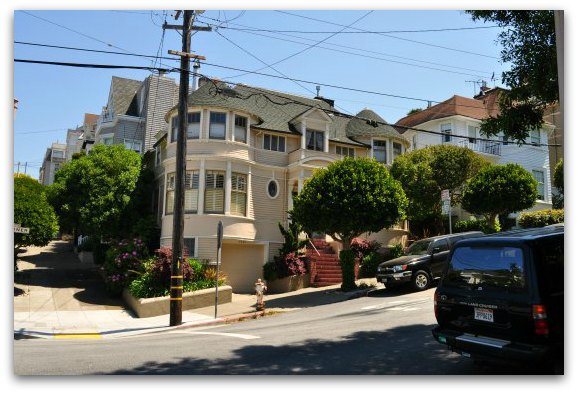 The San Francisco Movie Tour concludes in Fisherman's Wharf. 

More Details

While most of the tour is focused on movies, the guides also do a great job of pointing out locations that are important to San Francisco history. They also tell you a little more about some of the attractions you drive by.
This tour runs just once a day, from 10:30am to 1:30pm, most of the year. During the busier summer months, they add on a second tour in the afternoon to accommodate demand. 
If you love movies, or are looking for an alternative city tour, then this is the one for you. Grab your seats for the San Francisco Movie Tour online today! 

Other Tours You Might Enjoy

Self-Guided Walking Tours: If you are the type of person that prefers venturing out on your own, then this is the page for you. Here you will find the top self-guided walking tours that range from simple cards with maps and directions to get you around to MP3 audio tours.
Night Tours: San Francisco is amazing during the day, but it's even better at night. This is why I always recommend taking at least one-night tour. You can go on a ghost walk, learn more about North Beach's rowdy past or even take a romantic cruise around the bay.
Food Tours: If you are a foodie, then San Francisco is the place for you! Even if you aren't a foodie, you will find some fun walking tours that introduce you to the diverse cuisines of the city. Walk through the Mission district sampling foods from Latin America, head to Japantown for traditional Japanese cuisine or head to North Beach for some yummy Italian treats. You just can't go wrong with any of these food walking tours!

Comments? Questions? Suggestions?
I would love for you to join me in my private Facebook group! 
It's a great place to interact with me and others who know the area well.
You can ask questions, get advice for your upcoming stay, and then share your photos and advice with others when you return home. It's a great community and the fastest way to get answers to those nagging questions about your visit!