San Francisco to Muir Woods: 6 Best Ways to Get Here

by Jill Loeffler  •

Published: July 14, 2023
You will find a few options to travel between San Francisco and Muir Woods National Monument in Marin County.
Even though it's only about 16 miles from SF, the drive usually takes anywhere from 35 to 50 minutes.
What is the best way to get there?
You can take one of two Muir Woods shuttles, drive, or go on one of three unique guided tours.
Each option offers you the chance to explore this fantastic coastal redwood forest about thirty minutes north of the Golden Gate Bridge.
Most of these transit options require that you pre-book and pay in advance. Some include an entrance ticket into the park, and others require that you pay when you enter.
If you have a National Parks Pass (also called America the Beautiful National Park Pass or the Interagency Pass), you can use that to enter the park for no additional cost.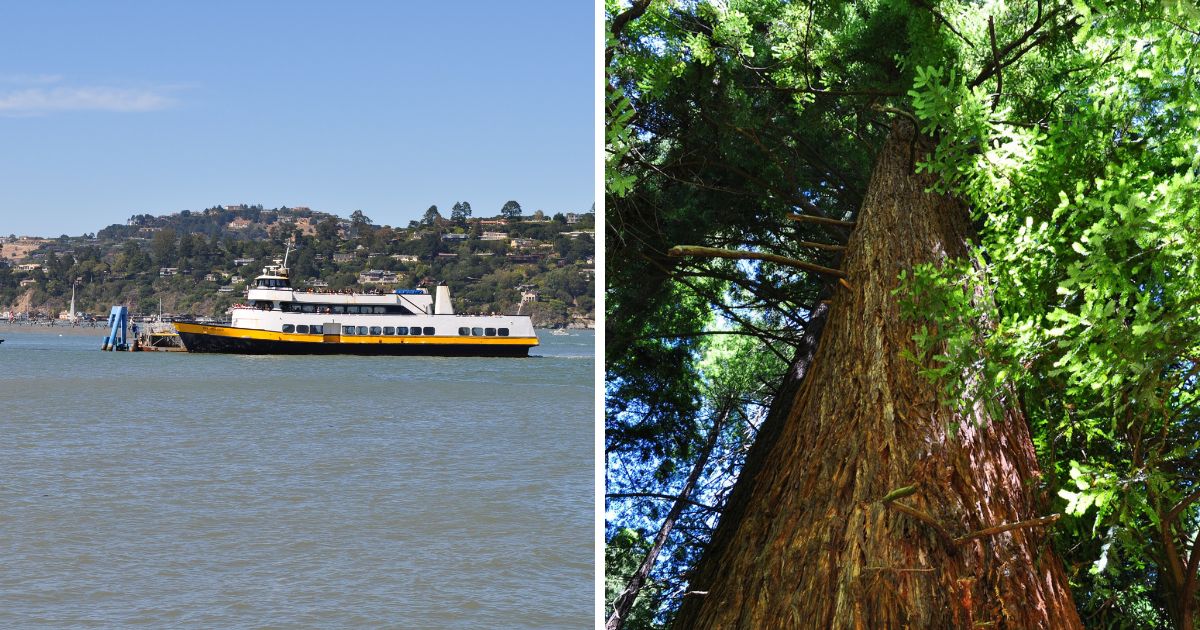 Disclaimer: I receive a small commission from some of the links on this page.

The links below will take you to the section that interests you the most.
A Little About Muir Woods National Monument
Muir Woods is a National Park that sits within the Golden Gate National Recreation Area and is surrounded by Mount Tamalpais State Park.
It spans more than 558 acres and is home to dozens of coastal redwoods. Many redwood trees in this forest are around 600 years old, with the oldest recently being dated to be almost 800 years old.
They previously thought the oldest tree here was between 1,200 and 1,500 years old, but new dating techniques on the tree showed it was a bit younger.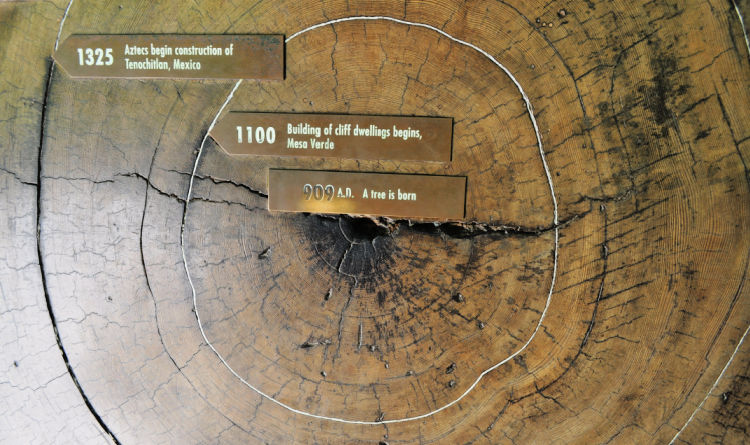 Inside the park, you can stroll its well-maintained and level trails, check out its informational exhibits, or head up the hills for a more heart-pumping hike.
You can also visit the visitor center or grab a coffee and sit back to admire these ancient beauties on one of the benches throughout the park.
>> Learn more about what you'll see when you visit
Details About the Muir Woods National Monument Shuttles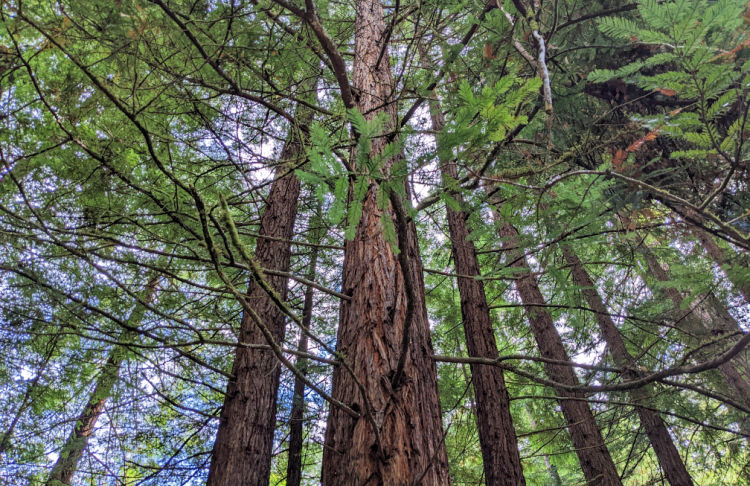 The Muir Woods Shuttle is the only public transportation option to get you to the park entrance. The shuttle is run by Marin Transit and is bus #66.
Even though this is public transportation, you must book reservations in advance. Without advanced reservations, you will not be able to take the 66 to Muir Woods.
This shuttle does not have a stop in San Francisco, so you need to make your way to Marin County to pick it up at one of two locations: The Sausalito or Larkspur Landing.
Make sure to confirm the stop you want to use before booking. You cannot book one and show up at the other location to board.
Also, your shuttle reservation does not include the entrance fee into Muir Woods National Monument.
Something I love about them is that these shuttles are a great option for those that want to do some serious hiking. It will allow you to spend several hours hiking or checking out the forest floor.
1. Sausalito Shuttle to Muir Woods (Certain Summer Days Only)
The Sausalito Shuttle is the most popular option for those wanting to get from San Francisco to Muir Woods. This shuttle stop (orange star on the map) is about a five-minute walk from the Sausalito Ferry Terminal.
It runs only during the Summer months and on weekdays only. It does not run year around.
The first shuttle leaves at around 8:30 am, and the final shuttle leaves Sausalito in the early afternoon. You'll find the stop at the corner of Bay and Bridgeway.
You must arrive 15 minutes before your departure, and they will not wait for those running late. You also won't be able to jump on a later shuttle, so make sure you time your arrival, so you don't miss the shuttle.
This is a round-trip ticket, so you do not need to buy a second ticket to return to Sausalito. You can stay as long as you want or until the final shuttle leaves.
I recommend that you don't wait until the final shuttle because it does fill up early, and you may not get a seat. You will then need to find your own way back to San Francisco (which is not easy).
Here are a few additional details about this shuttle:
Children 15 and under ride free, but you must book their tickets through the system.
The shuttle takes about 30 minutes to get to Muir Woods from Sausalito.
The cost is $3.50 for each adult (16 and older).
Getting to this Stop from San Francisco
You have a few options to get to this Muir Woods National Monument Shuttle stop from San Francisco.
Ferries to Sausalito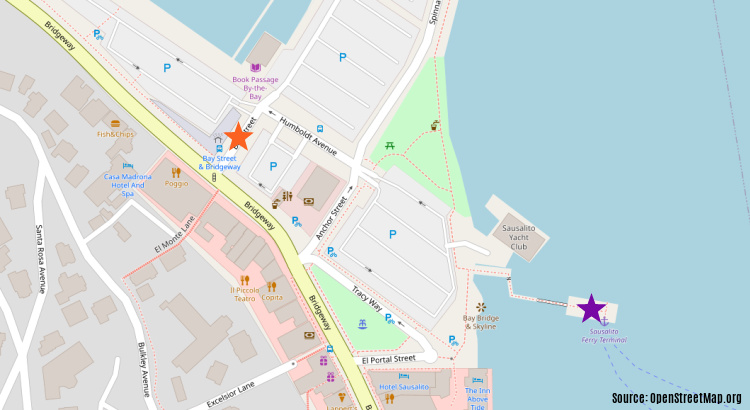 Two ferries take you from San Francisco to the Sausalito Ferry Terminal (purple star on map). The Blue and Gold Ferry Company runs the service from Fisherman's Wharf. Golden Gate Transit runs the one from the Ferry Building. Both arrive in the same location in Sausalito.
In the busier summer months, these ferries run more often, and they are a great option to get you to Sausalito. However, during the slower months, they don't run early enough in order to get you here earlier enough for most of the shuttle departure times.
You can find the current schedule for both ferries here. Also, double-check the service times for the day you plan to head over in case they make a last-minute schedule change or are running late.
Bus from San Francisco to Sausalito
This is what the bus looks like (all with different ads). This is the bus heading into San Francisco. The bus heading to Sausalito will say 130 but will say "San Rafael Transit Center" since this is it's last stop.
Another option to get you to the Muir Woods shuttle is the 130 Golden Gate Transit Bus (their website currently says 30, but this is the old number for this bus, so please take the 130 or you will be standing there all day!).
This bus starts at the Transbay Terminal in the South of Market District, picks up along Mission Street, in the Civic Center area, along Van Ness, and Lombard Street.
It then drives over the Golden Gate Bridge and through downtown Sausalito.
You will want to exit at the Bridgeway and Bay Street stop, just a minute or two away from your Muir Woods shuttle stop.
The first bus leaves San Francisco around 6 am and runs about once an hour. This makes it a great option if you have morning shuttle tickets to Muir Woods.
Here is a map with the best stop in San Francisco for those coming from Fisherman's Wharf (red star).
The best stop if you are staying in Fisherman's Wharf is along Lombard at Fillmore Street (purple star in the lower left hand corner of the map). This stop is on the northwest corner of the intersection. It's about a mile and a half from the heart of Fisherman's Wharf.

You can get to this stop by walking, taking the 28 bus (which will drop you off right at the stop), or take an Uber/Lyft.
Here is a map with the best stop for those staying in Union Square (red star) and downtown San Francisco.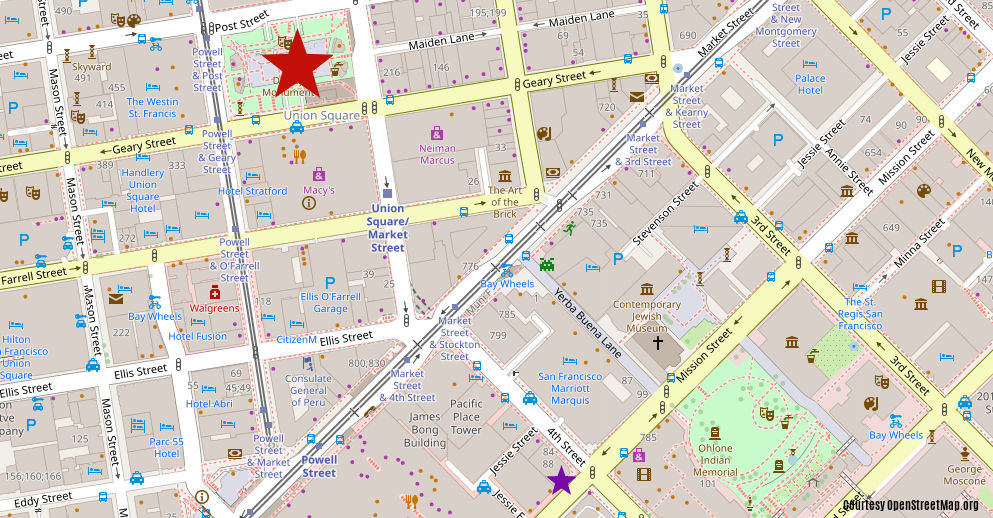 The best stop for this bus is along Mission Street (purple star). It offers stops along Mission Street between 4th Street and Jessie East. 
It is just a few blocks from Union Square, so you can walk or take a quick Uber/Lyft to catch this bus.
Lyft/Uber to Sausalito
You can also take a Lyft or Uber to Sausalito. The drive takes about 30 minutes from downtown San Francisco and about 20 minutes from Fisherman's Wharf.
The cost will vary based on the time you head over and the traffic, but I'd estimate it's about $35 to $50 for the ride before tax and tip.
2. Larkspur Landing Shuttle to Muir Woods (Weekends & Holidays Most of the Year)
This Muir Woods Shuttle is a little further north and great for those coming from other locations in Marin County, Sonoma, or other spots in Northern California.
This shuttle runs just on the weekends (no weekdays or holidays) most of the year.
This one is also great for those with a car as there is parking in this area, and you do not need to make a parking reservation to park near the shuttle stop.
Here are a few more details about this Muir Woods shuttle:
Leaves from 101 E. Sir Francis Drak Blvd. in Larkspur
Need to arrive at least 15 minutes in advance.
Picks up right near the Larkspur Ferry.
>> Visit their official site to book your shuttle ticket
Details About the Muir Woods Tours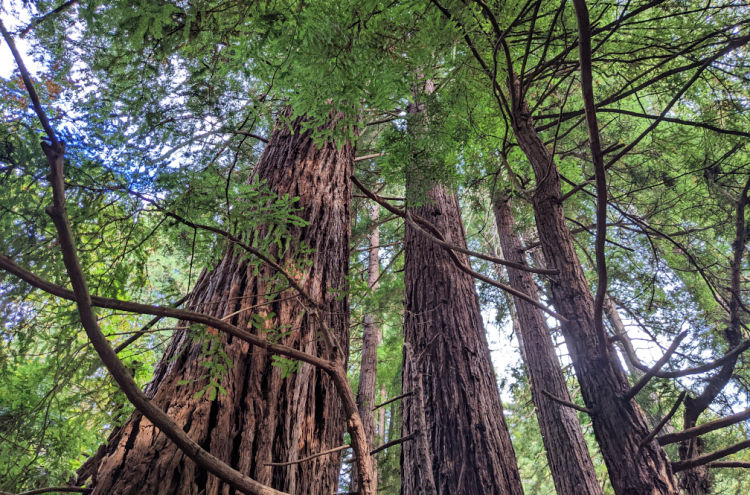 There are three different types of Muir Woods National Monument Tours. Each one offers you the chance to explore Muir Woods on your own for anywhere from 60 to 90 minutes.
This is plenty of time to visit Muir Woods National Monument and explore some of its paths.
Please keep in mind that the tours will not wait for stragglers. The last time we visited on a guided tour, one person did not arrive in time. We waited for about 10 minutes but ended up leaving them.
This person then had to find their own way to San Francisco from Muir Woods. There is no cell phone reception or wifi service in the park, so this isn't an easy task.
Be very aware of the meet-up time and make sure you don't miss it since they allow plenty of time to explore the park here.
Entrance fees are included in almost all of these tours.
This is the easiest and fastest way to get to Muir Woods from San Francisco without a car.
3. Muir Woods Only Tour
The first tour option available is the Muir Woods only tour. This is a half-day tour that really offers just transportation to and from the park.
It also includes a stop at one of the lookout points on the Golden Gate Bridge (weather permitting) and drops off (no tour) in Sausalito.
The entire tour is about 3.5 hours, with 1.5 hours spent visiting Muir Woods.
It's also the most cost-effective of the three tours since it's the shortest. It runs once in the morning and once in the afternoon.
>> Find out more about this tour
4. Muir Woods and Sausalito Tour from San Francisco
The second tour option to get from San Francisco to Muir Woods is this combo tour. This tour includes a stop at the Golden Gate Bridge, 1.5 hours in the park, and then a 15 to 20-minute bus tour of Sausalito.
You can then either stay on the bus to return to San Francisco, or you can jump out to explore Sausalito more on your own.
This tour is about five hours and also runs most mornings and afternoons.
>> Find out more about this tour from San Francisco
5. Muir Woods and Wine Country Tour
The third tour option includes visiting Muir Woods in the morning and Northern California wine country in the afternoon.
Your day starts with a quick photo stop of the Golden Gate Bridge. You will then continue north to Muir Woods. Here you will spend about an hour in this historic coastal redwood forest. This tour includes the shortest stop at Muir Woods of the three tours offered.
You will then jump back onto the tour bus and make your way north to wine country. You will first stop for lunch at the Sonoma Plaza (lunch not included in the price) and then make your way to sample some Napa Valley and Sonoma wines.
You'll have the chance to stop for two tastings.
This tour does not include the entrance fee to Muir Woods. It does include the price for the two wine tastings.
The tour lasts around 9 to 10 hours.
>> Find out more about this fun Muir Woods and Wine Country Tour
>> Tips on how far in advance to book for Muir Woods and other top attractions in San Francisco
6. Driving from San Francisco to Muir Woods
The final option to get from San Francisco to Muir Woods is to drive. The drive is fairly easy and is about 45 minutes away from San Francisco, even though its only about 16 miles.
You'll start by crossing the Golden Gate Bridge and exiting Highway 101 at Exit 445B.
You will then continue along CA-1 through Mill Valley to the Muir Woods entrance.
You will need to make a Muir Woods parking reservation before you arrive. Reservations are $9 for a standard car or $12 if you want to charge your electric vehicle.
There is an extra charge for vehicles over 17 feet.
Make sure you download your parking reservation to your phone before you arrive, as there is no cell service or wifi available in or near Muir Woods.
Visit their official site to book a parking pass.
If you don't drive your own car, you can rent one at locations all around San Francisco. Find out more about car rentals in SF.
More Details About Getting from San Francisco to Muir Woods
Ride Into Muir Woods
Before your visit to Muir Woods, there is a little you need to know about the road that takes you to the park.
Once you leave Mill Valley, the final three to four miles of the trip are on a two-lane, windy road. If you get motion sickness, I recommend preparing before you get on the tour, shuttle, or car.
I get mild motion sickness, but I've never taken motion sickness medication for the journey. Sometimes, I have to close my eyes for parts of the ride, so I don't get sick.
However, if motion sickness is a big problem, I want to make sure you know that about 15 minutes of the ride is on gorgeous but very curvy roads. This will allow you to prepare before your departure.
What About Uber/Lyft from San Francisco to Muir Woods?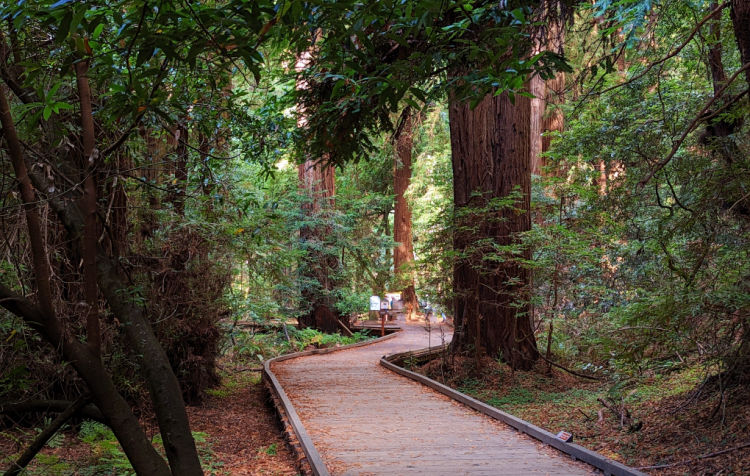 I always get asked if it's okay to take an Uber/Lyft from San Francisco to Muir Woods. I don't recommend this option.
While you can easily get to Muir Woods, you will find it's not very easy to get back. There is no cell service or wifi in or around the park, so you will not be able to use the app to return.
There is no public transit (except the pre-booked shuttles mentioned above), so it becomes difficult to get back.
Is It Safe to Cycle from San Francisco to Muir Woods?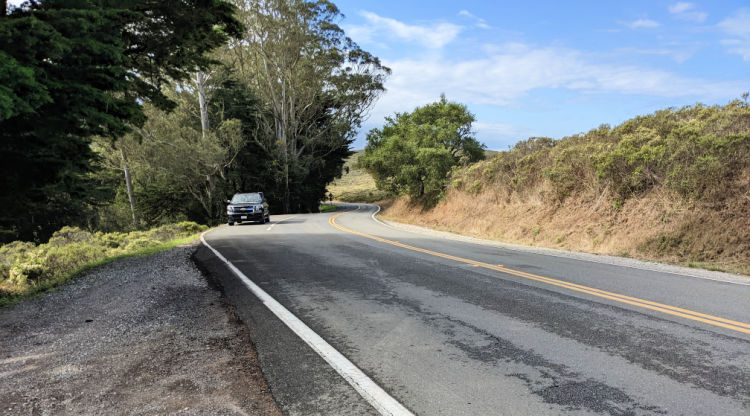 I took this from a car pull-out along the road, but as you can see, there is no shoulder (and some sections of the road drop straight down into a canyon).
If you love to cycle and are considering using this to get from San Francisco to Muir Woods, I do caution that it's a little dangerous.
You would start your journey in San Francisco, make your way across the Golden Gate Bridge, and then down through Sausalito. You would then follow the trail through Mill Valley and make your way on the two-lane highway to the park entrance.
The ride is about 13 to 17 miles from different locations around San Francisco.
The first 10 miles of the journey are pretty straightforward and safe. It's the last few miles that are a bit tricky.
This last part of the ride from San Francisco to Muir Woods is on a tight, two-lane highway. There are no shoulders and no bike lanes.
The road also has quite a few twists and turns, so can be quite dangerous as some drivers get a thrill when they whip around the corners quickly.
A couple of times I've driven out here, I've seen people cycling this road. It's gorgeous but doesn't look safe to me.
Cars will line up behind cyclists trying to get around them. Some cars will swerve out and around with little time to see if someone is coming from the opposite direction.
I would not recommend this ride unless you are familiar with the road and know how to avoid a potential collision with cars around the corners. There are other great cycling options nearby, but I would not recommend this to anyone that hasn't taken this road before by car or tour.
Comments? Questions? Suggestions?
I would love for you to join me in my private Facebook group! 
It's a great place to interact with me and others who know the area well.
You can ask questions, get advice for your upcoming stay, and then share your photos and advice with others when you return home. It's a great community and the fastest way to get answers to those nagging questions about your visit!