The Perfect Day in Japantown: Discover this Gorgeous SF District in One Day

Japantown is a small district that features Japanese cuisines, shopping and other cultural events. During my visits to this neighborhood, I have fun shopping in the large Japan Center Mall, sampling sushi and other Japanese treats and walking through the neighborhood to learn more about its history.

Below is a self-guided tour for you to use when visiting. I consider it my "perfect day" in this district.
This one-day tour allows you to catch all the main attractions, walk through this neighborhood's history and savor food from some of the best restaurants.
Disclaimer: I receive a small commission from some of the links on this page.

10 am: Admire the Peace Pagoda Plaza

Today's journey starts at the Peace Pagoda Plaza on Post and Buchanan Streets. The heart of this plaza is the beautiful white Pagoda in the southwest corner.
The great thing about your visit here is that you can get an up-close look at this beautiful structure. You can even walk underneath for a look up into its tower.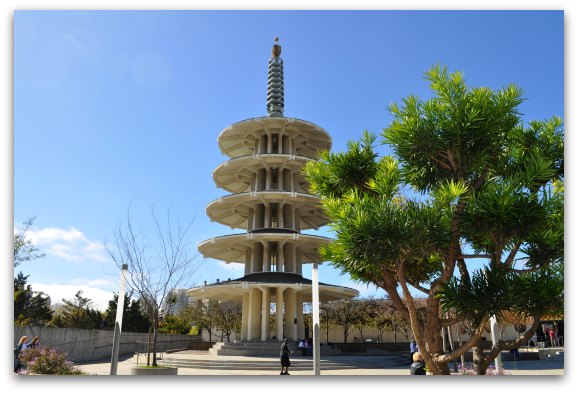 Spend just a few minutes here admiring the plaza before heading inside for some shopping.

10:30 am: Shop for Authentic Japanese Items at the Japan Center Mall

On both sides of Peace Pagoda Plaza, you will find the Japan Center Mall. Each side offers more than a dozen shops with inexpensive items.
Many of them feature traditional Japanese products including plants, clothing and kitchen items. You will also find places to get your nails done and several restaurants.
Take your time walking around each side and finding fun goodies from Japan.
1 pm: Sample Sushi & Other Japanese Delights for Lunch

The great thing about grabbing lunch in Japantown is you can find several inexpensive yet authentic restaurants.
One of my favorites is Kui Shin Bo. Their food is amazing and they offer an affordable lunch menu. Try their Volcano Rolls and the Katsu (crispy, juicy chicken). You will find them at 22 Peace Plaza, Suite 535 in the eastern part of the Japan Center Mall.
Another place I enjoy is Tenroku Sushi Restaurant. It's also in the eastern portion of the Japan Center Mall. Their prices are fair and the food is delicious. I love their fun little conveyer belt sushi where you can grab anything you want as it passes you by on it.
 2 pm: Walk the Historic Path through the Japantown District

After lunch, walk back to Peace Pagoda Plaza. On the wall on the western side of the plaza, you will see the sign in the picture below. This is the start of the Japantown Historic Path.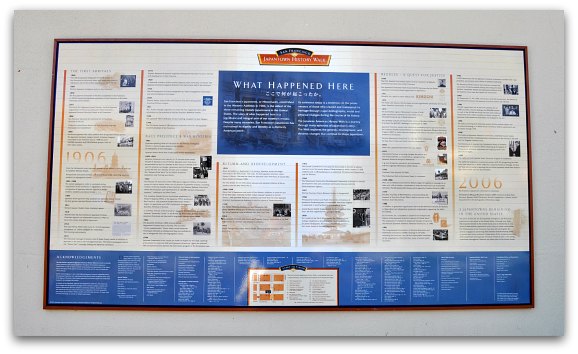 This walking tour takes you through the neighborhood and stops at all the important places in its history. At each stop, you will find a small plaque with the details on its importance.
You don't need to worry about remembering the entire route as each stop includes a map to show you how to get to the next point of interest.
4 pm: Enjoy a Movie at the Sundance Kabuki Theaters

Once you complete the walk, it might be fun to grab a movie. The Sundance Kabuki Theaters feature up to eight movies at a time.
This newly remodeled theater includes comfortable seating. One of the theaters upstairs seats adults only in the balcony, where you can grab a beer or glass of wine and enjoy it during the show.
7 pm: Grab Dinner and/or Drinks in Restaurant Row

Are you hungry for dinner? Your final stop on today's walking tour is in the western half of the Japan Center Malls. This is where you will find Restaurant Row. It's a great place to find several different Japanese restaurants and sample something new.

If you are not in the mood for Japanese food for dinner, then head over to the Lower Pacific Heights district instead. It's on Fillmore Street less than a block away from the Japan Center Mall. Two recommendations close by are the Woodhouse Fish Company (at 1914 Fillmore; seafood, clam chowder & fish and chips) and Roam Artisan Burgers (at 1923 Fillmore).

How to Get to the Starting Point

From Union Square, take the 38 bus to Geary and Webster. You can pick it up on Union Square at Geary and Stockton Streets. It takes about 20 minutes to get here and costs $3 per person. Once you reach Geary and Webster, walk half a block back up Geary and then take a left to enter the Japantown Peace Plaza.
From Fisherman's Wharf, your best bet is to take the 49 bus heading toward the Mission. Pick it anywhere on North Point Street and take it to the corner of Van Ness and Sutter Streets. From here, you can walk west five blocks to the plaza (take a left down the hill once you reach Buchanan). 
You can also wait an additional stop at get off at Van Ness and Geary. Here, you can transfer to the 38 which will drop you off just south of the Japantown Peace Plaza.
Cherry Blossom Festival

If you happen to visit in April, you are in luck! This is when the cherry blossoms show their colors. It's also time for the annual Cherry Blossom Festival.
This fun festival runs for four days in April (usually the second and third weekends). It includes free live music, festival food and traditional Japanese entertainment.
My FAVORITE (and the most popular) performances are by the local Taiko Dojo drummers.
Click here for pictures of the festival, a schedule of performances and everything else you need to know about this year's event.
Comments? Questions? Suggestions?
I would love for you to join me in my private Facebook group! 
It's a great place to interact with me and others who know the area well.
You can ask questions, get advice for your upcoming stay, and then share your photos and advice with others when you return home. It's a great community and the fastest way to get answers to those nagging questions about your visit!