The Perfect Day in the Castro District: Make the Most of Your Day in this Colorful LGBT SF Neighborhood

by Jill Loeffler  •

Updated: July 9, 2021
The colorful Castro district always brings a smile to my face. The people are friendly, everyone has a great sense of humor and there are colors everywhere you look.

On my perfect day in this LGBT district, I like to visit Pink Triangle Park, learn about LGBT history at the local museum and enjoy meals at some of its top restaurants. I also have fun shopping in the stores and, of course, eating a yummy treat from Hot Cookie!

10 am: Remember the LGBT Victims at Pink Triangle Park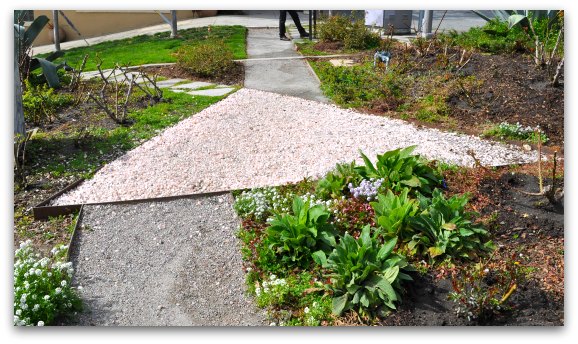 A new addition to the Castro is Pink Triangle Park. This small park is a memorial to the almost 15,000 LGBT people that lost their lives during the Nazi Regime between 1933 and 1945.
Each pylon represents 1,000 people that died during this time.
Walk around the park and learn more about this terrible time in the LGBT community's history. Also, pick up a pink stone from the triangle on the ground (shown in the picture above) as a way to never forget about those that lost their lives.
10:30 am: Take Photos of Harvey Milk's Old Camera Shop

From Pink Triangle Park, walk down Castro Street to Harvey Milk's old camera shop.
One of the most famous residents of the Castro District is Harvey Milk. This political activist turned politician started his time in this district in his camera shop at 575 Castro Street.
The building is now a Human Rights Campaign shop. However, you can read more about his time here on the informational write up on the door.
Make sure you also look up for a small mural of Milk as well as down to see a plaque in the sidewalk in his honor.
11 am: Soak in the History of the Local Community at the GLBT Museum

After you visit the camera shop, walk down to 18th Street and head west a half a block to the GLBT Museum.
This small museum dedicates its space to the history of important people in this community. You will also learn more about specific events in San Francisco that shaped this community.
In addition, you will find a small exhibit dedicated to Harvey Milk, so you can learn even more about this local hero.
A visit here takes between an hour to an hour and a half. Click here for a few pictures and more details on what to expect during your visit.
1 pm: Savor Lunch at the Sausage Factory

As I mentioned before, the people in this neighborhood have a great sense of humor. You will see that all around you especially with the names of their restaurants and shops. The Sausage Factory is just one example.
This casual Italian restaurant has some of the best food in the area. Here you will find classic pizzas as well as other favorites including Spaghetti, Fettuccine Pesto and Lasagna. One of my favorites is their Spaghetti Carbonara.
You can also order a sandwich, salad or their yummy garlic bread with cheese.
The Sausage Factory is near the corner of 18th Street on Castro.
2 pm: Check Out the Neighborhood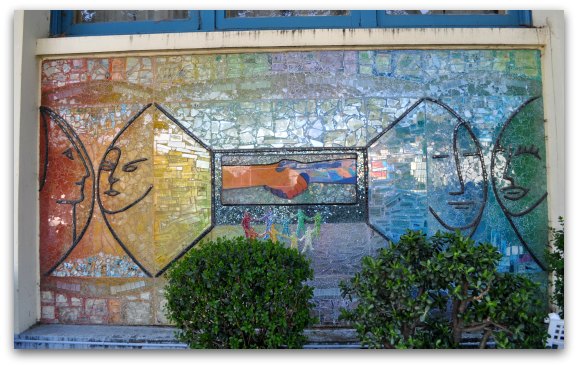 After you stuff yourself with a hearty Italian meal, I recommend walking around the neighborhood. It is one of the few districts that still has several gorgeous Victorians.
From The Sausage Factory, I recommend walking up hill to 19th Street. Take your time to admire the beautiful homes along the way.
Take a right on 19th Street and walk one block to the school on 19th and Collingswood. This is where you will see a few beautiful murals supporting the local community (including the one in the photo above).
Continue down 19th Street and take a right on Diamond. Off to your right, you will see another colorful mural on the side of one of the buildings.
Continue down Diamond Street and take another right on 18th Street. On this block, you will see a few more Victorians as well as some local shops.
3 pm: Shop in the Funky Neighborhood Stores

At this point, I recommend spending a little time in these fun, local stores. One of my favorites is "Does Your Mother Know." They have some interesting items throughout their store.
If you are hungry for a sweet treat, then I recommend stopping by Hot Cookie at 407 Castro Street. They have some of the best cookies in town!
5 pm: Grab a Drink at Harvey's

When you are ready to sit down for a while, head over to Harvey's on the corner of Castro and 18th Street. This gay bar welcomes everyone and is a great place to do some people watching.
The original name for this bar was The Elephant. In its early days, Harvey Milk and his friends often frequented this bar.
After it burned down in the mid-1990s, the owners decided to reopen it under its new name "Harvey's" to honor Milk for everything he did for the neighborhood.
Their happy hour is Monday through Friday from 3pm to 7pm. During these hours, you can buy a draft beer for just $3.
If you are hungry, you can grab some pub food such as burgers and fries. Their all-day menu includes Chicken Wings, Turkey Sliders and Garlic Fries.
6 pm: Check out the Pipe Organ at The Castro Theater

One last thing I recommend is to stop by the Castro Theater around 6pm. Most nights (of course not all), you can listen to the pipe organ in their lobby as they get ready for that night's show. If you plan to do this, I recommend calling ahead to confirm the time (as they don't post a schedule).

6:30 pm: End the Day with Dinner at a Local Restaurant

If you enjoy pub food, I recommend heading back over to Harvey's for dinner (unless you already ate the first time). Other great options in this district include Fable (New American) at 558 Castro Street, Canela (Spanish, Tapas) at 2272 Market Street or the Anchor Oyster Bar (Seafood) at 579 Castro Street.

How to Get to the Start of Your Adventure

It's easy to get to the Castro from both Union Square and Fisherman's Wharf.
From Union Square, you will head to the underground train station at Powell and Market Streets. Pick up the K, T, M or L trains and take them to the Castro Street Station. Walk across Market Street (away from the rainbow flag) and you will find the small Pink Triangle Park near the corner of Market and Castro Streets.
From Fisherman's Wharf, take the F Streetcar all the way to the Castro. Pick it up on the corner of Beach and Mason Streets. Get off at the 17th and Castro Street stop. From there, you will walk to the northwest corner of Market and Castro Streets to find the park.