Three Day Itinerary for San Francisco: Make the Most of Your 72-Hour Visit


by Jill Loeffler  •

Updated: January 18, 2023
Explore the city on my three day itinerary for San Francisco. It includes visits to top SF attractions including the Golden Gate Bridge, Alcatraz Island, and Chinatown. You will also get the chance to ride a cable car, go shopping, and see the colorful murals all around the Mission.

All three days are packed full of activities and include plenty of walking, so you get the chance to explore the city like a local. You can also mix and match the days in order to come up with a full three-day plan that works best for you. 

Disclaimer: I receive a small commission from some of the links on this page.

Day One

Day one starts with a visit to the Golden Gate Bridge. First thing in the morning, you will walk part of the bridge, visit its small museum, and get some amazing pictures from several spots in the area.
You will then head down the stairs to the waterfront and walk along Crissy Field. At the end of the trail, you will spend a few minutes visiting the Palace of Fine Arts.
Your day continues in Fisherman's Wharf where you will grab lunch, see some of the sights, and enjoy special activities. You will then head over to Pier 33 to catch the tour to Alcatraz Island. 
Your day finishes with a nice, casual dinner in North Beach.
Click here for a full overview of my recommended day one itinerary.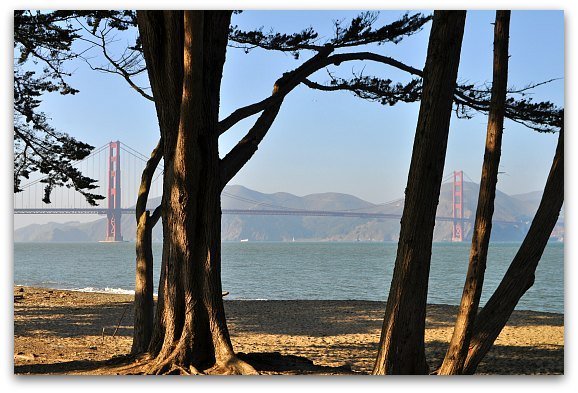 Day Two

The second day of your journey takes you through the North Beach and Chinatown attractions. You start with a cable car ride that takes you to the top of Lombard Street.
Your second stop of the day is to visit Coit Tower and then grab some lunch in North Beach.
Your afternoon will be in Chinatown, where you will visit some temples, discover how fortune cookies are made, and do a little shopping. Your day ends with an inexpensive Dim Sum meal.
Click here for a full overview of day two.
Day Three

The third day of your stay takes you to Golden Gate Park and the Mission District.

Enjoy the California Academy of Sciences

The day starts with a visit to the California Academy of Sciences. This wonderful attraction includes four museums in one: a 4-story rain forest, a planetarium, a natural science museum, and an aquarium.
This museum is for kids of all ages that want to learn more about animals and the sciences. Some of my favorite activities include the earthquake exhibit where you can feel what it's like to be in an earthquake, searching for butterflies in the rain forest, and visiting Claude, the rare white alligator.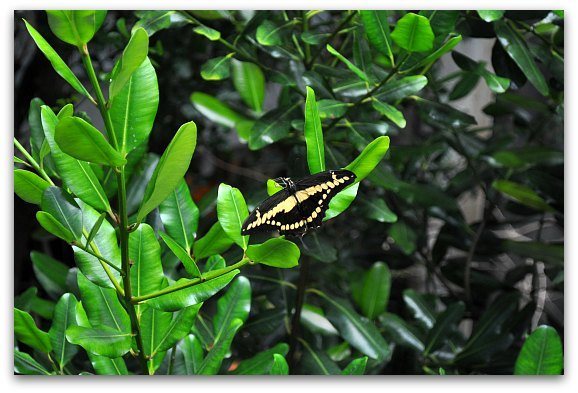 If you plan to catch a show at the planetarium, make sure to head over for your ticket when you first enter. They offer shows all day and they are first come, first served based on tickets. These tickets go fast, so head over right away to reserve your spot. 
The California Academy of Sciences opens Monday - Saturday at 9:30 am and closes at 5 pm. On Sundays, it opens at 11 am and closes at 5 pm. Last entry for any day is at 4 pm. I recommend doing this tour on any day but Sunday to allow for more time for the other activities.
Learn More: See pics and learn more about what there is to see at the California Academy of Sciences

Tickets: Buy tickets in advance to skip the line at the entrance 

Check Out Exotic Plants and Flowers

After your visit to the California Academy of Sciences, I recommend making one more stop nearby to see exotic plants and flowers from around the world. You have three options within a block of the museum: the Botanical Gardens, Conservatory of Flowers, and the Japanese Tea Garden. 
I have a hard time selecting one, as I love all three. I'll let you decide which one sounds the most interesting for this part of your visit.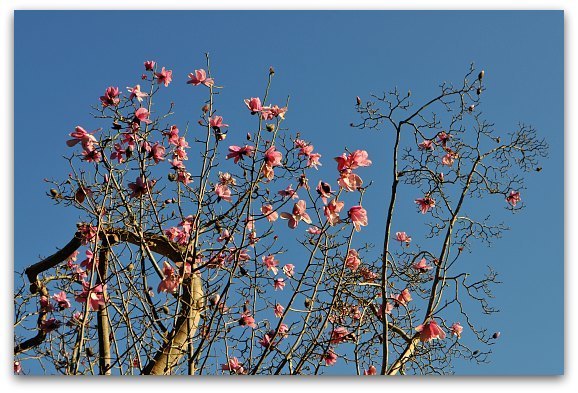 The Botanical Gardens is a 55-acre outdoor park with thousands of plants and flowers from around the world. It's a must see in December - March when the Magnolias are in bloom. It's also colorful in the spring and summer.
I've visited several times, during different seasons and there is almost always something beautiful in bloom. It's at 1199 9th Avenue and is open from 7:30am to around 5pm every day.
Read more about the Botanical Gardens here.
Your second option is the Conservatory of Flowers. This indoor living museum has four climate-controlled rooms with a wide variety of plants and flowers. You will see large lily pads, orchids, and Venus flytraps (carnivorous plants).
Their fifth room is where they house their special exhibits. It's open Tuesday - Sunday from 10 am to 4:30 pm.
Click here to read more about the Conservatory of Flowers.
The final option is the Japanese Tea Garden. This lovely outdoor attraction includes historic Japanese buildings as well as plants and flowers from Japan. The best time to visit is in late March to early May when the cherry blossoms are at their peak. It's open daily at 9am.
It's at 75 Hagiwara Tea Garden Way. Click here for pictures and more details on what it's like to visit.

The map below shows the location of all three in relation to the California Academy of Sciences (the star on the map). The Botanical Garden is #1, Conservatory of Flowers is #2, and the Japanese Tea Garden is #3.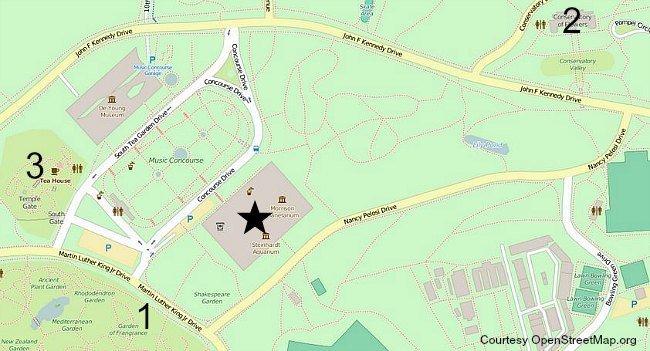 Grab Lunch in the Inner Sunset

Before you hop on the train over to the Mission District, I recommend grabbing some lunch on either 9th Avenue or Irving Street. You will pick up the N Muni on the corner of 9th and Irving for your next stop, so any restaurant close by will work.
Some of my favorite places include Pacific Catch (a casual seafood restaurant, 1200 9th Avenue), and Nopalito (Mexican cuisine, 1224 9th Avenue). In addition, you will also find some great places for pizza, Thai food, or almost any other cuisine you can imagine!
>> Learn more about the Inner Sunset

Take the Light Rail to the Mission

Once you finish lunch, head to the corner of 9th and Irving to grab the N Light Rail train heading toward downtown SF. Take this to the stop at Duboce and Castro Streets. 
From here, you will head south on Church Street, cross over Market, and take a left on 16th Street. Walk one block west to the corner of 16th and Dolores.
Admire the Mission San Francisco de Asis

Your first stop in the Mission is the historic Mission San Francisco de Asis. Completed in 1791, its one of the oldest buildings still standing in SF.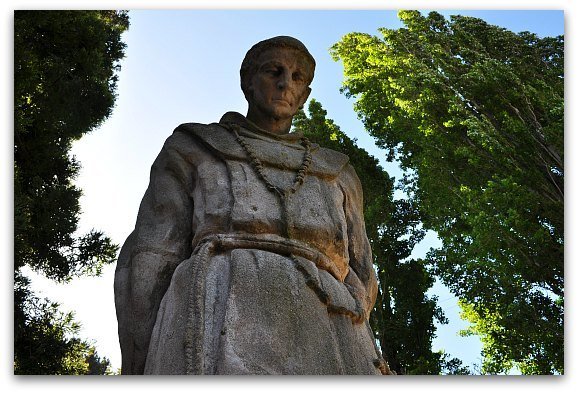 A visit to the mission also includes the chance to peek inside the larger Basilica (rebuilt after the 1906 Earthquake) and the oldest cemetery in San Francisco. It's the final resting place to some of the first leaders in this part of the US.
>> See pictures & learn more about visiting the Mission de Asis
Stroll Through the Mission Murals

The city of San Francisco has hundreds of colorful murals. The Mission has the largest concentration. To end your sightseeing today, I recommend strolling around the Mission checking out its gorgeous murals. 
You will find everything from political messages to one that features Carlos Santana. They are on buildings, garage doors, and even on the sidewalks. 
When you leave the mission, take a right to 17th Street. On 17th, take a left and walk two blocks to Valencia. You will then cross Valencia Street and take a right. In one block, you will find Clarion Alley, which houses many politically motivated murals. Walk through the alley and take a right on Mission Street.

You can stroll down Mission for a few blocks and several find murals. You won't find many right on Mission as most are on the number streets within a block or two of Mission Street.

Another section of the Mission with lots of murals is on 24th Street between Mission and York Streets. You will find a large concentration of murals in this area on Balmy Alley and Lucky Street. This area gets a little rough at night, so I only recommend heading into this part for the murals before it gets dark.

>> Find additional details on visiting the Mission District Murals

Relax & Unwind with Dinner in the Mission

End your day with dinner in the Mission. This district has a number of wonderful places to eat from high end American cuisine to casual Mexican faire.
>> Find a list of my favorite places to eat in the Mission
More Top Picks Around San Francisco
Uncover the Best Places to Stay in SF

This part of the itinerary is more centrally located. You can stay in either Fisherman's Wharf or Union Square to easily get to your starting destination. 
Both offer stays at a variety of price points. You can also save on your hotels by checking out the great deals before you book. 
Click the links below to check out my recommendations in both districts.

Comments? Questions? Suggestions?
I would love for you to join me in my private Facebook group! 
It's a great place to interact with me and others who know the area well.
You can ask questions, get advice for your upcoming stay, and then share your photos and advice with others when you return home. It's a great community and the fastest way to get answers to those nagging questions about your visit!