The Perfect Day in San Francisco: Tips to Explore SF in Just One Day

by Jill Loeffler  •

Updated: January 18, 2023
Do you only have one day to experience the City by the Bay? Are you trying to pull together a plan to see the best of everything in that one day? If so, then check out my recommendations for the perfect day in San Francisco.

While it's true that you won't get the chance to see everything, my itinerary includes a stop at the Golden Gate Bridge, a stroll through Fisherman's Wharf, and a ferry ride over to see Alcatraz Prison.
It also includes some recommendations on where to stop for meals along the way.
This itinerary also includes quite a bit of walking. However, I offer some additional advice for those that would prefer to drive or take the bus instead.
Disclaimer: I receive a small commission from some of the links on this page.

Explore the Golden Gate Bridge

The best way to start your day is by heading over to the Golden Gate Bridge. This amazing structure is one of the most recognized bridges in the world.
It is 1.7 miles long and it's free to walk along its eastern walking/biking path.
The paths open every morning at 5am, so you can head over as early as you want. I recommend heading over sometime between 8am and 10am.
This is when it's a little warmer and the fog should be starting to clear. During the foggier times of the year though, the bridge may stay hidden most of the day.
In addition to strolling along the bridge, you can also check out their great, new mini museum. It includes details on the building of the bridge as well as a great model showing how it works.
Learn More: Read More About What It's Like to Visit the Golden Gate Bridge
Stroll Along Crissy Field

After you visit the bridge, follow the signs down the stairs to Crissy Field. The map below shows you where to find the trail head (large star) and the path that gets you down to Crissy Field (smaller stars).
If you have any problems finding the trail, step inside the cafe or gift shop for directions.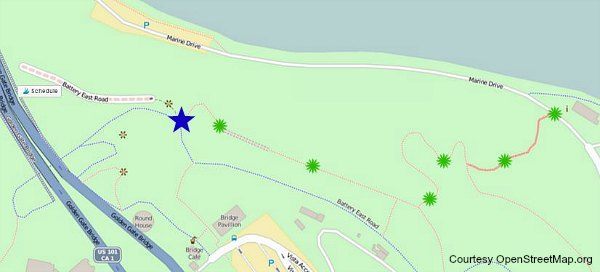 As you walk along this path, you will find several places to stop for additional views of the bridge and the SF Bay.

Note: This trail takes you through a small white tunnel that offers very little lighting. It's a short tunnel, but don't be surprised when you see it. Walk right through and the trail continues on the other side.

When you reach the bottom of the staircase, you will be on Marine Drive. Head to the waterfront and take a right to start walking along Crissy Field.
This walk along Crissy Field offers additional views of the SF Bay and the surrounding area. You will get the chance to see Alcatraz Island, the Palace of Fine Arts, and (when you turn around) more views of the Golden Gate Bridge.
You can also take a walk on the beach and dip your toes in the water.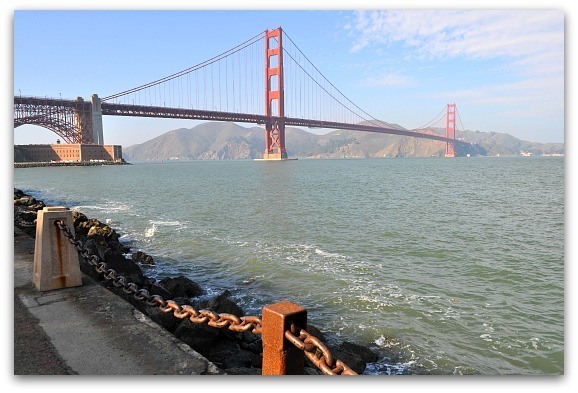 The walk from the stairs to the end of Crissy Field is about a mile and a half.

Bus Option: If you do not want to walk this far, pick up the 28 bus at the Golden Gate Bridge. Take it to Richardson and Francisco. It's a short ride but will save your feet for the rest of the day's journey.

Admire the Palace of Fine Arts

At the end of the Crissy Field trail, you will find a building with a large dome. This is the Palace of Fine Arts.
This gorgeous building was completed for the 1915 Panama Pacific Exposition. This event was the reintroduction to San Francisco after the devastating 1906 earthquake.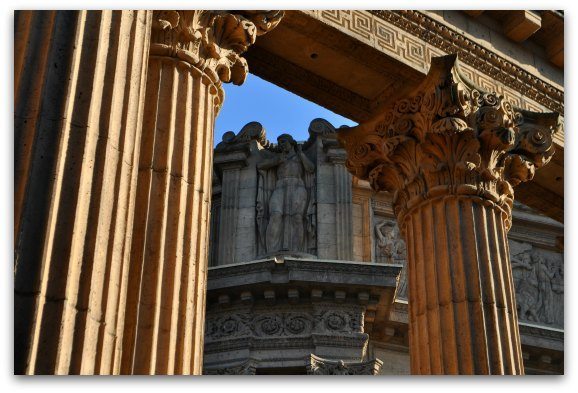 Spend 10 to 15 minutes here, admiring the intricate details of this beautiful building.
Learn More: See Pics & Tips to Visit the Palace of Fine Arts
Take the Bus to Fisherman's Wharf

After you complete your visit to the Palace of Fine Arts, head to Chestnut Street and Divisadero Street to pick up the 30 bus to Fisherman's Wharf.
This ride will take about 15 minutes. Get off the bus at the corner of North Point and Hyde Street (#1 on the map below)
Grab Lunch in Fisherman's Wharf

At this point in the day, you will be hungry for some local San Francisco favorites. You have a number of options in this district for lunch.
You can grab a bite to eat at the famed Buena Vista Cafe (#2 on the map below). They offer local, fresh Dungeness crab from the nearby waters. You can also enjoy an Irish Coffee, a drink that this cafe introduced to the US. Their menu is deep and they serve breakfast all day long.
Another great option is to grab lunch at one of the street vendors on Taylor Street. Here you will find a number of grab and go crab, lobster, and clam dishes including salads, sandwiches, and soup (#3 on the map below).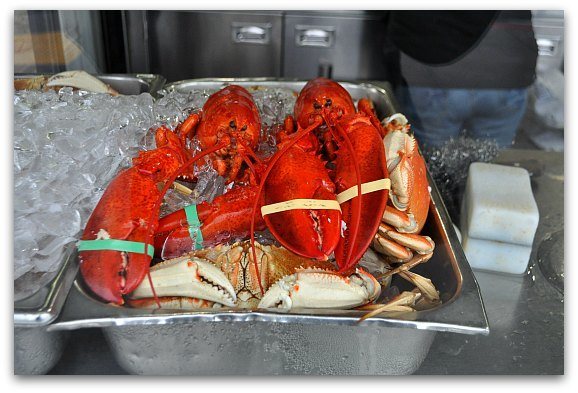 One of my favorite places to eat is at Boudin Bakery (#4 on the map below). I LOVE their clam chowder in their sourdough bread bowl. You can either do a quick lunch in their downstairs cafe or spend a little time relaxing in their upstairs restaurant.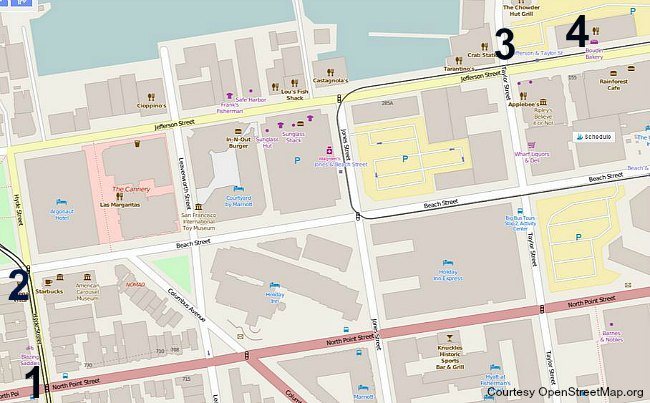 Enjoy Fisherman's Wharf Attractions

After lunch, you will have a few hours to roam around Fisherman's Wharf. This popular tourist district offers a variety of attractions and activities.
Depending on your interests, you can visit the new Madame Tussauds Wax Museum, the Ripley's Believe It or Not Museum, or go shopping at Pier 39 or Ghirardelli Square.
You can also learn a little about this district's history at the Maritime Museum or on the Hyde Street Pier.

My favorite activities in Fisherman's Wharf include playing old-time games and video games at the Musée Mécanique, taking a spin on the dark ride at the 7D Experience on Pier 39, and watching the sea lions play around.
Learn More: Additional Tips to Visit Fisherman's Wharf
Cruise to Alcatraz for the Night Tour

The best time to visit Alcatraz Island is at night. They offer one to two night tours every Thursday through Monday. These tours give you a more personalized look at the history of this infamous federal prison and its inmates.
You will pick up the night tour at Pier 33, just a short walk from Pier 39. You will need to buy your tickets well in advance, as these are the most popular tickets and they only offer a small number for each tour. You can buy them up to 90 days in advance.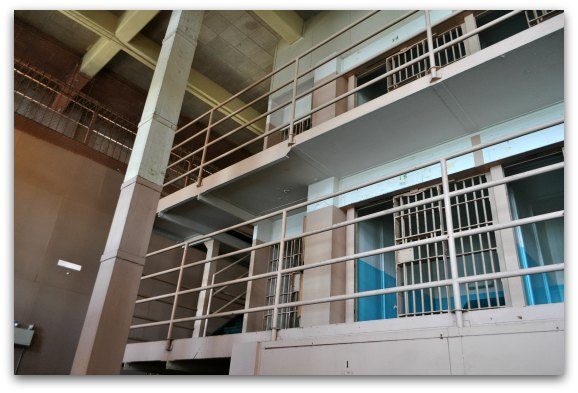 The reason I love this tour is that you get a real feel for what it might be like to be a prisoner on The Rock. There are also fewer people on the island since these tours have only a limited number of spaces.
Learn More: Find Out More Details About the Night Tour
Stop for a Casual Dinner in North Beach

Once you return from your visit to Alcatraz, I recommend grabbing the 8x bus and heading over to North Beach for a casual dinner. This district features dozens of casual Italian restaurants where you can grab some pasta or just a slice of pizza.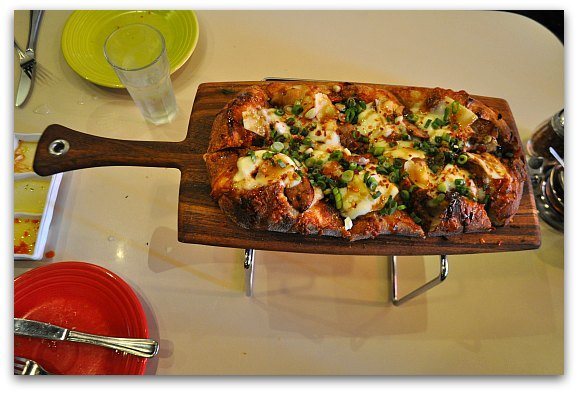 Some of my favorites in this district include Tony's Pizza Napoletana (1570 Stockton), Golden Boy Pizza (542 Green Street), and Piazza Pellegrini (659 Columbus Avenue).
You will also find more than a dozen other places on Columbus Avenue. They all post their menus outside, near the door, so you can quickly decide which one is right for you.
Note: If you are unable to get the Alcatraz night tour tickets, then you can flip around this itinerary by visiting Alcatraz first.

Opt for the Hop On/Hop Off Bus Tour

Another great way to easily get around SF is to go on a Hop On/Hop Off Bus Tour. If you only have one day, this allows you to quickly get from one attraction to the next without having to wait for the bus and/or drive.
All of the Hop On/Hop Off Buses include a stop at the Golden Gate Bridge, Alcatraz Landing (Pier 33), and Fisherman's Wharf. If you want to squeeze in even more in one day than what I've recommended above, then this is the tour for you!
Most of these tours do one loop around the city that lasts about 2-hours. You can hop on and hop off at any point you desire along the way.
>> Click here to learn more about the Hop On/Hop Off Bus Tour
Discover the Best Places to Stay

If you plan to only stay one day in San Francisco, then I recommend staying in Fisherman's Wharf. It will make it easy to get to most of the top attractions and you will spend less time getting from place to place.
This district is small but has a few dozen hotels. They range from the well-known hotels such as the Marriott and Holiday Inn to local spots such as the San Remo and the Wharf Inn.
Click here for a list of my recommendations in Fisherman's Wharf.
Uncover Additional Itineraries

Do you plan to stay in San Francisco for a few additional days? If so, then check out my itineraries for some additional days below.
Additional Ideas for Your One Day Stay

Are you only visiting San Francisco for less than 24 hours? Are you looking for more activities for your stay? If so, then check out my list of 10 fun things to do during your one-day visit.
They include ideas for those visiting for the first time, as well as those coming back for a return visit. Some are similar to my recommendations above, but you will also find addition things to do during your stay.
>> 10 of the best things to do in just one day
Comments? Questions? Suggestions?
I would love for you to join me in my private Facebook group! 
It's a great place to interact with me and others who know the area well.
You can ask questions, get advice for your upcoming stay, and then share your photos and advice with others when you return home. It's a great community and the fastest way to get answers to those nagging questions about your visit!