One Day in San Francisco: 10 Fun Things to Do on a Short 24 Hour Visit

by Jill Loeffler  •

Updated: August 25, 2023

Do you only have one day in San Francisco? Even with such a short stay, you can squeeze in quite a bit of what the City by the Bay has to offer.

My list includes 10 of the best things to do while you are here. You can stroll across the Golden Gate Bridge, visit Alcatraz, or cruise around the bay. Foodies will love our tasting tours, and art lovers will enjoy our top-rated museums.
Read on for tips on what to do during your 24-hour visit to SF.
Disclaimer: I receive a small commission from some of the links on this page.

1. Visit the Golden Gate Bridge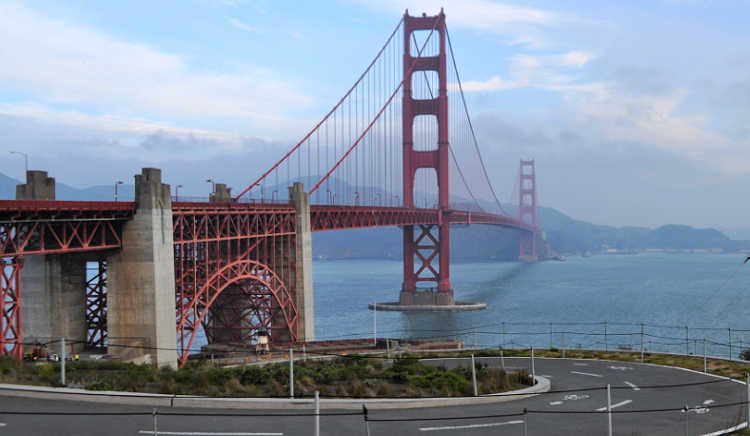 Fog is clearing up around the Golden Gate Bridge on an early morning visit.
If you only have one day in San Francisco, you'll want to visit the city's best-known landmark: the big, beautiful Golden Gate Bridge.
This bright orange architectural masterpiece made history in 1937 as the longest suspension bridge ever built, crossing a straight once believed impossible. 
Now, it connects SF to quaint waterfront towns, Muir Woods, and wine country to the north and is a very popular tourist attraction, whether you visit on foot, in a car, by bike, or in a boat passing underneath it. 
>> Read more about the history and tips to visit
>> Here are some great tips for walking the bridge
2. Explore Alcatraz Island

For many visitors, a trip to Alcatraz is the obvious choice for their one day in San Francisco because it's so famous.
This ex-federal prison has been featured in many movies and TV shows for its unique setup and is often referred to as "The Rock," since it's basically a large rock in the middle of the bay from which any prisoner would have to swim 1.5 miles in frigid waters to get to shore. 
When you ferry over and take a tour of the grounds, you'll learn about its history, notorious prisoners, and escape attempts.
>> How to book your tour to Alcatraz
>> Tips on how far in advance to book Alcatraz and other top SF attractions
3. Stroll Around the California Academy of Sciences

On a short trip to San Francisco, you won't have time to check out all of its incredible museums, but one that's definitely worth making time for is the California Academy of Sciences.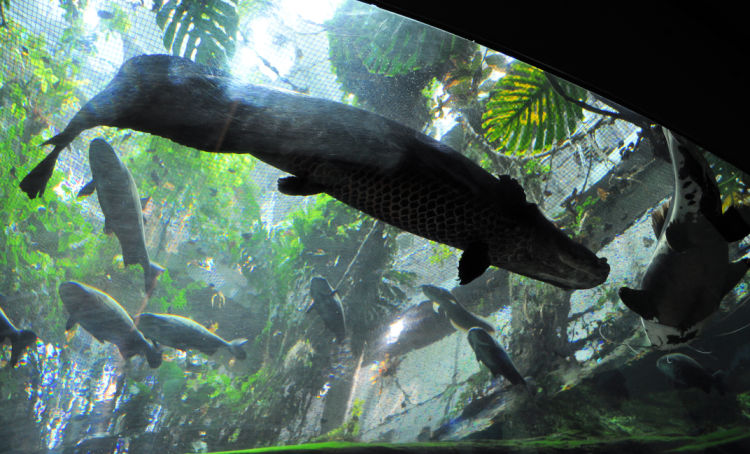 Looking up inside an aquarium at the California Academy of Sciences
Because it houses a four-story living rainforest, an aquarium, a planetarium, and a natural history museum all under one signature eco-roof, it's like visiting four museums in one, each with unique exhibits for adults and children alike.
Fun and interactive, visiting this museum in Golden Gate Park is a truly memorable experience.
>> Buy skip-the-line tickets in advance to save time at the door
>> See photos, get directions, and more details about the museum

4. Enjoy the Museum of Modern Art

If you love admiring paintings and sculptures by renowned artists like Henri Matisse and Diego Rivera, you're in luck because San Francisco's Museum of Modern Art offers 10 floors and over 30,000 pieces for you to enjoy.
Some ongoing exhibits include "Freeform: Experiencing Abstraction" and "German Art After 1960." 
The sleek design of the building is in itself a work of art and is conveniently located downtown across from the Yerba Buena Gardens.
>> Find out more about what you can see at the SF MOMA
5. Sample Some of Our Amazing Cuisines

Another must-do on your one day in San Francisco is to try the food the locals love. Thanks to the great ethnic diversity in this city, you'll find excellent options in every genre, including Chinese, French, Mediterranean, Mexican, Thai, and Italian, as well as good quality, fresh American cuisine. 
Choose from fancy, international, vegetarian, seafood, and gourmet food trucks. The guide below will give you the best recommendations depending on what you're in the mood for or what neighborhood you're in.
>> Check out one of our food tours to a great sampling of cuisines all around town

>> Find the best bites in San Francisco

6. Ride the Cable Cars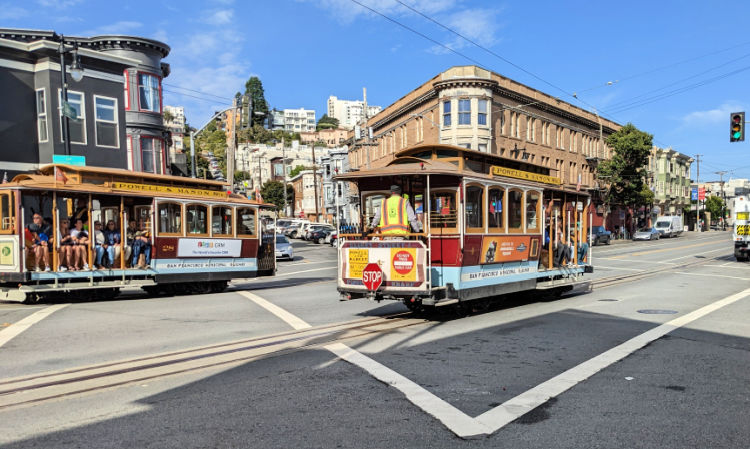 A trip to San Francisco is only complete with a fun ride on one of our historic cable cars. These fun vehicles climb the steep city streets and take you around the eastern side of SF.
Two take you on an exciting trip between Union Square and Fisherman's Wharf. Each one offers a unique route through SF.
The third takes you up the steep California Street hill and to the Nob Hill District.
>> Find out more about what to expect when riding our cable cars
7. Cruise the SF Bay

Another fun way to spend one day in San Francisco is by cruising the bay and enjoying beautiful views of Alcatraz, the Golden Gate Bridge, and the SF skyline from the water. There are many tours offered daily, and you can choose by duration, price, and other special amenities. 
Some take you sailing, others offer brunch or a sunset toast, and others will take you under both SF bridges. Read about the different tour packages in the link below, and get ready to enjoy the lovely sea breeze of SF's natural beauty! 
>> Learn about the five best cruises on the bay

Top Cruises You Might Enjoy
8. Take a City Tour

If you only have one day in San Francisco and want to see all the top sights, taking a half-day city tour is a great way to pack it all in and still have time to explore a bit on your own. 
This option is thorough and convenient, as your driver-guide will take you from Golden Gate Park to the famous Victorian homes, the Golden Gate Bridge, the Palace of Fine Arts, Fisherman's Wharf, Chinatown, North Beach, and Twin Peaks for a panoramic view.
Each tour lasts 3.5 hours and starts in the morning at 8:30 am. This will give you plenty of time to enjoy other activities in the afternoon.
>> Find out more about this half-day tour on GetYourGuide

More Great City Tours
9. Discover Our Hidden Gems

Maybe you've already seen most of the major tourist attractions in San Francisco and want to spend your day off the beaten path. This city is full of hidden treasures like mosaiced staircases, vintage arcade games, quirky museums, wine tasting rooms and breweries, the oldest camera obscura in the US, and so much more.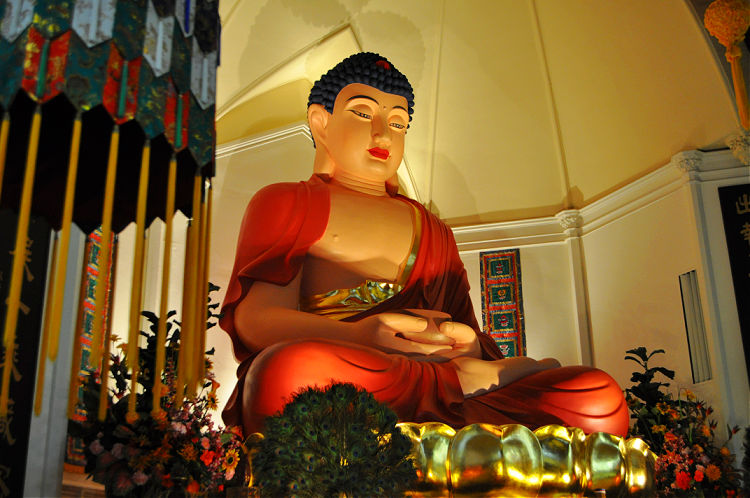 Statue inside a Buddhist Temple in San Francisco, one of our fun hidden gems!
If you know where to look, you'll have a blast exploring these unique and lesser-known attractions while delving a little deeper into the history of San Francisco.
>> Discover 25 hidden gems in San Francisco
10. See a Show

Nearly every day of the year, you will find some show to attend in San Francisco. If you are a fan of the fine arts, check out the SF Ballet, Opera, and Symphony calendars, or catch a stage play or Broadway musical at one of SF's many theaters. 
There is live music almost every night of the week in concert halls, cafes, or parks. You can even choose from comedy and circus shows. In addition to live entertainment, San Francisco hosts many large tradeshows and craft fairs, so you'll always have the opportunity to acquire new knowledge and souvenirs.
>> Find out what shows will be offered during your visit

Ideas to Make Your SF Vacation Unforgettable

Hop On Hop Off Bus Tour
The best way to get around San Francisco is on the Hop On Hop Off Bus Tour. It runs from 9 am to 6 pm and takes you directly from one attraction to another.
You can select from their 24- or 48-hour tour.
They also have a fantastic night tour. The Big Bus Tour Company is the most popular and highly rated option. Visit this site to learn more.
One-Hour Bay Cruise
Head out on the San Francisco Bay on this 60-minute Bay Cruise. See the Golden Gate Bridge from below, circle Alcatraz Island, and learn all about other local waterfront attractions.
Find more information and ticketing details.
Muir Woods & Sausalito Half Day Tour
The Coastal Redwoods near San Francisco are a must-see, and this half-day tour is the perfect way to explore them! On this tour, you will head north to Muir Woods, where you will have time to check out this gorgeous national monument.
On your way back, you will spend a little time in Sausalito.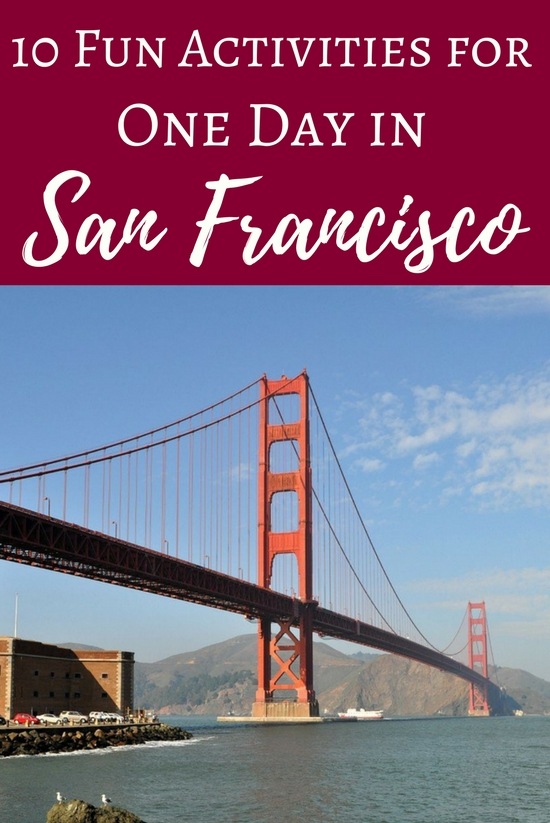 Sample One-Day Itinerary

Another option if you only have one day in San Francisco is to use this "Perfect Day" itinerary I created just for you. This self-guided tour of the city lets you be in charge as you hit the most popular attractions and grab delicious bites. 
I'll show you how to take a trail with beautiful views from the Golden Gate Bridge to the Palace of Fine Arts, bus to Fisherman's Wharf for seafood and other attractions, cruise to Alcatraz, and end the day with a fabulous dinner and drinks in North Beach. 
>> Get the details about how to spend the perfect day in SF

Best Places to Stay

If you plan to spend the night, make sure to check out these great deals.

Booking: Find great deals all around San Francisco for your upcoming stay! 

TripAdvisor: What's the #1 hotel in San Francisco? Read reviews & find hotel deals on TripAdvisor!
VRBO: In addition to hotels, you'll also find some great places to stay locally through VRBO. Book an apartment or a room and feel more like a local. Find some great places to stay on VRBO here. 
Not sure which part of town to stay in? Check out my tips for selecting the best district for your stay.

Other One-Day Sample Itineraries 

San Francisco is such a diverse city with so many distinct little pockets that, to get to know it well, you could spend a whole day in each one of its districts. 
All of the one-day itineraries I've put together include a detailed walking route with a few alternative options so you can explore the best of each neighborhood--including the obvious attractions, lesser-known gems, best museums, bars and restaurants--in-depth, without backtracking or having to take taxis to see what most interests you.
>> Check out these one-day self-guided tours of Chinatown, Pac Heights, the Mission, and more

Comments? Questions? Suggestions?
I would love for you to join me in my private Facebook group! 
It's a great place to interact with me and others who know the area well.
You can ask questions, get advice for your upcoming stay, and then share your photos and advice with others when you return home. It's a great community and the fastest way to get answers to those nagging questions about your visit!