San Francisco Music Festivals: 20 Best Live Music Events in the SF Bay Area

by Jill Loeffler  •

Updated: July 12, 2022
Enjoy live bands all day or weekend long at these top 20 Bay Area and San Francisco music festivals. SF has an amazingly rich live music scene, which is enhanced by these annual events that offer a little something for everyone.
You'll find some in the streets, others in Golden Gate Park, and others spread across local venues.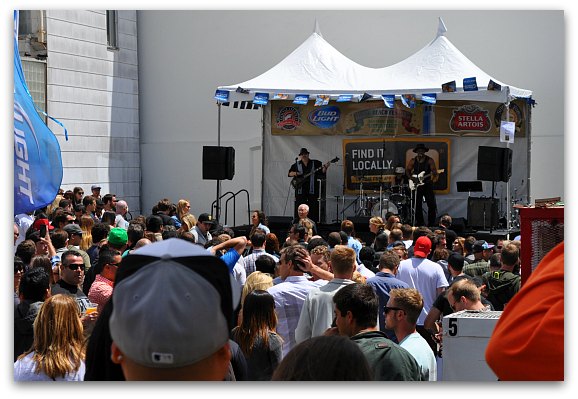 The hottest SF festivals include Noise Pop, Outside Lands, and Stern Grove. Read on to learn more. 

Disclaimer: I receive a small commission from some of the links on this page.

1. Noise Pop

Noise Pop began in 1993 with just five bands on one night at what is now The Independent.  The event has since grown to be one of the San Francisco music festivals that features several days of entertainment. Noise Pop is a can't-miss celebration of indie culture that offers a variety of musical styles from jazz to electronic.
In addition to the more than 160 bands featured at over 25 venues around the city, this event offers art shows, film scores, happy hours, talks, and more.
If you miss the large event in the spring, you can catch the one-day 20th Street Block Party hosted by the same organization in October, featuring the same lively atmosphere and the best of local food and music.

Dates: February/March
Learn More: Visit the February calendar to discover details on this year's event
2. North Beach Festival

There's no better way to experience this vibrant neighborhood than at the North Beach Festival, a large annual street fair with food, drink, music, and local artists displaying arts and crafts. The tradition goes back more than two-thirds of a century, bringing people from all walks of life together to celebrate the rich history and culture of San Francisco's Little Italy.
Walk or dance the streets that were home to Jack Kerouac and Allen Ginsberg of the Beat Generation. This event is casual and free, and most of the bands are local Bay Area favorites.
Date: June
Learn More: Find out more about the North Beach Festival
3. Union Street Festival

Similar to the North Beach Festival, this event is a decades-old annual street fair held in the Marina District.
For two days, you can listen to 30 bands on two stages, relax with a drink in the wine or beer garden, taste the best of the local fare, and bring the kids along for amusement rides, arts and crafts, and more. More than 100 art displays span six city blocks for you to explore as you get to know the community.
The event has evolved over the years to include something for everyone, including a fashion show and a pavilion focused on health and wellness.
Date: June
Learn More: Discover additional info for this year's event 
4. SF Jazz Festival

Each year, jazz lovers kick off the summer with the chance to enjoy a variety of performances at venues all over the city through the annual SF Jazz Festival.
The event takes place over several weeks every summer, bringing together top jazz musicians from around the world. Between the classic and avant-garde, international giants and rising local artists, the breadth of styles at this jazz festival is unparalleled. 
Date: June
Learn More: Visit the SF Jazz site for more information
5. Fillmore Jazz Festival

Unlike the SF Jazz Festival, the Fillmore Jazz Festival is completely free—in fact, it is the largest free jazz event on the west coast. For two days, tens of thousands of visitors enjoy several stages of live jazz music that span 12 blocks of Fillmore Street in the Pacific Heights and Western Addition districts.
You will find great eats, beverages, and wonderful pieces of art from local and national artists. This event is always the first weekend in July.
Date: July
Learn More: Find additional info on this year's event 
6. Outside Lands

By far the largest of the San Francisco music festivals is Outside Lands. Named for the area of San Francisco that used to be just sand dunes and considered uninhabitable, the event practically takes over what is now Golden Gate Park for three days.
The huge lineup of around 70 bands on several different stages features big names as well as local favorites, which in the past have included Lizzo, the Strokes, the Black Keys, Elton John, Billy Idol, Mumford & Sons, and Wilco. While you're grooving, the event invites you to taste "Wine Lands," "Beer Lands," and "Cheese Lands."
Date: August
Learn More: Visit the Outside Lands page to learn more 
7. Hardly Strictly Bluegrass

Another large popular San Francisco music festival is Hardly Strictly Bluegrass in Golden Gate Park each year. Thanks to the late founder Warren Hellman, the event is totally free, and draws some of the biggest names in the genre.
Previous performers include Indigo Girls, Los Lobos, Emmylou Harris, and the Lumineers.
Since it's free to get in, I recommend arriving very early to get a great spot for the shows, which take place on various stages in the park.
Date: October
Learn More: Additional details for this year's event
8. Stern Grove

The Stern Grove Concert Series is another free music event that lasts all summer. From mid-June to mid-August, you will find free shows in Stern Grove Park every Sunday at 2 pm. This festival has been a local favorite for over 80 years, in part because of the artists who come, and in part because of the beautiful outdoor setting.
The "grove" is just that: a grassy spot surrounded by trees, a great place for families or groups of friends to gather around their picnic blanket. The music spans all genres from classical to rock.
Previous performers include Boz Scaggs, Morris Day and the Time, and the Doobie Brothers. Get there early to grab a spot on the lawn.
Date: Mid-June to mid-August
Learn More: Discover the full schedule for this year
9. Golden Gate Jazz Festival
This newer event features a unique combination of jazz and comedy. Unlike the more casual, outdoor, daytime San Francisco music festivals, this one is a more formal affair, offering indoor evening shows at the historic theater in the Presidio, a former army base movie theater that has been renovated to accommodate performing arts of all kinds.
Over the course of three days, you'll have the chance to attend different evening shows, each with an impressive lineup of artists and comedians. Performers have included the Count Basie Orchestra, Marion Meadows, and the Escovedo Brothers.
Date: July
Location: Presidio Theatre Performing Arts Center
Learn More: Get more details and tickets to the event
More Music Festivals in the Bay Area

10. BottleRock Napa Valley

For three days of summer fun in the wine country, head over to BottleRock at the Napa Valley Expo. This music festival attracts huge names in popular music from rock to hip hop.
Recently, they hosted Metallica, Twenty One Pilots, P!nk, Pitbull, Vance Joy, and many others.
Since Napa is one of the gourmet capitals of the world, you can expect nothing less than a variety of top local wines, beer, and food to enjoy with your live music.
Date: May
Learn More: View more details about this Bay Area music festival

11. Berkeley Bluegrass Festival

Head over to the East Bay city of Berkeley for three days of concerts by musicians in the genre, including both Grammy winners and up-and-coming artists.
The Berkeley Bluegrass Festival is fun for music fans, but even better for musicians, as they also offer a selection of workshops on topics like how to build a walking base line or different styles of guitar and fiddle playing.
You'll find these events at the historic Freight and Salvage music venue in Berkeley's Arts District.
Date: May/June
12. Mill Valley Music Festival

This one-day outdoor arts and culture event takes place in beautiful Marin County, north of San Francisco.
Past lineups have included big names like Ben Harper as well as more local musicians, covering a range of musical genres from rock to Latin to funk and more.
In addition to great music, you'll find kids activities, art installations, and tasty food.
Date: May
Learn More: Get the details about this outdoor music festival

13. Monterey Jazz Festival

Since 1958, this Bay Area music festival has been one of the world's longest continuously running jazz festivals. It brings in legendary international artists as well as young rising stars on the jazz scene.
You will find this three-day event at the Monterey County Fairgrounds in the beautiful coastal city south of San Francisco.
Date: September
Learn More: See what else is happening in Monterey in September
14. Huichica

Huichaca is a relatively new and novel music experience, founded in 2010 by foodies in the wine-producing town of Sonoma. This boutique or "micro-" festival lasts two days, and you can attend one or both.
Since it's in an intimate setting at a family-owned winery, you are invited to bring your picnic blanket, and the kids, to enjoy the more than 35 performances on three different stages. No seat is a bad seat. Plus, you get stunning vineyard views and tasty food and drink.
Date: June
Location: Gundlach Bundschu winery in Sonoma
Learn More: Check out Sonoma's full June calendar
15. Country Summer Music Festival

Northern California's largest country music festival brings great music to two different stages. On the main stage, headline performers have included Tim McGraw, Jake Owen, Kelsea Ballerini, Blake Shelton, and many more big names. On the smaller stage, you'll find rising country musicians from the area.
You can buy a three-day pass or single-day tickets, and there's also an option for RV camping if you want the full experience. 
Date: June
Location: Sonoma County Fairgrounds in Santa Rosa
Learn More: Visit the festival website for more details
16. Bay Area Latin Jazz Festival

The annual Latin Jazz Festival is a lively one-day event packed with great bands. You'll want to wear comfortable shoes for dancing because it will be hard to stay seated through the Afro-Cuban, Caribbean, and other beats.
This Bay Area music festival is more than just music, it's also an event for the community to gather and appreciate Latin culture, artwork, and delicious food.
Date: August
Location: Rowell Ranch in Castro Valley
Learn More: Find out more about this year's festival
17. Mosswood Meltdown

Spend two days in the East Bay city of Oakland rocking out to punk and alternative bands. This festival is a makeover of the previous "Burger Boogaloo" event, now featuring more queer and feminist groups and artists.
At times this Bay Area music festival will blast you back to the past with performances by artists like Bikini Kill and Kim Gordon. Come and have some fun, including at the beer garden or with the multiple vegan-friendly food vendors around.
Date: July
Location: Mosswood Park in Oakland
Learn More: Get more details and tickets to the event

18. Petaluma Music Festival

This fun one-day outdoor festival features 14 bands on four stages, where a variety of musical genres are represented, from folk to funk to Latin, and everything in between. 
This is a great place to sit back and enjoy the local specialty food and beer from Lagunitas and Two Rock Brewing Companies. Proceeds from this annual non-profit event fund music programs in Petaluma public schools.
Date: August
Location: Sonoma-Marin Fairgrounds in Petaluma 
Learn More: See the full lineup for this Bay Area music festival

19. San Jose Jazz Summer Fest

Each summer for more than 30 years, the San Jose Jazz Fest has been taking over downtown, with its main stage in the Plaza de Cesar Chavez Park. With four stages over three days, the event brings in nearly 1000 musicians.
The festival has featured popular artists ranging from Common to Morris Day and the Time, Dianne Reeves to Kool & the Gang.
Date: August
Location: Downtown San Jose
Learn More: Find out more details and purchase tickets

20. California Roots Festival

This Bay Area music festival in San Jose puts reggae rock and conscious hip-hop center stage. You'll find the top names in the roots musical genre performing on these stages. 
This is a truly 'California,' eclectic green event that also raises money for local nonprofits. Kids are welcome at this family-friendly festival where you'll find events like yoga and painting.
Date: May
Location: Monterey County Fairgrounds
Learn More: Get more details and tickets to the event

Other Top SF Events

Cherry Blossom Festival: The Cherry Blossom Festival kicks off spring with a celebration of these lovely blooming flowers. The event is held over two weekends in April in SF's Japantown District. For four days, you can enjoy traditional music, food, and entertainment. They also have a kid's area that is great for the little ones.

Chronicle Wine Tasting Event: The Chronicle Wine Tasting Event is the largest wine festival in the world featuring only American wines. After the judges select their favorites, they open the doors to the public where you can try the winners as well as those they were up against. This event is often held in mid-February.
Ghirardelli Chocolate Festival: If you love chocolate, then head over to Ghirardelli Square in September for their annual chocolate tasting festival. In addition to sampling chocolate, you can also enjoy cooking demonstrations by top local chefs, listen to live music, and sample top wines in the tasting pavilion.
More SF Festivals

Comments? Questions? Suggestions?
I would love for you to join me in my private Facebook group! 
It's a great place to interact with me and others who know the area well.
You can ask questions, get advice for your upcoming stay, and then share your photos and advice with others when you return home. It's a great community and the fastest way to get answers to those nagging questions about your visit!