San Francisco Music Festivals: 8 Best Live Music Events in SF
Enjoy live bands all day or weekend long at these top 8 San Francisco music festivals. SF has an amazingly rich live music scene, which is enhanced by these annual events that offer a little something for everyone. You'll find some in the streets, others in Golden Gate Park, and others spread across local venues.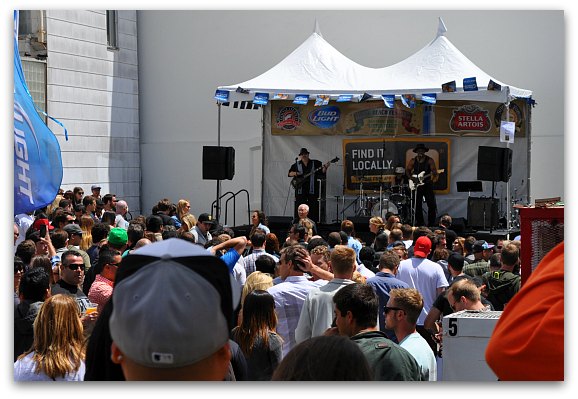 The hottest SF festivals include Noise Pop, Outside Lands, and Stern Grove. Read on to learn more. 

1. Noise Pop

Noise Pop began in 1993 with just five bands on one night at what is now The Independent.  The event has since grown to be one of the San Francisco music festivals that features several days of entertainment. Noise Pop is a can't-miss celebration of indie culture that offers a variety of musical styles from jazz to electronic. In addition to the more than 160 bands featured at over 25 venues around the city, this event offers art shows, film scores, happy hours, talks, and more.
If you miss the large event in the spring, you can catch the one-day 20th Street Block Party hosted by the same organization in October, featuring the same lively atmosphere and the best of local food and music.

Dates: February/March
Learn More: Visit the February calendar to discover details on this year's event
2. North Beach Festival

There's no better way to experience this vibrant neighborhood than at the North Beach Festival, a large annual street fair with food, drink, music, and local artists displaying arts and crafts. The tradition goes back more than two-thirds of a century, bringing people from all walks of life together to celebrate the rich history and culture of San Francisco's Little Italy. Walk or dance the streets that were home to Jack Kerouac and Allen Ginsberg of the Beat Generation. This event is casual and free, and most of the bands are local Bay Area favorites.
Date: June
Learn More: Find out more about the North Beach Festival
3. Union Street Festival

Similar to the North Beach Festival, this event is a decades-old annual street fair held in the Marina District. For two days, you can listen to 30 bands on two stages, relax with a drink in the wine or beer garden, taste the best of the local fare, and bring the kids along for amusement rides, arts and crafts, and more. More than 100 art displays span six city blocks for you to explore as you get to know the community. The event has evolved over the years to include something for everyone, including a fashion show and a pavilion focused on health and wellness.
Date: June
Learn More: Discover additional info for this year's event 
4. SF Jazz Festival

Each year, jazz lovers kick off the summer with the chance to enjoy a variety of performances at venues all over the city through the annual SF Jazz Festival. The event takes place over several weeks every summer, bringing together top jazz musicians from around the world. Between the classic and avant-garde, international giants and rising local artists, the breadth of styles at this jazz festival is unparalleled. 
Date: June
Learn More: Visit the SF Jazz site for more information
5. Fillmore Jazz Festival

Unlike the SF Jazz Festival, the Fillmore Jazz Festival is completely free—in fact, it is the largest free jazz event on the west coast. For two days, tens of thousands of visitors enjoy several stages of live jazz music that span 12 blocks of Fillmore Street in the Pacific Heights and Western Addition districts. You will find great eats, beverages, and wonderful pieces of art from local and national artists. This event is always the first weekend in July.
Date: July
Learn More: Find additional info on this year's event 
6. Outside Lands

By far the largest of the San Francisco music festivals is Outside Lands. Named for the area of San Francisco that used to be just sand dunes and considered uninhabitable—now Golden Gate Park—the event practically takes over the park for three days. The huge lineup of around 70 bands on several different stages features big names as well as local favorites, including Lizzo, the Strokes, the Black Keys, Elton John, Billy Idol, Mumford & Sons, and Wilco. While you're grooving, the event invites you to taste "Wine Lands," "Beer Lands," and "Cheese Lands."
Date: August
Learn More: Visit the Outside Lands page to learn more 
7. Hardly Strictly Bluegrass

Another large popular San Francisco music festival is Hardly Strictly Bluegrass in Golden Gate Park each year. Thanks to the late founder Warren Hellman, the event is totally free, and draws some of the biggest names in the genre. Previous performers include Indigo Girls, Los Lobos, Emmylou Harris, and the Lumineers. Since it's free to get in, I recommend arriving very early to get a great spot for the shows, which take place on various stages in the park.
Date: October
Learn More: Additional details for this year's event
8. Stern Grove

The Stern Grove Concert Series is another free music event that lasts all summer. From mid-June to mid-August, you will find free shows in Stern Grove Park every Sunday at 2pm. This festival has been a local favorite for over 80 years, in part because of the artists who come, and in part because of the beautiful outdoor setting. The "grove" is just that: a grassy spot surrounded by trees, a great place for families or groups of friends to gather around their picnic blanket. The music spans all genres from classical to rock. Previous performers include Boz Scaggs, Morris Day and the Time, and the Doobie Brothers. Get there early to grab a spot on the lawn.
Date: Mid-June to mid-August
Learn More: Discover the full schedule for this year
Other Top SF Events

Cherry Blossom Festival: The Cherry Blossom festival kicks off spring with a celebration of these lovely blooming flowers. The event is held over two weekends in April in SF's Japantown District. For four days, you can enjoy traditional music, food, and entertainment. They also have a kid's area that is great for the little ones.

Chronicle Wine Tasting Event: The Chronicle Wine Tasting Event is the largest wine festival in the world featuring only American wines. After the judges select their favorites, they open the doors to the public where you can try the winners as well as those they were up against. This event is often held in mid-February.
Ghirardelli Chocolate Festival: If you love chocolate, then head over to Ghirardelli Square in September for their annual chocolate tasting festival. In addition to sampling chocolate, you can also enjoy cooking demonstrations by top local chefs, listen to live music, and sample top wines in the tasting pavilion.
More SF Festivals