San Francisco Festivals in June: 2021 Calendar of Street Fairs, Wine Tasting, & More
Many of the large San Francisco festivals in June 2021 are canceled this year. Below, you can check out what to expect in 2022 and beyond.
Most years, you will find a large calendar that includes the Union Street Fair, North Beach Festival, and Pride. You will find several each weekend throughout the month.

Other events focus on live music, comedy, and wine tasting. Read on for a full list of the best festivals this month in SF.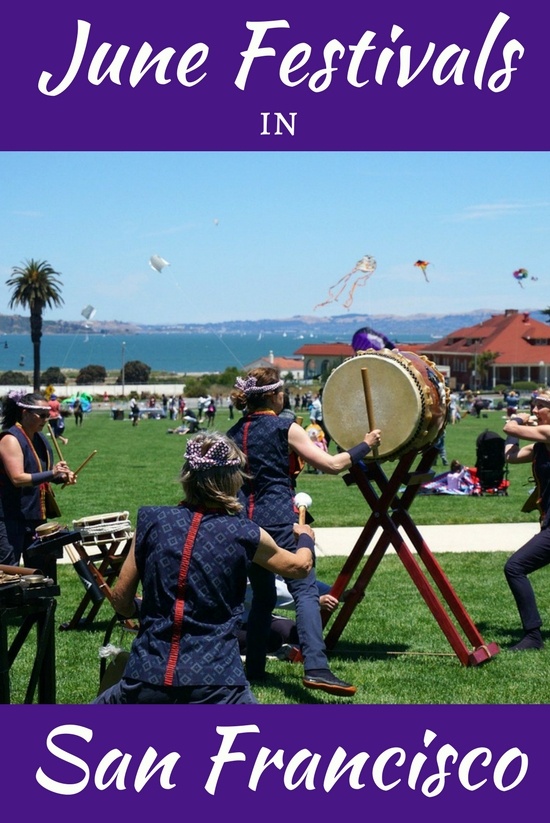 Disclaimer: I receive a small commission from some of the links on this page.

Ethnic Dance

One of the best San Francisco festivals in June for dance lovers is the Ethnic Dance Festival. The event features performances from dance companies with a variety of backgrounds. You will see dances from places such as Japan, Indonesia, Spain, Hawaii, Cuba, and from many other locations.

Colossal Clusterfest

Get ready to laugh nonstop for three days with over 50 top comedians performing live on five stages in San Francisco. All of that, plus live music by great bands, awesome food, and special attractions that allow you to explore the worlds of South Park, Seinfeld, and It's Always Sunny in Philadelphia. You'll find Comedy Central's Colossal Clusterfest events at the Civic Center Plaza and at the Bill Graham Civic Auditorium.

>> Check out the festival's full lineup and details
Union Street Festival

Each summer, one of SF's largest neighborhood street fairs livens up the Marina District all weekend long. It runs from 10am to 6pm on both days, offering two stages of live music, delicious goodies from local restaurants, craft beers and wines, and over 100 boutique vendors of arts and crafts.

This is one of the San Francisco festivals in June that is free to attend, but you will need to purchase a ticket to enter the beer and wine beverage booths. Make sure to check out the special exhibits. All activities are on Union Street between Gough and Fillmore.
More: What to expect at this annual street fair
San Francisco Jazz Festival

The 38th Annual San Francisco Jazz Festival offers 43 concerts of fantastic live jazz music at five venues over the course of 13 days. If you are a jazz fan, it's hard to beat this opportunity to see so many talented musicians come together in this beautiful city.

The concerts will take place at the SF Jazz Center in Hayes Valley, as well as at the nearby Davies Symphony Hall and War Memorial Performing Arts Center.
>> See the full schedule of concerts
Queer Women of Color Film Festival

The 16th annual Queer Women of Color Film Festival offers three days of films created by QWOCMAP (Queer Women of Color Media Arts Project) programs, as well as independent filmmakers from around the world.

The theme in focus this year is "Beloved Community" with conversations on "Unleash the Power." Film screenings are free and will take place at the Brava Theater Center in SF's Mission District. When you attend, you will truly get a sense of the supportive community that this organization has built. It's one of the San Francisco festivals in June you will not want to miss!
>> Find out about QWOCMAP and their film festival
San Francisco Free Folk Festival

The Annual SF Folk Festival celebrates its 44th anniversary this year at Everett Middle School in the colorful and diverse Mission District. This free event runs from 12pm to 10pm, offering dozens of different kinds of dance and music performances, as well as workshops.

Enjoy everything from acoustic guitar to ukulele jams to contra band dance, Irish Step, and Argentine Tango. It's a festival for all ages and everyone is encouraged to participate.
Haight Street Fair

Every year, the Haight Street Fair brings even more color and life to SF's famous Haight-Ashbury District, which wears its hippie roots and bohemian free-loving spirit on its sleeves.

Come enjoy the live music and dancing in the streets to relive the glory days. Find the more than 200 art, food, merchandise, and community booths on Haight Street between Masonic and Stanyan from 11am to 5:30pm.
>> Tips for attending the Haight Street Fair
SF Doc Fest

The SF Doc Fest is an annual two-week-long event devoted to documentary cinema. The festival prides itself on bringing "the most weird and wonderful aspects of real life" to the big screen. Every year, they screen dozens of full-length, mid-length, and short documentary films for the public to enjoy and learn from. You can watch the films at the Roxie and Vogue Theaters in San Francisco.

>> Festival details, including this year's featured documentaries
Juneteenth Festival

One of the most culturally significant San Francisco festivals in June is the annual Juneteenth Festival, commemorating the abolition of slavery in the US. Many of the activities at this street fair celebrate black heritage, including the live performances of Motown, soul, jazz, R&B, gospel, and reggae music.

In addition to the job fair, car show, and health and wellness fair, there will be information booths for community outreach programs and a kids' zone with a petting zoo and carnival rides. Find all the festivities on Fillmore Street between Post and Turk from 10am to 6pm.
>> Learn more about this annual festival
SF Hotel Deals

If you plan to stay for a night or two, make sure to check out these deals on hotels all around town.

Booking: Find great deals all around San Francisco for your upcoming stay! 

TripAdvisor: What's the #1 hotel in San Francisco? Read reviews & find hotel deals on TripAdvisor!
Northern California Soy and Tofu Festival

The Northern California Soy and Tofu Festival has become a fun, tasty, and educational summer tradition at St. Mary's Cathedral in SF's Japantown. The fair features several vendors of delicious soy and tofu treats, as well as information about the health benefits of these food products.

There will be a tofu-eating contest, a dessert competition, and more fun activities for the whole family. This is truly a unique experience that invites you to delve a little further into Asian culture and cuisine, and beyond.
>> More event details on their website
North Beach Festival

The North Beach Festival is one of the longest-running San Francisco festivals in June in one of the most iconic neighborhoods. All weekend long, you'll find four stages of live music, over 20 gourmet food vendors, more than 100 artisan booths, and Italian traditions like street painting and "blessing of the animals" ceremonies. The festival is free to attend and lasts from 10am to 6pm both days.

The center of the action is located at Broadway and Columbus Streets in the heart of SF's Little Italy.
>> Details about the North Beach Festival
Black Film Festival

The SF Black Film Festival was founded with the hope of providing a platform for black filmmakers, screenwriters, and actors to present their work. By offering this competitive film festival for underrepresented artists, the festival aims to expand the cinematic legacy of African Americans.

This is an especially important event for those emerging filmmakers who are just starting to make waves, as well as global contributors who provide diverse perspectives on the African Diaspora.
>> Find out more about the SFBFF and this year's films
Pride Parade & Festival

One of the largest and most well known San Francisco festivals in June is the Gay Pride Festival, which celebrates the city's diverse community and long legacy of fighting for LGBT rights. This huge, colorful celebration takes over the Civic Center neighborhood all weekend long, offering over 300 exhibitor booths, great food, and 20 community-run stages with live music, dance, and entertainment.

On Sunday, June 30, you can watch the big parade make its way down Market Street at 10:30am. If you're visiting town during this time, don't miss SF Pride, which embodies the San Francisco spirit unlike any other event.
>> What to expect at the Pride Festival
Stern Grove Festival

One of the local favorite San Francisco festivals in June is the weekly Stern Grove Festival, offering a free concert in the park every Sunday afternoon throughout the summer. The 83rd anniversary season kicks off on June 14 with the Big Picnic.

The Big Picnic is the festival's annual fundraiser, a catered lunch which precedes the first concert at 11:30am; it's the only part of the event that requires a ticket but guarantees you seating. If you want to come just for the music, come early as the park fills up quickly. Feel free to bring a blanket and a picnic meal.
>> Get the details on the whole summer concert series
Frameline Film Festival

Another one of the San Francisco festivals in June that features cinematic works is Frameline, the annual SF International LGBTQ Film Festival.

It's the largest and longest-running festival in the world that focuses on themes like adoption, HIV/AIDS, immigration, marriage equality, and other critical issues in this community. Throughout the festival, most films will screen at the Castro Theater, but some will show at the Roxie and Victoria Theaters in SF's Mission District, as well as at the Rialto Cinemas Elmwood in Berkeley.
KalayaanSF

The KalayaanSF festival is a Filipino that helps celebrate the independence of the Philippines in June 1898. This annual event offers dance toupe and other performances, exhibitors, a food alley, an evening concert, and a fun day of entertainment.

The event is held in the historic Union Square and runs from 12pm to 7pm with the big evening concert starting around 4:45pm. Learn more about it here.