Cheap Things to Do in San Francisco: 25 Activities & Attractions for $15 or Less

by Jill Loeffler  •

Updated: September 6, 2023
Cheap things to do in San Francisco offer you the chance to save some money on your visit. My list of 25 activities includes both free options and others that cost $15 or less per person.

You will find top attractions on my list such as the Golden Gate Bridge, Lombard Street, and Alamo Square. You will also find fun museums such as the Conservatory of Flowers, the Beat Museum, and the Mission San Francisco de Asis.

Disclaimer: I receive a small commission from some of the links on this page.

1. Baker Beach

View of the Golden Gate Bridge from Baker Beach
Cost: Free
The gorgeous Baker Beach lies tucked away from all the hustle and bustle on the northwest corner of San Francisco. With unique views of the Golden Gate Bridge from the west, this is a fun place to explore the scenic cliffs and the water where the bay meets the Pacific Ocean.
The walk to get here is fun and beautiful in itself, as you can either take the coastal trail from the Presidio and walk down the Sand Ladder or take the stairs from the lovely Sea Cliff neighborhood.
>> Pictures of and tips to get to Baker Beach
2. Alamo Square

Cost: Free
This famous San Francisco attraction may be free to visit, but the view is worth a million bucks! You can relive that scene from "Full House," where the Tanners are having a picnic on the lawn right in front of a row of pretty Victorian homes with the SF skyline in the background.
All you have to do is head to the centrally located Alamo Square neighborhood and get your camera ready to capture the pastel-colored, ornate Painted Ladies.
>> More info on visiting Alamo Square
>> More about all of the Painted Ladies around SF
3. Beat Museum

General Admission: $8, Students, teachers, seniors, and military: $5
Kerouac fans get ready to be amazed: This museum in SF's North Beach is a real mind-blower! And if you don't know about Jack Kerouac, Allen Ginsberg, or Lawrence Ferlinghetti, there's no better place to discover their work than right here, where the Beat Generation began.
Predecessors to the hippies of the Haight-Ashbury, these 1950s writers and artists settled here and created a historic counterculture movement to which this museum now pays tribute.
>> More about SF's Beat Museum in North Beach
4. Botanical Gardens

Cost: Adults: $13 from February - November, $10 from December - January; Youth and Seniors (ages 12-17 and 65+) $7, Children (ages 5-11) $3, Toddlers under the age of 4 are free, Families of 2 adults and all children under 17 are $27 to $31 depending on the season of the year
One of the most relaxing and cheap things to do in San Francisco is visiting the Botanical Gardens in Golden Gate Park. This well-groomed, beautifully managed 55-acre space features colorful plants and flowers from all over the world.
Note: The second Tuesday of each month, the SF Botanical Garden is free from the hours of 7:30 pm to 9 pm. They are also free on some holidays.
There is plenty of natural beauty to admire here no matter what time of year you visit, and the Magnolia Collection and Redwood Gardens are always must-sees.
>> What to expect on a visit to the Botanical Gardens

5. Cable Car Museum

Cost: Free
During your visit, top off that coveted cable car ride with a trip to the SF Cable Car Museum so you can see for yourself all the behind-the-scenes action that makes them work.
This museum is free to visit, and you'll not only see the giant wheels that pull the cables but also a lovely exhibit of cable car photos and history that explains the evolution of this historic method of transportation.
The museum is located between Nob Hill and Chinatown, and doubles as a barn for the cars at night.
The museum is open from Tuesdays to Thursdays from 10 am to 4 pm; Fridays to Sundays from 10 am to 5 pm; closed Mondays.
>> What there is to see at the Cable Car Museum
6. Camera Obscura

Cost: $3
San Francisco is home to the country's oldest camera obscura, and it is the only one that exists in a free-standing building.
Leonardo da Vinci conceived the concept of this giant optical device that produces 360-degree live images, but this one dates back to the heyday of SF's former amusement park, Playland at the Beach.
Located on Point Lobos Avenue, right behind the Cliff House, this fun relic is a wonderful stop for photography and history buffs.
>> More hidden gems in San Francisco
7. Chinese Temples

Cost: Free
There is so much to see and do in Chinatown that it's easy to miss the Buddhist temples, but they are interesting pieces of San Francisco's culture and open to the public.
You'll find these sacred places decorated with red and gold, carvings and statues, lanterns, flowers, fruit, and more.
Some of the religious figurines are among the oldest Chinese artifacts in the US. Click the link below to find out how to get to these places of worship.
>> More details on visiting the best ones
8. City Hall

Cost: Free
SF City Hall is the centerpiece of the Civic Center district. Built in 1915, it has a grand presence with its ornate columns, large rotunda, and golden dome (the tallest dome in the country, even higher than the US Capitol!).
If you visit during the day, you'll be able to walk around inside and admire the marble staircase and carvings that set the backdrop for so many weddings.
At night, this architectural beauty is all lit up, sometimes in different colors for the holidays or to support of the local sports teams.
>> What to see during your visit
9. Coit Tower

Cost: $10 for adults, $7 for seniors ages 62+ and youth 12-17 years old, children 5 - 11 are $3, toddlers under 5 are free
One of the most spectacular cheap things to do in San Francisco is to take in the stunning views of the bay and city from the observation deck of Coit Tower.
You can also enjoy the colorful and historic Diego Rivera-inspired murals that line the interior depict scenes of local life from the 1930s (this part is free).
Coit Tower sits atop Telegraph Hill. To get here, you can either drive, take public transit, or walk up the Filbert stairs while listening to the park's well-known gorgeous and talkative wild parrots.
>> Pictures of its murals and tips to visit
10. Columbarium

Cost: Free
A building that stores the ashes of the deceased is not exactly your typical tourist destination, but the SF Columbarium is truly beautiful and worth a visit.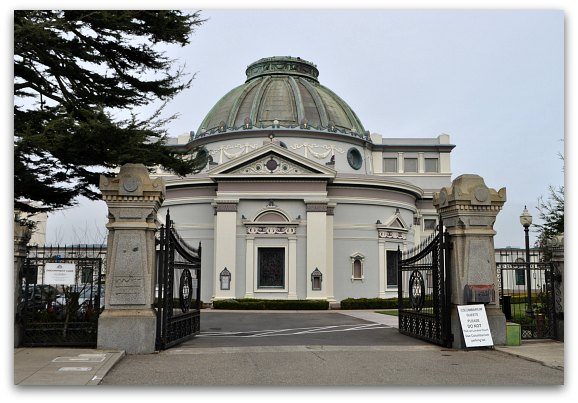 This neoclassical building was once part of a larger cemetery, but in the 1920s when burials were banned within city limits and all existing graves were being relocated, the Columbarium remained one of only two official places of remembrance in San Francisco.
Step inside to check out the large rotunda, stained-glass windows, and the Harvey Milk tribute. It may sounds eerie and scary, but it is really quite cool and beautiful.
>> How to get here and what to see during your visit
11. Conservatory of Flowers

Cost: Adults and all Weekends, $15; Weekdays: February - November, $13.00; December - January, $11.00; Youth (ages 12-17) and Seniors 65 & over: $7.00; Children (ages 5-11): $3.00; Children ages 4 and under: Free; Active Military and Veterans with ID: Free
Another one of the best cheap things to do in San Francisco is located in Golden Gate Park in a prominent, ornate glass and white building. Opened in 1879, the Conservatory of Flowers stands out as the country's oldest public greenhouse made of glass and wood.
Inside, it houses a great array of flowers from all over the planet, from lowland and highland tropics to aquatic and potted plants. And, of course, the world-famous and horrible-smelling Corpse Flower.
There is also an incredible dahlia garden and special exhibits.
>> Pictures of its plants and what else you will see inside
Go Card: The Conservatory of Flowers is also part of the Go Card. It's a discount pass that will help you save during your stay. Learn more here. 
12. de Young + Legion of Honor

Cost: $15 total (two museums are included, so it equals $7.50 each)
Having a $15 ticket here seems strange, but there is a great deal for visiting the two best fine arts museums in San Francisco. Admission is $15 if you go to one, but with your ticket you also get same-day admission to the other.
Essentially, you get to see two renowned museums in one day for $7.50 each! By visiting both, you get to enjoy a diverse selection of paintings and sculptures and two different areas of the city: Golden Gate Park and the Presidio.
>> More about what to expect in the de Young
>> What you will find inside the Legion of Honor
13. Diego Rivera Frescos

Cost: Free
Diego Rivera was a celebrated but controversial Mexican painter whose legacy in San Francisco includes three brilliant and massive frescos. His murals date back to the 1930s and 40s when he was a devoted member of the Mexican Communist Party.
His work reflects different aspects of Californian lives and struggles and has been admired for generations in these three public spaces where you can visit them for free.
>> Where you can find all three
14. GLBT Museum

Cost: $10
Walking inside the GLBT Museum in SF's famous Castro district is one of the most emotionally powerful and cheap things to do in San Francisco.
You'll be exposed to the past century of history in the international, as well as local, queer community.
This includes information on Harvey Milk, a San Francisco Board of Supervisors member who was assassinated while serving as California's first openly gay elected official.
15. Golden Gate Bridge

Cost: Free
On opening day in May 1937, some 200,000 people made the first historic pedestrian crossing of the Golden Gate Bridge. At that time, it was the longest suspension bridge ever built.
Today, the bridge continues to welcome thousands of visitors from far and wide to see this shining orange architectural beauty in person.
The Golden Gate Bridge is SF's symbol of pride and accomplishment and probably the most recognizable bridge in the world.
>> How to get here and what else you will see
>> You can also explore the bridge with this self-guided audio tour
16. Golden Gate Cookie Factory

Cost: Free
If you're going to spend some time in SF's Chinatown, take a few minutes to stop by the Golden Gate Cookie Factory for free.
After having eaten so many fortune cookies at the end of a yummy Chinese meal, it's such a fun experience to see them being made live and in person!
Watch the baking, folding, and fortune-wrapping of these treats executed by those who have kept this factory operating since 1962.
>> How to find this hidden gem
>> See more of Chinatown on this guided tour
17. Grace Cathedral

Cost: Adults $12; Seniors 65+ and Young Adults ages 18-22 are $10; Youths ages 12-17 are $10, Children under 12 are free
One of the memorable cheap things to do in San Francisco is to visit Grace Cathedral, the third largest Episcopalian church in the nation.
Located in the Nob Hill neighborhood, this beauty sticks out with its big French Gothic bell towers and its golden "Gates of Paradise." The inside is even more stunning, with its murals, labyrinth, and AIDS memorial.
During your visit, you will go on a self-guided tour with numerous displays to help you understand its history.
You can also take guided tours if you want to learn even more about this beautiful cathedral. These come at an extra cost but are affordable.
>> What to see and do on your visit
18. Haas Lilienthal House

Cost: General admission ages 13 and above $10; Seniors ages 62+ are $8; Children 12 and under are free
You'll see plenty of beautiful Victorian homes in San Francisco, but this is the only one actually open to the public. Built in 1886, it's a Queen Anne-style mansion with classic architectural features that have been very well preserved.
Step inside to admire the grand woodwork and furniture and get a glimpse of what it was like to live in SF during this era as if you were the Haas Lilienthal family.
It is open the 2nd and 4th Wednesday on Saturdays and Sundays.
>> More about this historic Victorian and how to visit
19. Japanese Tea Garden

Cost: Adult tickets range from $12 to $15, depending on the season; Youths (12 -17) and Seniors (65+) are always $7; Children ages 5 - 11 are $3, and Children under 5 are always free.  (There is always a free hour from 9 am to 10 am on Monday, Wednesday, and Friday before 10 am)
From the ornate wooden entrance gate to the five-story pagoda, continuing to the high arching drum bridge, and to the zen rock garden, taking a stroll in the Japanese Tea Garden is like stepping into another world.
This impeccably landscaped and beautifully serene place will have you feeling relaxed and refreshed.
Take advantage of this gem in Golden Gate Park--it's inexpensive to visit at any time, and totally free on some weekday mornings!
>> When to visit and tips to get here
20. Lombard Street

Cost: Free
Another favorite among the cheap things to do in San Francisco is visiting the famously crooked Lombard Street. It's so steep that cars traverse its curves back and forth eight times in just a one-block stretch as they descend from Hyde to Leavenworth.
From the top, you get a great view of Coit Tower and the SF Bay, and from the bottom, you can snap that classic picture of the winding red-brick road peeking out from the green gardens.
21. Maritime Museum

Cost: Free
This small but well-done museum in the famous Fisherman's Wharf district brings to light what made this waterfront community thrive in the first place.
Completely free to enjoy, the museum does a great job of teaching about life at sea for San Franciscans through old artifacts, colorful murals, and hands-on exhibits.
Plus, you'll get excellent views of Alcatraz, the Hyde Street Pier, and the Golden Gate Bridge from here.
It is open Wednesdays to Sundays from 10 am to 4 pm.
>> More about their interactive exhibits
22. Mission San Francisco de Asis

Cost: $7
Do you ever wonder what gave SF's now trendy Latin district its name? Well here you go: Made with thick adobe walls, the Mission San Francisco de Asis (more commonly known as Mission Dolores) is the oldest building in San Francisco and played a massive role in the Spanish colonial era of this city.
Here you'll find a chapel, basilica, cemetery, and a lot of interesting history.
>> Pictures and what to look for during your visit
23. Palace of Fine Arts

Cost: Free
This celebrated work of architecture is one of the most photographed and filmed sites in San Francisco.
The Roman columns, grand rotunda, and reflective lake are peaceful and awe-inspiring, the perfect place to take a romantic stroll or enjoy a relaxing picnic with the family.
The Palace of Fine Arts is the only remaining relic of the 1915 Panama Pacific Exposition, and the city decided to keep it since it was too beautiful to tear down like the rest of the fair.
>> Ways to enjoy this historic attraction
24. Pier 24 Photography Museum

Cost: Free
Another one of the cheap things to do in San Francisco for art and photography fans is to visit the Pier 24 Photography Museum.
Behind the unassuming door to the pier, you'll find a whopping 20 different galleries of beautiful photographs, each with a unique layout.
Admission is completely free, but you will need to make a reservation in advance to get in. They recommend allowing about two hours to enjoy the whole museum.
25. Street Art & Murals

Cost: Free
Meandering the city and admiring the art all around it is one of my favorite cheap things to do in San Francisco. There are over one thousand murals spread throughout the city's streets, and many are concentrated in the Mission and North Beach districts.
There are also incredible, historic murals on the inside walls of Coit Tower, the Rincon Center, and the Beach Chalet. Click the link below for tips on where to look for these incredible works of art.
>> Where to find the most colorful pieces
>> This guided tour is another fun way to explore the area and its murals
Save on Your Hotel Stay

Find great deals on your hotels on Booking.com and TripAdvisor. Both give you an insider's view on deals all around town. Click the links below for details.

Booking: Find great deals all around San Francisco for your upcoming stay! 

TripAdvisor: What's the #1 hotel in San Francisco? Read reviews & find hotel deals on TripAdvisor!
VRBO: In addition to hotels, you'll also find some great places to stay locally through VRBO. Book an apartment or a room and feel more like a local. Find some great places to stay on VRBO here. 
More Free & Cheap Things to Do in San Francisco

In addition to these 25 cheap things to do in San Francisco, you will also find hundreds more free activities.
Free Events: You will find almost a dozen monthly free festivals and events. Many are fun street festivals with live music and other entertainment. Some of our film festivals are also free. Click here for an entire list ordered by month and a few that last several months long.
Free Attractions: SF has many other free attractions in addition to the ones mentioned above. Find a list of my 10 favorites here.
Free Museums: I've mentioned some of the free museums above, but you will find more on this list. They include the Maritime Museum, the Wells Fargo Museum, and the Fire Department Museum. Find a complete list here.
All Free Things to Do: This is where you will find all of the best free things to do. Click here to check it out today.
Comments? Questions? Suggestions?
I would love for you to join me in my private Facebook group! 
It's a great place to interact with me and others who know the area well.
You can ask questions, get advice for your upcoming stay, and then share your photos and advice with others when you return home. It's a great community and the fastest way to get answers to those nagging questions about your visit!