Things to Do in Carmel-by-the-Sea: 20 Fun Ideas for Your Visit

by Jill Loeffler  •

Updated: March 10, 2023
Discover the best 20 things to do in Carmel, California. Officially known as Carmel-By-the-Sea, this quaint waterfront town offers shopping, wine tasting, and other fun activities.
You can also attend one of its top annual events, visit some of the historic buildings, or sample some of its tasty local food and wine.
I also love its galleries, fairytale houses, and its beaches.
Even if you only have a day or two, you will find plenty of great options all year long.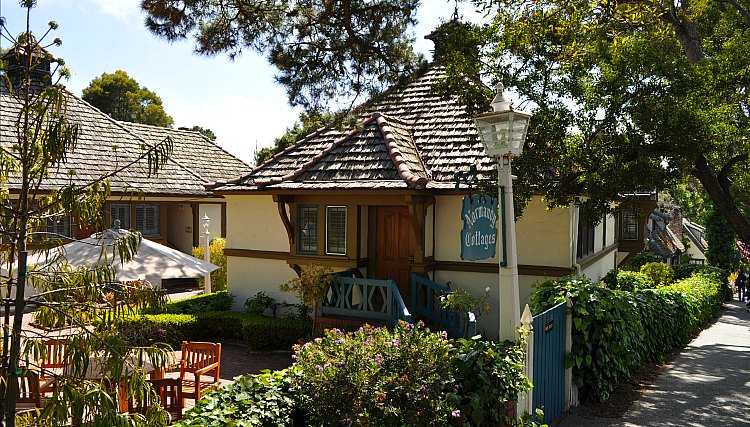 Disclaimer: I receive a small commission from some of the links on this page.

1. Shopping Around Downtown Carmel-by-the-Sea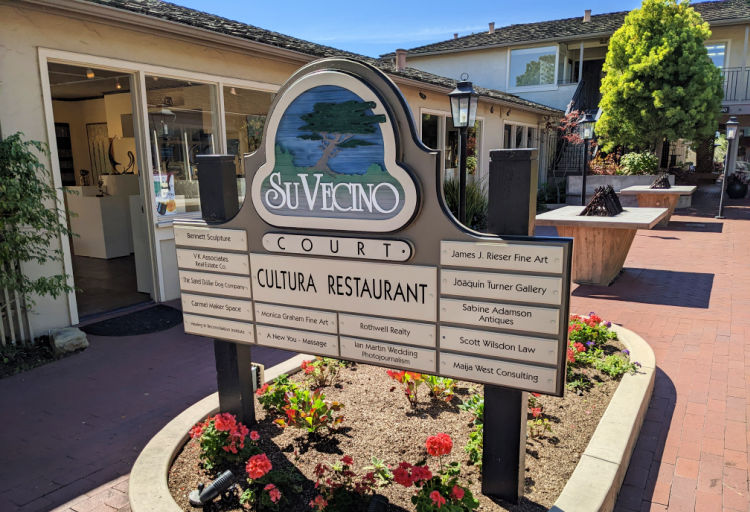 Head to Ocean Avenue for your shopping adventure. Along this street and for a block or two both north and south of it, you will find a variety of places to go shopping.
You'll find dozens of small boutiques side-by-side for several blocks. All are set inside Carmel's quaint "fairy" cottages. You will find small boutiques with everything from gifts to clothing.
It's a great way to spend the day or even just a few hours.
2. Carmel, California Food Tour

If you are a food and wine lover, then this is definitely a must to add to your list of things to do in Carmel-by-the-Sea. This walking tour will take you around this gorgeous little town, sampling food and wine from exquisite restaurants and wineries.
Some foods you can enjoy include gnocchi, soft tacos, soups, olive oils, and local honey. You will also love the desserts such as chocolates or truffles.
Not only will you learn about the local food and wine scene, but you'll learn about the history of this area, the architecture, and so much more from your local guide.
Note: You'll want to wear comfortable walking shoes as this tour is about 3 hours long, and you will walk about one mile during it. The walking on this tour is easy and suitable for all fitness levels.
>> Find availability for this tour during your stay
3. Carmel Beach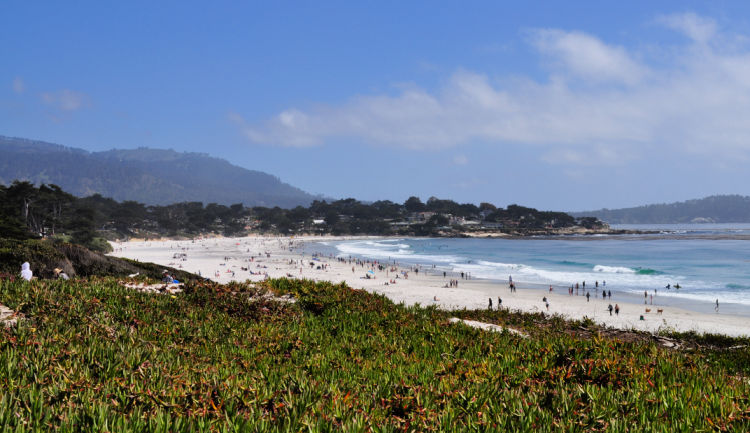 Carmel Beach is another one of the fun things to do in Carmel. You will find this idyllic area just at the end of Ocean Avenue. Make sure to check out the easy to walk pathway running beside the beach with views all around.
There are a few different entrance points to the beach, so it's easy to access. You will love the white sands and watching the soft waves breaking onto them. Depending on what time you are there, you can catch a glimpse of sea life, surfers, people playing volleyball, and groups hanging around beach fires.
You might even catch a wedding in progress.
Carmel Beach has free parking, as does the Camino Real, which runs beside it. There are also a few free restrooms for you.
This beach is dog friendly, but please clean up after your 4-legged buddy.
4. The Robinson Jeffers Tor House Foundation

Robinson Jeffers was a renowned poet who moved to Carmel-By-the-Sea. He wrote about the area frequently and was a part of the early environmental movement here. The Tor House, the Hawk House, and the surrounding gardens were his home. They are all open to the public as to share his legacy with others.
Robinson and his family originally lived in Tor House, built out of stones. It is tiny so the winter storms wouldn't destroy it. It is definitely one of the most striking buildings in this area.
Hawk Tower was then built near the Tor House so he and his family could relax and enjoy the ocean's view. A cabin was also built later on.
Many of the most famous celebrities of the time, including Langston Hughes, Edward Abbey, George Gershwin, and others, would visit and spend time here.
The only way to visit the Tor House and Hawk Tower is to schedule a tour led by a professional guide. They last about 1 hour and 15 minutes and only run on Fridays and Saturdays. You'll want to check the schedule and plan accordingly to avoid missing this magical building and gardens around it.
>> Visit their website for details
5. Wine Tasting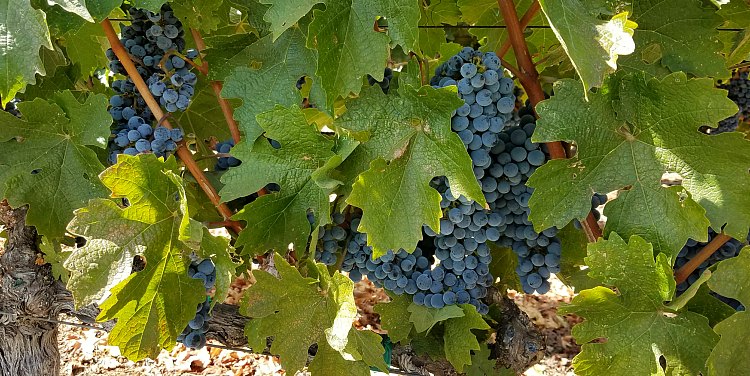 Another one of my favorite things to do in Carmel is to do a little wine tasting. There are two areas that I recommend.
Carmel, California Town Center
The first is the center of town. The heart of the action is near Ocean Avenue, and you will find more than half a dozen wine tasting rooms in town. All are a short walk away from each other, and most are just south of Ocean Avenue.
The highest concentration is between Ocean Avenue and 7th Avenue between Mission and Dolores.
Carmel Valley Wine Region
You can also head out to the Carmel Valley wine region. Here you will find more than a dozen local producers. Some of the wineries also have tasting rooms in the village of Carmel Valley, so you can easily walk around as you taste.
To make it even easier, you can also take the Grapevine Express, a local bus that picks up in Carmel and drops you off at the wineries in Carmel Valley.
The first bus leaves early in the morning and drops off well after the tasting rooms close. It runs several times throughout the day and is less than a half-hour drive from Carmel.
>> Learn more about wine tasting in this area
6. Carmel Mission Ranch

One of the fun things to do in Carmel is to either stay at or grab a meal at the Carmel Mission Ranch. This gorgeous estate is owned by Clint Eastwood, who saved this historic ranch from being torn down.
It was originally built in the mid-1800s, with buildings added at the turn of the century. It was one of the first dairy farms and was used as a private officers' club for the army and navy during WWII.
After buying it in 1986, Eastwood restored it to its historic charm and opened it up to the public. The restaurant offers views of the meadows, the Santa Lucia Mountains, and Point Lobos. It opens for cocktails at 4 pm, and dinner service starts at 5 pm. They also offer a Sunday brunch.
They also have a few rooms which are perfect for a family getaway or a romantic night away. They offer free parking, wifi, and several of the rooms offer amazing views of the surrounding landscape.
>> Visit their site to book a table for dinner or to spend a night or two
7. Mission San Carlos Borromeo de Carmelo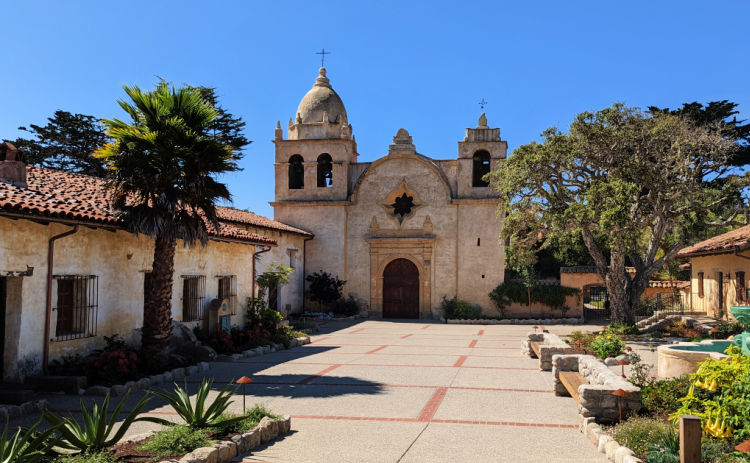 The Mission San Carlos Borromeo de Carmelo is also referred to as the Carmel Mission and includes five different museums!
The Basilica Church is probably the most famous because of its incredible ceiling, 5-foot thick walls, and thirty-foot reredos that have religious images on them. It is also a registered National Historic Landmark and houses a variety of artifacts.
If you go to the courtyard in front of the Basilica, you'll find the Harry Downie Museum. This has a lot of information regarding the restoration of the Mission and how Harry Downie helped make it happen.
Just behind the Basilica, you can visit the Munras Family Heritage Museum. The Munras were known as one of the most influential families in the area. You can find out more about them and their legacy at this museum.
Right next to the Basilica is the Jo Mora Chapel Gallery. Inside it is the incredible Serra Memorial Cenotaph, which is a monument created by Jo Mora in 1924. There are also many other beautiful pieces of art here to explore.
Last but not least, you can visit the Convento Museum. This is where you can see the area used by the famous Saint Junipero Serra (of which some of the Redwood trees in Northern California are named).
He died here in 1784 and is still deeply loved and regarded.
There are also other exhibits and displays here.
Visiting the Carmel Mission is one of the top things to do in Carmel, California for all visitors.
>> Check out their official site to learn more about visiting
8. Point Sur Lighthouse

Even though it is just a few miles south, I still consider this one of the best things to do in Carmel. That is because the gorgeous Point Sur State Historical Park & Lighthouse is a short enough drive to see while you visit this area.
This lighthouse was originally used to guide ships along the incredibly jagged and hard-to-navigate coastline and is still used today. If you want to visit the lighthouse, there is a 3-hour tour that is less than a mile long. It is paved and has two stairways that total 61 steps along the way.
This lighthouse is open year-round and has guided tours every day of the week, with only a few holidays excluded. Since it is usually quite windy here, you will want to bring a few layers of clothes to keep you warm.
You must buy tickets in advance to take the tour of the Point Sur Lighthouse.
Note: Even though there are steps on this tour, it is still handicapped accessible. The park suggests you call at least four weeks in advance so they can make the proper arrangements for you.
>> Visit the Point Sur Lighthouse website for details
9. Sunset Cultural Center

If you want to take a break from all the amazing wine, food, and sightseeing, then you might want to check out the Sunset Cultural Center. It is one of the best things to do in Carmel if you love music, dance, theater, and more.
Some of the best performers anywhere have come to this intimate center, including Louie Anderson, the Smuin Ballet, Blues and Rock legend Buddy Guy, the Monterey Symphony, and many others. The Marjorie Evans Gallery is located inside the center and is a perfect place to check out some of the area's finest art and meet the artists.
Here are just a few of their upcoming events.
10. Point Lobos State Natural Reserve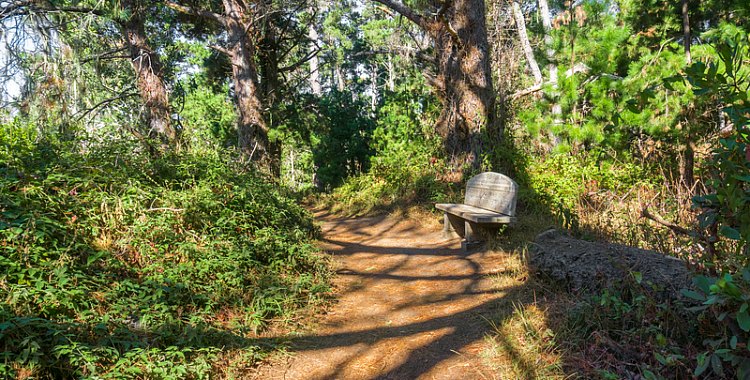 Located just 3 miles south of Carmel on Highway 1, this national reserve is the perfect location to take in everything the wonderful Pacific coastline has to offer.
You'll love the incredible views of the ocean and its wildlife, including otters, seals, and birds. You might even see a Grey whale if you visit between December and May.
You can even go scuba diving or snorkeling if you want to see this area underwater. The ocean has a 70-foot kelp forest so you will see loads of water life and animals in it. You will have to make reservations in advance to dive here.
For those who love to hike and enjoy being in nature, this reserve has many trails that allow you to walk along the shoreline and explore to your heart's content.
There is also the Whalers Cabin Museum and free guided walks by local guides if you want to learn more about the history of this area.
11. Mission Trail Nature Preserve

This 34-acre park is unlike any other in the world. This is the perfect place to get outside, enjoy the quiet, and just be in nature with peace and quiet. This preserve has over 5 acres of trails that are easy to walk and hike on.
Its 5 trails include the Flanders, Willow, Mesa, Serra, and Doolittle, each following a different path. The preserve has two distinct areas, and you'll want to determine which is best for you.
The lower region, where the Doolittle property is based, features a delightful area full of blackberries, birds, and so much more.
The park's lower part, near Rio Road, is also a bird lover's paradise as so many different species come through this area depending on the season.
The upper area of the park is home to a Monterey pine/oak forest. It's a fun place to hike and see the no-invasive species try to take over the trees.
12. Carmel River State Beach

Although only one mile long, Carmel River State Beach is one of the best things to do in Carmel if you love soft sand, bird watching, and the flow of the calm river as it meets up with the Pacific Ocean.
This beach is popular for its many recreational activities. You will find people cruising around on kayaks and divers checking out the massive underwater kelp forest.
It's also a perfect location for anyone who loves seeing birds since it is on the Central Coast Birding Trail. You'll be able to get some great photos depending on which time of the year you visit here.
Carmel River State Beach is just a bit south of Carmel on California State Route 1.
13. Events in Carmel-by-the-Sea

You will find plenty of fun things to do in Carmel each month of the year. Their annual festivals and events are a big draw each year. Click the links below for more details and great options around the Monterey Bay Area.
14. Pacific Rep Theatre at the Golden Bough Playhouse

The Pacific Rep Theatre Company offers several shows yearly at the three Golden Bough Playhouse theaters.
The main theatre has 300 seats and is the location for many of the larger performances, such as the bigger Broadway-style shows and musicals.
The Circle Theatre is the second and smaller theatre. It is named the Circle because it a theater-in-the-round style. This allows the performers to be in the center of the stage setting, with attendees all around them.
Those wanting a truly enchanted evening out in the stars will want to see if The Outdoor Forest Theater, with over 500 seats, has a show during your vacation here. It is usually open in August and September, so show times are limited.
Some of the shows performed by the Pacific Rep Theatre have included Beauty and The Beast, Chicago the Musical, Waiting for Godot, Shakespeare in Love, and many more. You will be sure to find something that you will love and remember.
Note: Shows are usually on Fridays, Saturdays, and Sundays. However, check the schedule for possible weekday shows.
>> Visit their site for a full schedule of performances
15. Palo Corona Regional Park

If you are looking for unspoiled, incredibly peaceful areas to be on your vacation, this is worth adding to your list of one of the best things to do in Carmel. This 10,000-acre park houses over 500 species of plants from the area.
You can see lots of wildlife here, ranging from the red-legged frog to mountain lions, deer, the glorious golden eagle, and, if you are very lucky, the massive California condor.
There are too many wonderful areas you'll want to visit, but one of my favorites is Inspiration Point, which is an almost 1000-foot climb and will give you amazing 360-degree views. It is a bit of a hike, but definitely worth your time and effort.
16. Art Galleries
Another big draw to Carmel-by-the-Sea is its art galleries. You will find almost twenty galleries within its main commercial corridor.
These fine art galleries offer pieces from both local and international artists. You'll find paintings, sculptures, and photography. You'll find pieces that showcase the beauty of the local area and others from places all around the world.
17. Breweries and Pubs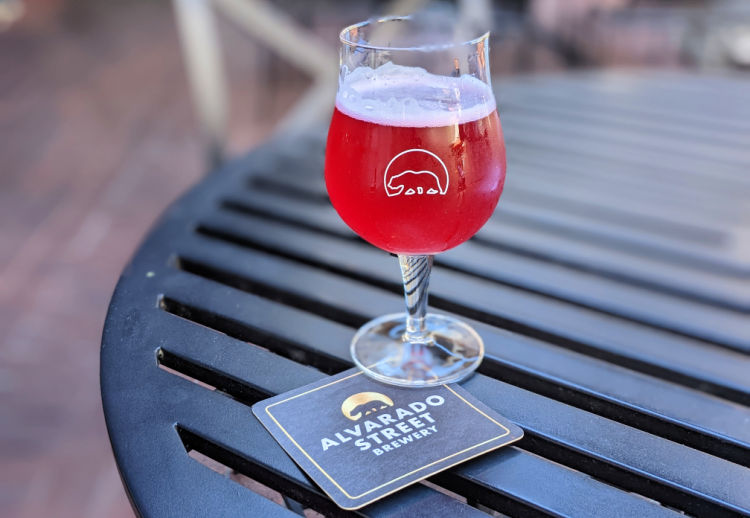 When I'm in Carmel-by-the-Sea, I also like to enjoy local beers. You will find some breweries in town, including Alvarado Street Brewery and Hidden Hills Brewing and Blending.
Some of their pubs also feature local brews from around the Monterey Bay Area and Northern California. It's a great way to sample a variety of interesting craft brews during your visit.
18. Carmel-by-the-Sea Fairytale Houses Self-Guided Tour
One of the unique features of Carmel, California, is its cute and colorful fairytale houses. You can wander around on your own to find them, or you can take this fun, self-guided tour.
It's driven by a smartphone app, which takes you to the starting location and then offers step-by-step directions to get from one house to the next. Remember that Carmel-by-the-Sea does not have specific addresses, so you will need to follow the instructions to get to each location.
Along the way, you will learn all about the history of these playful hours, including Hugh Comstock, the architect behind them.
It's a 40-minute tour that you can start and stop anytime you want. This allows you to do the entire tour at once, or stop off for other fun activities before you start again.
>> Find out more about this fun self-guided tour
19. Carmel-by-the-Sea Guided E-Bike Tour
A great way to explore this gorgeous village is by bike. This guided tour allows you to head out with a local and learn about its most important locations and attractions.
This is an e-bike tour, which means you can choose to peddle or let the bike do the work for you.
This tour runs most days of the week during the busier travel months. It starts at Mad Dogs 7 Englishmen Bike Shop near the corner of Ocean Avenue and Mission at 2 pm.
>> Find out more about this fun guided tour
20. Creative Carmel Scavenger Hunt
One of the best ways to get to know Carmel, California, on your own is on this fun scavenger hunt. This family-friendly game is hosted by a remote live guide. This allows you to explore without joining a large group but ensures you won't get lost!
You'll explore everything this village has to offer through a series of clues that you and your group will need to solve to get your next clue. You can walk or drive around town to make your way from one location to the next.
It starts near the Carmel Mission Basilica Museum on the south end of town.
>> Find out more about this fun scavenger hunt
Where to Eat
You will find more than a dozen great restaurants both north and south of Ocean Avenue. Many of them are higher-end options with wonderful wine and cocktail menus in case you just want to hang out, be a part of the scene, and not have a full meal.
Some of my favorites here include the Dametra Cafe (Greek, Mediterranean at the corner of Ocean and Lincoln St), La Bicyclette (French, near Dolores St and 7th Ave), and Brophy's Tavern (Irish Pub and American Sports Bar at 4th Ave & San Carlos St).
Where to Stay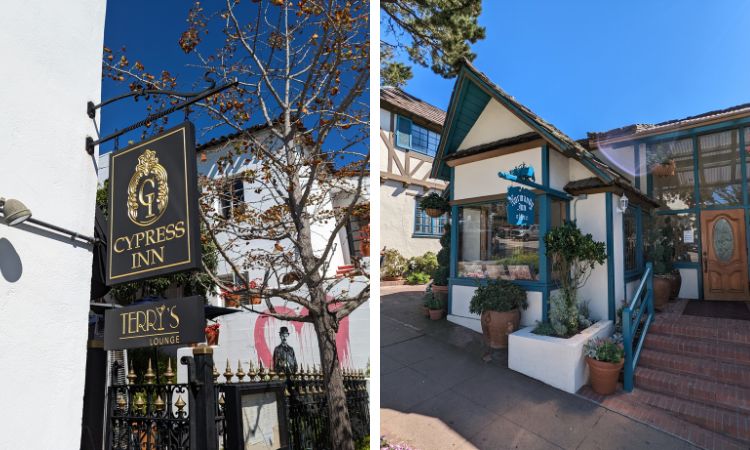 Even though most of Carmel-By-the-Sea offers high-end options, you will find lodging at all price points here. Some hotels start at around $150 a night and range up to $500 or more.
If you plan to stay for a night or two for your Carmel travel vacation, here are some fun and classy places I recommend. Click the link below for additional ideas on where to stay around Carmel-by-the-Sea.
Carmel Bay View Inn
This 2.5-star gem is less than a half mile from the heart of the action in Carmel-By-the-Sea. It offers free internet, parking, and breakfast.
Once settled in, you can easily walk to restaurants, shops, and wine tasting rooms in 5 to 10 minutes. You will find it on Junipero Street, Between Fifth and Sixth Street.
Check for reviews, rooms, and rates for your stay at Carmel Bay View Inn.
Wayside Inn
This 3-star inn features just 22 guest rooms and suites. Some rooms offer full kitchens, spa tubs, and balconies that look out over the village.
There is also free parking, internet, and breakfast. You will find it at 7th and Mission Streets.
Find reviews and rooms for your stay at Wayside Inn.
L'Auberge Carmel
This high-end, 4.5-star hotel is just blocks from both Carmel Beach and the restaurants and shops around Carmel. This luxury European-style hotel features just 20 guest rooms. The hotel also features a charming 9-table restaurant with more than 2,500 wines on its list.
Free parking, internet, and breakfast are included in each room. You will find it on Monte Verde Street at Seventh Avenue.
Check room availability and read reviews for your stay.
Comfort Inn Carmel-By-the-Sea
This is the perfect place for anyone looking to find a budget-friendly option in the area. This quaint hotel is just across the street from all the best shopping around Carmel-By-the-Sea.
This 2.5-star hotel offers just 20 rooms with free parking, breakfast, and internet. It's located on Ocean Ave. & Torres Street.
Find rooms for your stay at Comfort Inn Carmel-By-the-Sea.
>> Find additional recommendations around Carmel
Weather
One of the reasons people love their Carmel travel vacations is the weather since you will find mild temperatures all year long. The winds off the ocean keep it cool and comfortable no matter which season you decide to stay here.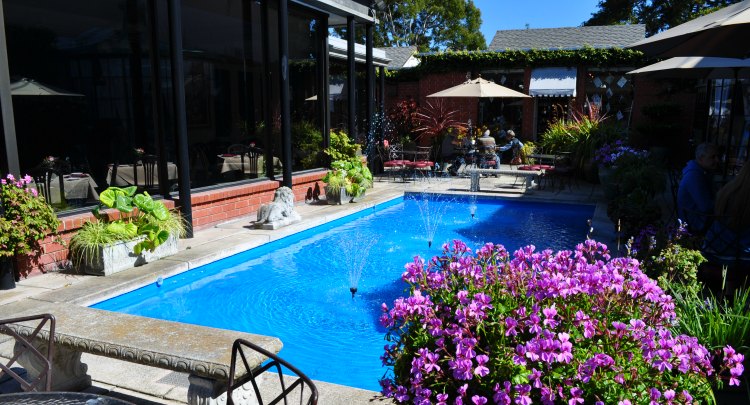 The high temperatures here vary from around 60 to 70 degrees all year long. September is the warmest month, with highs around 70. The coolest time of year is December and January, with temperatures just below 60 each day.
You will want to plan your clothing choices since, even during the summer months, the temperatures will cool off quickly at night. Most evenings dip down to around 45 to 50 degrees.
The warmest evenings are also in September, and the coolest evenings are in winter.
What should you wear during your Carmel travel vacation? You will want to pack a variety of layers. This way, you can add and remove items throughout the day as the temperature changes.
Our rainy season in Northern California is from November to March, with January and February being the two rainiest times of the year, with more than 4 inches per month. In comparison to that, during the summer months, we get barely a trace of precipitation and only about an inch in the spring and fall months.
I often wear a short-sleeved shirt paired with a light sweater or jacket. I'll often have three layers (short-sleeved shirt, light sweater, light jacket) so I can adjust as the temperature changes or the sun comes out from behind the clouds.
I also favor pants over skirts, as sometimes it can get windy here. Pants also help keep me a little warmer as the temperatures cool off at night.
>> Visit my Monterey Bay weather page for more details by month
Other Things to Do Nearby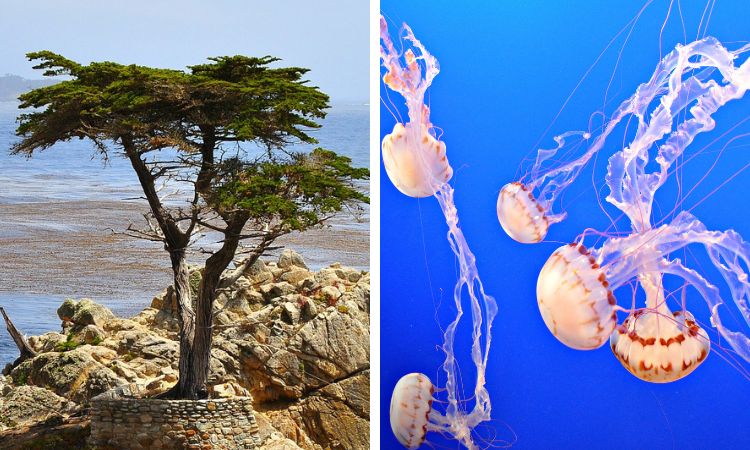 Here are just a few additional things to do in the greater Monterey Bay area.
Monterey Aquarium of the Bay
Head north to the city of Monterey and visit one of the best aquariums in the world. Only a quick 15-minute drive away from Carmel-By-the-Sea, this incredible aquarium is home to more than 500 plant and animal species that call the Monterey Bay home.
>> Find out more about visiting
17-Mile Drive in Pebble Beach
The famed 17-Mile Drive is just north of Carmel. You can enter from the south through the Carmel Gate (head north on N. San Antonio Avenue to find it). You will see all that Pebble Beach has to offer as you cruise along it and see the amazing golf courses, the Lone Cypress, and so much more, including the Pacific Ocean's beautiful beaches.
You will find more than a dozen stops along the way. 17-Mile Drive is open daily from sunrise to sunset and costs just over $10 per car.
Monterey with Kids
If you are traveling with your entire family, you will love all of the kid-friendly options around Monterey Bay. Head to the beach, check out the exotic animals in the local zoo or test your skills at the Mirror Maze.
Find a list of my favorite this to do with kids all year long.
>> More things to do in the Monterey Bay Area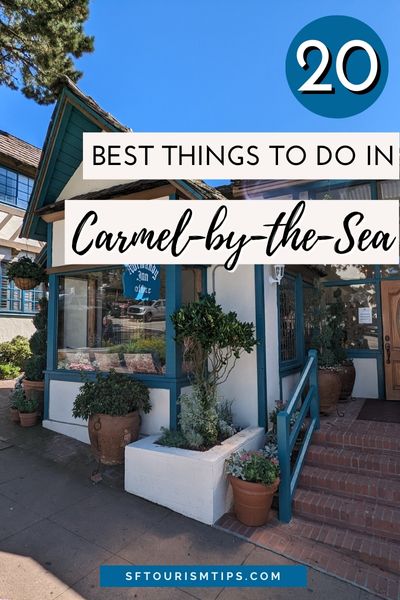 Comments? Questions? Suggestions?
I would love for you to join me in my private Facebook group! 
It's a great place to interact with me and others who know the area well.
You can ask questions, get advice for your upcoming stay, and then share your photos and advice with others when you return home. It's a great community and the fastest way to get answers to those nagging questions about your visit!