Redwoods Near Monterey: 5 State Parks Nearby with Coastal Redwood Trees

by Jill Loeffler  •

Updated: November 14, 2022
These parks with redwoods near Monterey are a great way to get a close up look at our mighty Coastal Redwood trees. All five parks are less than two hours away from Monterey by car.

Coastal Redwoods are some of the tallest trees in the world. They can grow to be up to 367 feet tall, which is about as high as a 35-story building.
Many are hundreds of years old with some of the oldest are almost 2,000 years old. They are a must see when you visit the Northern California area.
Disclaimer: I receive a small commission from some of the links on this page.

1. Big Basin State Park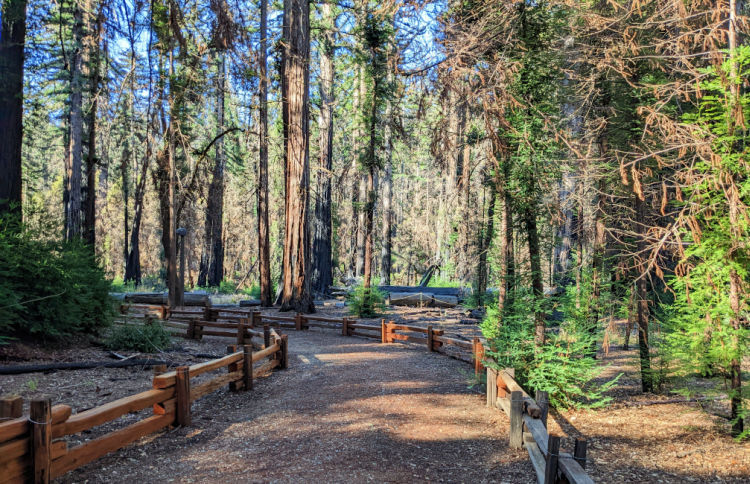 Distance: 1 hour and 20 minutes north
Park Hours: Sunday through Thursday: 8 am to 6 pm; Friday and Saturday 8 am to 7 pm; The nature museum is open every day from 10 am to 6 pm.
Fees: You will have to purchase a ticket to enter this park. You can camp there but that requires an extra fee. Check the website for specifics.
There are a number of great places to see redwoods near Monterey when you are visiting this gorgeous area. One of my favorites is Big Basin State Park. This is California's oldest park and was opened way back in 1902, so you know you'll see some of the best examples of these majestic trees.
The trees here can be as large as 50-feet around their bases and some are over 1,800 years old. They are utterly amazing and when you look up to them, you will see ones that are a large as the Statue of Liberty or higher! When they sway in the wind, it is a sight to behold and you will feel the power of nature.
The Big Basin State Park is almost 20,000 acres in total, so you will have many places to experience it without large crowds. The easiest ways to cruise around it is by using the over 80 miles of park trails that are easily accessible to all.
Some of them are a bit hilly as the elevation of the park can be up to 2,000 feet, but many are easy and relaxed. When you get hungry, you can stop at some of the 15 picnic areas. The park is handicapped accessible.
This park also has many waterfalls for you to enjoy and lots of squirrels, deer, and raccoons. If you are very lucky, you might just catch a glimpse of bobcats or even cougars! Just make sure to keep a decent distance from them as they are pretty shy and won't bother you. There are also loads of varied bird life for the birders that visit here.
Speaking of wildlife, you can even ride horses on some of the paths and you are allowed to ride your bicycles also. If you want to spend the night in the Big Basin State Park, you can buy a permit to camp overnight. You will have to reserve a spot in advance.
>> Find additional redwoods near SF
2. Henry Cowell Redwoods State Park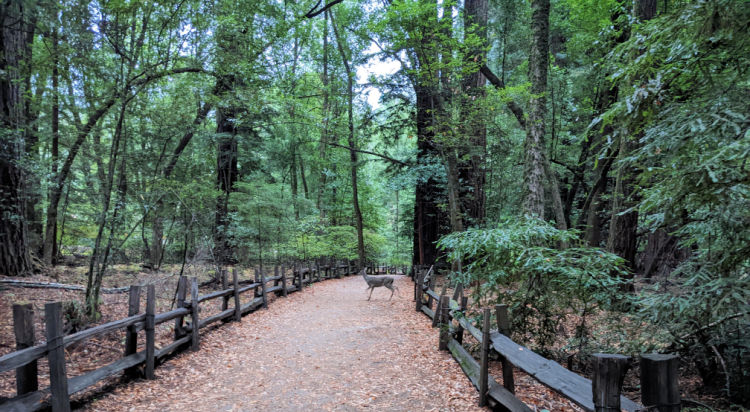 Distance: Just under one hour north
Park Hours: Sunrise to Sunset all year round; The visitor center is open from 10 am to 4 pm; The nature store is open from 10 am to 6 pm throughout the year.
Fees: Prices vary depending on age of the visitor, size of the vehicle, and if you choose to camp overnight.
This park may not be as large as the Big Basin State Park, but it is still wonderful to visit and one of the best places to see redwoods near Monterey. The park is just under 5,000-acres and has trees that over 1,500 years old.
One of the most beloved experiences you can have in this park is to see the Henry Cowell Redwoods' 40-acre old-growth redwood grove. This area has a very unique ecosystem that is centered around a trail that is slightly under a 1-mile loop.
This is where the largest tree in the park is located and it is just under 300-feet tall and just over 15 feet wide. This is the famous "Fremont Tree" and you can step inside it's burnt out base. It is always a great place to take a photo or a selfie.
If you are looking to have a quick dip in the water, the gorgeous and well-named, "Garden of Eden" is a stop you'll have to explore. This is a beloved swimming hole that is located in the San Lorenzo River. It will be chilly, since it is mountain water running through it, but it will also be incredibly invigorating!
This park holds numerous different yearly events and it also has park ranger led tours depending on the season. If you are looking for an added experience that you will never forget, check out the Roaring Camp Railroad just next to the Henry Cowell Redwoods State Park. They have two classic trains, one from the 1880s and the other from the 1920s, that you can enjoy and use to see the sights.
There are many trails for you to walk on throughout the park and most are easily accessible by all including people with disabilities. Dogs are allowed in certain areas, but you'll want to check ahead. You can also ride bikes, or horses, on some of the trails around the park.
3. Garrapata State Park

Distance: 20 to 25 minutes, or about 7 miles, south of Monterey on Highway 1
Park Hours: They vary per season, so you must call ahead to find out about them.
This is the closest park to if you are looking to see some of the coastal redwoods near Monterey. People love that this park allows for so many different types of nature since it has redwoods, trails through varied vegetation and flora, and a 2-mile beach along the Big Sur coastline. The park is almost 3,000-acres and was established in 1979.
This park doesn't have as many redwoods as the two listed above, and they are smaller, but it is still worth the hike to see them. Then, when you turn around to go back do the trail, you will be amazed by the views over the park and down to the Pacific Ocean.
There are multiple paths so you can take your time and not be too crowded as you explore this lesser known park. The park is handicap accessible, but some of these trails are quite strenuous, so you will want to plan ahead and see which ones are best for you here.
Some of the wildlife you may experience include the endangered Smith's blue butterfly (please don't touch them), brown pelicans, owls, and depending on the season, you might even catch whales migrating as they make their journey to or from their home.
Be aware that this park is only designated by a small sign off of the west side of the road (towards the coastline and the Garrapata Beach). There are numbered turnouts to help you find the parking areas. Dogs are only allowed on the beach but not on any trails or anywhere else.
Just a quick warning here: The waves on the beach can be very dangerous and you want to stay away from them and definitely do not go swimming in this part of the Pacific Ocean.
4. Julia Pfeiffer Burns State Park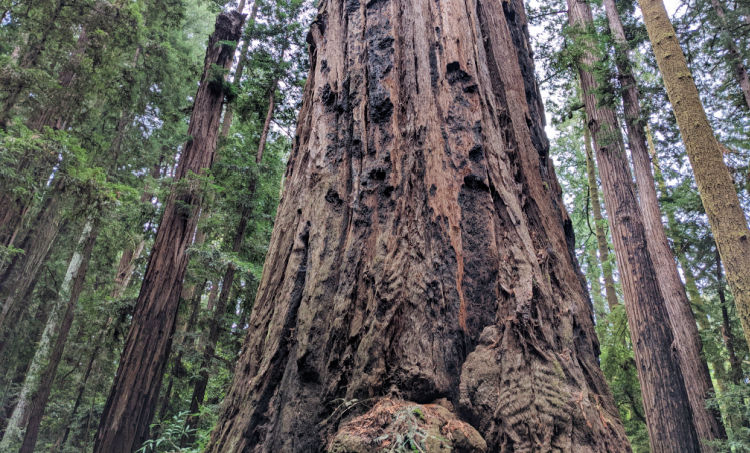 Distance: Just over an hour south
Park Hours: Open 30 minutes before sunrise until 30 minutes after sunset
Fees: $10 a day per car. Discounts for people 62 years of age and older and disabled visitors. US Veterans are free.
The Julia Pfeiffer Burns State Park is another beauty that is south of Monterey and definitely worth a visit during your vacation. This park is named after the famous female pioneer, Julia Pfeiffer who lived around Big Sur and this part of the area.
There are about 10 trails, and many of them include loads of flora and fauna. Some of the different trees may include the classic redwoods, and also ones like madrones, tan oaks, and others. There are numerous trails for you to walk on and take in the views. For those that are water lovers, there is an amazing 80-foot waterfall which you will want to get a few photos of when you see it. It alone is worth the trip to this wonderful park.
One of the favorite views of visitors is the Overlook trail that features the waterfall which then flows into the sea below as it falls over massive granite cliffs. Since this park goes to higher elevations, you can see for miles and miles out over the Pacific Ocean. Another is the Tinhouse Fire Road which is a dirt road that leads up to Partington Vista Point and allows you to see where the remains of the old tinhouse used to stand back in the old days.
This park has two picnic areas with tables and even charcoal grills where you can BBQ all your favorite foods. You will find them at Ewoldsen Trailhead, which is right near the parking area, and then a little further in on the Ewoldsen trail itself. These usually get busy as they are popular.
Last but not least, the parking is fairly limited, so you will want to plan ahead. If the parking area is full, however, you can also park on the side of Highway 1 but be careful as traffic can get busy. Also, you'll want to pay attention to your mileage as it is about 36 miles south of Carmel on Highway 1 and you won't want to miss the exit.
You can camp overnight, using a vehicle tag that can be purchased, and the area has picnic tables, toilets, and a fire ring. Please bring your own firewood as it is illegal to take it from the park.
5. Limekiln State Park

Distance: About an hour and a half south
Hours: 8 am to sunset
Fees: $10 per car; $35 per single family camping site up to 6 people and 1 car.
This is one of the most interesting of the parks you will find as you continue your trip to see more redwoods near Monterey. It is a bit of a drive, but well worth it as you'll not only see amazing trees, plants and wildlife, but you will see some of the most interesting objects anywhere around this area.
The reason this park is name the Limekiln State Park is that there are four lime kilns inside of it. These kilns were used after lime was harvested from the surrounding area and then pushed into the four iron and stone kilns.
The reason the kilns are in this area is because the huge redwood trees were used to heat them all day long. I love seeing them and just imagining these massive machines burning away all day long.
The trail to these kilns is only about half-a-mile long. There are numerous other trails if you want to walk deeper into the park and most are considered to be fairly easy for all.
Even though this park isn't as large as some of the others, it is still worth a visit to see the kilns alone. However, there is much more for those that want a bigger experience. These include trails that will take you to over 30 different campgrounds inside the redwood forest. The best part is that 11 of these campgrounds also give you a fantastic view over the coast and out to the Pacific Ocean.
The park is located just less than 60 miles south of Carmel on Highway 1 and is just over 700-acres.
Comments? Questions? Suggestions?
I would love for you to join me in my private Facebook group! 
It's a great place to interact with me and others who know the area well.
You can ask questions, get advice for your upcoming stay, and then share your photos and advice with others when you return home. It's a great community and the fastest way to get answers to those nagging questions about your visit!