Clam Chowder in San Francisco: Tips on Where to Find the Best Bowl in SF

Updated: January 2, 2023

You will find dozens of places that serve clam chowder in San Francisco. The two most common types you will find in SF are New England and Manhattan.

New England chowder is a cream-based soup that is thick and usually includes potatoes, onions, and clams. Manhattan chowder is a red broth soup that is made from clams, veggies, and tomatoes, which enhances its coloring and flavor.
On a cool day in SF, there is nothing better for lunch or dinner. Read on to find my 10 favorite places to go for this popular dish that is often served in a tasty sourdough bread bowl.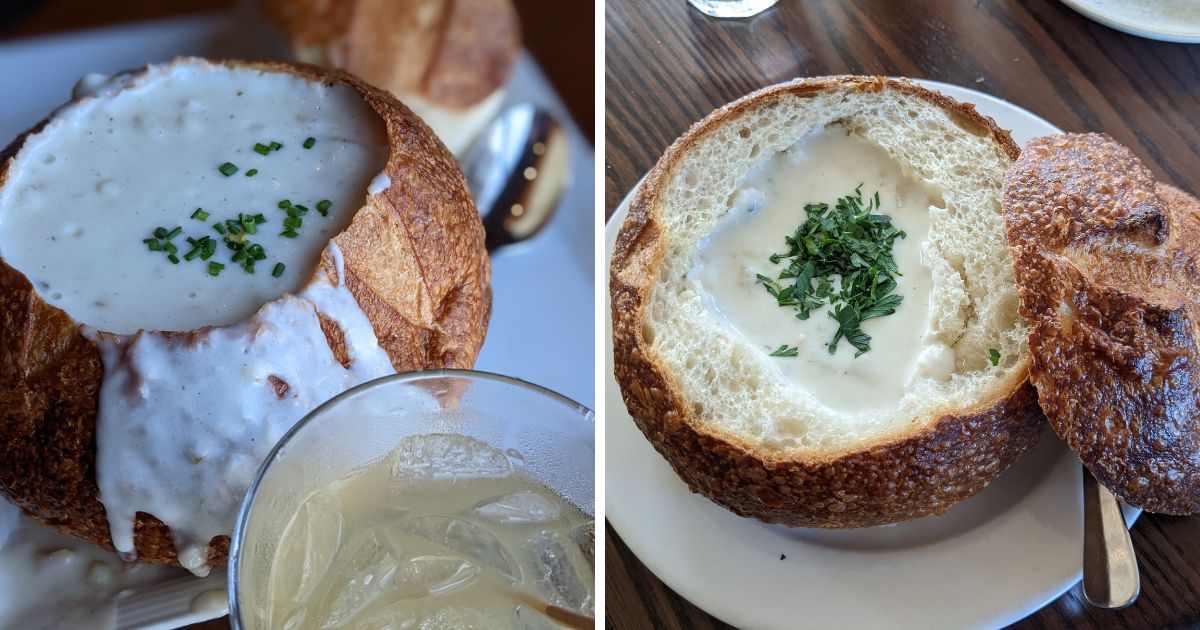 Disclaimer: I receive a small commission from some of the links on this page.

1. Boudin Bakery in Fisherman's Wharf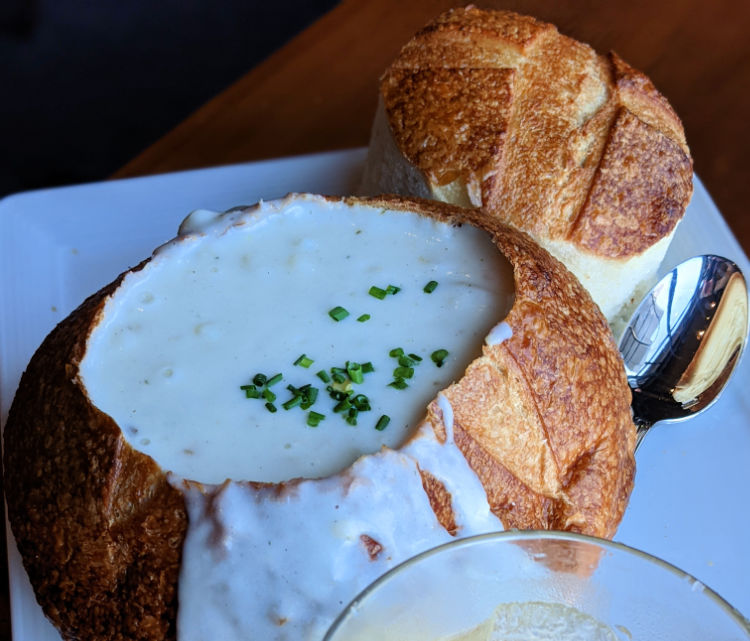 My favorite place to enjoy a hot bowl of clam chowder is at Boudin Bakery in Fisherman's Wharf. This well-known restaurant offers tasty clam chowder in one of the best sourdough bowls in SF. In case you were wondering, they serve up the white New England Style clam chowder.
My other favorite here is their corn bisque, which is also served in a bread bowl. All of this is available in their upstairs restaurant with some great views of Fisherman's Wharf and the nearby waterfront.
Address: 160 Jefferson Street

District: Fisherman's Wharf
>> More great Fisherman's Wharf restaurants
2. Chowders

Another one of my favorite places for clam chowder is Chowders at Pier 39. This fun restaurant offers both white New England and red Manhattan clam chowder on their menu. I always steer toward the white chowder, but I imagine the red is just as tasty.
They also offer some deep-fried fish options, a few fresh salads, and some not so fishy items such as chicken and grilled cheese sandwiches. This is one of my top recommendations for those traveling with kids.
Address: Pier 39
District: Fisherman's Wharf
3. Hog Island Oyster Company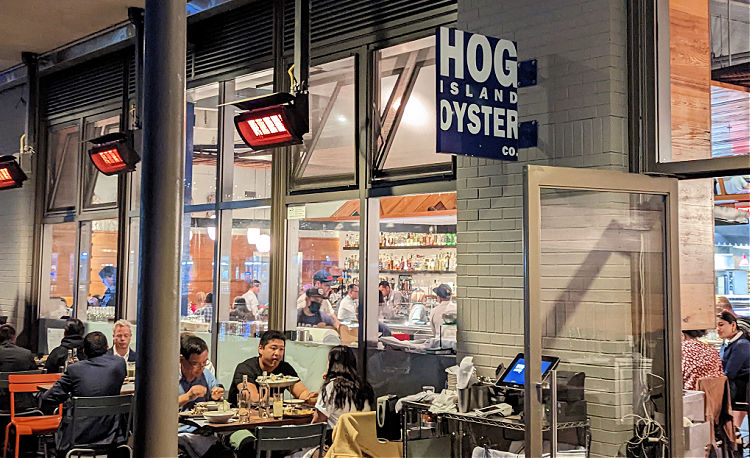 The Hog Island Oyster Company is an oyster bar in SF's Ferry Building. They offer fresh oysters from their farm just north of San Francisco. They also serve oysters from small local oyster farmers and come from several other locations.
They are most famous for their oysters, but a little secret is they also serve up some of the best clam chowder in San Francisco.
Address: Ferry Building
District: Embarcadero
4. Sidewalk Stands in Fisherman's Wharf

If you are visiting SF on a warm sunny day and would prefer to eat outside, then stop by one of the stands along Taylor Street (just to the north of Jefferson). Here you will find more affordable, and yet still very tasty, clam chowder in San Francisco.
I usually stop at the first stand, as they offer up my favorite clam chowder. Once you get your meal, head to the waterfront to enjoy the views of Alcatraz.
Address: On Taylor to the north of Jefferson
District: Fisherman's Wharf
5. Sotto Mare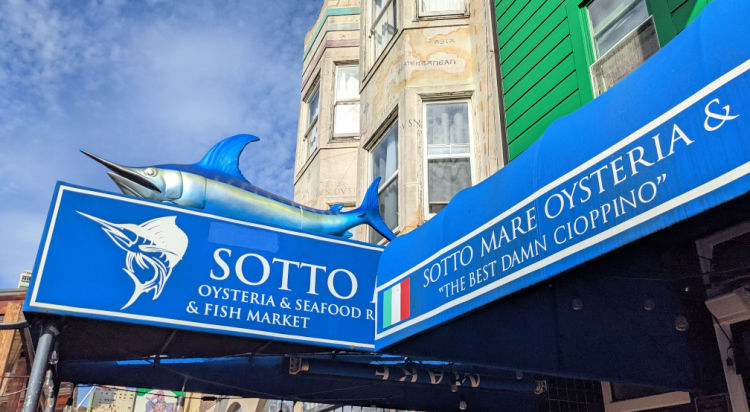 Head over to North Beach to check out another one of my favorite places for clam chowder, Sotto Mare. This Italian restaurant serves up Boston white clam chowder in either a regular bowl or a bread bowl and it's amazing!
In addition, I love their oysters on the half shell. They serve both lunch and dinner, and this is my go to spot for clam chowder and other seafood dishes in this area.
Address: 552 Green Street
District: North Beach
Restaurant Deals Around Town

Before you enjoy some clam chowder in San Francisco, make sure to check out some of the top restaurant deals around town. They offer you the chance to pay quite bit less for your meals.
Groupon: This is the first place I look for deals on restaurants in San Francisco. Here you will find discounts at more than 100 places serving up a variety of cuisines. The deals they offer allow you to buy $50 or $25 worth of food for $15 to $20 at participating restaurants. You will also find some deals on local beer and wine tasting place too. Find a list of all deals here for San Francisco.
Five Additional Top Spots for Clam Chowder in San Francisco

6. Swan Oyster Depot
Nob Hill, 1517 Polk Street, it's about $4 to $7 for a cup of Boston/New England clam chowder (not in a bread bowl), you will also find other great seafood options here
7. Scoma's
Fisherman's Wharf, Pier 47 & Al Scoma Way, $12 to $14 for clam chowder, higher end restaurant that offers tasty seafood dishes as well as beef, pastas, and more, one of my other favorites here are the Truffle and Parmesan fries - YUM!
8. Hyde Street Seafood House & Raw Bar
Nob Hill, 1509 Hyde Street, New England clam chowder in a bowl is about $12, they also have one of the best raw oyster bars in SF, it's a classic San Francisco restaurant and one I highly recommend checking out if you love seafood!
9. Original Joes
North Beach, 601 Union Street, every day you can order a cup or bowl of their delicious New England clam chowder, on Friday, they also serve Manhattan clam chowder, it's $6.95 for a cup and $9.95 for a bowl
10. Perry's Embarcadero
Financial District/Embarcadero, 155 Steuart Street, this casual spot offers everything from burgers to clam chowder, I love the views of the Bay Bridge and waterfront from their tables in the back, you will also love their New England style clam chowder, $8 a bowl

More Great Places to Dine in SF

Comments? Questions? Suggestions?
I would love for you to join me in my private Facebook group! 
It's a great place to interact with me and others who know the area well.
You can ask questions, get advice for your upcoming stay, and then share your photos and advice with others when you return home. It's a great community and the fastest way to get answers to those nagging questions about your visit!