Bicycle Tours San Francisco: Discover the Five Best SF Bike Tours
There is no better way to get to know San Francisco than on a bicycle tour. You can either choose to go with a group or on a self-guided bike tour through the streets of the city.

On this page, you'll discover the top guided biking tours, and you'll also find some tips for venturing out on your own.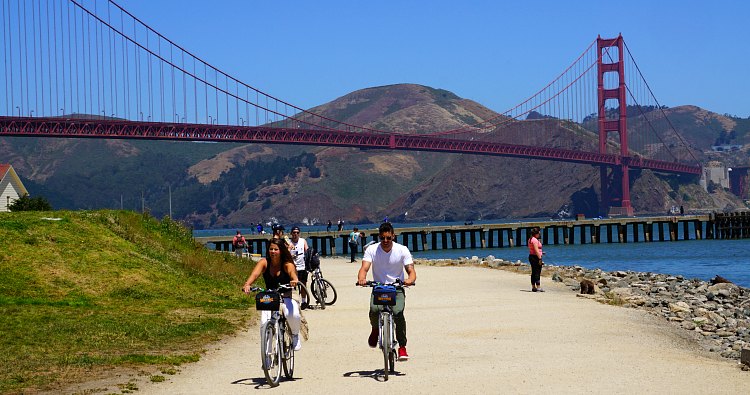 Disclaimer: I receive a small commission from some of the links on this page.

1. San Francisco Golden Gate Bike Cruise

Duration: 3 hours
This is by far the most popular bicycle ride in San Francisco. It offers spectacular views of the city and the Golden Gate Bridge. It's also a great chance to learn the history and other key facts about one of the most famous bridges in the world.
You start your bike ride in Fisherman's Wharf. From there, you take a leisurely ride along the beautiful SF waterfront.
You then tackle a steep hill that gets you to the Golden Gate Bridge bike path. Your 1.7-mile ride across the bridge affords you some of the most stunning views of the city.
Your ride continues with a mostly downhill ride into the quaint coastal town of Sausalito on the other side of the bridge. This is where the official guided portion ends.
Since you don't have to return your bike until the bicycle shop closes (usually around 6pm), you get to decide what to do next. Here are a few of your options:
You can spend some time walking around Sausalito and enjoying its restaurants, shops, and galleries.
You can take the ferry back to San Francisco (this ferry ticket is not included in the price of the tour) and drop off your bike.
You can head back over to San Francisco and continue to explore the streets. A city street map is included if you take this option.
If you are an advanced biking enthusiast, talk to your guide about a ride up to the Marin Headlands. It's a tough climb up but has some of the most amazing views of the Golden Gate Bridge with the San Francisco city skyline behind it.
Overall, this is an easy to moderate bike ride, and it's one of the best ways to see and learn more about one of the most visited SF attractions.
>> You can learn more about what it's like to ride over the bridge here
2. San Francisco Urban E-Bike Tour

Duration: 4 hours
This is one of the San Francisco bicycle tours that is gaining in popularity. On this bike ride, you cruise through some of the most interesting neighborhoods of San Francisco.
I really like this one because you get to see so many hidden gems that you may not see if you head out on your own.
Highlights of the tour include riding along the waterfront in Fisherman's Wharf, discovering the North Beach District, and then cruising on the flat streets down to Oracle Park (formerly AT&T Park).
You also get the chance to see SF's Mission District and its amazing colorful murals, as well as Alamo Square with a view of downtown SF behind it. Your journey continues through the Civic Center neighborhood, Polk Gulch, and finally back to Fisherman's Wharf.
This tour offers all riders an e-bike so you can either pedal on your own and turn on the e-bike function to make it a little easier.
Throughout the ride, your local guide shares interesting facts and stories about all of the different places you visit. It's a fun way to cover a lot of ground and get to know the 'real' San Francisco.
Learn More & Book: San Francisco Urban Bike Tour
3. Evening Bike Tour Including the Golden Gate Bridge

Duration: 3 hours
Spend the early evening hours cruising around San Francisco, riding bikes along SF's northern waterfront.
Along the way, you will see the Fort Mason Center, the Marina Green, and Crissy Field. You will continue on and ride up to the bike path for the Golden Gate Bridge.
After a quick stop to take photos, you will bike part way across the bridge. You will stop again for more photos and then head back across the bridge again to San Francisco.
Your journey continues with a look at the gorgeous Palace of Fine Arts and some nice photos of the waterfront as the sun is setting. You will also explore other parts of the Presidio.
Tour departs at 4pm, so please arrive by at least 3:45pm.
Learn More & Book: Evening Golden Gate Bridge Bike Ride
4. Bike & Craft Brews Tour

Duration: 3 to 4 hours
This San Francisco bicycle tour combines the local food culture with SF's interesting history. It's a fun and leisurely ride that takes you to three popular local breweries.
Your guide takes you through several neighborhoods with stops in SOMA and the colorful Mission District. In each neighborhood, you have the chance to sample locally produced craft beers and mingle with some locals.
(Note that only the first beer is included in the price of the tour.)
This small group escapade is limited to just 12 people, ensuring you get a more personalized experience.
Days & Times Available: Mon - Fri at 2pm (times may change in the summer slightly so check your ticket for a confirmed time)
Learn More & Book: Bike & Craft Beers Tour
5. Self-Guided Biking Tours

If a guided tour is not really your thing, you can also venture out on your own. This gives you the freedom to visit the neighborhoods and attractions that interest you the most, at your own pace.
An all-day bike rental includes everything you need to enjoy your adventure safely, complete with a helmet and a bike lock. This way you can stop and see SF's main attractions without having to worry about your bike.
You can pick up your bike anytime after 8am. It must be returned at least 15 minutes prior to closing time (6pm most nights and later during the summer months).
In addition, the rental office provides you with a San Francisco city map and a few suggested routes. This way you don't have to do too much planning before you set out.