Things to Do Near Yosemite National Park: 17 Memorable Activities

by Jill Loeffler  •

Published: December 14, 2022
Are you looking for some fun things to do near Yosemite? My list includes more than a dozen fun activities, from hiking to wine tasting to exploring nearby historic towns.
While it's tough to match the activities inside the park, such as hiking Yosemite Falls, enjoying the views from Glacier Point, and strolling around Yosemite Valley, my list offers fun things to do before or after visiting this majestic gem.
You'll discover the best nearby ski resort, gorgeous lakes, and a few additional national parks. Other fun activities include sampling local beers, working on your golf game, and pressing your luck at local casinos.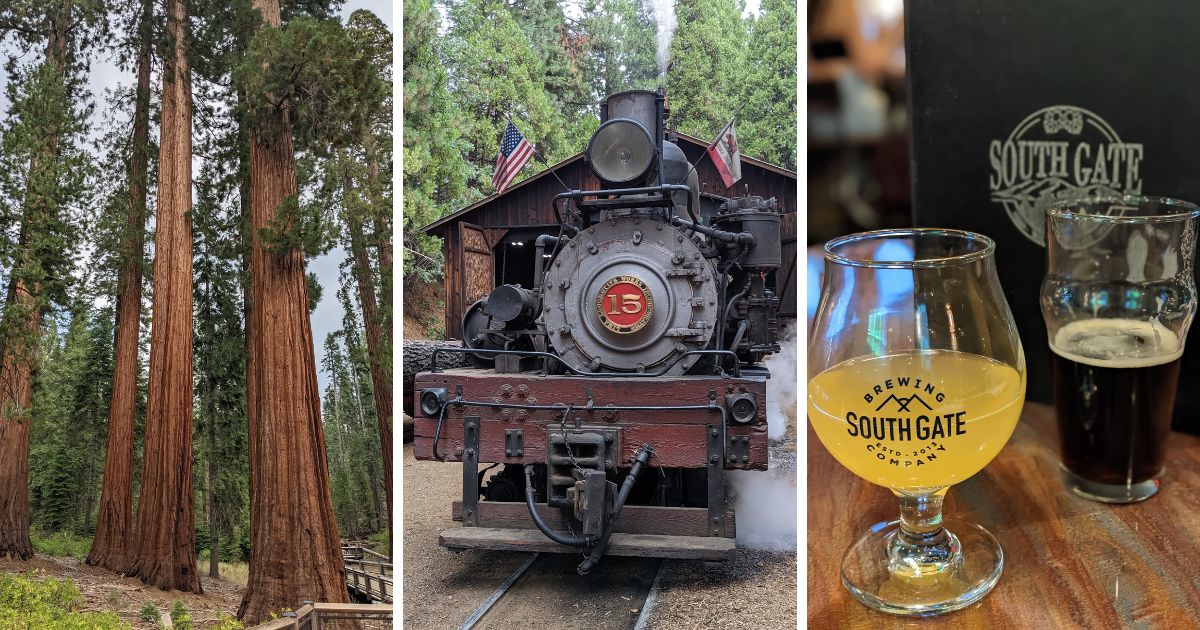 Disclaimer: I receive a small commission from some of the links on this page.

1. Devils Postpile National Monumnent

Devils Postpile National Monument is an unusual and extraordinary place to visit. Consisting of hundreds of vertical basalt columns, it is utterly unique. It is thought to have formed 100,000 years ago from a cooling lava flow and is a must-see feature for all nature lovers.
Close by is the beautiful Rainbow Falls, a spectacle that is 101 feet tall. The surrounding pine forest is home to plenty of diverse animals and plants.
There are popular hiking and biking trails in the immediate area. There are few geological features as unusual and spectacular as the Devil's Postpile, and you shouldn't miss it.
Visitors should know that the Devil's Postpile is open depending on the weather. It is best to see it during the Spring, Summer, or Fall months. This is because the snow during the winter makes it challenging to get there.
It's one of the most unique things to do near Yosemite.
>> Find additional national parks in Northern California
2. Sugar Pine Railroad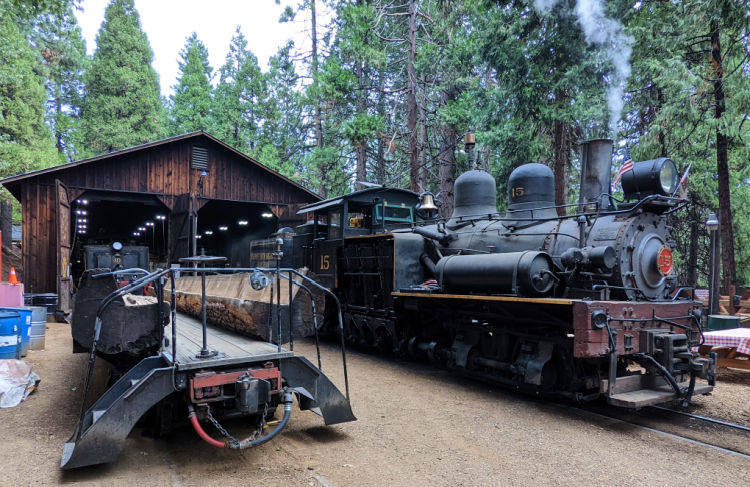 Located near the South Yosemite entrance, this railroad is a blast for everyone, regardless of age. There are several cute buildings, including a "local" store, and you can imagine what it was like back in the olden days here. If you are hungry, you can buy a "grab-and-go" meal here.
Of course, the massive steam engine that takes you through the forest is the main attraction. It takes about one hour, and you will learn about the history of this area and more. I love that there are covered cars so you can stay dry on rainy days.
I also love that they have a few cars made of massive trees. These are open-air cars where you can see the pine forest around you.
They often have special events, so make sure to check ahead.
>> More about the Sugar Pine Railroad
3. Mammoth Ski Resort

Mammoth Ski Resort on Mammoth Mountain is a spectacular place. Open all year round and at 11,000 feet, it is proud to be the resort at the highest elevation in California.
Activities include downhill skiing, fabulous cross-country trails, plus snowmobile rides for a thrill like no other.
In the warmer months, activities are available for all ages and skills, including mountain biking, climbing, and a full range of exciting pursuits at the Adventure Center. Visitors have a choice of comfortable and beautifully appointed lodges.
These range from family-friendly to supremely luxurious. There are many places to enjoy fine meals at Mammoth Mountain with stunning views.
For truly spectacular landscapes and superb amenities, a visit to Mammoth Mountain should be on your list of things to do near Yosemite. A convenient free public bus service connects The Village with the main base lodges.
4. Wine Tasting in Madera

Madera County is a hidden gem destination for lovers of fine wine. California is famous for its wine production; some of the finest are produced in this beautiful grape-growing region. The Madera Wine Trail covers no fewer than eight of the region's finest wineries, where you can enjoy tasting sessions and follow the trail.
Visitors should plan their wine trail excursion using the Madera Wine Trail map, which is available on the website. You can find preferred transport providers to take you on a luxury trail tour.
If you are driving, make sure to have a sober designated driver. They will be allowed entry to the individual free of charge.
Many events are organized along the trail, and many of the wineries also have a restaurant. So, you can plan a day out with fine wine, good food, and superb views.
5. Wine Tasting Near Mariposa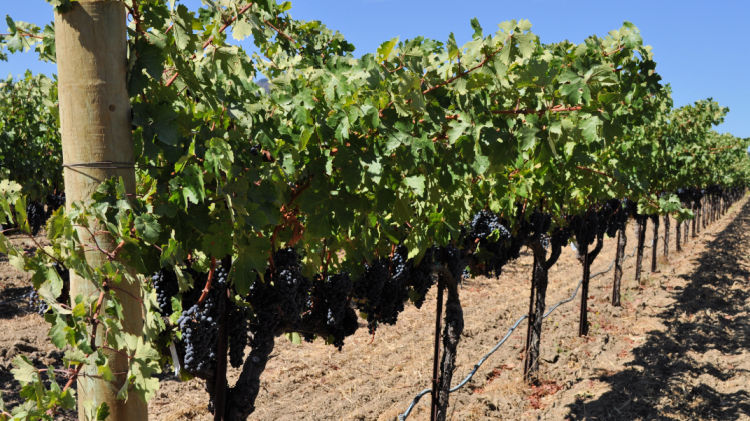 The historic town of Mariposa is charming and worth a visit for its rich history alone. Some of the best wineries in California are close to the town, so it is a wine lover's dream location. Mariposa offers excellent vineyard weather in the beautiful surrounds of the Sierra Foothills.
Silver Fox Vineyards is a highly regarded winery that offers a range of hand-crafted and top-quality wines. It is close to Yosemite National Park and uses only locally grown grapes and ingredients.
Also close to Mariposa is Butterfly Creek Winery, where visitors can enjoy tasting sessions and other events throughout the year.
The region is home to other wineries that may be further afield yet are still worth the journey. We recommend booking ahead as winery tastings are popular in the Yosemite National Park region.
6. Mariposa, CA

Few places reflect the atmosphere and architecture of the Old West, like the city of Mariposa. Located in the lush surrounds of the Sierra Foothills, this is a town that is simply charming to visit.
Even more so, there is much to see, do, and enjoy in the region. Many wineries are close to town, and you can taste excellent wines.
Mariposa was a center for the Gold Rush in the mid-19th century. There is a museum dedicated to the mining activities of the region, which paints a fascinating picture of life in those times.
Furthermore, visitors can go panning for gold with instructors who will help them try their hand at finding gold! It is great fun for adults as well as kids.
Mariposa is a gateway to the magnificent and world-famous Yosemite National Park. It is a major attraction for families, groups, and couples who come here to enjoy the region's many delights.
7. Mono Lake

For stunning views of a rare phenomenon, visitors to Yosemite National Park should head to Mono Lake. First and foremost, one of its spectacular features is being unusual for its alkaline water.
More than that, Mono Lake is famous for the many astonishing "Tufa Towers." These massive rock formations emerge from the water and have taken thousands of years to form.
The lake is also an important stopping point for millions of migrating birds, making it a prime location for 'twitchers' and wildlife lovers.
The lake doesn't have an inlet or outlet and is saline, so it does not support native fish species. It is famous for the Mono Lake Brine Shrimp, which the visiting birds feed.
With its unique ecosystem and unusual qualities, Mono Lake is a place to visit for spectacular scenery unlike anywhere else near Yosemite National Park.
8. Bass Lake

Bass Lake is a popular destination for visitors to or from Yosemite National Park. Many choose to stay at The Pines, which is a fantastic resort on the lake. It also offers a wealth of water sports activities for everyone and is a prime family vacation destination.
Fishing in the lake is good, and the warm waters make Bass Lake great for swimming.
Located at the Southern Gateway to the National Park, the lake offers a spectacular backdrop for camping, and there are many excellent spots near the water. It has loads of mountain bike trails, hiking routes, and many other activities for kids and adults.
This makes it an excellent choice of location if you are looking for a fun and diverse vacation.
9. Sequoia and Kings Canyon National Parks

Sequoia National Park is world famous for its magnificent Giant Sequoia trees. They are genuinely ancient and are among the wonders of the natural world. Visitors can stay in one of the lodges shared by Sequoia and Kings Canyon National parks, both run by the same administration.
Standing alongside these mighty living trees invokes a sense of sheer wonder, and there is no sight like Sequoia Groves anywhere on earth.
Kings Canyon offers some of the most dramatic scenery in the Sierra Nevada mountain range. There is nothing like those towering rock formations, magnificent caves, and canyons to explore.
A Kings Canyon Scenic Byway Trail guides visitors through the best of the scenery, and the varied and rich wildlife in the park is astonishing.
There are three lodging locations available between the two parks. Enjoy your time in them, and always check ahead as they are open at the mercy of the weather.
10. Inyo National Forest

The incredible and striking views of Inyo National Forest are challenging to match. Covering a vast area from the California and Nevada borders, the forest is a mix of towering mountain views, stunning old trees, and simply glorious landscapes.
With a great choice of campsites in some amazingly remote and tranquil locations, this is a popular destination for hikers and adventurers.
Planning a trip to Inyo National Forest should be done carefully, as the camping grounds and trails are subject to weather conditions. Use the forest's website to see what is open and for further information on the various activities.
The previously mentioned Mono Lake is within the forest and is undoubtedly worth a visit as it is a unique and beautiful place. The local wildlife is mostly safe, but remember you're in bear country, so follow advice on carefully packaging food.
11. Stanislaus National Forest

Covering almost 900,000 acres, Stanislaus National Forest is one of the wonders of the Yosemite region. The designated hiking trails cover more than 1000 miles of incredible wilderness and superb landscapes.
No fewer than 78 lakes and over 800 miles of tranquil streams are within the forest.
Camping is available at many sites in the forest, and you can choose from lakeside or forest camping. Cherry Lake is the largest in the Stanislaus National Forest. You can take a boat out on the water, swim, fish, or walk around the shore.
Camping is popular at Cherry Lake, and it is worth doing if you visit here.
The many wilderness areas of unspoiled and untouched landscapes are wonderful. You will want to play ahead, as much less accessible during poor weather.
12. Craft Beer Tasting

The Yosemite National Park region is home to many craft beer producers. Because of that, this brewing area has exploded in popularity in recent years. Local breweries make a wide variety of American and international brews, and lovers of ale and beer will be in their element here.
South Gate Brewing Company
One of my favorites in the area is South Gate Brewing Company. And, as you can tell by the name, it is south of the park in the small town of Oakhurst.
Their beers are excellent, and the food is extraordinary. Their Southern Fried Chicken is fresh and tasty. I also love their Beer Cheese Marconi.
They make a variety of beers, from tasty IPAs to some with a hint of fruit.
The only problem with this place is that it's really popular and they don't take reservations. They will have a line out the door most evenings, but I assure you the wait is worth it.
Around the Horn Brewing Company
About 35 minutes west of Yosemite in the small town of Groveland is Around The Horn Brewing Company.
They offer up some yummy beers with amusing names, such as Not NOT Idea (a double IPA), Lost in Lucidity (Pilsner), and Fluffy Tutu (Sour). Their beer selection rotates, but they always have a good number on hand.
They don't take themselves too seriously but know how to make incredible beers.
They also offer a small selection of items on their food menu. You'll find some shareable items, salads, and a few sandwiches.
1850 Restaurant and Brewery
1850 Restaurant and Brewery is located in the charming town of Mariposa, close to Yosemite National Park. The restaurant is popular with visitors and locals and offers a varied selection of home-brewed craft ales.
They serve great dishes at lunch and dinner, and accommodation is available above the restaurant.
13. Skydiving

One of the most spectacular ways of getting a view of the magnificent surroundings of Yosemite Valley is to jump out of an airplane! Mariposa-Yosemite Airport is a convenient location for skydiving activities in the region.
They also have experienced guides on hand to help. A tandem jump will provide stunning views of Half Dome and El Capitan that remain unrivaled.
The association run events such as flying marriage proposals, group jumps, birthday celebrations, and sponsored jumps. You will be required to be physically healthy and over 18 years old. Beyond that, there are no age limits, and they have even had an 80-year-old make a jump.
If you're looking for an exceptional gift for a loved one, why not buy them a skydiving gift certificate? Accommodation is available in and around Mariposa, a charming town in its own right.
14. Groveland

Groveland's historic and attractive town is a popular destination for vacationers wishing to explore Yosemite National Park. One of the region's prime "Gold Rush" towns, much of the architecture reflects the town's rich history and makes for a fascinating backdrop.
It is usually busy with many restaurants, bars, and shops, making it unique. Therefore I recommend booking as early as possible.
When visiting Groveland, you must take a break in the Iron Door Saloon. It is known to be the oldest saloon in constant use in California. The traditional saloon decor and historic artifacts in the bar make this a fascinating place to relax and have a well-earned drink. Remarkably, the original bar is still used.
Take the opportunity to go fishing or white-water rafting when you are here. There are many other activities, such as horse riding, mountain biking, and hiking. Enjoy some of the most beautiful surroundings you will find anywhere.
The Big Oak Flat Entrance to Yosemite National Park is 25 miles from town.
15. Golfing

Golf is one of the popular things to do near Yosemite, with many fine courses. Playing a few rounds in spectacular settings makes the game far more special. We recommend you check out the following Yosemite golf courses for availability and requirements.
River Creek Golf Course
It is located in the pretty town of Ahwahnee and a short distance from the Southern entrance to Yosemite National Park. The course is impressive, with the spectacular Sierra Nevada Mountains as a backdrop.
Laid out more than 100 years ago, River Creek must be among California's most beautiful golf courses.
Yosemite Lakes Park Golf Course
The spectacular setting for the beautifully presented Yosemite Lakes Park Golf Course is simply delightful. A neatly laid out 9-hole course, with five holes over water hazards, is regarded as challenging in places thanks to small greens and tight fairways.
The course is open to both members and non-members and offers a choice of three eateries within the grounds.
Pine Mountain Lake Golf Course
Pine Mountain Lake Golf Course is an 18-hole championship course open to the public. Superbly designed to engage even the best players, the surroundings are spectacular and worth the visit alone.
Located in the town of Groveland and just 26 miles from the entrance to Yosemite National Park, this is a course you need to play when in the area.
Wawona Golf Course
Entirely within Yosemite National Park is Wawona Golf Course, which has entranced golfers of all levels of experience for more than 100 years.
With varied terrain and some challenging greens, this course can be played in 9 or 18-hole formats thanks to alternative tees on some holes.
16. Casinos

A visit to the casino is always an enjoyable occasion, and several are within or close to the park. Be aware that some have a dress code, so get yourself suited up and choose from one of the following excellent casinos - and good luck!
Chukchansi Gold Resort & Casino
Chukchansi Gold Resort and Casino offers guests a wealth of table games and slots and is a full resort with hotels, restaurants, and bars. Located in Coarsegold, California, and within easy reach of Yosemite National Park, this casino is for serious players and those looking for a fun spot.
Mono Wind Casino
The highly regarded Mono Wind Casino is in the town of Auberry, California. Play your favorite slots or table games, then enjoy a meal at the Broken Arrow Bar and Grill. The menu is replete with a wide variety of dishes to suit all tastes, emphasizing classic American food.
Chicken Ranch Casino
In Sonora and close to Yosemite National Park, Chicken Ranch Casino is a fun place to enjoy your favorite games and a wide choice of slots. There are also on-the-spot competitions and events run throughout the year.
Enjoy a meal at the Ranch House Restaurant, where you'll find something for everyone on their simple but satisfying menu.
17. Don Pedro Lake and Recreation Area

Don Pedro Lake and Recreation Area sits in the Sierra Foothills and offers spectacular mountain views. This is an ideal base for exploring Yosemite National Park.
The pretty, historic towns of Groveland and Coulterville, which have their origins in the California Gold Rush, are home to many fine restaurants, bars, and shops.
Attractions include boating and fishing on the lake and rafting on the Tuolumne River. There are also many miles of walking and biking trails in the vicinity.
Railway enthusiasts will love the Railtown 1897 State Park with its great steam engines, and stunning Stanislaus National Forest is half an hour's drive.
The Recreation Area offers accommodation in various forms, including houseboats and traditional camping. If you want to camp, there are plenty of campsites throughout the local area.
This family-friendly destination makes for a central location in easy reach of the major attractions in the Yosemite area.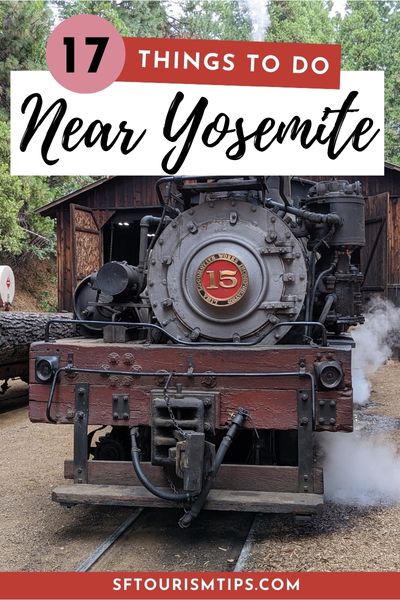 Comments? Questions? Suggestions?
I would love for you to join me in my private Facebook group! 
It's a great place to interact with me and others who know the area well.
You can ask questions, get advice for your upcoming stay, and then share your photos and advice with others when you return home. It's a great community and the fastest way to get answers to those nagging questions about your visit!