Hotels in Sausalito, CA: Best Hotels and Lodging Options Available in Sausalito
Sausalito is a small North Bay community across the Golden Gate Bridge from San Francisco. There are only a few hotels in Sausalito, CA. Here you will find an overview of each one, so you can quickly pick the one that is right for you.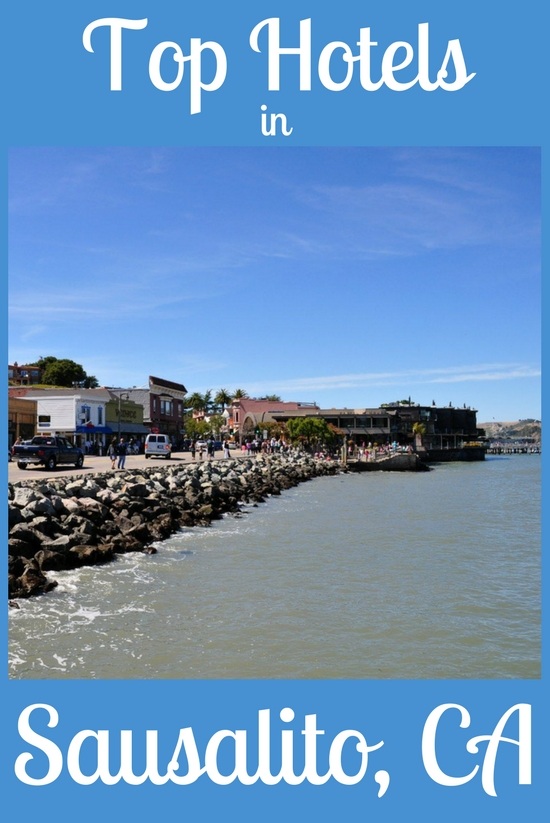 Disclaimer: I receive a small commission from some of the links on this page.

Cavallo Point

Address: 601 Murray Circle
Nightly Rates: From $416 - $721
Rating: 4.5 Stars
The first on my list of the hotels in Sausalito, CA is Cavallo Point. This unique and historic hotel is at the foot of the Golden Gate Bridge.
The location is ideal—in a serene setting, with easy access to both Sausalito and San Francisco.
Here you can relax with some spa treatments in the tranquil setting of the Healing Arts Center and Spa. You can also take cooking classes at the Cavallo Point Cooking School or dine at the luxurious Murray Circle Restaurant.
Here are just a few of the other amenities you will find here:
Free Wifi
Fitness center
Free parking
Room service
Restaurant and bar/lounge on site
Business center
Kids activities
This hotel is a gorgeous new addition to the San Francisco Bay waterfront. Read other guest reviews and find the best price for the Cavallo Point Hotel in Sausalito on Booking.

The Inn Above Tide

Address: 30 El Portal
Nightly Rates: Start at around $255 - $435
Another one of top places to stay in Sausalito is The Inn Above Tide. This is a small boutique hotel with just 29 rooms.
It's right along the water with amazing views of the bay. The staff is helpful and friendly, and you will feel right at home with their balconies and fireplaces.
Some of its amenities include:
Terraces on the bay
Afternoon wine and cheese reception
Free breakfast
Free high-speed internet
Room service
Laundry service
Wheelchair accessible rooms
High-end toiletries
Daily newspaper
The only drawback to this hotel is that you can sometimes hear your neighbors through the walls or on the terraces. This isn't always a problem, but something to consider if you are a really light sleeper.
Find the best deal, compare prices, and read what other travelers have to say about the Inn Above Tide on TripAdvisor.
The Gables Inn Sausalito

Address: 62 Princess Street
Nightly Rates: From $203 - $439
Rating: 3 Stars
With only 15 rooms, the Gables Inn Sausalito is one of the smaller bed and breakfasts in town.
This small hotel feels secluded in a beautiful grove of buckeye trees but is only a short walk to the downtown area and the San Francisco ferries. Some of the amenities here include:
Free breakfast
Free high-speed internet
Evening wine and cheese reception
Oversized bathtub with spa jets in each room
The Gables Inn is the perfect retreat away from the chaos of the city. Read recent guest reviews and find the best deals on Booking.com.
Casa Madrona Hotel and Spa

Address: 801 Bridgeway
Nightly Rates: Start at around $273 - $538
Rating: 3.5 Stars
Just steps from downtown Sausalito, you will find Casa Madrona Hotel and Spa perched on a hill overlooking the bay.
This lovely, recently renovated hotel has 63 rooms and cottages with modern bathrooms. Other amenities here include:
Free high-speed internet
Fitness center and business center on site
Spa services
Restaurant and bar on site
Suites and rooms with kitchenettes
Room service
Pets allowed
You'll find many other restaurants, bars, and art galleries close to the hotel. Find the best deals and see other recent guest reviews for Casa Madrona on Booking.com.
Hotel Sausalito & Suites

Address: 16 El Portal
Nightly Rates: Start at around $185 - $325
Rating: 2.5 Stars
The least expensive of the options here is the Hotel Sausalito. This small, locally owned, family-run hotel has just 16 rooms and suites.
At this hotel, you will find special touches around every corner. All of the furniture was handcrafted by local artisans. You will also find stained glass windows and views of the park and harbor.
The hotel is luxurious, but not overly fussy. Other amenities you can expect include:
Free high-speed internet
Free breakfast
Premium bedding
Concierge service
Read more about this hotel, find recent reviews, and check for room availability during your stay on Booking.com.
Other Lodging Options

In addition to these hotels in Sausalito, CA, you can also rent your own apartment. This might seem a little risky, but it's one of my favorite lodging options when I travel.
By using TripAdvisor, you minimize your risk. Their listings include up-to-date reviews of dozens of apartments in the area. To quickly find the right option for you, narrow your search by selecting your price range, desired number of bedrooms and bathrooms, number of people you are traveling with, and the amenities that are most important to you.
If you do stay in Sausalito, make sure you find something close to downtown so you can get around easily. The heart of the action is on Bridgeway right along the San Francisco Bay.
If you plan on heading into and out of San Francisco frequently, you can either take the #10 Golden Gate bus or one of the San Francisco ferries.
Search for Sausalito hotels and vacation rentals on TripAdvisor.
More San Francisco Lodging Options