Mariposa Grove in Yosemite: Tips to Visit this Sequoia Grove

by Jill Loeffler  •

Published: April 12, 2023
The Mariposa Grove of Giant Sequoias is a must-see when visiting Yosemite National Park. It's one of three sequoia groves in the park and is by far the most popular.
You will find four well-maintained trails within the grove. The most popular and easiest is the Big Trees Loop Trail. Another popular trail is the Grizzly Giant Loop Trail.
You'll also want to spend a little time checking out the outdoor displays around the Mariposa Grove Welcome Plaza and check out its small gift shop.
The grove is open all year round. However, the shuttles that take you to all four trailheads only run seasonally, so it is important to plan ahead.
You will find the grove about five minutes from the south entrance of Yosemite National Park.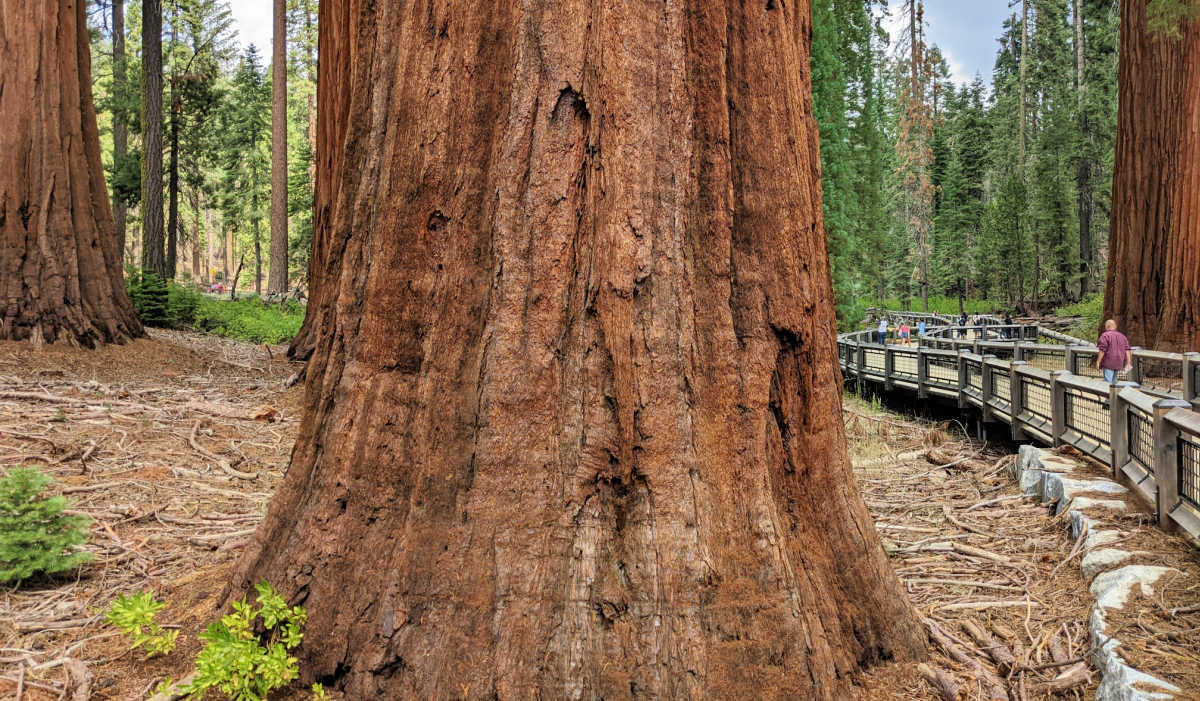 Disclaimer: I receive a small commission from some of the links on this page.

About Sequoia Trees
Before I tell you a little about this grove, I thought it would be fun to start with a few facts in general about sequoia trees and why they are so amazing.
I'll start with what I find to be the most impressive fact: these giant sequoias are both some of the oldest and largest trees in the world. Some of them are up to 3,000 years of age.
What do I mean by largest? They are not the tallest (this distinction goes to Coastal Redwoods near the coast in Northern California) but instead are the largest by volume.
They are incredibly wide at their base, which makes them look incredibly massive. They also grow to an amazing 300 or so feet tall.
You will only find these trees in a small area in California - on the western slope of the Sierra Nevadas, and only between 5,000 and 8,000 feet in elevation.
They love this environment as it offers mild winters and fires (yes, they love fires), which allow them to flourish.
>> Find out more about sequoia trees and other places to find them nearby
What to Expect When You Visit
When you arrive, you will park near the Mariposa Grove Welcome Plaza. This is where you will find restrooms, a few outdoor exhibits about these giant sequoias, a small gift shop (with rangers stationed there so you can ask questions), and the shuttle stop for the bus that takes you to the trailheads.
All four trailheads for this section of the park are two miles up Mariposa Grove Road from the Welcome Plaza. You can either get to them by shuttle bus or walk up the road.
The trailheads all start at the Mariposa Grove Arrival Area. It's where you will find the bus stop, portable toilets, no drinking water, and a map of the trails. You will also find a small parking lot for those with disabilities with special permission to park here.
All of the trails here are wide and well-maintained. You will find one easy trail, one moderate trail, and two strenuous trails that cover up to 7 miles.
All the trails are well-marked with distances to the next tree or trail so you won't get lost. It also allows you to determine how much further you want to hike.
Here's an example of one of the signs in the park.
Most people opt for one of the first two trails and spend anywhere from one to three hours hiking and exploring the forest.
All trails will loop you back to the entrance where you started. You can either wait for the bus or walk down Mariposa Grove Road to return to the Welcome Plaza.
The total visit here is usually two to four hours.
Four Main Trails in Mariposa Grove
Yosemite National Park has four distinct trails mapped out for Mariposa Grove. Below you will find details on each one.
In addition to these designated trails, you will also find a few others that link these trails together, allow you to take some shortcuts, etc.
I recommend checking out these trail descriptions but be flexible when you arrive. I would plan out the number of miles you want to cover or the amount of time you have and then use the maps throughout the park to wander through Mariposa Grove.
Due to trees falling, fires, and weather, you will sometimes find some trails closed off. However, you can still usually access parts of these trails using a different route to get there. It's another reason to stay flexible when hiking Mariposa Grove.
Big Trees Loop Trail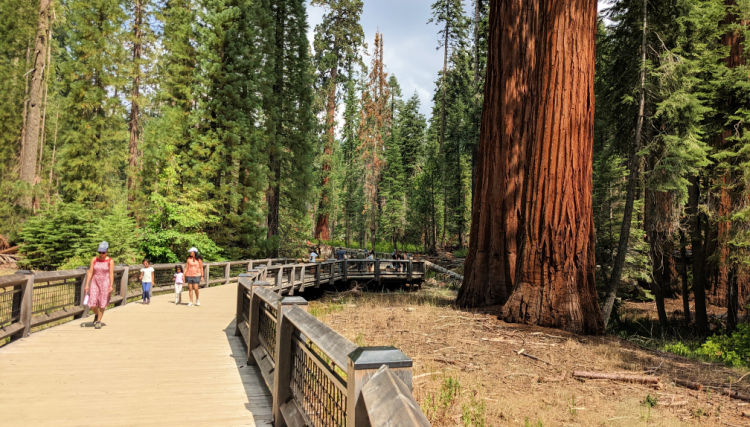 This is the easiest of the four trails. It's a loop that is 0.3 miles (0.5 km) and, at an average pace, takes about 30 to 40 minutes to complete.
It's wheelchair accessible, and the entire trail is mostly flat. There are also seating areas where you can stop, rest, and enjoy the beauty of the sequoia trees during your visit.
Grizzly Giant Loop Trail
The second most popular trail is the Grizzly Giant Loop Trail. This one is considered moderate as it covers about 2 miles (3.2 km).
Hiding this trail takes about an hour and a half to two hours.
This one features some notable trees, including the Bachelor and Three Graces, the Grizzly Giant, and the California Tunnel Tree.
Here are pictures of all three.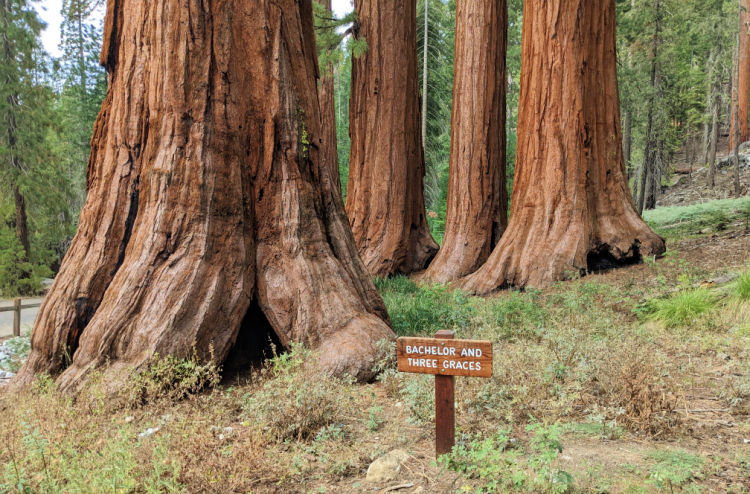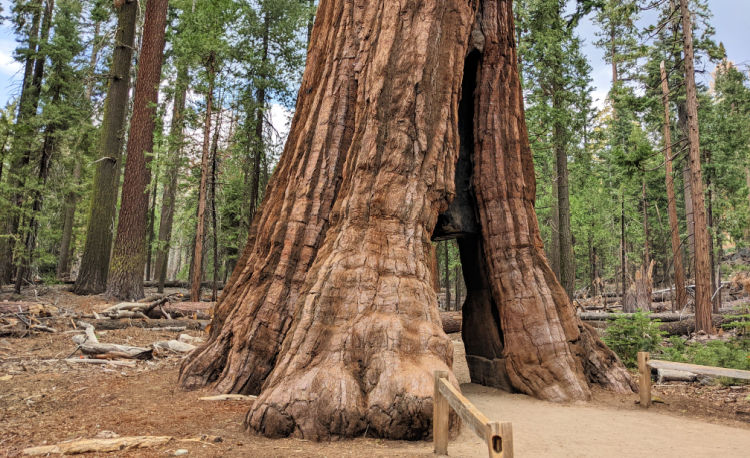 This one starts flat but does have some small hills as you get further into the park. The elevation gain is 300 feet (91 m).
You will also find a small parking area here (the Grizzly Giant parking area) that is open to those with a valid disability placard. It is wheelchair accessible, so those in a wheelchair can see the Grizzly Giant.
Guardians Loop Trail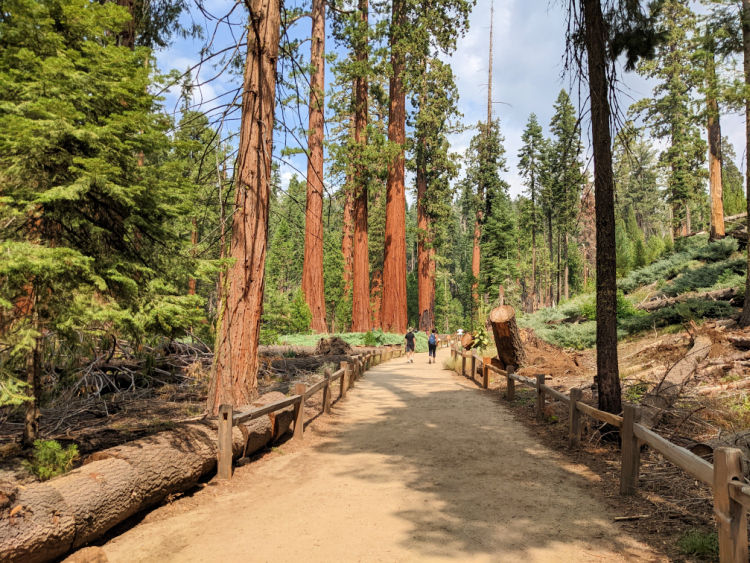 The third hike is the Guardians Loop Trial. This one takes you deeper into Mariposa Grove to see even more giant sequoias.
It also starts and ends at the Mariposa Grove Arrival Area.
This trail offers a strenuous hike. It's 6.5 miles (10.5 km) with an elevation gain of 1,000 feet (305 m).
The trail takes you to the upper grove, where you will also pass the fallen Wawona Tunnel Tree, the Telescope Tree, and the Mariposa Grove Cabin.
This hike starts by following the same path as the first two, so you will also see the Bachelor & Three Graces, the Grizzly Giant, and the California Tunnel Tree.
You can reach this loop from the Mariposa Grove Trail. You can access it in a couple of different ways. Check out the maps (including the hiking distances) to ensure you are headed in the right direction.
One shortcut is to walk through the California Tunnel Tree. It has a small connecting trail behind the tree leading to this trail.
Mariposa Grove Trail to Wawona Point
The final and most strenuous hike is the Mariposa Grove Trail to Wawona Point.
In addition to everything mentioned above, this trail will also take you past the Faithful Couple and the Clothespin Tree.
It's a steep climb to get to these two (this is as far as my husband and I made it), but it continues in elevation until you reach the upper grove and finally to Wawona Point.
The Mariposa Grove Trail to Wawona Point covers 7 miles (11.3 km) and has 1,200 feet (366 m) in elevation gain.
Ready to Plan Your Trip to Yosemite
Welcome Plaza
The Mariposa Grove Welcome Plaza is where you will find the parking area, The Depot gift shop, and the shuttles to the trails.
There are also bathrooms and a few outdoor exhibits.
If needed, I recommend you fill up on water here, as this is the last place in Mariposa Grove where you will find drinking water.
It's a great place to hang out for a few minutes as you wait for the shuttles or when you return from your hike.
Shuttle Buses to Mariposa Grove Trails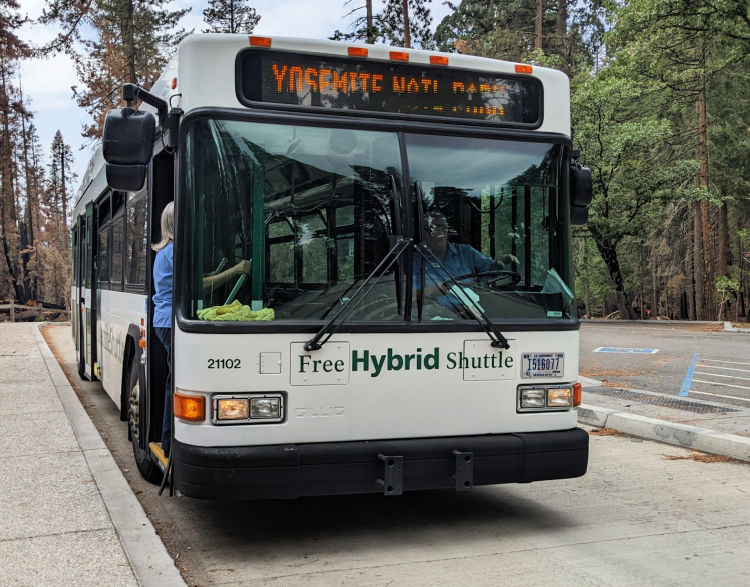 The shuttle buses at Mariposa Grove run from April 1 to November 30. There is no shuttle service from December 1 through March 30.
They typically start their shuttle service on April 1, but this is weather permitting. The same with when they close this service for the season. They try to run them through November 30, but at times the service will close earlier due to snow or other weather conditions.
Here is their typical schedule. The range for the time shows when the buses leave the Welcome Plaza. They typically have their final return shuttle bus about an hour after the last one leaves the Welcome Plaza.
4/1 - Mid-May: 8 am to 7 pm, last bus leaves Mariposa Grove at 8 pm, runs every 15 minutes
Mid-May through early September: 8 am to 7 pm last bus leaves Mariposa Grove at 8 pm, and shuttles run every 10 minutes
Early September through early November: 8 am to 5:30 pm, last bus leaves the Mariposa Grove at 6:30 pm, they pick up every 10 minutes
Early November through 11/30: 8 am to 3:30 pm, last bus leaves Mariposa Grove at 5 pm, buses leave every 15 minutes
Mariposa Grove and its trails are open 365 days a year. If you visit when the shuttle is not in service, you will need to walk the 2 miles from the parking area at the Welcome Plaza to the trailheads along Mariposa Grove Road.
More Tips to Plan Your Stay in Yosemite
Fun Facts About Mariposa Grove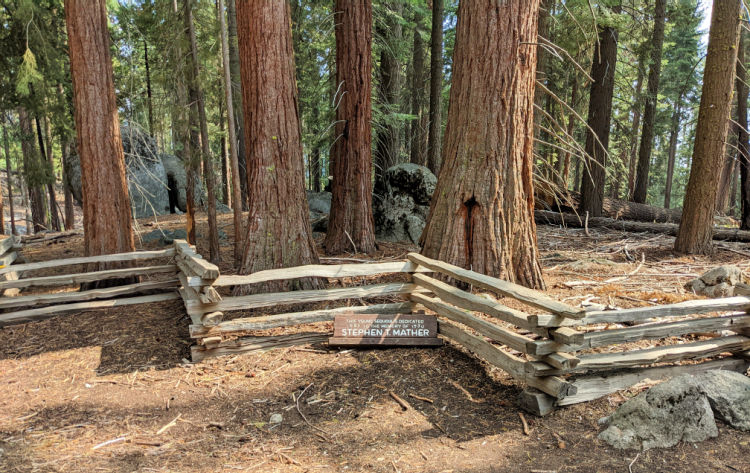 Here are a few more fun facts about Mariposa Grove:
There are around 500 mature sequoia trees in the grove.
The oldest tree in Mariposa Grove is the Grizzly Giant. It's estimated to be around 2,000 years old (give or take a few hundred years).
The Washington Tree is the largest (width-wise) of the giant sequoia trees in the Grove.
The Columbia Tree is the tallest at just less than 300 feet and growing!
The California Tunnel Tree is the last living sequoia with a tunnel through it.
How to Get Here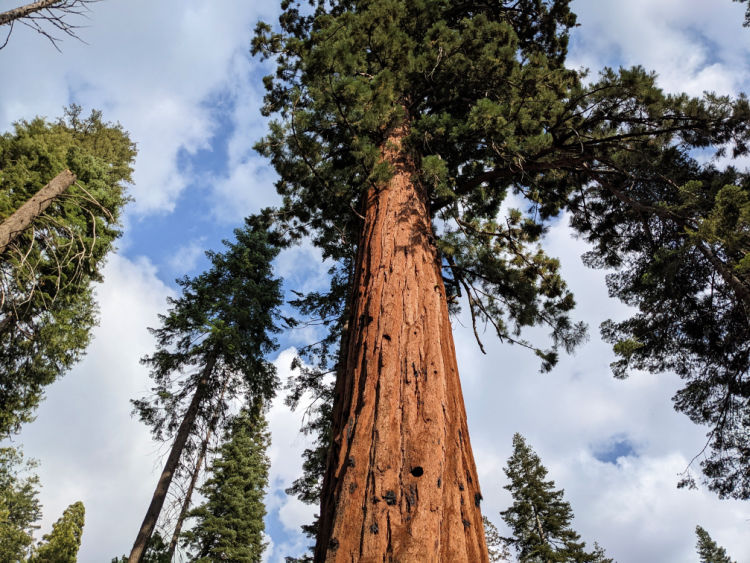 Mariposa Grove is on the far southern end of Yosemite National Park near the south entrance.
From Yosemite Valley
The drive from Yosemite Valley is about 32 miles, but it takes almost an hour. You will face beautiful, windy roads and Tunnel View on your way, so make sure you leave a little extra time for stops between these two locations.
From early May to early September, you can also take the Highway 41 YART bus from Yosemite Valley to Mariposa Grove. It runs just three times a day between these two locations.
It picks up in Yosemite Valley at around 11 am, 4 pm, and 7:35 pm.
It picks up at Mariposa Grove at around 8:30 am, 10:30 am, and 4:45 pm.
The bus ride between these two locations takes about an hour and a half.
From Oakhurst
It takes about 30 minutes to drive the 16 miles between these two locations.
You can also take the YART during the summer months. It runs three times a day.
From Mariposa
The small town of Mariposa is about an hour away from Mariposa Grove. You will leave Mariposa, heading southeast on highway 49 to Oakhurst. You will then turn north onto Highway 41 in Oakhurst to get to Yosemite National Park.
There is no bus service from Mariposa, CA to the park.
From the Big Oak Entrance
The drive from the Big Oak Flat Entrance is about an hour and 20 minutes. Make sure to leave a little extra time as you will pass by some amazing places to stop along the way.
More on My Experience at Mariposa Grove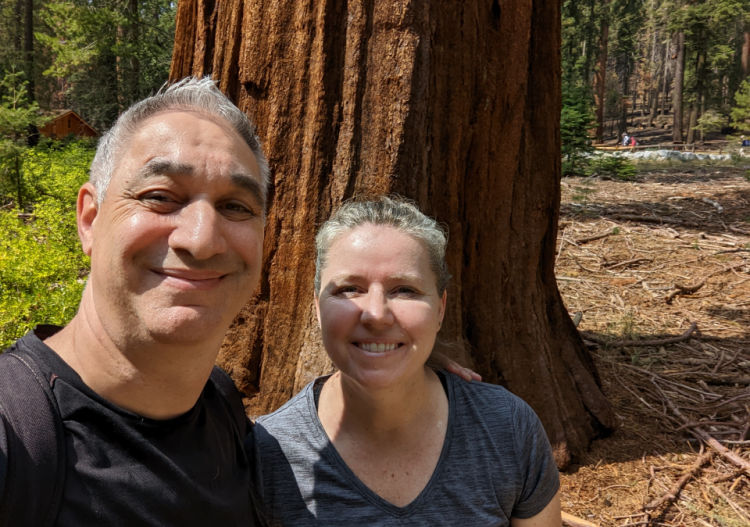 If you have the time, make sure to include a stop at Mariposa Grove when visiting Yosemite National Park. While I love so many hikes here, the trails through these giant sequoias are always one of my favorites.
I could spend all day here and not tire of checking out these giants.
I also recommend that you bring plenty of water. Even on a cool day, it does warm up nicely here, and you don't want to get too dehydrated.
Make sure to bring some snacks and a well-charged phone or camera.
Even though the trails are well maintained, you will also want to wear comfortable, flat shoes for your visit. No flip-flops or heels. Both of these options will make the journey less enjoyable.
When my husband and I visited, we didn't have a set plan but instead just decided to go a certain distance. However, the trees kept pulling us in, and we continued for an hour longer than planned.
It's another reason you want to come prepared. It's a unique opportunity to see these trees, and you will want to make the most of your visit.
More Ideas for Your Visit to Yosemite
Comments? Questions? Suggestions?
I would love for you to join me in my private Facebook group! 
It's a great place to interact with me and others who know the area well.
You can ask questions, get advice for your upcoming stay, and then share your photos and advice with others when you return home. It's a great community and the fastest way to get answers to those nagging questions about your visit!