Outdoor Activities in San Francisco: 30 Fun Things to Do All Year Long

by Jill Loeffler  •

Updated: May 10, 2022
Enjoy these outdoor activities in San Francisco all year long! With our mild climate, you will find that most days you can be outside exploring.

You can head out on a cruise, spend the day in one of our parks, or go to a baseball game. Some of my other top picks include spending time at the Golden Gate Bridge, admiring some of our amazing staircases, and soaking in the views at Twin Peaks.
Read on for more outdoor ideas for your San Francisco vacation.
Disclaimer: I receive a small commission from some of the links on this page.

1. SF Bay Cruises

One of the best outdoor activities in San Francisco is our bay cruises. You will find a variety of cruises that run all year long.

The most popular is the 60-minute bay cruise. It's the perfect "highlights" cruise that will take you past top waterfront attractions such as the Golden Gate Bridge, Alcatraz, Angel Island, and Sausalito.
Other top picks for outdoor activities in San Francisco on the water include the sunset cruises, the Escape from the Rock Cruise, and wine tasting on the bay.
All of the cruises leave from Fisherman's Wharf and many leave several times a day. Here are some of the most popular picks.
2. SF Giants Baseball

If you are a fan of big-league baseball, then you will want to visit the home of the San Francisco Giants at Oracle Park. The Giants moved from New York to San Francisco in 1958 and have been beloved by the city ever since the moment they landed here.
The team has won a number of World Series championships since moving to Oracle Park and always shows their fans a great time when they play here. Not only is the team fun to watch, but Oracle Park is also one of the most beautiful stadiums anywhere.
Not only can you get a view of the SF Bay from it, but you can even see home runs hit into "McCovey Cove!"
This is definitely one of my favorite outdoor activities in San Francisco as I get to sit in the sun and just enjoy myself during the game. All the seats give you a great view and there are loads of choices of beverages, food, and more.
The season runs from early April until the end of October.
You will find it in the South of Market District.
Here are some of their upcoming games.
3. Golden Gate Bridge

The Golden Gate Bridge is definitely one of the most famous of the outdoor activities in San Francisco. The incredible bridge is comprised of two massive towers, each over 700 feet tall. Another cool fact about this SF attraction is that there are over 80,000 miles of cable in total!
Most people know about driving across the Golden Gate Bridge, but there are numerous ways to visit the bridge that also include walking, cycling, or taking a tour. Some popular tours include the Hop On/Hop Off Bus Tour or the Fire Engine Tour.
You can also take a guided bike tour if you want to get some exercise while learning more about the city and this magnificent bridge. There are also bay cruises and, if you really want to have an experience you'll never forget, try out one of the helicopter tours!
4. Twin Peaks

For those that want some of the best views of San Francisco, the Golden Gate Bridge, the Bay Bridge, and the entire bay area, then you have to visit Twin Peaks.
Summiting at 922 feet tall, Twin Peaks is the 2nd tallest peak in San Francisco (Mount Davidson is the tallest at 928 feet high). However, Twin Peaks is the most popular since it is open 365 days a year and gives 360-degree views of the city and beyond.
It summits at over 900-feet tall, but you can still see 180-degree views from the parking lot which is a few feet below it. This view will include the Golden Gate Bridge, Downtown SF, Alcatraz, and more.
So, don't worry if you aren't in the mood for a hike, as you won't need to do one to see these beautiful sites.
Something that I love about Twin Peaks is that you can visit both during the day and at nighttime. This allows you to get a totally different perspective of the city and the surrounding areas depending on the time.
The park is open from 5 am to midnight every day. If you decide you want to learn more about it there is a 3-hour guided tour that will take you around Twin Peaks and other locations. 
5. Japanese Tea Garden

One of the most relaxing places to visit in San Francisco is the Japanese Tea Garden in Golden Gate Park. This garden is open 365 days a year and it is the oldest Japanese Tea Garden in the United States of America.

Some of the most famous highlights of this garden include the massive entrance gate, the utterly gorgeous High Arching Drum Bridge, the incredible 5-story Pagoda, and the cute Dwarf Tree collection.
If you are looking for a bit more contemplation, there is a very relaxing Zen garden where you can look at the rock and stone formations and just let your mind drift as you sit or walk by it.
As you would expect in a Japanese Tea Garden, there is the Jack Hirose Teahouse. They are famous for their incredible teas, including my favorite the Green Tea Latte, and you can also enjoy miso soup, tea sandwiches, edamame, and much more.
More fun things to do in Golden Gate Park.
6. Botanical Gardens

This 55-acre masterpiece is set right inside Golden Gate Park and one of the outdoor activities in San Francisco that is worth visiting any time of the year.
With over 50,000 different plants from all around the world, you will always see something new and in bloom. Some of my favorites include the South African and Rhododendron Gardens in the Winter. I love the California Poppies, Irises, and other wildflowers during the Spring.
During the Summer, you'll want to see check out the "Garden of Fragrance" which is full of color and wonderful smells of everything in bloom. If you come during the Fall months, you will want to check out the Ancient Plant Garden and the Tree Daisies at the Mesoamerican Cloud Forest.
No matter when you visit the Botanical Garden, you will want to stop by the Magnolia collection as it is the most well-known outside of China. There is also the amazing Redwood Grove, where you can see redwood trees that are centuries old.
It's always one of the more popular outdoor activities in San Francisco.
7. Whale Watching

I truly love whale watching on the San Francisco Bay. It's such a fun experience because not only will you see whales, but you'll also see all kinds of other sea life including dolphins, porpoises, sea otters, and so much more!
Each season, you will find a different species of whales migrating through the area. A good example of this is the Humpback Whale. These whales can be up to 50 feet long and weigh over 65,000 pounds! If you want to see them, you have to come during the months of May to November.
Meanwhile, if you want to see a more diverse group of whales, then a better time to come is during the months of December to May when there will be Gray, Sperm, and Killer Whales (also known as Orcas). If you end up visiting San Francisco from July to October, you'll see the massive Blue Whales.
There are tours that start at Pier 39 and they will take you under the Golden Gate Bridge, out to the Pacific Ocean, and then to a location where you'll see seals, sea lions, dolphins, and, of course, whales! Each tour has a professional guide and live commentary so you can learn more about the area and these animals.
8. Lombard Street

Ready to get crazy on one of the most crookedest streets in San Francisco? If so, then this is one of the outdoor activities in San Francisco that you will want to check out!
Although Lombard Street is only one block long, it has become famous throughout the world because of the eight super tight turns that you have to make as you drive down the hill at a 27% grade!
There are two choices for you to experience Lombard Street and these are either walking down it or driving down it. Walking down it is great because you'll still get a great feeling for how steep this street is during it.
If you decide to drive, it will definitely be a little scarier but totally worth it. The only thing I suggest if you drive it is to plan to take your time and wait in line as there are loads of tourists doing the same as you. If you can believe it, this little one-block section of San Francisco often gets over 20,000 visitors a day during the busy season!
You will find it in the Russian Hill District.
9. Palace of Fine Arts

The Palace of Fine Arts is one of the few remaining structures from the 1915 Panama Pacific Exposition. It was originally going to be a temporary structure for the Expo, but people loved it so much that they decided to make it permanent.
The Palace of Fine Arts is located in a 20-acre park right near the Marina and is beautiful both during the day and at night. I would suggest visiting at both times, as it looks entirely different when it is lit by the sun compared to by lights.
You will often see lots of tourists, and locals alike, sitting out and having a picnic or just relaxing during the day. You might even see wedding parties taking their photos here as the dome and columns holding it up are so beautiful and picturesque.
There is also a nice indoor theater that offers a variety of shows all year long.
10. Crissy Field

A trip to Crissy Field is a great way to relax on the beach, go for a bike ride, do a bit of walking, and more all at one location since it is located along San Francisco's northern waterfront.

One of the main reasons that Crissy Field is so popular is the Crissy Field Trail. This trail is about 1.5 miles long and will take you from the Marina all the way down to the Golden Gate Bridge. Most of the path is dirt, with some gravel, so it is an easy walk or ride. You'll see people of all ages cruising along it and doing all kinds of outdoor activities in San Francisco when you visit it.
Since this path runs by the water, you'll get great views of the bay, over towards Marin, the Golden Gate Bridge, and more.
>> More fun things to do around the Golden Gate National Recreation Area
11. Walking Tours

Since San Francisco is a city that is 7 miles by 7 miles, taking a walking tour is one of the great outdoor activities in San Francisco if you love a little exercise, enjoy fresh air, and want to really get a personal connection to the city during your visit.
Most of the tours that I recommend last somewhere between 1 hour all the way up to 3 hours. Usually, you will have some time to rest since the tour guide will be giving you lots of information and pointing out important places and locations during the tour.
Some of these tours are free while others are paid, and you'll want to check ahead of time and plan accordingly.
Some of my favorite tours include ones of the Golden Gate Bridge. If you are a bit of a foodie, you'll want to take one where you taste the best of Little Italy and North Beach. For those that want to learn more about when San Francisco was home to the social movements, you will want to check out the Radical SF tour in the Castro and The Mission Districts.
Others include Chinatown, the Haunted SF tour all about ghosts, murders, and mystery. Some of the others include the Wild Parrots of Telegraph Hill, tours of the different murals in the city, and others that will entice you to spend a few hours cruising around our amazing city.
Here are just some of my favorites.

12. Street Art & Murals

You probably didn't know this, but there are more than 1,000 murals spread throughout the city of San Francisco! They are usually located in very hip and cool districts and they are almost all free to visit and open 24 hours a day any day of the week.
The most famous district to see murals at is the Mission District. You can find murals pretty much anywhere in this area but the ones that I want to point out are the ones in Balmy Street and Clarion Alley. They are two alleys that are entirely painted with amazing murals and a can't miss. The experience of seeing these two areas are definitely one of the great outdoor activities in San Francisco.
Coit Tower is a masterpiece of architecture from the outside and inside. Many people don't realize its first floor is covered by murals pained in the 1920s and 1930s.
Some of the great places to find murals around town include the Rincon Center with 27 different murals, the North Beach District, and the incredible murals between the Vesuvio Cafe and City Lights Bookstore.
13. Hop On Hop Off Bus

Traffic and parking in San Francisco can be a difficult proposition. So, when people ask me the best way to get around, I always suggest checking out the Hop On Hop Off Bus. The reason I suggest this one is because you get to see so many sites in San Francisco, with unlimited stops, from a double-decker bus that has an open-air top level!
Some of the stops include favorites such as the Golden Gate Park, the Haight District where the "Summer of Love" happened back in the 60s, and one of the most photographed views in San Francisco, the Painted Ladies of Alamo Square (also called "Postcard Row.")
Some of the other places you will visit include the City Hall, Fisherman's Wharf, and Pier 39 where you can enjoy loads of dining, shopping, and other attractions. There are so many other places to visit that you will want to check the list and see what interests you.
The tours run from 9 am to 5 pm each day. You can hop off at any point and there is usually a new bus coming by each stop about every 15 to 30 minutes.
Here are a few combo ticket packages that allow you to save money when you buy both the Hop On Hop Off tour as well as an additional tour.
14. Bike Rentals and Tours

For those that want to cruise around our city by the bay, taking a bike tour is a great way to enjoy and experience some of the best outdoor activities in San Francisco.
There are a number of different bike tours available and some are led by a tour guide, while some are self-guided. Most of the guided ones last about 3 - 4 hours.
The most popular of all the bike tours is the San Francisco Golden Gate Bike Cruise. This tour starts in Fisherman's Wharf and then you will ride along the waterfront. You'll go up a hill and then cross over the 1.7 mile Golden Gate as you cruise down to the cute town of Sausalito.
After this, you can check out the sites, shopping, and everything else Sausalito has to offer.
Other fun tours include the Urban E-Bike Tour, Bikes & Craft Brews Tour, and a night tour across the Golden Gate Bridge.
Some tours are done on e-bikes, so you can let the bike do most of the work for you.
If you want to tour at your own pace, then self-guided tours might be your best bet. You can rent a bike, helmet, and bike lock for 24 hours and see all the biggest attractions in SF as you want to see them. You will also be given a map so you can plan your trip before setting out on the road.
15. Stairways of San Francisco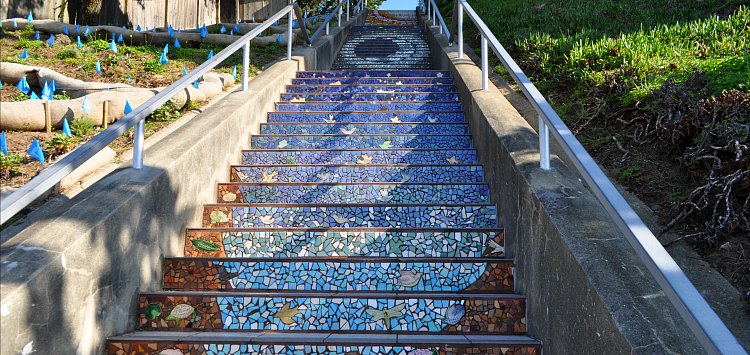 Another one of my favorite outdoor activities in San Francisco is checking out our interesting and colorful stairways. You will find some that take you through interesting neighborhoods and others with bright decorations on them.

One of the most popular is the 16th Avenue Tiled Staircase. This one is full of lovely decorations with blue, green, yellow, and other bright colors. As you climb up the stairs, you get a new perspective of these gems at each stop.
Other top picks include the Hidden Garden Stairs (not far from the 16th Avenue Tiled Staircase), the Filbert Street Stairs that take you up to Coit Tower, and the Lyon Street Stairs near Billionaire's Row.
All of these staircases are free to visit and offer a unique experience as you explore the best of San Francisco.
16. Muir Woods
One of the most popular outdoor day trips from San Francisco lies about 12 miles north of the city in Marin County. The old-growth redwood forest, named after the environmentalist John Muir, offers beautiful walks through towering trees, most of which date back more than 500 years.
These ancient trees are relatives of the giant sequoia and only grow in this region of the world. The oldest one you'll find here is more than 1,200 years old! They are such a natural treasure that Teddy Roosevelt declared the forest a national monument in 1908 to preserve the awe-inspiring landscape.
Because of the park's location, the cool, moist air not only provides the perfect climate for the impressive flora and fauna that thrive here but also allows visitors to take in the wonder of the marine layer fog that is so characteristic of this area's beauty.
If you're going to drive, note that parking reservations are required ahead of time and fill up during the summer months. Alternatively, you may join one of the many tours that leave from San Francisco to just sit back and enjoy the scenic ride.
>> Find guided tours to Muir Woods
>> Find out more about visiting Muir Woods
17. Cable Cars
There are few sights or sounds as iconic as the "ding-ding" of the bell when one of San Francisco's red and gold cable cars climbs a hill, pulled by the impressive cables running underneath the street. The passengers enjoy a cool breeze as they hold onto the poles on the sides, taking in the sweeping views of the city.
The conductor and the grip-man (or woman) serve the public with a smile, showing off their signature bell-ringing, for which there is an annual contest. You would never guess that their job requires herculean strength and coordination to work the various levers that stop and start the 15,500-pound vehicles!
A century and a half ago, SF became the first city to launch this technology for transport, making riding the cable cars one of the most historic outdoor things to do in San Francisco. There are three lines that currently operate from downtown to the Fisherman's Wharf or the Golden Gate Park area.

The cable cars run every day of the week from 7 am to 10:30 pm. You can pay through the MuniMobile app, a Clipper card, or in cash (but only with exact change).
>> Cable car maps and tips to ride
18. Festivals and Street Fairs
If you're looking for outdoor events in San Francisco, you will not be disappointed with the plethora of festivals and street fairs hosted year-round. Thanks to the city's mild climate, you'll find several options each month—many of them free—that offer a little something for everyone.
Lots of SF's festivals and street fairs are kid and family-friendly. Many of them feature arts and crafts, music, food and drink, or a combination of the above. There is nothing like strolling through the city to the sounds of salsa, hip hop, folk, jazz, or bluegrass as you sample some of the local delights. 
San Francisco's festivals and streets fairs can be a great way to get to know different cultures: the Chinese New Year customs in Chinatown, the Cherry Blossom Festival in Japantown, Italian traditions in North Beach, celebrations of Juneteenth, Gay Pride, and more!
Check out which events will be held during your visit, as there is always something fun going on in one of SF's many diverse neighborhoods. It's a great reason to check out corners of town that you might not have ventured to otherwise.
>> A calendar of upcoming festivals and street fairs
19. Alcatraz Island
For many tourists, Alcatraz is a must-see on their list of San Francisco attractions, as this captivating place has appeared in numerous films and TV series over the years. 
The world's fascination with "The Rock" is not because it's home to the oldest operating lighthouse on the west coast, but because of this former federal prison's unique setting on an island in the middle of the San Francisco Bay.
To get there, you'll take a short ferry ride from Pier 33 at Fisherman's Wharf. While there, you'll learn about the prison's history from 1934 to 1963, when it housed some of the country's most notorious criminals, including Al Capone. You'll hear about the various escape attempts and you'll tour different parts of the prison grounds, from the cells and the dining hall to the warden's house and the officers' club. 
In addition to touring the abandoned facilities on the island, you'll have the opportunity to enjoy the outdoors, admiring the bird sanctuary and variety of plants, including the restored gardens of families who once lived there. While you're out exploring, take in the views of the Golden Gate Bridge, San Francisco, Sausalito, and the bay itself.
>> More tips to visit Alcatraz
>> More National Parks and Monuments in and near SF
20. San Francisco Beaches
Here in northern California, you won't find the warm sandy beaches that people often see in Hollywood movies, but you will find plenty of beautiful beaches surrounding the city, both on the Pacific coast and in the bay. 
There are many reasons to visit San Francisco's beaches, including taking in the spectacular views, admiring the wildlife of the cliffs and rocky shores, strolling in the cool moist air, and watching the surfers and kiteboarders tackle the waves. 
You can easily extend a visit to Golden Gate Park by walking over to Ocean Beach just west of it. You can visit Baker Beach while stopping in the Presidio for close-up views of the Golden Gate Bridge. Or, you can walk across the street to Aquatic Park after enjoying the chocolates at Ghirardelli Square. 
San Francisco's beaches are a great way to spend time outdoors while exploring the city. Just remember to bring a jacket or windbreaker with you and be aware of the cold water and large waves if you dare to take a dip! 
>> Details about all of SF's top beaches
21. Segway Tours
For a fun way to see the city that's neither on foot nor in a vehicle, check out the various Segway tours that get you cruising around San Francisco's most famous neighborhoods, including Golden Gate Park, North Beach, Chinatown, and the Embarcadero. 
These tours are some of the most popular outdoor activities in San Francisco because you get the chance to traverse the city, covering more ground than you would on a walking tour, but still getting to see sites up close and in a small group setting. You'll even discover cool hidden gems on pedestrian-only paths.
Plus, the experience of riding a Segway is in itself an adventure! If you're new, you'll be given all the safety equipment and instructions you need to have a secure outing, and if you're experienced, you can opt for more exhilarating rides up and down the city's steep hills. 
>> Find out more about taking a Segway Tour in SF
22. Lands End Trail
You don't have to go far to enjoy a coastal nature hike (or bike ride) with rugged landscape and stunning views. Just head to the trails at Lands End, which occupies the northwest corner of San Francisco. 
As you wind the trail around rocky cliffs above the Pacific Ocean, you'll soak in the incredible photo opportunities at every turn. It's like discovering a little piece of the city that's still wild. 
Enjoy walking through the cypress and eucalyptus trees as you look out at the Golden Gate. You might also catch a glimpse of the ancient shipwrecks and the sea lions in the water down below. The park includes fun manmade elements including the stone labyrinth, Sutro Baths, the old Cliff House, and Fort Miley. You can also head down to Mile Rock Beach.
Some of the trails lead to sandy steps or steep drop-offs, so just be cautious as you enjoy the scenery. It's a great spot with plenty of space for couples, families, dog-owners, and bikers. 
>> More about hiking Lands End
23. Glen Canyon Park
For a quick escape from the hustle and bustle of the city, head south a little and check out one of the natural hidden gems in the middle of San Francisco: Glen Canyon Park. 
This urban park has done a great job of preserving the local habitat for the variety of owls, hawks, and native plants that populate this 77-acre canyon with its green hills, rocks, and nearly four miles of trails that wind up and down the canyon. 
Have a picnic while taking in the views of the city, or walk downhill after your hike to enjoy one of the many local joints in this less-touristy area. 
If you're traveling with children, they'll enjoy the Walter Haas Playground. The park also offers basketball, baseball, and tennis courts. It's the perfect place to get away from the downtown buildings while getting to admire unobstructed views of the city and the surrounding area. 
>> More about visiting the Glen Canyon District and checking out this amazing park
24. Seward Slides
Whether you're traveling with kids or you've simply got a big kid inside that loves a thrill, one of the lesser-known outdoor activities in San Francisco awaits in a quiet neighborhood tucked away just beyond the Castro District. 
The Seward Slides are twin parallel cement slides that allow two riders to zoom down next to each other. They are quite steep and contour the hillside perfectly, offering a fun curve and a bump to keep things exciting!
To use the slides, you'll want to bring cardboard with you to sit and slide down on, though you can usually find some cardboard at the park. Pick your side, yellow or red, keep your elbows tucked in, and enjoy a moment of pure joy!
The slides are open Tuesday to Sunday, 10 am to 5 pm, and they actually do get blocked with metal barriers when they're closed. The park is a fun little place to romp around, hidden behind trees in a residential area with a community garden up above.
25. Wave Organ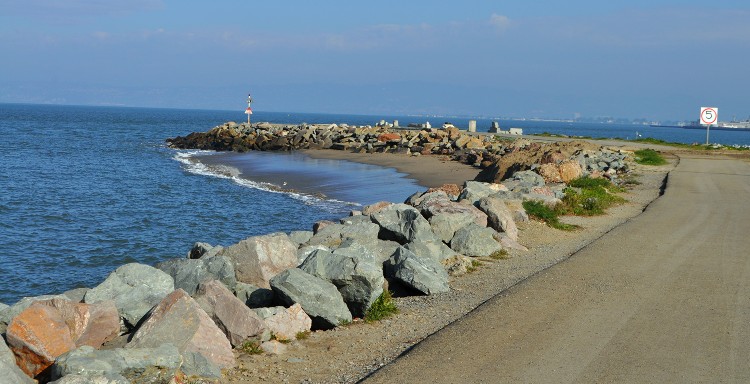 We are all familiar with the sound of the waves hitting the shore, but can you imagine nature actually playing music through a huge organ consisting of 25 tubes artistically arranged for outdoor audiences? 
It might not be "music" as we traditionally think of it, but as you walk around or sit down at the impressive sculpture, the majestic sounds of the waves get amplified and wash over audiences in a surprisingly fun outdoor concert.
Built in 1986 by Peter Richards and George Gonzalez as a project sponsored by the Exploratorium, the Wave Organ is located at the end of a jetty that extends from the Golden Gate Yacht Club in the Marina District into the San Francisco Bay. 
This attraction is not well known, so you'll probably get to enjoy a peaceful moment in the bay at this strange find. Adding to its other-worldly atmosphere, the builders used granite and marble pieces that had been salvaged from a demolished local cemetery to create the organ's structure. 
26. Stow Lake
Right in the heart of Golden Gate Park, just to the west of some of the city's best museums and Botanical Garden, sits the serene Stow Lake, which offers lots of outdoor things to do in San Francisco. 
This is a relaxing place to have a picnic or just sit back and enjoy the sights and sounds of nature. Admire the variety of birds and turtles that call this place home. Take a stroll on the flat trail that makes its way around the entire lake.
If you'd like to visit the island in the middle of the lake known as Strawberry Hill, simply walk over one of the two bridges. There, you'll find the Chinese Pavilion and Huntington Falls. 
You can go out on the water by renting a pedal boat or rowboat by the hour. The boathouse offers a snack bar during high season, but there's also Stow Lake Café—famous for its pink popcorn—open every day of the week. 
>> More tips to visit Stow Lake
27. Napa Valley
If you're looking for a nice day trip out of the city, an hour and a half drive northeast of San Francisco will take you to beautiful Napa Valley, world famous for its wines.
This is a great option for outdoor activities because it's usually quite a bit warmer in wine country than in San Francisco, especially when the fog rolls in during the summer.
Napa Valley is home to hundreds of wineries that offer tastings and tours of the vineyards. You can easily spend a full afternoon sipping on delicious local varietals and taking in the sweeping views of the picturesque rolling hills.
Napa also has a cute downtown area to walk around that boasts local shops and award-winning restaurants. 
You can either drive here yourself or join a tour that leaves from San Francisco, some of which include stops at the Golden Gate Bridge or Muir Woods on the way. There are half-day and full-day tours.
>> More about visiting Napa Valley
28. Sausalito
Visiting Sausalito, a quaint waterside village just north of San Francisco is a fun way to spend time outdoors. They offer kayak rentals, historic walking tours, art and music events, and even houseboat tours.
Whether you rent a bike to ride across the 2.1-mile Golden Gate Bridge (usually a two-hour endeavor when you factor in photo stops and rests) or hop on the 30-minute ferry ride, you'll enjoy the views of the bay just getting there!
Once you land in Sausalito, browse the array of local shops, restaurants, and wine tasting rooms. Options for eats range from casual to high-end, with excellent offerings of fresh seafood, outdoor dining, and stunning views of San Francisco.
>> More things to see and do in Sausalito
29. Mount Tamalpais
If you're in San Francisco gazing northward across the Golden Gate Bridge, your eye can't help but settle on the rising green peak that lies just across the water. Why not strap on your walking shoes and check out the view of the city from up there?
At about 2,500 feet above sea level, Tamalpais, affectionately known as "Mt. Tam," is the highest peak in Marin County and offers incredible panoramic views of the entire Bay Area. On a foggy day, it'll put you above the clouds.
Because of its dramatic climb in elevation, Mt. Tam hosts many microclimates, from the foggy redwood forests at its ocean-side base, to the warmer and drier manzanita slopes, to the cool and windswept summit. You'll enjoy a wide range of flora and fauna as you explore.
You can drive to the top, or hike up. If you're visiting during the summer months, a popular second-Sunday pancake breakfast up at West Point Inn might motivate you to get your feet moving! Alternatively, the famous Dipsea Trail will take you up and back down across the park, starting in Mill Valley on the east and ending at Stinson Beach on the west.
30. Point Reyes
For a taste of Northern California's almost untouched wilderness, venture north a little over an hour from San Francisco along the Pacific Ocean and find yourself immersed in the beautiful expanse of Point Reyes National Seashore. 
Depending on how long you want to spend here, there are tons of options for outdoor activities. On a one-hour visit, you can walk the flat Woodpecker Trail through local forests and meadows, learn about the geology of the area on the Earthquake Trail, or visit the Morgan Horse Ranch.
If you'll be at Point Reyes for at least a few hours, enjoy its many beaches including Tomales Bay, explore the park's 150 miles of hiking trails, and spot some tule elk roaming free in the expansive reserve.
You might even want to make a mini trip by camping at Point Reyes, giving you more time to bike, kayak, enjoy the tide pools, observe the elephant seals, go whale watching, and more. 
Comments? Questions? Suggestions?
I would love for you join me in my private Facebook group! 
It's a great place to interact with me and others that know the area well.
You can ask questions, get advice for your upcoming stay, and then share your photos and advice with others when you return home. It's a great community and the fastest way to get answers to those nagging questions about your visit!