Outdoor Activities in San Francisco: 15 Fun Things to Do All Year Long
Enjoy these outdoor activities in San Francisco all year long! With our mild climate, you will find that most days you can be outside exploring.

You can head out on a cruise, spend the day in one of our parks, or go to a baseball game. Some of my other top picks including spending time at the Golden Gate Bridge, admiring some of our amazing staircases, and soaking in the views at Twin Peaks.
Read on for more outdoor ideas for your San Francisco vacation.
Disclaimer: I receive a small commission from some of the links on this page.

1. SF Bay Cruises

One of the best outdoor activities in San Francisco is our bay cruises. You will find a variety of cruises that run all year long.

The most popular is the 60-minute bay cruise. It's the perfect "highlights" cruise that will take you past top waterfront attractions such as the Golden Gate Bridge, Alcatraz, Angel Island, and Sausalito.
Other top picks for outdoor activities in San Francisco on the water include the sunset cruises, the Escape from the Rock Cruise, and the Rocketboat high speed adventure.
All of the cruises leave from Fisherman's Wharf and many leave several times a day. Here are some of the most popular picks.
2. SF Giants Baseball

If you are a fan of big-league baseball, then you will want to visit the home of the San Francisco Giants at Oracle Park. The Giants moved from New York to San Francisco in 1958 and have been beloved by the city ever since the moment they landed her.
The team has won a number of World Series championships since moving to Oracle Park and always shows their fans a great time when they want them play here. Not only is the team fun to watch, but Oracle Park is also one of the most beautiful stadiums anywhere. Not only can you get a view of the SF Bay from it, but you can even see home runs hit into "McCovey Cove!"
This is definitely one of my favorite outdoor activities in San Francisco as I get to sit in the sun and just enjoy myself during the game. All the seats give you a great view and there are loads of choices of beverages, food, and more. The season runs from early April until the end of October.
You will find it in the South of Market District.
Here are some of their upcoming games.
3. Golden Gate Bridge

The Golden Gate Bridge is definitely one of the most famous of the outdoor activities in San Francisco. The incredible bridge is comprised of two massive towers, each over 700 feet tall. Another cool fact about this SF attraction is that there are over 80,000 miles of cable in total!
Most people know about driving across the Golden Gate Bridge, but there are numerous ways to visit the bridge that also include walking, cycling, or taking a tour. Some popular tours include the Hop On/Hop Off Bus Tour or the Fire Engine Tour.
You can also take a guided bike tour if you want to get some exercise while learning more about the city and this magnificent bridge. There are also bay cruises and, if you really want to have an experience you'll never forget, try out one of the helicopter tours!
4. Twin Peaks

For those that want some of the best views of San Francisco, the Golden Gate Bridge, the Bay Bridge and the entire bay area, then you have to visit Twin Peaks.
Summiting at 922 feet tall, Twin Peaks is the 2nd tallest peak in San Francisco (Mount Davidson is the tallest at 928 feet high). However, Twin Peaks is the most popular since it is open 365 days a year and gives 360-degree views of the city and beyond.
It summits at over 900-feet tall, but you can still see 180-degree views from the parking lot which is a few feet below it. This view will include the Golden Gate Bridge, Downtown SF, Alcatraz, and more. So, don't worry if you aren't in the mood for a hike, as you won't need to do one to see these beautiful sites.
Something that I love about Twin Peaks is that you can visit both during the day and at nighttime. This allows you to get a totally different perspective of the city and the surrounding areas depending on the time.
The park is open from 5 am to midnight every day. If you decide you want to learn more about it there is a 3-hour guided tour that will take you around Twin Peaks and other locations.
5. Japanese Tea Garden

One of the most relaxing places to visit in San Francisco is the Japanese Tea Garden in Golden Gate Park. This garden is open 365 days a year and it is oldest Japanese Tea Garden in the United States of America.

Some of the most famous highlights of this garden include the massive entrance gate, the utterly gorgeous High Arching Drum Bridge, the incredible 5-story Pagoda, and the cute Dwarf Tree collection.
If you are looking for a bit more contemplation, there is a very relaxing Zen garden where you can look at the rock and stone formations and just let your mind drift as you sit or walk by it.
As you would expect in a Japanese Tea Garden, there is the Jack Hirose Teahouse. They are famous for their incredible teas, including my favorite the Green Tea Latte, and you can also enjoy miso soup, tea sandwiches, edamame, and much more.
More fun things to do in Golden Gate Park.
6. Botanical Gardens

This 55-acre masterpiece is set right inside Golden Gate Park and one of the outdoor activities in San Francisco that is worth visiting any time of the year.
With over 50,000 different plants from all around the world, you will always see something new and in bloom. Some of my favorites include the South African and Rhododendron Gardens in the Winter. I love the California Poppies, Irises and other wildflowers during the Spring.
During the Summer, you'll want to see check out the "Garden of Fragrance" which is full of color and wonderful smells of everything in bloom. If you come during the Fall months, you will want to check out the Ancient Plant Garden and the Tree Daisies at the Mesoamerican Cloud Forest.
No matter when you visit the Botanical Garden, you will want to stop by the Magnolia collection as it is the most well-known outside of China. There is also the amazing Redwood Grove, where you can see redwood trees that are centuries old.
It's always one of the more popular outdoor activities in San Francisco.
7. Whale Watching

I truly love whale watching on the San Francisco Bay. It's such a fun experience because not only will you see whale, but you'll also see all kinds of other sea life including dolphins, porpoises, sea otters, and so much more!
Each season, you will find a different species of whales migrating through the area. A good example of this is the Humpback Whale. These whales can be up to 50 feet long and weight over 65,000 pounds! If you want to see them, you have to come during the months of May to November.
Meanwhile, if you want to see a more diverse group of whales, then a better time to come is during the months of December to May when there will be Gray, Sperm and Killer Whales (also known as Orcas). If you end up visiting San Francisco during July to October, you'll see the massive Blue Whales.
There are tours that start at Pier 39 and they will take you under the Golden Gate Bridge, out to the Pacific Ocean, and then to a location where you'll see seals, sea lions, dolphins and, of course, whales! Each tour has a professional guide and live commentary so you can learn more about the area and these animals.
8. Lombard Street

Ready to get crazy on one of the most crookedest streets in San Francisco? If so, then this is one of the outdoor activities in San Francisco that you will want to check out!
Although Lombard Street is only one block long, it has become famous throughout the world because of the eight super tight turns that you have to make as you drive down the hill at a 27% grade!
There are two choices for you to experience Lombard Street and these are either walking down it or driving down it. Walking down it is great because you'll still get a great feeling for how steep this street is during it.
If you decide to drive, it will definitely be a little scarier but totally worth it. The only thing I suggest if you drive it is plan to take your time and wait in line as there are loads of tourists doing the same as you. If you can believe it, this little one block section of San Francisco often gets over 20,000 visitors a day during the busy season!
You will find it in the Russian Hill District.
9. Palace of Fine Arts

The Palace of Fine Arts is one of the few remaining structures from the 1915 Panama Pacific Exposition. It was originally going to be a temporary structure for the Expo, but people loved it so much that they decided to make it permanent.
The Palace of Fine Arts is located in a 20-acre park right near the Marina and is beautiful both during the day and at night. I would suggest visiting at both times, as it looks entirely different when it is lit by the sun compared to by lights.
You will often see lots of tourists, and locals alike, sitting out and having a picnic or just relaxing during the day. You might even see wedding parties taking their photos here as the dome and columns holding it up are so beautiful and picturesque.
There is also a nice indoor theater that offers a variety of shows all year long.
10. Crissy Field

A trip to Crissy Field is a great way to relax on the beach, go for a bike ride, do a bit of walking, and more all at one location since it is located along San Francisco's northern waterfront.

One of the main reasons that Crissy Field is so popular is the Crissy Field Trail. This trail is about 1.5 miles long and will take you from the Marina all the way down to the Golden Gate Bridge. Most of the path is dirt, with some gravel, so it is an easy walk or ride. You'll see people of all ages cruising along it and doing all kinds of outdoor activities in San Francisco when you visit it.
Since this path runs by the water, you'll get great views of the bay, over towards Marin, the Golden Gate Bridge, and more.
11. Walking Tours

Since San Francisco is a city that is 7 miles by 7 miles, talking a walking tour is one of the great outdoor activities in San Francisco if you love a little exercise, enjoy fresh air, and want to really get personal connection to the city during your visit.
Most of the tours that I recommend last somewhere between 1 hour all the way up to 3 hours. Usually you will have some time to rest since the tour guide will be giving you lots of information and pointing out important places and locations during the tour. Some of these tours are free while others are paid, and you'll want to check ahead of time and plan accordingly.
Some of my favorite tours include ones of the Golden Gate Bridge. If you are a bit of a foodie, you'll want to take one where you taste the best of Little Italy and North Beach. For those that want to learn more about when San Francisco was home to the social movements, you will want to check out the Radical SF tour in the Castro and The Mission Districts.
Others include Chinatown, the Haunted SF tour all about ghosts, murders and mystery. Some of the others include the Wild Parrots of Telegraph Hill, tours of the different murals in the city, and others that will entice you to spend a few hours cruising around our amazing city.
Here are just some of my favorites.

12. Street Art & Murals

You probably didn't know this, but there are more than 1,000 murals spread throughout the city of San Francisco! They are usually located in very hip and cool districts and they are almost all free to visit and open 24 hours a day any day of the week.
The most famous district to see murals at is the Mission District. You can find murals pretty much anywhere in this area but the ones that I want to point out are the ones in Balmy Street and Clarion Alley. They are two alleys that are entirely painted with amazing murals and a can't miss. The experience of seeing these two areas are definitely some of the great outdoor activities in San Francisco.
Coit Tower is a masterpiece of architecture from the outside and inside. Many people don't realize its first floor is covered by murals pained in the 1920s and 1930s.
Some of the great places to find murals around town include the Rincon Center with 27 different murals, the North Beach District and the incredible murals between the Vesuvio Cafe and City Lights Bookstore.
13. Hop On Hop Off Bus

Traffic and parking in San Francisco can be a difficult proposition. So, when people ask me the best way to get around, I always suggest checking out the Hop On Hop Off Bus. The reason I suggest this one is because you get to see so many sites in San Francisco, with unlimited stops, from a double decker bus that has an open-air top level!
Some of the stops include favorites such as the Golden Gate Park, the Haight District where the "Summer of Love" happened back in the 60s, and one of the most photographed views in San Francisco, the Painted Ladies of Alamo Square (also called "Postcard Row.")
Some of the other places you will visit include the City Hall, Fisherman's Wharf and Pier 39 where you can enjoy loads of dining, shopping and other attractions. There are so many other places to visit that you will want to check the list and see what interests you.
The tours run from 9 am to 5 pm each day. You can hop off at any point and there is usually a new bus coming by each stop about every 15 to 30 minutes.
Here are a few combo ticket packages that allow you to save money when you buy both the Hop On Hop Off tour as well as an additional tour.
14. Bike Tours

For those that want to cruise around our city by the bay, taking a bike tour is a great way to enjoy and experience some of the best outdoor activities in San Francisco.
There are a number of different bike tours available and some are led by a tour guide, while some are self-guided. Most of the guided ones last about 3 - 4 hours.
The most popular of all the bike tours is the San Francisco Golden Gate Bike Cruise. This tour starts in Fisherman's Wharf and then you will ride along the waterfront. You'll go up a hill and then cross over the 1.7 mile Golden Gate as you cruise down to the cute town of Sausalito. After this, you can check out the sites, shopping and everything else Sausalito has to offer.
Other fun tours include the Urban E-Bike Tour, Bikes & Craft Brews Tour, and a night tour across the Golden Gate Bridge.
Some tours are done on e-bikes, so you can let the bike do most of the work for you.
If you want to tour at your own pace, then the self-guided tours might be your best bet. You can rent a bike, helmet and bike lock for 24 hours and see all the biggest attractions in SF as you want to see them. You will also be given a map so you can plan out your trip before setting out on the road.
15. Stairways of San Francisco

Another one of my favorite outdoor activities in San Francisco is checking out our interesting and colorful stairways. You will find some that take you through interesting neighborhoods and others with bright decorations on them.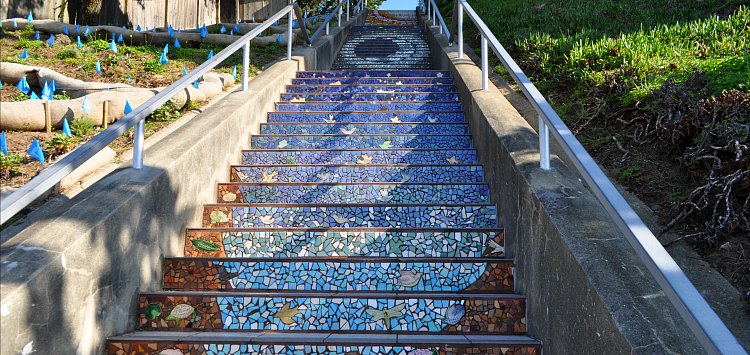 One of the most popular is the 16th Avenue Tiled Staircase. This one is full of lovely decorations with blue, green, yellow and other bright colors. As you climb up the stairs, you get a new perspective of these gems at each stop.
Other top picks include the Hidden Garden Stairs (not far from the 16th Avenue Tiled Staircase), the Filbert Street Stairs that take you up to Coit Tower, and the Lyon Street Stairs near Billionaire's Row.
All of these staircases are free to visit and offer a unique experience as you explore the best of San Francisco.