7 Best Outlet Malls Near San Francisco

by Jill Loeffler  •

Updated: July 29, 2023
You will find almost a dozen outlet malls near San Francisco. They offer brand-name clothing, jewelry, and other goods at a discounted price.
Some of the most popular include the San Francisco Premium Outlets in Livermore, the Napa Premium Outlets, and others within an hour or two of SF.
Some outlet stores in these malls include the Gap, Brooks Brothers, and Michael Kors. Others include Nike, adidas, Eddie Bauer, and Saks Off 5th.
Read on for recommendations on the best places for outlet shopping in and near the SF Bay Area.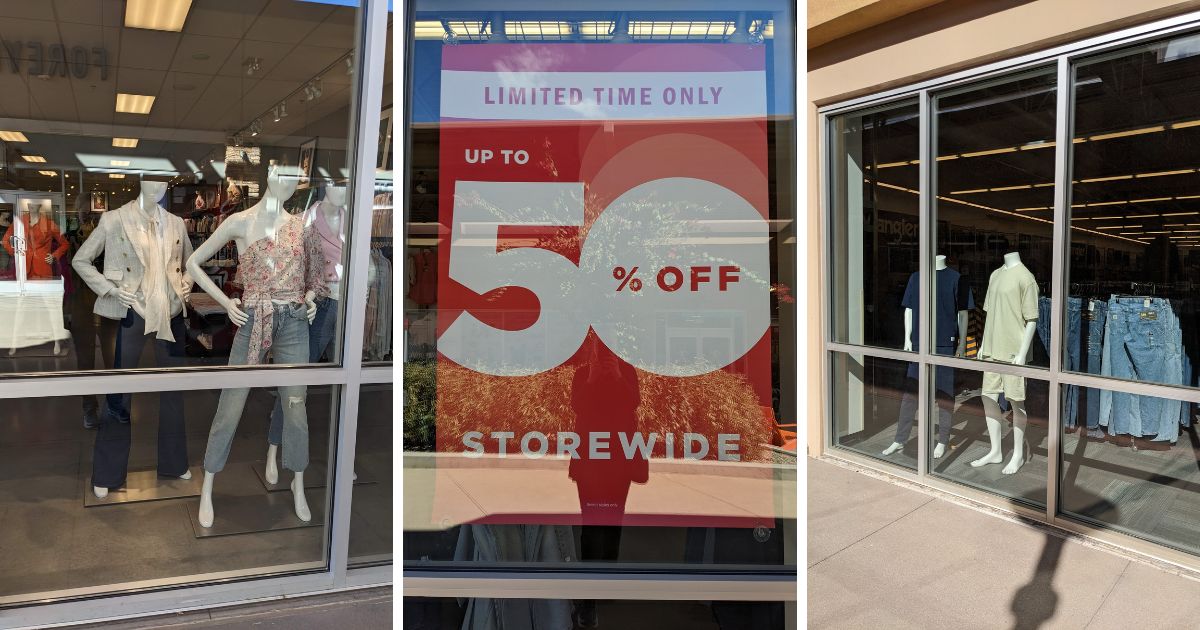 Disclaimer: I receive a small commission from some of the links on this page.

1. San Francisco Premium Outlets in Livermore

One of the most popular outlet malls near SF is in Livermore, CA. It's about a 45-minute drive from San Francisco in the East Bay.
Some of the stores here include the Gap, Abercrombie & Fitch, and H&M, ranging up to Armani, Gucci, and other high-end stores. You'll also find various restaurants here, including Chipotle, Popeye's, and Johnny Rockets.
The easiest way to get here is to drive. You can also take BART from SF to the Dublin/Pleasanton Station if you don't have a car. It's about ten stops and takes about an hour.
Once you exit the station, you will catch the #14 Livermore Transit Center bus. It will take you right to the mall. It takes about 15 minutes. If you don't want to mess with the bus, you can also take an Uber or Lyft from the BART Station.
It's also a great stop for those coming to or from the Livermore Valley Wine Region or Yosemite.
>> A few of my favorite spots to go tasting in Livermore Valley
2. Petaluma Village Premium Outlets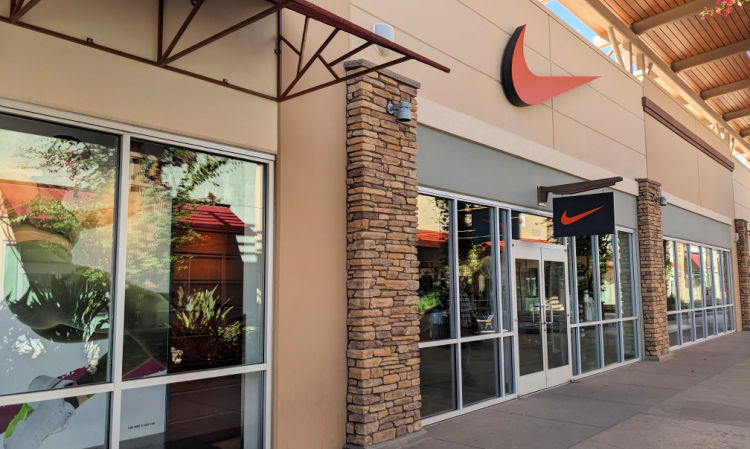 You will also find great shopping at Petaluma Village Premium Outlets. This outlet mall is about an hour north of SF in Petaluma, CA.
The shops you will find here include Cool Toys, Eddie Bauer, Nike, and Saks Off 5th. It also offers fun activities for your kids, including Hip Hop, which is a play area for kids up to 11 years of age.
There is no dining on site here, but you will find some great restaurants less than five minutes away.
The best way to get here is to drive. You can also take public transit, which will take about 2 hours each way.
This is a great stopover if you are heading to Marin or the Wine Country.
>> More about visiting the nearby Sonoma wine region
3. Napa Premium Outlets

This is the perfect place when you are in the wine country to do a little shopping. These shops are on the southern end of this wine region, right off Highway 29.
Some shops include Bella Massio Organics, Coach, Famous Footwear Outlet, Kate Spade, and the Cosmetics Company Stores.
You have choices between Brewed and China Express for meals.
It is about 1.5 hours north of SF, and driving is the best way to get here. You can also take public transit, which is about 2 hours each way.
4. Great Mall in Milpitas

The Great Mall in Milpitas is a large shopping center with more than 160 retailers. Shops include famous brands such as American Eagle, Coach, Eddie Bauer, and Marshalls.
It also has a large variety of dining options, including Dave and Busters, Outback Steakhouse, and the Olive Garden. I love this one since it also has a Century movie theater!
This spot is about an hour south of SF, near San Jose.
It's also one of the easiest ones to get to from SF. You can drive, which takes about an hour.
However, it is also just a 15-minute walk from the Milpitas BART Station. It takes about an hour on BART, so driving or taking public transit takes about the same time.
5. Vacaville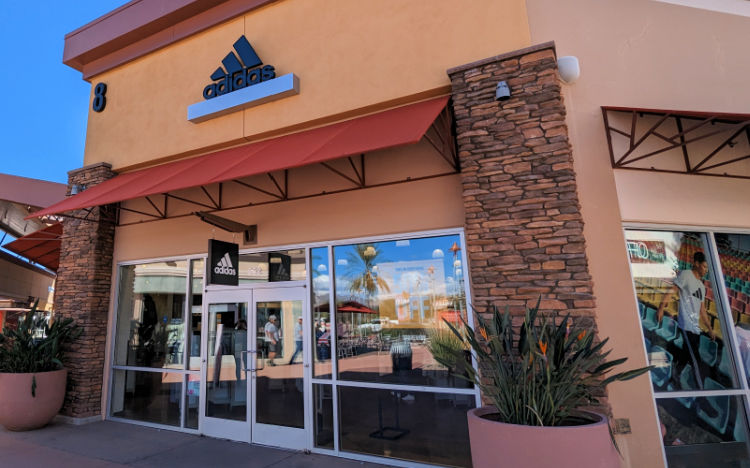 Just a little further away, you will find the Vacaville Premium Outlet. It is right off I-80 between San Francisco and Sacramento.
This one has about 100 stores. Brands include Tommy Bahama, Marc Jacobs, adidas, The North Face, and more.
Some of the best restaurants in or near this outlet mall include DJ's Grill & Deli, The Original Mel's Diner, and Pizza Twist.
It's a busy area as it's also near a Walmart, Staples, and Sam's Club.
It is about one hour away from SF. It takes just over an hour to drive or two hours each way on public transit.
6. Gilroy Premium Outlets

Another great option near Silicon Valley and San Jose is in Gilroy, CA.
This one has about 150 stores. Top brands include Fanatics by Lids, Lacoste, Timberland, True Religion, and many more.
Restaurants in and nearby include Culichi's Urban Kitchen, Ice Factory, and Applebees.
I like this mall because it has California Welcome Center - Gilroy so you can find out all kinds of things happening around the area.
It's about an hour and a half drive from San Francisco or two hours and thirty minutes on public transit.
7. Folsom

This one is the furthest outlet mall from SF, but it is excellent to check out if you are in the area.
They are on the eastern side of Sacramento. It's right along Highway 50 (El Dorado Freeway), so it is a perfect stop on a trip to or from Tahoe.
This one is a little smaller but has several wonderful brands, such as Polo Ralph Lauren, Guess, and Coach.
It's just over two hours from SF by car. Although it's possible to get here on public transit, it takes almost four hours each way, so I don't recommend this one for those without a car.
Outlet and Discount Department Stores in San Francisco
There is no outlet mall in SF, but you will find a few individual outlet and discount department stores. Here are just a few recommendations that are perfect for those that don't have time to make their way out to one of the bigger outlet malls on my list.
Macy's Backstage
Address: 170 O'Farrell Street in Union Square
Macy's is one of the most famous department stores in the U.S. and always has great middle and high-end clothes. It also has makeup, shoes, toys, and more.
The deals here are fantastic, so check it out during your stay!
>> More great shopping around Union Square
Ross
Address: 799 Market Street
Ross is well known for having clothes that encompass all price ranges but tend towards the less expensive.
They also have shoes, fun toys, gifts, homewares, and more. The deals here are worth checking out.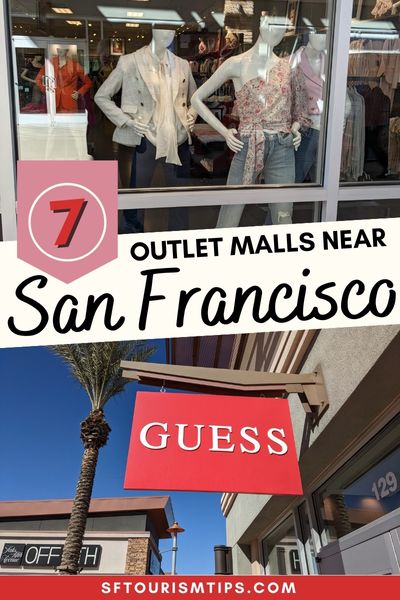 Comments? Questions? Suggestions?
I would love for you to join me in my private Facebook group! 
It's a great place to interact with me and others who know the area well.
You can ask questions, get advice for your upcoming stay, and then share your photos and advice with others when you return home. It's a great community and the fastest way to get answers to those nagging questions about your visit!