San Francisco Festivals in May 2017
Carnaval, Uncorked Wine Festival, & More
San Francisco festivals in May 2017 offer you the chance to celebrate the Latin culture, sample local wines, and enjoy independent films. You can also listen to music, sample traditional Asian cuisines, and help spread the "Maker Movement."
Read on for details about this month's annual events.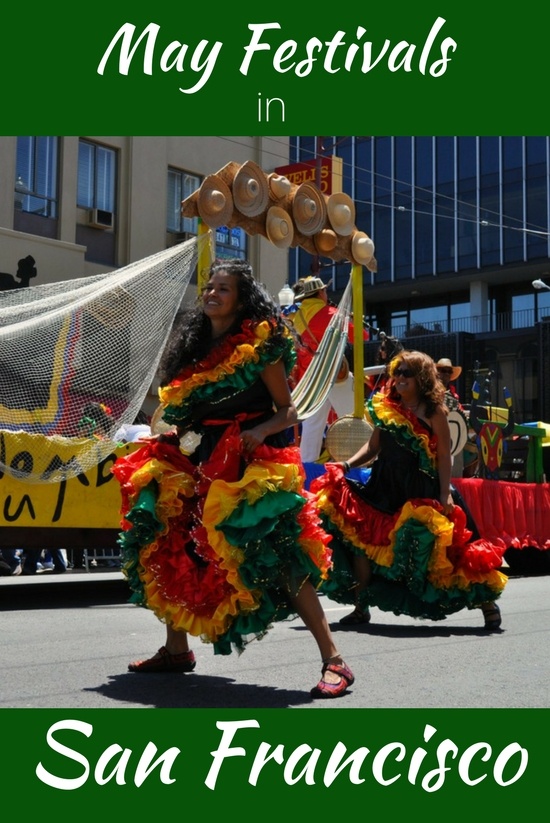 For some of the links on this page, I receive a small commission when you purchase. You don't pay more when you buy through me and it gives me the chance to offer you all this great content for free!
Carnaval Festival & Parade
Dates: May 27 - 28
One of the largest San Francisco festivals in May is the Carnaval celebration in the Mission District. The event lasts for two days over the Memorial Day holiday weekend. The colorful, lively Sunday morning parade brings Latin American and Caribbean traditional dances to the streets of SF's largely Latino neighborhood.
There is also a massive street fair spread out along eight city blocks, featuring food, more music and dance, and arts and crafts.
Uncorked Wine Festival at Ghirardelli Square
Date: May 13
Throughout the year, tourists and locals alike flock to Ghirardelli Square for its famous decadent chocolates. As nothing goes with chocolate better than wine, it only makes sense that each year in May, people also head to this delicious place for the Uncorked Wine Festival.
Here, all afternoon long, you'll get the chance to sample more than 50 incredible wines from Northern California while enjoying live music, a craft fair, and cooking demonstrations.
>> More details about this year's wine event
How Weird Street Faire
Date: May 7
One of the most unique San Francisco festivals in May is the annual How Weird street fair held all day Sunday in downtown SF. The fair will include 11 stages of the best electronic music and will be full of people in colorful costumes dancing in the streets.
This is a truly eclectic festival, offering a Circus Alley, art and activities, food and drinks, technology demos, a cannabis market, and other fun exhibits. The theme for this year is "Summer of Weird," in honor of the 50th anniversary of SF's "Summer of Love."
>> Event details on their website
Maker Faire Bay Area
Dates: May 22 - 23
Maker Faires are spreading the "maker movement" all over the world, a sensation that started right here in the Bay Area over ten years ago. The event is as simple as the title sounds, but way cooler than you can imagine.
This is a space for everyday people, including teachers, crafters, techies, students, engineers and artists, to show off what they have made and what they have learned. You'll discover some amazing inventions as you gather with other enthusiastic creators to celebrate the art of resourcefulness.
>> Visit their website for more details
Up to 50% Off on Tickets on Goldstar
Add some fun to your stay with discounted tickets on Goldstar. They offer festival tickets as well as tickets to the theater, cruises, and more. Here are some of the top upcoming events on their site.
Click the links to visit their site for details about these events and other fun things to do in SF.
12/1 - 12/24: A Christmas Carol, the classic Dicken's story is on stage this December at the ACT, Full price $15-$105, Goldstar $12-$63*


12/1 - 12/30: Holiday Lights tour, ride around SF on an open top double decker bus to see all of SF's top Christmas and holiday decorations, Full price $29.99-$39.99, Goldstar $20.99-$27.99*


Saturday nights: The Dinner Detective, an interactive Mystery Dinner show, Full price $115.94, Goldstar $81.16
*Small service fee at checkout.
San Francisco Festivals in May: Union Square Live
Dates: Wednesdays and Sundays all month
You're in luck, because it's that season again--the season of free biweekly outdoor shows in the heart of San Francisco. Some of them are actually dance classes where you can learn to salsa or tango. Others are dazzling performances by cultural groups like the Chinese lion dancers.
In fact, the ongoing summer festival Union Square Live offers so much variety, you might even catch a circus, theater, or live music show. Just head to the center of all the action, in the plaza of Union Square, any Wednesday at 6pm or Sunday 2pm.
>> More info on Union Square Live
SF International Arts Festival
Dates: May 25 - June 4
Of all the San Francisco festivals in May, this one unites the most diverse group of artists and audiences from around the globe. The SF International Arts Festival proudly welcomes artists from over 50 different countries, including those whose work has never before been seen in the US, as well as local Bay Area artists who are collaborating across borders on creative projects.
It is the festival's goal to form lasting relationships among the 270 arts ensembles. Just wait until you see the beautiful results of these unique unions at the Fort Mason Center.
>> Visit their site for details on all of this year's events
Yerba Buena Gardens Festival
Dates: Several in May
The Yerba Buena Gardens Festival is an ongoing summer festival of free performances that opens this month. From May to October, this cultural center provides five to seven shows a week—many on Fridays, Saturdays, and Sundays, but also some on Tuesdays and Thursdays in the afternoons.
The performances include jazz, classical, and world music concerts, as well as traditional and contemporary dance. This festival gives you lots of great excuses to take an hour or two out of your day and relax on the grass at these gardens in the SoMa District.
>> This year's schedule & event info
Cinco de Mayo Festival
Date: May 6
As Cinco de Mayo falls on a Friday this year, the 13th annual Mission District festival will be held all day Saturday, May 6. The street fair will transform one of the city's trendiest and most lively strips of shops and restaurants—Valencia between 21st and 24th Streets—into a family-friendly celebration of Mexican and Latin American cultures.
Enjoy authentic food, music, dance, and art in SF's traditionally Latino neighborhood.
Taiwanese American Cultural Festival
Date: May 13
The Taiwanese American Cultural Festival is another one of the San Francisco festivals in May that celebrates the traditions of a particular cultural group and proudly shares them with the broader community.
At this annual event in Union Square, you can taste delicious Taiwanese cuisine, admire the folkloric costumes and dances, and get involved at the interactive booths. Learn about the history and customs of this island nation and maybe even get your fortune read.
>> Visit their site for more details
Hotel Discounts in SF
Save on your stay with the great deals on Booking.com and TripAdvisor. In addition to deals, you can read recent guest reviews to find the best place for your stay.
TripAdvisor: What's the #1 hotel in San Francisco? Read reviews & find hotel deals on TripAdvisor!
Booking: Find great deals all around San Francisco for your upcoming stay!
More May Tips for San Francisco