Art Fairs in San Francisco: Top Art Festivals & Events Each Year in SF
Every year, you will find several types of art fairs in San Francisco. They range from high-end marketplaces to festivals that feature unique items from local artists.

Many of the events are held indoors, while a few are held outdoors in a more casual setting. Each one offers hundreds of interesting pieces. You can either walk around to admire the art or find the perfect piece to take home with you.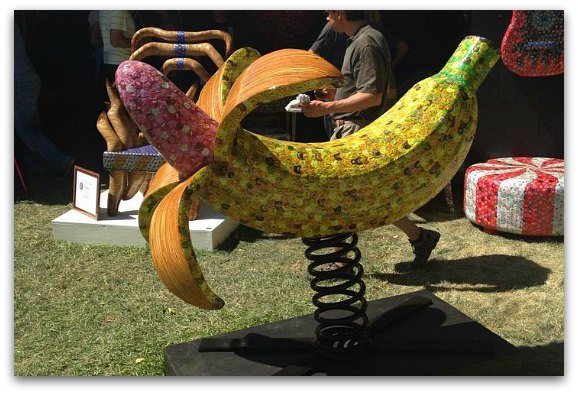 Disclaimer: I receive a small commission from some of the links on this page.

1. Fog Design & Art Fair

The Fog Design and Art Fair is an annual event that helps raise money to support the Museum of Modern Art's California-wide exhibits and their educational programs. It features contemporary art that pushes the boundaries. The festival lasts for four days and invites the public to stop by during this time. There is a small cost to enter this event, which is usually around $20 to $25 per person.
Location: Fort Mason Festival Pavilion
Date: January
Learn More: Visit January calendar for dates
2. Tribal and Textile Art Show

The Tribal and Textile Art Show is one of the art fairs in San Francisco that dedicates its time to the art of tribal cultures in the US and beyond. It features a comprehensive set of pieces from Asian, Oceanic, African, North American, and Latin American indigenous peoples. The show itself offers 80 galleries that showcase a variety of pieces from around the world. There is a small cost to enter the exhibit.
Location: Fort Mason Center
Date: February
Learn More: Visit February calendar for more
3. Art Market

One of the largest art fairs in San Francisco is Art Market at the Fort Mason Center. It features high-quality contemporary and modern artwork from top dealers. They have a partnership with the Fine Arts Museums of San Francisco, which include the de Young Museum of Fine Arts and the Legion of Honor. All proceeds from their Thursday night fundraiser will go to this organization.
There are three days when the public can come view the art for a small fee. This is a great place to network with people in the art community.
Location: Fort Mason Center
Date: April or May
Learn More: Find details for this event on either the April or May calendars
4. Startup Art Fair

The Startup Art Fair is an independent event that features unrepresented artists and gives them a place to show off their creations to the public. They often hold their events in hotels or restaurants to offer a different setting from the typical gallery. It's a fun way to find art from up-and-coming artists and see how they creatively display their pieces in a non-traditional setting.
Location: Various locations in SF
Date: April
Learn More: Visit the April calendar for this year's details

5. San Francisco International Arts Festival

Head over to the Fort Mason Center for this year's San Francisco International Art Festival. In addition to art displays, this annual event features several activities each night, including theater performances, dance shows, musicians playing everything from rock to country, and documentary films.
Location: Fort Mason Center
Date: May
Learn More: Visit the May calendar for more details on this year's event
6. Sausalito Art Festival

The annual Sausalito Art Festival is one of the top art fairs in San Francisco every year. It's held just north of the city in the small town of Sausalito. This fun event features art from almost 300 local and internationally recognized artists. This large event also features several live bands on two stages. All events are held along the waterfront.
Location: Sausalito Waterfront
Date: Labor Day Weekend
Learn More: Discover more about this year's event
7. San Francisco Fall Antiques Show

The San Francisco Fall Antiques Show features pieces from more than 60 dealers from the US and Europe. It's one of the longest running shows of its kind on the west coast.
This event offers pieces of all styles, from several different time periods. Typical items include furniture, silver, ceramics, glass, and jewelry. You will also find rugs, textiles, paintings, and more.
Location: Festival Pavilion in the Fort Mason Center
Date: October
Learn More: Visit the October calendar to learn more
8. SF Open Studios

One of my favorite art fairs in San Francisco is SF Open Studios. This long running event is a time when local SF artists open their studios to the public. You can walk through for free to admire their work, all of which is for sale. This festival lasts for four weekends in October (into early November).
Location: Hundreds of artists' studios all around SF
Date: October/November
Other Top Festivals You Might Enjoy

In addition to the dedicated art festivals in San Francisco mentioned above, you will also find pieces on display from local and international artists at the events listed below.
Cherry Blossom Festival: This event celebrates the opening of the cherry blossoms in SF's Japantown district. It lasts for two weekends in April. During the event, you can sample traditional foods, listen to Japanese music, and enjoy family friendly activities.
North Beach Street Fair: The North Beach Street Fair is a neighborhood event that includes food, music, and fun. You will also find dozens of booths displaying artwork from around the world. Works include jewelry, photography, and paintings. You never know what you might find, as the selection changes every year.
Union Street Festival: Another event every summer is the Union Street Festival. This event is held in the Marina District near the northern end of San Francisco. The event is a typical street fair with food, music, and beverage. There are also more than 100 booths for artists from around the world to display and sell their works.
All Annual Festivals: Find a full list of festivals by month including everything from neighborhood street fairs to some of the largest celebrations in SF.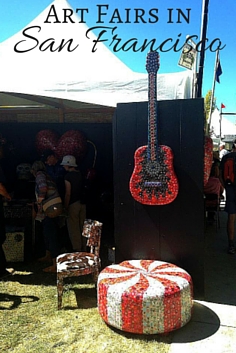 Other Pages You May Enjoy