Art Fairs in San Francisco: 20 Top Art Festivals & Events Each Year in SF
Every year, you will find several types of art fairs in San Francisco. They range from high-end marketplaces to festivals that feature unique items from local artists.

Some of the events are held indoors, while several are held outdoors in a more casual street fair setting. Each one offers hundreds of interesting pieces. At most of the events, you can sip on wine or beer while wandering around admiring the art until you find the perfect piece to take home with you.
Further down the list you'll see annual art fairs that take place around the greater Bay Area. These make for fun day trips from the city and a chance to experience community life in smaller towns.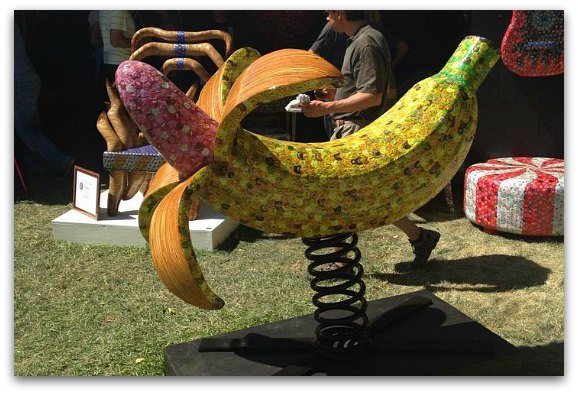 Disclaimer: I receive a small commission from some of the links on this page.

1. Fog Design & Art Fair

The Fog Design and Art Fair is an annual event that helps raise money to support the Museum of Modern Art's California-wide exhibits and their educational programs. It features contemporary art that pushes the boundaries. The festival lasts for four days and invites the public to stop by during this time. There is a small cost to enter this event, which is usually around $20 to $25 per person.
Location: Fort Mason Festival Pavilion
Date: January
Learn More: Visit January calendar for dates
2. Tribal and Textile Art Show

The Tribal and Textile Art Show is one of the art fairs in San Francisco that dedicates its time to the art of tribal cultures in the US and beyond. It features a comprehensive set of pieces from Asian, Oceanic, African, North American, and Latin American indigenous peoples. The show itself offers 80 galleries that showcase a variety of pieces from around the world. There is a small cost to enter the exhibit.
Location: Fort Mason Center
Date: February
Learn More: Visit February calendar for more
3. Art Market

One of the largest art fairs in San Francisco is Art Market at the Fort Mason Center. It features high-quality contemporary and modern artwork from top dealers. They have a partnership with the Fine Arts Museums of San Francisco, which include the de Young Museum of Fine Arts and the Legion of Honor. All proceeds from their Thursday night fundraiser will go to this organization.
There are three days when the public can come view the art for a small fee. This is a great place to network with people in the art community.
Location: Fort Mason Center
Date: April or May
Learn More: Find details for this event on either the April or May calendars
4. Startup Art Fair

The Startup Art Fair is an independent event that features unrepresented artists and gives them a place to show off their creations to the public. They often hold their events in hotels or restaurants to offer a different setting from the typical gallery.
It's a fun way to find art from up-and-coming artists and see how they creatively display their pieces in a non-traditional setting.
Location: Various locations in SF
Date: April
Learn More: Visit the April calendar for this year's details

5. San Francisco International Arts Festival

Head over to the Fort Mason Center for this year's San Francisco International Art Festival. In addition to art displays, this annual event features several activities each night, including theater performances, dance shows, musicians playing everything from rock to country, and documentary films.
Location: Fort Mason Center
Date: May
Learn More: Visit the May calendar for more details on this year's event
6. Sausalito Art Festival

The annual Sausalito Art Festival is one of the top art fairs in San Francisco every year. It's held just north of the city in the small town of Sausalito. This fun event features art from almost 300 local and internationally recognized artists. This large event also features several live bands on two stages. All events are held along the waterfront.
Location: Sausalito Waterfront
Date: Labor Day Weekend
Learn More: Discover more about this year's event
7. San Francisco Fall Antiques Show

The San Francisco Fall Antiques Show features pieces from more than 60 dealers from the US and Europe. It's one of the longest running shows of its kind on the west coast.
This event offers pieces of all styles, from several different time periods. Typical items include furniture, silver, ceramics, glass, and jewelry. You will also find rugs, textiles, paintings, and more.
Location: Festival Pavilion in the Fort Mason Center
Date: October
Learn More: Visit the October calendar to learn more
8. SF Open Studios

One of my favorite art fairs in San Francisco is SF Open Studios. This long running event is a time when local SF artists open their studios to the public. You can walk through for free to admire their work, all of which is for sale. This festival lasts for four weekends in October (into early November).
Location: Hundreds of artists' studios all around SF
Date: October/November
Art Fairs around the SF Bay Area

9. Fremont Festival of the Arts

Head over to the East Bay city of Fremont for the largest free street festival in the West. Each year, for one entire weekend, the downtown streets are lined with hundreds of arts and crafts booths, along with food booths and trucks that benefit local nonprofits. For the over 300,000 annual attendees, the entertainment includes street performers, fun games, and drinks in collectible cups for both kids and adults.
Location: Walnut Ave. between Paseo Padre Pkwy. and Liberty St. (Fremont)
Date: August
Learn More: Visit their website for details
10. Millbrae Art & Wine Festival

Always the Saturday and Sunday of Labor Day weekend, this long-running annual art and wine festival takes place in the Peninsula town of Millbrae (not far from the San Francisco International Airport).
It features live music, a variety of gourmet food and adult beverages, and nearly 300 artists and crafters. You'll also find a Classically Cool Car Show and a Kids' Zone.
Location: Broadway between Victoria Ave. and Meadow Glen Ave. (Millbrae)
Date: September
Learn More: Visit the festival web page to find out more 
11. Walnut Creek Art & Wine Festival

What sets this festival apart from other art fairs in San Francisco and the Bay Area is its outdoor setting. Rather than taking over a few downtown streets, the crafts booths, food and wine tents, kids' activities, and live entertainment sprawl out on the green grassy lawn of this East Bay parks and rec area.
Enjoy a warm, sunny, summer weekend out browsing the fair for local artisan goods.
Location: Heather Farms Park (Walnut Creek)
Date: June
Learn More: See the lineup of local music artists and more
12. Los Altos Arts & Wine Festival

About 40 minutes south of San Francisco, you'll find the small city of Los Altos, where the annual Arts & Wine Festival fills the downtown streets each summer. You can enjoy all-day free concerts on two stages during the two days of the fair.
Free admission allows you to check out the crafts for sale and a food menu that shows off the Bay Area's ethnic diversity, including Thai, Chinese, Mexican cuisine and more.
Location: Main and State Streets (Los Altos)
Date: July
Learn More: Check out the participating artists and other details for this year
13. Scotts Valley Art, Wine & Beer Festival

This is another one of the outdoor art fairs in the San Francisco Bay Area. A little farther away, nestled in the Santa Cruz mountains about an hour south of the city, this two-day summer festival makes for a fun day trip.
You'll find award-winning wineries and craft breweries represented, along with more than 100 local artists. You can also just sit back, relax, and enjoy the live music or Sunday 'Dog Day.'
Location: Skypark (Scotts Valley)
Date: August
Learn More: Get the details on the website
14. Capitola Art & Wine Festival

Venturing just a little farther out, about 1 hour and 15 minutes south of San Francisco, you'll find Capitola Village, a quaint seaside resort town overlooking the Monterey Bay.
This colorful beach town feels a bit like a Mediterranean village, and makes for the perfect backdrop to the annual Art & Wine Festival. One special feature of the art fair is that they feature 22 local wineries from the Santa Cruz mountains. 
Location: Capitola Village
Date: September
Learn More: Find out additional details on this year's event
15. Sunnyvale Art & Wine Festival

The Sunnyvale Art & Wine Festival aims to bring the community together around the art that craftspeople share, the local businesses and restaurants that comprise the downtown shopping area, and the support for local nonprofits.
Sip on some beer, wine, or margaritas while admiring the live art installations and strolling through the artisan market. There will also be live music.
Location: Downtown Sunnyvale
Date: June
Learn More: Go to their website for a list of activities and entertainment
16. Mill Valley Fall Arts Festival

This two-day outdoor festival has one of the most beautiful and natural settings of all the art fairs in San Francisco and the surrounding area. Held in the redwood forest, the community comes together each year to celebrate art in many forms.
In addition to the fine arts and crafts exhibitors, you'll find live music, theater, storytelling, and puppeteering. This event is a delight for young and old alike.
Location: Old Mill Park (Mill Valley)
Date: September
Learn More: Check out photos, descriptions, and more
17. Los Gatos 'Fiesta de Artes'

For more than half a century, this South Bay town's art and wine festival has been giving back to local school children and community projects through this lively two-day fall event.
With more than 200 artists, award-winning local vintners and craft brewers, live music, and food trucks, you'll find plenty to see, do, and purchase at the free event.
Location: Civic Center Lawn, Main St. (Los Gatos)
Date: September
Learn More: Visit the Fiesta home page
18. Oakland Art Murmur

Oakland Art Murmur is an ongoing movement that aims to promote and empower local artists. One way in which they do this is through the First Friday Art Walks, in which multiple visual arts venues collectively open to the public on the first Friday of each month from 6 to 9 pm, rain or shine.
This monthly festival now encompasses more than 50 venues.
Location: Various locations across Oakland
Date: First Friday of each month
Learn More: Read more about the Oakland Art Murmur
19. Half Moon Bay Art & Pumpkin Festival

At the "World-famous Celebration of the Great and Almighty Gourd," you can expect no less than to find one-of-a-kind holiday gifts and decor from 275 artists and craftmakers, in glass, ceramics, metal, fiber, leather, wood, jewelry, and more.
The two-day festival includes pumpkin harvesting, entertainment for the whole family, delicious food and drink, costume contests, and much more.
Location: Main St. (Half Moon Bay)
Date: October
Learn More: Visit their website for more details on what to expect
20. Palo Alto Festival of the Arts

Just over half an hour's drive south from San Francisco, you'll find the Peninsula town of Palo Alto, home to Stanford University.
Each year, their downtown Festival of the Arts features over 300 fine art and contemporary craft displays, as well as over 60 Italian street painters who create their impressively colorful, larger-than-life designs right in front of your eyes.
You can enjoy live entertainment, gourmet food, micro-brews, and wine while the little ones get hands-on fun at the Kids' Art Studio.
Location: University Ave. (Palo Alto)
Date: August
Learn More: Discover more details on their website
Other Top Festivals You Might Enjoy

In addition to the dedicated art festivals in San Francisco mentioned above, you will also find pieces on display from local and international artists at the events listed below.
Cherry Blossom Festival: This event celebrates the opening of the cherry blossoms in SF's Japantown district. It lasts for two weekends in April. During the event, you can sample traditional foods, listen to Japanese music, and enjoy family friendly activities.
North Beach Street Fair: The North Beach Street Fair is a neighborhood event that includes food, music, and fun. You will also find dozens of booths displaying artwork from around the world. Works include jewelry, photography, and paintings. You never know what you might find, as the selection changes every year.
Union Street Festival: Another event every summer is the Union Street Festival. This event is held in the Marina District near the northern end of San Francisco. The event is a typical street fair with food, music, and beverage. There are also more than 100 booths for artists from around the world to display and sell their works.
All Annual Festivals: Find a full list of festivals by month including everything from neighborhood street fairs to some of the largest celebrations in SF.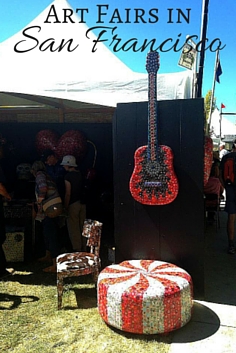 Other Pages You May Enjoy

Comments? Questions? Suggestions?
I would love for you to join me in my private Facebook group! 
It's a great place to interact with me and others who know the area well.
You can ask questions, get advice for your upcoming stay, and then share your photos and advice with others when you return home. It's a great community and the fastest way to get answers to those nagging questions about your visit!