San Francisco Bay to Breakers: 2023 Event Details and What to Expect from this SF Event

by Jill Loeffler  •

Updated: March 2, 2023
If you are looking for a true San Francisco experience, then head to the city on Sunday, May 21, 2023 for the annual Bay to Breakers race. Now in its 112th year, this event is a San Francisco original.

This 12K race is one of the largest and oldest running events in the world. It attracts more than 50,000 runners and 100,000 spectators every year.
Why is it so popular? It showcases the true San Francisco with fun, chaos, and an unmatched spirit of community.
This race includes both serious runners and those out for a fun Sunday run. Many wear fun and funky costumes to show their spirt. You will also find a few people in just their birthday suit.
The party atmosphere along the race route offers spectators the chance to be part of the action.
If you happen to be in SF on this day, you must join in on the fun!
The race starts with some serious runners. These runners are competing for the top spots and prizes.
Disclaimer: I receive a small commission from some of the links on this page.

After the more serious athletes get a good start, the next group starts. Toward the front, you will always see the pink gorilla.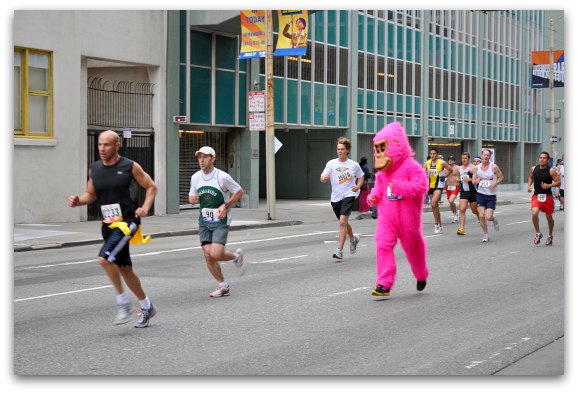 About 30 to 45 minutes after the official start of the race, it starts to get chaotic. This is when the fun individual costumes and groups start to appear. Some groups pull together large structures and for a while the race resembles a parade--a really unorganized, yet fun, parade.
Here are just a few photos from past Bay to Breakers races that I took in recent years.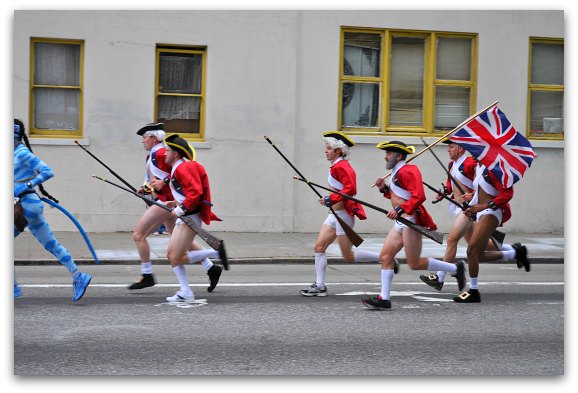 Look out! The British are coming!
A group of runners heading past the famous Alamo Square Painted Ladies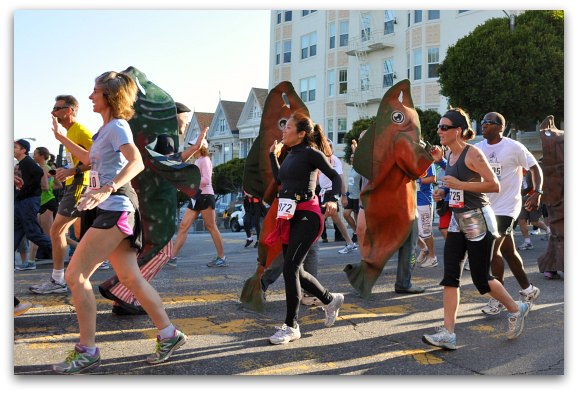 This group is one of my favorites. It's a group of salmon 'swimming upstream' and heading the opposite way of the runners.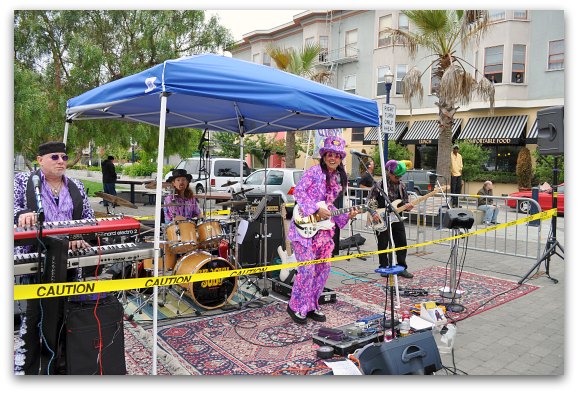 Additional entertainment along the road during the race
More Fun Things to Do Around San Francisco
Race Details and Where to Watch

The race starts near the Embarcadero in downtown SF (the "bay"). Runners head west across the city and end near the Pacific Ocean (the "breakers"). This is where the San Francisco Bay to Breakers race got its name.
The first group starts at 7 am. The course officially closes around noon.
After running through downtown San Francisco, the racers head down Hayes Street. This is where you will find some great viewing spots.
I like to watch the race either from the Hayes Valley neighborhood or in Alamo Square Park. From both of these places, you will get some great views and also get the chance to mingle with a few of the runners.
I like to get to these places early to get a spot. I recommend that you arrive no later than 8:30 am or 9 am if you want to catch some of the best parts of the race. This is when the streets start to get crowded and thousands of costumed runners and groups provide unmatched entertainment.
Monthly SF Calendar

Find additional events this month (and every month) in SF. Click the links below to visit the full calendar of events.

Nudity and Bay to Breakers

Does the San Francisco Bay to Breakers have people running in the nude? Yes. Every year, you will see several people running in the nude.
Public nudity is legal in the state of California. In a controversial move, the SF Board of Directors approved an ordinance that makes nudity illegal in the city. It passed in a 6-5 vote on November 20, 2012.
However, this race submits a special permit to allow nudity every year during their run. That means it is legal to run naked in the yearly San Francisco Bay to Breakers event. 
BART Running Early Trains

BART always opens early and runs longer trains in order to accommodate those attending the Bay to Breakers Race. Trains will start running around 6 am and, before 8 am, will run in 20 minute intervals. This will allow everyone the chance to arrive before the 8am start time.

Caltrain to San Francisco

Caltrain usually runs four special northbound trains on the morning of the race. They will all make limited stops. Visit the Caltrans site for more details on these four additional trains.

SF Lodging Recommendations

Are you planning on attending this year's San Francisco Bay to Breakers? Click on the links below for SF hotel recommendations by budget, neighborhood, and amenities.

Booking: Find great deals all around San Francisco for your upcoming stay! 

TripAdvisor: What's the #1 hotel in San Francisco? Read reviews & find hotel deals on TripAdvisor!
VRBO: In addition to hotels, you'll also find some great places to stay locally through VRBO. Book an apartment or a room and feel more like a local. Find some great places to stay on VRBO here. 
Comments? Questions? Suggestions?
I would love for you to join me in my private Facebook group! 
It's a great place to interact with me and others who know the area well.
You can ask questions, get advice for your upcoming stay, and then share your photos and advice with others when you return home. It's a great community and the fastest way to get answers to those nagging questions about your visit!