Tuesday in San Francisco
Fun Things to Do Each Week in SF
Tuesday in San Francisco is full of surprises. On the first week of the month, you can visit a number of SF's top museums admission free. You can also journey out on a free walking tour to learn more about this city's history.
Other fun things to do include sampling goodies at the Farmer's Market at the Ferry Building and catching a show at one of SF's theaters.
Farmer's Market
Every Tuesday, you will find an amazing Farmer's Markets at the Ferry Building along the Embarcadero. It features dozens of local producers offering up their goodies from fresh fruits and veggies to homemade sauces and jams. If you love to try new foods, then you will definitely want to check this out.
It's from 10am to 2pm outside the Ferry Building at the end of Market Street.
Click here to find more fun things to do at the Ferry Building.
Free Walking Tours
If you want to learn more about the history of San Francisco, then check out these free walking tours provided by the public library. Every Tuesday in San Francisco, you can learn more about North Beach, Pacific Heights and the Castro.
Part of the detailed ceiling inside City Hall
You can also stroll through the controversial murals at the Rincon Center, check out the gorgeous interior of City Hall and find out more about the Japanese Tea Gardens.
Click here for a list of walking tours this Tuesday and every Tuesday in SF.
Film Festivals
SF hosts almost 50 film festivals each year. You will find large festivals such as the International Film Festival in April. You will also find several smaller ones such as the Greek Film Festival, the Doc Fest and the Dance Film Festival.
These festivals run from a few days to up to more than two weeks. They often showcase their films on Tuesday afternoon and evening.
Click here to check out the list of upcoming festivals.
Free Museum Admission
The first Tuesday of every month is when you can visit several SF museums at no charge! These include the Contemporary Jewish Museum, the Conservatory of Flowers, the de Young and the Legion of Honor. You can also visit both the Museum of Craft and Design and the Yerba Buena Center for the Arts exhibits admission free.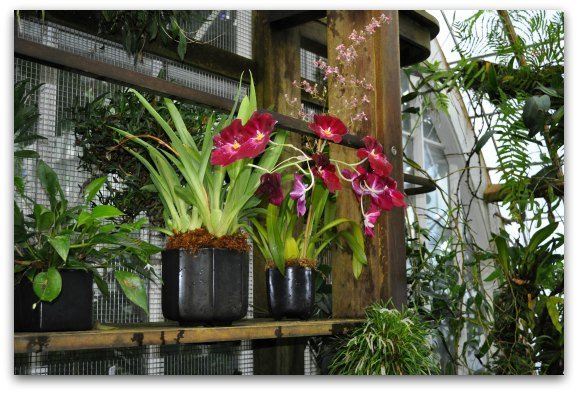 Pink flowers inside the Conservatory of Flowers
On the second Tuesday of the month, head over to the Botanical Gardens in Golden Gate Park to stroll around their 55 acres of plants and flowers for free.
Click here for more details on these and other top museums in SF.
SF Theater Performances
Another popular activity on Tuesday in San Francisco is the theater. Almost every night of the week, you can catch a performance at one of the larger theaters such as the Golden Gate Theater or the Orpheum Theater. You will also find dozens of smaller shows at theaters in places such as the Cartwright Hotel.
Shows range from large productions such as the Lion King, Mama Mia! and The Book or Mormon to small, lesser know shows written by local, up-and-coming artists.
Click here for the current schedule of theater performances.
Self-Guided Walking Tours
If you want to get to know the city at your own pace, then check out my self-guided tours. These free trips take you through the best parts of the top districts.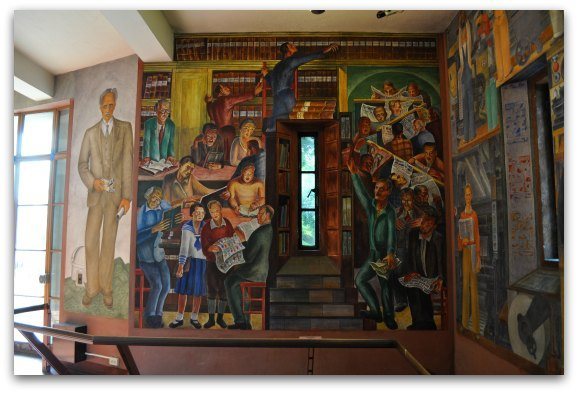 Some of the murals on the first floor of Coit Tower
On Tuesday in San Francisco, you will find most attractions open. It is also a little more quiet and calm, so it is the perfect day to check out these self-guided tours.
You can walk through Fisherman's Wharf, Chinatown and North Beach. Other tours available include those for Golden Gate Park, the Haight Ashbury District, and Pacific Heights.
Click here to learn more and download one of my self-guided walking tours today!
Happy Hour Specials
If you enjoy relaxing with a nice glass of wine or craft beer, then check out these happy hour specials. You will find my recommendations throughout the city. Some offer happy hour specials all day, while some are just for an hour or two each night.
Click here for a list of my favorite places to enjoy happy hour.
More Events on Goldstar
One of the other places that I often look for activities on Tuesday in San Francisco is on Goldstar. On this site, you will find tickets for almost 200 upcoming events and activities.
The best part about looking on Goldstar is that all of their tickets are sold at up to half-off the full retail value. This means you can stretch your dollar and do even more during your visit.
Click here to check out their latest selection. Check back often too as they continually update their list of events.
Other Pages You Will Enjoy