Sunday in San Francisco: 14 Fun Things to Do Including Free Museum Days, Farmer's Markets, & More Every Week

by Jill Loeffler  •

Updated: September 6, 2023
Sunday is a perfect day to explore San Francisco. Every Sunday in San Francisco, you will find fun things to do, including free walking tours, farmer's markets, and the relaxing Champagne Cruise.

You can also catch a Broadway show, see a concert, or cheer on the SF Giants.
Read on to find out more fun activities for this and every week!
Disclaimer: I receive a small commission from some of the links on this page.

1. Asian Art Museum's Free First Sundays

On the first Sunday of the month, you can visit the Asian Art Museum for free, sponsored by Target. In this museum, you will find thousands of pieces from countries such as Japan, Indonesia, and Nepal.
You will also find exciting works from China, Tibet, and Korea.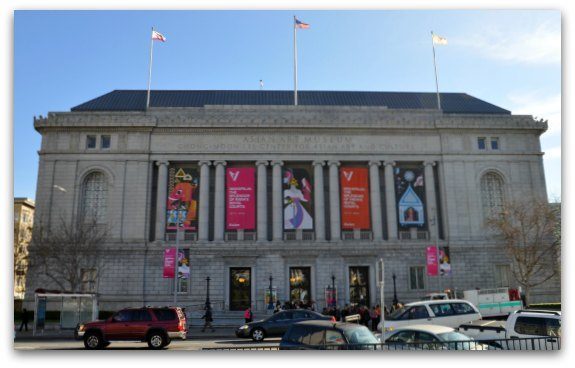 Doors open at 10 am, so get in line early to secure your spot. Click here for more photos of what you will see during your visit.
Find a full schedule of free days for all SF museums here.
Go San Francisco Card: If you want to visit this museum and other top attractions, check out the Go Card. It's a discount card that allows you to save on your visits. Check out all the details here. 
2. Champagne Cruise

Every Sunday afternoon, you can catch a two-hour champagne and mimosa cruise in the afternoon around the SF Bay starting at 1 pm, 2:45 pm, or 4:45 pm.. This relaxing ride offers amazing views of the SF Bay, including the Golden Gate Bridge, Alcatraz Island and Sausalito.
You will also ride past the Palace of Fine Arts, Angel Island and Fort Point National Historic Site.
Your ticket includes two drinks of your choice. Your options range from Champagne, Mimosas, white wine, beer and soda.
3. Comedy Showcase

Every Sunday in San Francisco, you can head over to the Punch Line Comedy Club for the SF Comedy Showcase. This low-key event features local comedians and other lesser-known comics you can see before they get famous.
It starts at 8pm and usually lasts a couple of hours. It's an 18 and older show with a two-drink minimum.
4. Free Walking Tours

Another fun activity for Sunday in San Francisco is to take a free walking tour given by the SF Public Library. Every Sunday, you can stroll along the Golden Gate Bridge, learn more about the history of the Haight Asbury district, and uncover facts about the colorful Castro.
All tours are free, although they do request a small donation at the end to help keep the program running.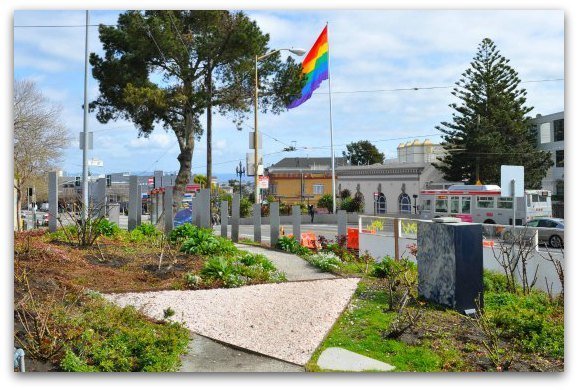 You do not need to register in advance; show up 5 to 10 minutes before the tour begins at the designated meeting area and sign in with the guide. Click here for more details.

5. Sunday Streets

From March to October, you can enjoy car-free streets during SF's annual Sunday Streets events. Each month, a select district hosts a one-day festival with live entertainment, healthy living activities, and plenty of room to run, walk, bike, or skip to your heart's desire.
Click here for this year's full schedule.

6. Live Music

If you love live music, then you are in luck! Every Sunday night, you will find at least four of five live shows in San Francisco.
Larger shows are at venues such as The Warfield, The Fillmore, and The Bill Graham Civic Auditorium. However, you will also find smaller shows at The Independent, Slim's, and The Great American Music Hall.
Click here for a schedule of live shows for the next two to three months.
7. Film Festivals

San Francisco is one of the best places in the world for independent movie buffs. The city sees more than 40 film festivals every year. This means almost every Sunday afternoon and evening, you can catch a number of new and intriguing film.
Festivals range from the large International Film Festival to smaller ones, such as the Arabic Film Festival. Each theme offers independent films from talented up and coming directors.
Click here for a current list of film festivals this year in San Francisco.
8. Other Festivals and Street Fairs

In addition to film festivals, you will find dozens of other festivals each year in San Francisco. They range from wine-tasting festivals to outdoor street fairs.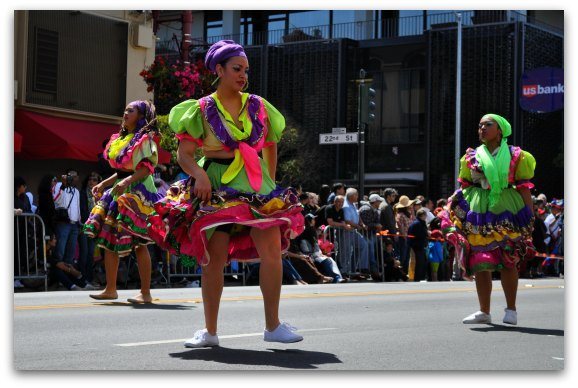 Many run all weekend long, with several events planned on Sunday in San Francisco. Click here for a list of upcoming festivals.

9. Stern Grove Festival

Summers bring an additional fun activity every Sunday in San Francisco. The Stern Grove Festival is a free music-in-the-park event.
Shows start at 2 pm and they run from the middle of June to August. Click here for a list of performers and dates for this year's festival.
10. Farmer's Markets

Farmer's Markets are an essential start to Sunday in San Francisco. Each week, you will find several throughout the city.
Here are the details on the largest and most favored ones (all are year around unless noted):
Heart of the City in the UN Plaza in Civic Center: 7 am to 4 pm (they are also open from 7 am to 4 pm on Wednesdays)
Thrive City Farmer's Market: 1 Warriors Way, 8 am to 1 pm
Divisadero's Farmer's Market at 1377 Fell Street: 9 am to 1 pm
Fort Mason Center Farmer's Market: 9:30 am to 1:30 pm
Inner Sunset Farmer's Market in the parking lot between 8th and 9th Avenue south of Irving Street: 9 am to 1 pm
11. Cruise Around the SF Bay

In addition to the weekend Champagne cruise, you will also find several other fun cruises on Sunday in San Francisco. This weekend, explore the SF Bay on the popular 60-minute bay cruise.
You can also head out on a Sunset cruise, the Bridge 2 Bridge cruise (which also takes you under the Bay Bridge), or take the Escape from the Rock cruise. All offer a fun experience as you learn more about San Francisco and its surrounding communities.
12. Taste Local Wines

Another fun thing to do on Sunday in San Francisco is to sample local wines. You will find plenty of excellent wine tasting rooms right here in San Francisco.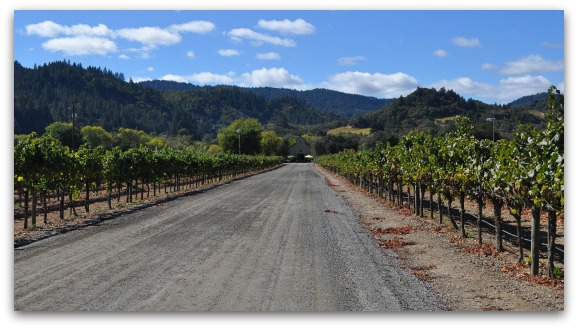 You can also head north to visit Sonoma and Napa Valley. Both are only about an hour to an hour and a half north of the Golden Gate Bridge. You can either head up on your own or with a guided tour.
This is a wonderful tour that takes you north to Napa and Sonoma on a day tour. It's a great way to experience these wine regions in just one day.
If you prefer something a bit more laid back, then don't miss the chance to head to one of our popular wine bars. They offer a large variety of wines from local vineyards as well as those from around the world.
13. See a Show

Every Sunday in San Francisco, you will find dozens of shows on stage at local performing arts buildings. You can see a Broadway show at either the Orpheum Theater or the Golden Gate Theater. You can also catch a smaller theater production at one of more than a dozen theaters around town. Find a full calendar here.
The SF Symphony also offers year-round performances. They play both classical pieces as well as the scores from popular movies. In addition, they provide several family and kid-friendly performances throughout the year.
The SF Opera and SF Ballet also offer several performances on Sundays. The SF Opera is on stage in June and from September to December. They share the stage with the SF Ballet, which offers performances from December (The Nutcracker) to May each year.
14. Cheer on the Giants

You can also head over to Oracle Park to catch a Giants game. Our Major League baseball team takes the field from April to the end of September every year. They play more than a dozen games at home each month. This means that they offer a game almost every other Sunday in San Francisco during the season.
At Oracle Park, make sure to gobble up some of the best garlic fries in town and make friends with your neighbors. It's one of the most beautiful parks to see a game in the US.
Here is a schedule of the upcoming Sunday games in SF.
Comments? Questions? Suggestions?
I would love for you to join me in my private Facebook group! 
It's a great place to interact with me and others who know the area well.
You can ask questions, get advice for your upcoming stay, and then share your photos and advice with others when you return home. It's a great community and the fastest way to get answers to those nagging questions about your visit!