Today in San Francisco: Sports, Shows, Cruises, Concerts, Festivals, & More
Are you looking for something fun to do today in San Francisco? You will find dozens of popular options including sports events, theater performances, festivals, and concerts.

You will also find a variety of activities including cruises, walking tours, bike rides over the Golden Gate Bridge, and so much more.
Read on for some great ideas on what's happening in SF today.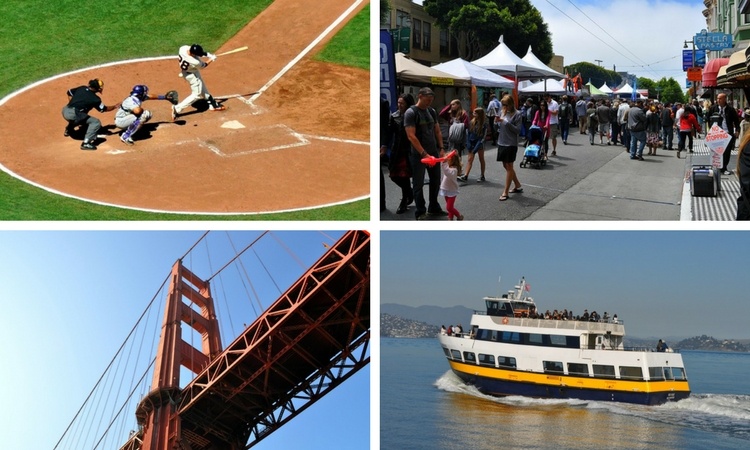 Disclaimer: I receive a small commission from some of the links on this page.

San Francisco Festivals Today

San Francisco is home to hundreds of festivals every year. They include local street fairs, wine tasting events, and film festivals. You will find most of the largest festivals on the weekend.
You will also find wine, beer, and film festivals that run during the week.
Check out this calendar with the best San Francisco festivals for each month.
Bay Area Sports Games Today

Another one of the fun things to do today in San Francisco is to check out one of our SF Bay Area sports teams. We have professional baseball, football, hockey, basketball, and soccer. In addition, we have several local college teams that are fun to watch.
Here are the Bay Area sports games today.
SF Giants: The Giants play from late March to September. You will find more than a dozen games per month during their season. Here are their games today and this week.
Golden State Warriors: Our NBA team, the Warriors, also have games throughout most of the year. They play from October to April (with post season play from April to June). You will find about a half dozens games a month during their regular season. Find games today and this week.
>> Find a full list of our sports teams in SF

San Francisco Concerts Today

There are several concerts and shows today in San Francisco and the SF Bay Area. You can see everything from large international acts to those that are smaller and local. Some of our top venues include the Bill Graham Civic Auditorium, the Masonic Auditorium at the Nob Hill Masonic Center and The Fillmore.
These are the top concerts planned for today.
>> Find additional concerts in SF

San Francisco Plays & Musicals Today

San Francisco is a great theater town. We have dozens of performances each week. Like our concert calendar, you will find a wide range of options from award winning Broadway shows to small, intimate theaters with local productions.
These are just a few of the shows scheduled for today.
Other San Francisco Events Today

In addition to these fun activities today in San Francisco, you will also find several great events. On my monthly event calendars, you will find additional things to do.

More Activities Today in San Francisco

What to Wear in San Francisco Today

The weather in San Francisco is mild all year long. Our summers are moderate during the day and average temperatures in the mid-to-upper 60s. It's chilly at night as the fog rolls in.
Our spring and fall are the sunniest months even though temperatures are about the same as the summer months. The winters are our rainy season. Being that it rains just a few days each month, so you will often have mostly clear days even in the winter. This time of year is a little cooler with temperatures in the upper 50s to lower 60s.
Click the links below for a few more details by month including some tips on what to wear while you are here.
Free Things to Do in San Francisco Today

Some of the best free things to do in San Francisco today include visiting the Golden Gate Bridge, the Painted Ladies of Alamo Square, and Lombard Street. Other ideas include taking a free walking tour, heading to a festival (many are free), or visiting one of our free museums.
Find additional details below.
Things to Do with Kids Today in San Francisco

Today in San Francisco you will find several fun things to do with your kids and your entire family. Some of my top picks include visiting the California Academy of Sciences, the Exploratorium or the Randall Museum.
You can also head to a sporting event, explore the Musée Mécanique, or play around on Pier 39.

Cruises Today in SF

Three sides of San Francisco are bordered by water, so you will find several different cruises each day. The most popular is the 60-minute bay cruise. The same cruise is operated by two companies and both leave from Fisherman's Wharf.
Almost every day, you will also find dinner, sunset, and sailing cruises. All of them cruise under or near the Golden Gate Bridge and most spend some time cruising near Alcatraz Island.
>> My 5 favorite cruises around the SF Bay

>> Find a list of all water activities in San Francisco
Last Minute Hotel Deals

Walking, Biking, and Other Tours Today

The best way to get an insider's view of San Francisco is by taking a guided tour. The best option is to head out on foot. On our popular walking tours, you can spend a few hours learning about San Francisco's history, sampling our tasty treats, or hearing popular ghost stories.
>> More of our best walking tours
You can also spend the day biking around SF. You can either head out on a guided tour or rent a bike for just the day and head out on your own.
If you prefer to sit back, relax and have someone drive you around, then you will want to check out the bus tours today in San Francisco.
Comedy in San Francisco

SF and the Bay Area have a thriving comedy scene. Almost every night of the week, you will find comedians on stage at places such as Cobb's Comedy Club and the Punch Line. You will also find some hot names performing at places such as The Masonic Auditorium at the Nob Hill Masonic Center.
Here are the top comedians performing today in San Francisco.
>> Find even more options all around town today

Nightlife Today in San Francisco

Are you on the hunt for the best nightlife? In addition to everything mentioned above, you can also check out some of our unique local bars, sample some of our tasty wines, and check out our best happy hour specials today in San Francisco.

Top Things to Do by Day

You will also find some great options each day of the week. They include nighttime events at our top museums, wine tasting workshops, and free museum admission days. Each link below has the best things to do each day of the week.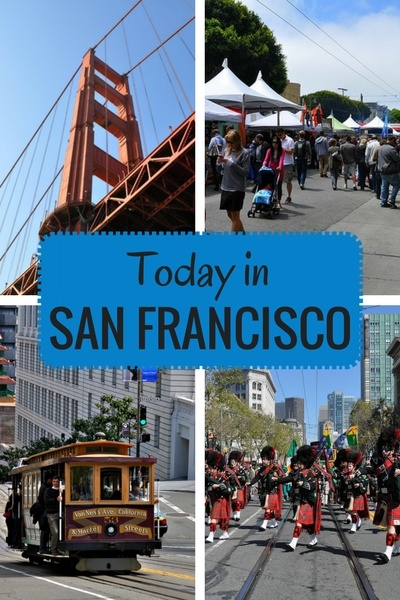 Comments? Questions? Suggestions?
I would love for you to join me in my private Facebook group! 
It's a great place to interact with me and others who know the area well.
You can ask questions, get advice for your upcoming stay, and then share your photos and advice with others when you return home. It's a great community and the fastest way to get answers to those nagging questions about your visit!