Monterey Travel: Things to Do and See Around the Bay and Beyond
My insider's guide to Monterey travel includes top attractions, events, and other fun things to do all around the bay. In addition to the city of Monterey, you will also find some of my top picks in Carmel-by-the-Sea, Pacific Grove, Pebble Beach, and Santa Cruz. 

I've also included tips for visiting the wine country around Carmel Valley, ideas for your stay in Big Sur, and where to find the famous 17-Mile Drive.
Click the links below to jump ahead to the destination(s) you plan to visit and the topics you want to learn more about.
Enjoy your stay and please let me know if there is anything else I can do to help you plan your visit!

Disclaimer: I receive a small commission from some of the links on this page.

City of Monterey

The city of Monterey is the heart of the travel in this region. This colorful waterfront town is on the southern side of the Monterey Bay and is full of activities.
The most visited attraction here is the Monterey Bay Aquarium. You will find more than 200 exhibits and galleries that showcase the diverse plants and wildlife that call the Monterey Bay area home. It's a perfect stop for everyone visiting the area.
Other top attractions include Cannery Row where you can do some shopping and Fisherman's Wharf where you will find plenty of seafood and whale watching tours.
You will also find several other fun things to do including visiting top museums, sampling local wines, and going on a kayaking adventure. You can also hang out at the beach, enjoy the lively nightlife, or explore with your family. 
To help you stay on budget, I've included some great free things to do. You will also find my top picks for both outdoor and indoor fun including some of the best places to see our beautiful coastal redwoods.

You will also find some interesting tours--allowing you to learn more about this amazing place from a local.
>> Find details to visit the Monterey Museum of Art
Where to Stay in Monterey

If you plan to stay in the city of Monterey, you will find many great accommodation options. They range from high-end spots along the water such as the Monterey Plaza Hotel & Spa or the luxurious Portola Hotel & Spa. 
You will also find plenty of great budget-friendly options too. Some of my favorites include The Inn By The Bay Monterey and the Hampton Inn. Find all my top recommendations here.
Not sure what to wear? Find tips on what to pack with my Monterey Weather Guide. Find information by season and for each month.

Events Around the Monterey Bay

During your Monterey travel adventure, make sure you also check out some of the great events around the Bay. These include options in Monterey, Carmel-by-the-Sea, and even on the northern end of the bay in Santa Cruz. 
Click the links below for the best options for each month.
Are you planning to visit Monterey from San Francisco? My guide offers the best ways to get between these two destinations. Learn more here.
Carmel-By-the-Sea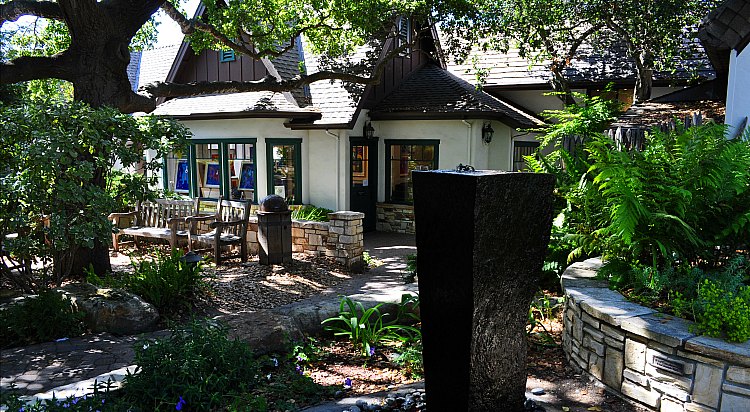 Carmel-By-the-Sea (often referred to as just Carmel) is about a 15-minute drive south of Monterey. This small town of fewer than 4,000 people is often called a fairy tale town with its cute cottages, shops, and restaurants lining the streets. 
Some of the other top things to do in Carmel-By-the-Sea include heading to the beach for some amazing ocean views, visiting the historic Carmel Mission Basilica, and strolling around its lovely downtown area for shopping, wine tasting, and food.
If you plan to visit a day or two, make sure to check out my recommendations for the best places to stay here. They include the top bed and breakfast recommendations, high-end hotels, and a few more budget-friendly options. 
You will also find some great events each month. Check out my calendar here.
Pacific Grove

Another place to add to your Monterey travel plans is Pacific Grove. This small town is just to the south of Monterey. It's so close to Monterey, you could easily walk there from Cannery Row or the Aquarium.
Pacific Grove is known for a few things and has plenty of fun activities. It's best known for its gorgeous waterfront vistas. It's also well known for the annual migration here of the Monarch butterflies.
This is where they spend most of their fall and winter months and is a wonderful breeding ground for this important butterfly.
Some of the must see stops here include the Point Pinos Lighthouse, Pacific Grove Museum of Natural History, and the Asilomar State Beach. 
>> Find a full list of things to do, where to eat, and more tips to plan for your stay

Pebble Beach

Just to the south of Pacific Grove, you start to run into the famed golf courses of Pebble Beach. This gorgeous area is home to eight golf courses--five of them are open to the public.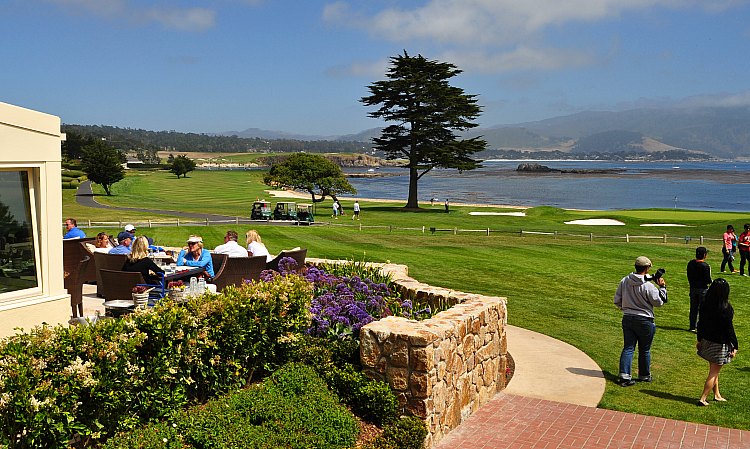 The three most famous golf courses here include Cypress Point Club, Monterey Peninsula Country Club, and Pebble Beach Golf Links.
The biggest event here every year is the AT&T Pebble Beach National Pro-Am. This competition is held on three of the courses in the area.
Almost all of the activities here include golfing and checking out the amazing ocean views. It's also home to the famed 17-Mile Drive. 

Carmel Valley

Heading inland, you will find the Carmel Valley Village. It's a must visit for Monterey travel wine lovers.

It's home to more than a dozen wineries and several high-end hotels (many of them are associated with the wineries). It's a fun place to spend the day tasting some local wines and many of the wineries are close enough to walk between.
Whether you plan to spend the night or just come out for the day, your best option is to take the Grapevine Express Route 24. This is a public bus run by Monterey/Salinas Transit.
It will take you from Carmel-by-the-Sea to the front door of many of the wineries in the valley. This way, you can sample a few more tasty wines in this up-and-coming wine region.
The first bus leaves Carmel-by-the-Sea around 7 am and the final one returns from Carmel Valley around 7 pm. It runs all year long with several trips between Carmel-by-the-Sea and Carmel Valley every day.

My 5 Favorite Carmel Valley Hotels

Santa Cruz

On the northern end of the bay, you will find the town of Santa Cruz. The biggest draw here is its famed oceanfront amusement park called the Santa Cruz Beach Boardwalk. The park opened in 1907 and is the oldest amusement park in California.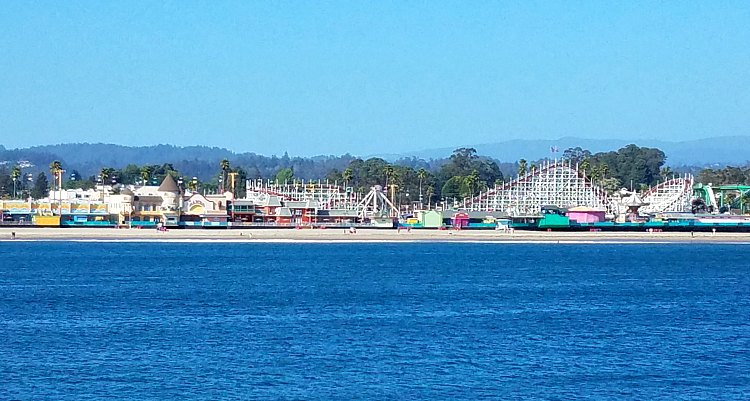 Top attractions on the boardwalk include the Giant Dipper (one of the most well-known wooden roller coaster rides in the world) and the Looff Carousel. You can also stroll along its boardwalk to play some games and enjoy some tasty treats.
In addition to its outside activities, you will find a few things to do indoors as well including miniature golf, a pirate-themed recreation center, and a video game arcade. 
Other things to do in and around Santa Cruz include surfing, spending a day at the beach, and visiting the wharf. Make sure you spend a little time at the Monterey Bay National Marine Sanctuary Exploration Center, the Santa Cruz Museum of Natural History (find more great museums here), and Natural Bridges State Beach (find more great beaches here).

You will also find plenty of great places to stay here from high-end options to several, clean and comfy budget-friendly hotels.
>> More fun things to do around Santa Cruz
>> Find details for the best wineries around Santa Cruz
>> Great hiking trails around Santa Cruz
Big Sur

My insider's guide to Monterey travel also includes the Big Sur area. Located about an hour south of the Monterey Bay Area, this mostly undeveloped area offers some of the most dramatic and stunning coastline vistas anywhere in the world.

In addition to soaking in the views, you will also find some amazing places to hike, picture perfect beaches, and a chance to explore some of our famous coastal redwoods.
While you are here, make sure to also check out McWay Falls (one of just two waterfalls in California that drop directly into the ocean), drive across the Bixby Creek Bridge, and admire the Point Sur Lightstation.
While there are a few places to eat and stay here, it's mostly undeveloped so you will want to come prepared with what you need for your visit. 

Weather Around the Monterey Bay

What can you expect from the weather during your Monterey travel vacation? The great thing about this area is that temperatures are mild throughout the year. You won't find many days that are too hot or too cold. 
Here is a little more about what to expect each season.
Spring

Spring is a great time to visit the Monterey Bay Area. It's before the busier summer travel season and mild temperatures making walking around town a wonderful experience.
During the day, the highs reach up to the lower to mid-60s with the evenings cooling off to around the mid-40s. Make sure to bring along some layers, so you can stay warm during your stay.
Spring is also when the rainy season is finishing. April and May receive only around an inch of rain for the entire month.

Summer

The summers here are also very mild. During the day, the temperatures reach into the mid to upper 60s with some days in the 70s. At night, the temperatures cool off quickly and dip into the lower 50s all summer long. 
You will find very little rain this time of year with just a trace amount of precipitation.
It's also best to layer. The fog this time of year creates overcast skies several days this month making it feel a bit cooler than the true temperature. It's the perfect time to take a Monterey travel vacation to get away from the scorching heat in other parts of the country.

Fall

September is the warmest time of the year. The high temperatures reach up into the lower 70s. October is about the same with temperatures reaching up into the upper 60s most days.
The nights are cool and breezy with temperatures in the lower 50s. There is also very little rain this time of year.
October is also when the Monarch Butterflies start to make their way back to their breeding grounds around Pacific Grove.

Winter

The winters are also very mild here daytime temperatures in the mid-50s. The evenings dip down a little with temperatures around the mid-40s.
November through March is also rainy season. November starts out slow with just a couple of inches of rain. This increases to up to around 4 inches in December, January and February. It starts to taper again in March.
The rain is usually a light, cool rain that is easy to walk around in. However, at times, there are some stronger storms that blow through, but they usually only last a day or two.

Getting to Monterey from San Francisco

Many visitors combine a Monterey travel vacation with a visit to San Francisco. You will find a number of ways to get here from SF.
San Francisco is about two hours north of Monterey. You can easily drive down here for a day trip and return to SF in the evening. You can either rent a car or take a day tour where someone else does the driving. You can read more about my experience on the most popular day trip from SF to Monterey and Carmel-by-the-Sea.
If you flew into the area, you can also easily rent a car and drive down yourself. I highly recommend taking the slow route down along Highway 1.
This takes a bit longer, but part of the drive is along the coast and it's a beautiful way to travel to Monterey. You can then return on the faster route on Highway 101.

Make sure to avoid rush hour if possible when traveling to or from your Monterey travel visit. This will increase your travel time up to an hour each way (or sometimes more if there is an accident or rainy weather). 

Once you arrive, you will also find some great ways to get around Monterey. Find my tips here.

Comments? Questions? Suggestions?
I would love for you to join me in my private Facebook group! 
It's a great place to interact with me and others who know the area well.
You can ask questions, get advice for your upcoming stay, and then share your photos and advice with others when you return home. It's a great community and the fastest way to get answers to those nagging questions about your visit!