Monterey Events in November
2019 Festivals, Tree Lighting Ceremonies and Thanksgiving Day
Monterey events in November 2019 include a variety of fun holiday activities including tree lighting ceremonies, parades, and festivals for your entire family. Top picks include Christmas at the Inns, the Cannery Row tree lighting, and the Pacific Grove Holiday Parade of Lights.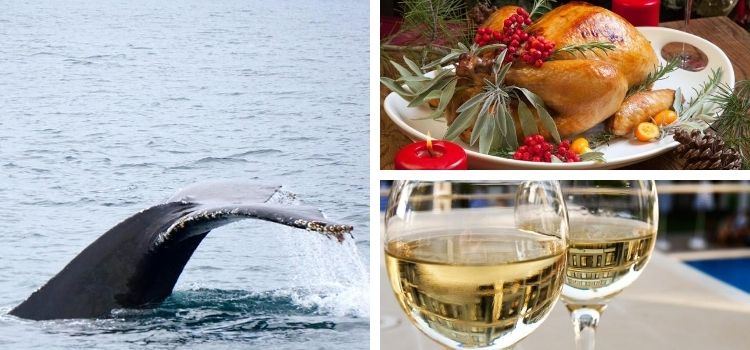 Other top events this month include the Big Sur Wine & Food Festival, Taylormade Pebble Beach Invitational, and the Monterey Half Marathon Run. You will also find some great recommendations for Thanksgiving Day dinner.
Read on for the best of what's happening this month around the bay!
Disclaimer: I receive a small commission from some of the links on this page.
Monterey Cowboy Poetry & Music Festival
Dates: TBD
Location and Time: Monterey County Fairgrounds
Time: Opening at noon and ending at 10 pm
Cost: Tickets range from $19 to $247 depending on activities and choices
This is one of the Monterey events in November for everyone that loves cowboy poetry, western music, cowboy movies and western art and gear. During this three-day event, you can listen to country music, enjoy some amazing food & wine, and mingle with other cowboys and those that love them.
You can also check out the art and western marketplace, put in your bid for the Silent Auction, and pick your favorite during the Battle of the Bands.
Parking is limited so arrive early. The event will take place rain or shine, so plan accordingly.
Big Sur Food & Wine Festival
Dates: 11/7 - 11/9
Location: Several locations throughout Big Sur
Cost: Event tickets are individually priced varying between $25 to $250
This annual event showcases amazing wines from dozens of local wineries. In addition to wine, you can also sample the tasty culinary treats from top chefs from Big Sur, Monterey, and San Francisco.
You can be sure to taste only the best wines as world class sommeliers will make sure your palate is pleased beyond anything you can imagine. There will be classic wineries that you love and some new ones that you will be glad you sampled before everyone else.
This is one of the incredibly sought after Monterey events in November, and I suggest you buy your tickets as early as possible. Some of my favorite events include, "The Sommelier Dinner" (limited to 40 seats) and "Hiking with Stemware" where you will cruise through the cliffs and ridges while tasting some great wines (limited to 36 people).
The Big Sur Food & Wine Festival always ends with the amazing "Walkabout Marketplace" in the gorgeous Loma Vista Gardens. This event includes local artists, music, and the best food and wine around.
Monterey Bay Half Marathon
Dates: 11/10
Location and Time: Starts at 610 Del Monte Avenue in downtown Monterey at 6:50 AM
Registration: On their Official Site
This popular half-marathon starts and finishes in Monterey. During this race, you will run along the beautiful waterfront, Cannery Row, as well as in downtown Monterey.
This USATF event is mostly flat as there is only about 100 feet of gain and loss, so not matter your level, this is a perfect run for all levels. This is also a great race if your friends or family want to cheer you along as there are numerous viewing spots, ranging from the start of the race to Cannery Row to Pacific Grove and others.
If you really need another reason to experience this incredible marathon, you can also win the grand prize trip to the sister-city of Dubrovnik, Croatia. It would be the perfect way to celebrate one of the best half-marathons in one of the most beautiful locations in the world.
Make sure to register as soon as possible as this race, the Pacific Grove Lighthouse 5k, and the Ocean View Challenge, which includes both the 5k on Saturday and the half-marathon on Sunday, all sell out very quickly. It's one of the Monterey events in November you do not want to miss!
Additional Ideas for Your Monterey Bay Vacation
In addition to these top Monterey events in November, you will also find several fun things to do all month long. Here are just a few of my top recommendations.
Visit the Monterey Aquarium: This if a fun activity all year long. This amazing space includes a kelp forest, penguins, and jellyfish. My favorite is the Open Sea exhibit, which is their largest, where you can see water creatures of all sizes interacting. I also recommend that you pick up skip the line tickets, so you have more time to explore inside.
Old Monterey Walking Food Tour: Foodies will love the chance to check out some of the top dishes around Old Monterey. This small group tour will take you downtown and to Alvarado Street to find some wonderful places that appeal to the locals. This 3-hour tour runs most Thursdays and Saturdays. Find tickets to upcoming tours.
Half-Day Whale Watching Tour: Monterey is one of the best places to go whale watching in the area. There are several spots where the whales like to feed as they migrate south for the winter months. This 3.5 to 4 hour tours runs most days in November starting at 9am. Find ticketing information for this fun activity.
Mallstars Breakfast with Santa
Date: TBD
Location: Northridge Mall in Salinas
Times: 9 am to 11 am
Cost: $5 donation to Children's Miracle Network per person
Just a short drive from Monterey is the cute town of Salinas where Santa Claus, Mrs. Claus and other friends will help welcome in the Winter holiday season.
This holiday event is the perfect way to start off the season. It includes breakfast, games, free giveaways and hands-on holiday art projects.
Santa and Mrs. Claus always show up at the food court, so you can be sure to ask for your favorite gift early in the season and give the elves all the time they need to make it for you and your kids!
Note: If you are a MallStars Kids' club member, each child and parent will receive a $1 discount on the entrance fee.
Taylormade Pebble Beach Invitational
Dates: 11/19 - 11/24
Location: Three Golf Courses in Pebble Beach
Admission: The Public is Welcome All Days Free of Charge
This Pro-Am Tournament is held at three Pebble Beach Courses: Del Monte Golf Course, Spyglass Hill Golf Course, and the Pebble Beach Golf Links. The event is known as one of the best golfing tournaments in not only the USA, but the world, as the top players compete on teams with four amateur players each day.
This golfing tournament is also beloved since it is the only event in the world that allows for PGA, LPGA, Champions and the Web.com Tour players to go against each other and prove who is the best of the best.
Some of the players who have attended the Taylormade Pebble Beach Invitational include Annika Sorenstam, Bubba Watson, Natalie Gulbis, Rickie Fowler, and others. One of the truly wonderful benefits of seeing this event is the chance to meet some of the most famous musicians, Hollywood celebrities and other leaders of industry from around the world.
In case you were wondering if this is all fun and games, it is not as there is $7,000,000 in prize money awarded to the teams. It's your chance to experience one of the top Montery events in November.
More Fun Events Nearby
San Francisco November Events | Sonoma in November
Del Monte Shopping Center Tree Lighting
Date: 11/23
Location: Del Monte Shopping Center at 1410 Del Monte Center
Time: 5 pm to 7 pm
Cost: Free for all to attend
A fun event for kids of all ages, the Del Monte Shopping Center is proud to be one of the first to kick off the holiday season with their tree lighting celebration. Since it is an all ages event, there will be free drinks for everyone and kids will be given their own set of reindeer antlers to help them get into the holiday season early!
Last but not least, Mr. and Mrs. Claus will show up and entertain everyone that loves Christmas as they spread their holiday cheer.
Salinas Holiday Parade of Lights
Date: TBD
Location: Downtown Salinas
Time: 6 pm to 9 pm
Cost: The Parade is free for all to enjoy
Stop by downtown Salinas for their Annual Holiday Parade of Lights event. This fun, local parade offers dozens of floats, kids, and many other participants. The parade starts at 6pm but families arrive hours before to set up blankets, chairs, and enjoy the festivities before it begins.
You and your whole family will love this Christmas parade as you will see over 70 lighted entries moving down the street in the dark. There are also bands, huge floats, lots of special guests, and many other fun events going on during the parade.
If you are bringing children, you can be sure they will have a great time since there are activities specifically 12 and younger in the Kid's Zone, which opens at 4 pm.
Where to Stay Around the Bay
Monterey: You will find the largest selection of hotels in and around Monterey. Higher end picks include the Spindrift Inn and Portola Hotel and Spa. You will also find some more budget friendly options if you move a few additional blocks away from the waterfront. Find my top picks for all budgets here.
Carmel-By-The-Sea: This seaside town is a bit smaller, but still offers plenty of accommodations. You will find some great luxury hotels as well as several quaint bed and breakfasts. Here are my top picks for Carmel-By-The-Sea.
Pacific Grove: This small community sits just to the north west of Monterey. They offer several great places to stay including a couple of great bed and breakfast and some budget-friendly options. Find my top 5 picks here.
Are you ready to book? Make sure to check out the great deals below.
TripAdvisor: Compare prices, read recent guest reviews and find a wide selection of options.
Upcoming Events at the Golden State Theater
The Golden State Theatre attracts internationally recognized names from around the world to perform. It's one of the best places to catch a concert, comedy show, or other fun shows.
Here are some of the top Monterey events in November 2019.
Cannery Row Tree Lighting
Date: TBD
Location: Steinbeck Plaza and the Plaza in front of Bubba Gump's on Cannery Row
Time: 4 -9 pm
Cost: Free for all to attend
This annual tree lighting ceremony is usually the day after Thanksgiving. This free event lasts from 5pm to 9pm. Stop by for family festivities and to get into the holiday spirit.
There are lots of different events for you and your kiddies to enjoy during this 5-hour celebration of the winter season and holidays. The tree lighting ceremony starts promptly at 5:45 pm and ends at 6 pm, so you will want to make sure to get there a bit early to get the best views for you and everyone attending this event with you.
Here is a quick schedule:
4 pm to 8 pm: Balloon Artist
4 pm to 8 pm: Reindeers
5:30 to 8:30 pm: Christmas carolers
5:45 to 6 pm: Tree Lighting Ceremony
6 pm to 9 pm: Meet Santa and Mrs. Clause and get a free photo taken with them.
Don't forget to ask Santa for your gift for Christmas!
Thanksgiving Day Dinner Recommendations
Date: 11/28
You will find several places open for Thanksgiving Day Dinner. Most offer traditional cuisine while others offer a twist to this year's feast. Here are a few ideas on where to find that perfect meal this Thanksgiving Day in Monterey.
I also recommend making a reservation as soon as your plans are finalized.
Sardine Factory: 701 Wave Street, Monterey
TusCA Ristorante: 1 Old Golf Course Road, Monterey
California Market at Pacific's Edge: 120 Highlands Drive, Carmel
Portola Hotel & Spa: Two Portola Plaza in Monterey
Here are a few additional places open on Thanksgiving Day.
Casanova Restaurant Carmel: Italian, 5th Avenue Carmel
El Torito: Mexican, 600 Cannery Row, Monterey
Flaherty's Seafood Grill & Oyster Bar: Seafood, 6th Avenue between Dolores and San Carlos, Carmel
Scales Seafood & Steaks: 30 Fisherman's Wharf, Monterey
First City: Beer & Wine Festival
Date: TBD
Location: Colton Hall Lawn, Monterey
Times: 1 pm to 4 pm with VIP Early Admission at noon
Cost: General admission is $75. VIP Admission is $100 and includes early admission at noon and exclusive beer and wine tastings from noon to 1 pm.
Both General and VIP tickets include unlimited tastings and $10 of "Food Truck Bucks" which are valid for any food truck purchases during the First City: Beer & Wine Festival.
This is going to be the event of the year if you are a beer and wine lover as there will be hundreds of Central Coast and Monterey breweries and wineries on hand to cheer in the holiday season. This fun festival also includes lawn games, mini-workshops where you can learn more about your favorite wines and beers, and great live music.
And, when you are looking to fill your belly with something other than wine or beer, the festival brings in some of the best food trucks from all around Monterey and San Francisco.
Carmel Art Walk
Date: Saturday, the 9th
Location: Starts at Dolores between 5th & 6th at Su Vecino Courtyard, Carmel
Time: 5 pm to 8 pm
Cost: Free for all attendees. $10 donation benefitting the Peter Figge Memorial Scholarship Fund if you'd like to wine taste.
Get ready to be amazed at this one of the best Monterey events in November located in the gorgeous town of Carmel-by-the-Sea. You will be able to visit 16 different artists on this art and wine walk and taste 5 different wines from 5 local wineries.
A little fun history about this gorgeous town is that in 1910, over 60% of houses in Carmel were populated by artists, so you know that this is the place to be if you are an art lover. Now, over 100 years later, you get to experience these artist owned galleries live and in person, as you walk around the area and meet the artists and see their magnificent works of art.
It covers about 5-10 blocks in total, so you will have plenty of places to visit. You can also stop along the way for an appetizer or a nice dinner.
Flavors of Pacific Grove
Date: TBD
Location: Pacific Grove Gold Club House at 79 Asilomar Boulevard
Times: 5:30 pm to 8 pm
Cost: $60.00
One of the wonderful Monterey events in November includes this fun and charitable event at the Pacific Grove Gold Club House. Each year there are over 120 donations auctioned off that include golf packages, accommodations, trips, and restaurant certificates, among others.
In addition to the auction there are a number of the best chefs that work in Pacific Grove and the Pacific Grove Golf Club House that will make sure to please your palate with their most delicious delicacies. There will also be live entertainment.
This is a truly beloved event every year and tickets usually sell out in advance, so it is best to purchase them as early as possible.
Homecrafter's Annual Marketplace
Date: 11/23
Location: Sunset Center on San Carlos between 8th and 9th
Times: 9 am to 3 pm
Cost: Free for all to attend
Another of Carmel's can't miss events in November is the annual Homecrafters Marketplace. Every year, more than 100 vendors come from all over this area, including Santa Cruz, Monterey, and San Benito counties to show and sell their best crafts.
And you can be sure to see the finest works of art as they have all been chosen by a jury panel. This also ensures that there will be a wide variety of crafts and artwork, so you will have lots to choose from and peruse, and if you like something, buy it and take it home.
Some of the choices you will have range from food like toffee, nuts, and other foods. Some of the art choices include jewelry, ceramics, textiles, and many more.
This event will be held rain or shine and many of the artists have tents, so their wares will not be effected by the weather.
Ice Skating in Monterey
Dates: TBD
Location: Custom House Plaza
Times: Monday thru Saturday: 11 am to 10 pm; Sunday 10 am to 8 pm (hours include Holidays)
Cost: Adults are $13; Children 12 and under are $11; Skate rental fee: $3. Season passes are $75 for the entire season, but this does not include skate rental.
What would the winter and holiday season be without some fun ice skating? Even if it almost never snows or ices over in Monterey, if you ask me, it just wouldn't be right not to slide around the rink.
So, make sure to bring your jackets, gloves and skates (or rent them) and come on down to the ice rink at the Custom House Plaza during one of the most popular Monterey events in November.
Being that the rink is located right behind the Portola Hotel & Spa you can also have a drink or two and maybe spend some time inside the spa working out those possible bumps and bruises if you fall down.
More Fun Things to Do in Monterey