Monterey Events in February 2023: Concerts, Sporting Events, Wine Tours, and More

by Jill Loeffler  •

Updated: February 2, 2023
Discover the best of the Monterey events in February 2023. Find tips for the best nightlife ideas, get details winery tours, and find tickets to the AT&T Pebble Beach National Pro-Am.
My calendar includes things to do in Monterey, Santa Cruz, Salinas, and other towns around the bay area.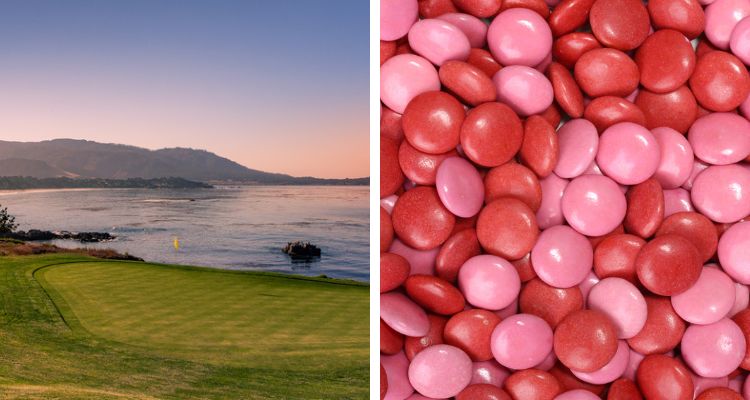 Disclaimer: I receive a small commission from some of the links on this page.

AT&T Pebble Beach National Pro-Am

Date: 1/30 - 2/5
Location: Pebble Beach at the Monterey Peninsula Country Club
Tickets: Ticketmaster | StubHub
One of the ultimate highlights of all the Monterey events in February is the world-famous AT&T Pebble Beach National Pro-Am every year. This event is one of the most beautiful of all the PGA TOUR events anywhere.
Not only will you see some of the best golfers in the world, but you will also be able to see many celebrities who come to this tournament every year.
This 7-day tournament is on three different courses including Pebble Beach Golf Links, Spyglass Hill Golf Course, and Monterey Peninsula Country Club. Some of the events include the Chevron Shoot-Out which pits world class athletes from football, baseball, hockey and other sports against each other on the greens.
The 3M Celebrity Challenge, the Pro-Am Million Dollar Hole-in-One for Charity event, and the 4-day pro golf tournament.
For those that are 18 years old or younger, you can even get autographs from many of the pro golfers and from the celebrities that are at the AT&T Pro-Am. Past celebrities have included Bill Murray, Clint Eastwood, local musician Huey Lewis, and many others.
There are also many fan attractions, live events, beer and wine tastings, and food trucks available for your enjoyment. Click the links below for ticketing information.
Santa Cruz Warriors
If you are looking for some fun D League basketball action, then head over to the Kaiser Permanente Arena in Santa Cruz. The play five home games this February. 
2/3 vs. the Ontario Clippers
2/15 vs. the Texas Legends
2/22 & 2/24 vs. the Austin Spurs
2/25 vs. the Salt Lake City Stars
>> Find tickets for all upcoming games
Valentine's Day on Old Fisherman's Wharf
Dates: 2/14
Are you looking for romantic ideas for your Valentine's Day in Monterey? Celebrate by entering the Old Fisherman's Wharf for the Love of the Sea Valentine's Poetry Contest.
The winners will receive Wharf Dollars to spend at local merchants.
Throughout the day, you can also take pictures with hearts all around the Wharf and head to Candy World for some complimentary candy. There will also be special menu items, cocktails, and other sales to celebrate the holiday.
It runs from 11 am to 6 pm.
>> Visit the Monterey Wharf page for more details and ticketing information
Golden State Theatre
The Golden State Theatre is a great place to catch a show. Here are some of the biggest this February in Monterey.
2/10: Mat Kearney - The Acoustic Trio Tour
2/18: Ace Frehley
2/25: Banff Centre Mountain Film Festival World Tour Presenting Partners: Rab, BUFF®, Banff & Lake Louise Tourism
>> Find tickets to top performances in February
River Road Wine Trail

Date: Throughout the month

Location: Various Wineries in Monterey County
The perfect way to celebrate Valentine's day this year is take your loved one to some of the best wineries in and around Monterey.
Each of the small artisan wineries is intimate, charming and they specialize in very limited releases that you may not find in stores or anywhere else. They are located along the Monterey River Road Wine Trail and you will enjoy the gorgeous views from each location.
The River Road Wine Trail is located just about 20 miles from Monterey and Carmel, and about seventy minutes south of San Jose. It is without a doubt one of the top wine areas in the Central Coast area.
Shows at the Catalyst in Santa Cruz

Find some of the best nightlife and concerts at The Catalyst in Santa Cruz. Click the links below for ticketing information.

First Friday in Pacific Grove & Santa Cruz
This month's First Friday is a love filled adventure. It's full of music, artists, and openings in downtown Pacific Grove.

It's the first of the season and runs from 6 pm to 9 pm.
It's also the date for First Friday in Santa Cruz. It runs from 5 pm to 9 pm at venues all around Santa Cruz County. You'll find events in Downtown, Midtown, Westside, Eastside, in Felton, and other places around the county. 
Activities include live music, art, and so much more! 
Banff Centre Mountain Film Festival World Tour
Dates: 2/25
Check out this year's Banff Centre Mountain Film Festival at the Rio Theatre in Santa Cruz. See documentary films with stories about skiing, being on its highest peak, and so much more. 
The event starts at 7 pm.
>> Visit their site for tickets and more details
Clam Chowder Cook-Off on the Boardwalk
Dates: 2/25 - 2/26
Spend the weekend sampling the best clam chowder around. This event features amateur chefs on Saturday and the professional chefs come out on Sunday! 
Both days you can enjoy both Manhattan and Boston (New England) Clam Chowder. After you sample, make sure you vote for your favorites!
The event is along the Santa Cruz Beach Boardwalk.
Events at Folktale Winery

Dates: Several throughout the month
Location: Folktale Winery at 8940 Carmel Valley Rd, Carmel-By-The-Sea
Known for their delicious wines, and beautiful winery, Folktale Winery also has numerous live events for you to enjoy on your visit here. Located a short 5-mile drive from the Pacific Ocean, this is a can't miss experience.
Depending on the day, you will find live music from local and touring bands, a "Chef Duel" pitting some of the best chefs from Monterey, Carmel and the local area to compete for your vote and continue to the next round, or even a yoga class on Sunday mornings.
Located on 15-acres of vineyards and gardens along the Carmel River, Folktale is the perfect location to experience amazing wines, food, gorgeous views and live shows. There is even a yoga class on Sunday morning where you will get a complimentary glass of wine after you have worked out all the kinks.
>> Visit their site to view this month's calendar
Comments? Questions? Suggestions?
I would love for you join me in my private Facebook group! 
It's a great place to interact with me and others that know the area well.
You can ask questions, get advice for your upcoming stay, and then share your photos and advice with others when you return home. It's a great community and the fastest way to get answers to those nagging questions about your visit!