Monterey Events in February 2020
Basketball, Concerts, Festivals, and More
Discover the best of the Monterey events in February 2020. Find tips for the best nightlife ideas, get details on top festivals, and find tickets to the AT&T Pebble Beach National Pro-Am.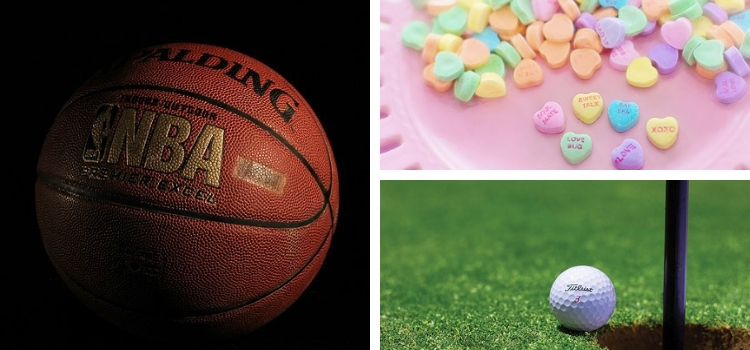 My calendar includes things to do in Monterey, Santa Cruz, Salinas and other towns around the bay area.
Disclaimer: I receive a small commission from some of the links on this page.
AT&T Pebble Beach National Pro-Am
Date: 2/3 - 2/9
Location: Pebble Beach at the Monterey Peninsula Country Club
One of the ultimate highlights of all the Monterey events in February is the world-famous AT&T Pebble Beach National Pro-Am every year. This event is one of the most beautiful of all the PGA TOUR events anywhere.
Not only will you see some of the best golfers in the world, but you will also be able to see many celebrities who come to this tournament every year.
This 7-day tournament is on three different courses including Pebble Beach Golf Links, Spyglass Hill Golf Course, and Monterey Peninsula Country Club. Some of the events include the Chevron Shoot-Out which pits world class athletes from football, baseball, hockey and other sports against each other on the greens. The 3M Celebrity Challenge, the Pro-Am Million Dollar Hole-in-One for Charity event, and the 4-day pro golf tournament.
For those that are 18 years old or younger, you can even get autographs from many of the pro golfers and from the celebrities that are at the AT&T Pro-Am. Past celebrities have included Bill Murray, Clint Eastwood, local musician Huey Lewis, and many others.
There are also many fan attractions, live events, beer and wine tastings, and food trucks available for your enjoyment. Click the links below for ticketing information.
Monterey Symphony
Check out the best performances by the Monterey Symphony this month.
River Road Wine Trail's Valentine's Passport
Date: TBD
Location: Various Wineries in Monterey County
The perfect way to celebrate Valentine's day this year is take your loved one to some of the best wineries in and around Monterey. This one day even starts at 11 am and gives you the chance to visit 9 wineries, experience wine tastings, food pairings including chocolates! You will also have one-of-a-kind access to special events at each winery throughout the day.
Each of the small artisan wineries is intimate, charming and they specialize in very limited releases that you may not find in stores or anywhere else. They are located along the Monterey River Road Wine Trail and you will enjoy the gorgeous views from each location.
The River Road Wine Trail is located just about 20 miles from Monterey and Carmel, and about seventy minutes south of San Jose. It is without a doubt one of the top wine areas in the Central Coast area.
Note: Each ticket starts at a designated winery and then attendees can continue to any winery afterwards.
Shows at the Catalyst in Santa Cruz
Find some of the best nightlife and concerts at The Catalyst in Santa Cruz. Click the links below for ticketing information.
Events at Folktale Winery
Dates: Several in February
Location: Folktale Winery at 8940 Carmel Valley Rd, Carmel-By-The-Sea
Known for their delicious wines, and beautiful winery, Folktale Winery also has numerous live events for you to enjoy on your visit here. Located a short 5-mile drive from the Pacific Ocean, this is a can't miss experience.
Depending on the day, you will find live music from local and touring bands, a "Chef Duel" pitting some of the best chefs from Monterey, Carmel and the local area to compete for your vote and continue to the next round, or even a yoga class on Sunday mornings.
Located on 15-acres of vineyards and gardens along the Carmel River, Folktale is the perfect location to experience amazing wines, food, gorgeous views and live shows. There is even a yoga class on Sunday morning where you will get a complimentary glass of wine after you have worked out all the kinks.
Forks, Corks and Action!
Date: TBD
Location: Hyatt Carmel Highlands, Carmel-by-the-Sea
Located in the gorgeous Wine Room in the Hyatt Carmel Highlands, this once a month event combines a four-course dinner with specially selected wine from local wineries.
Wine lovers will definitely want to experience this as its one of the top Monterey events in February. During the event, you will have a chance to learn from the winemakers, about the history and qualities of the wines of the area and enjoy Executive Chef Chris Vacca's amazing menu specifically designed to be paired with each wine.
Ian Brand Wines will be featured at this dinner. They are known for finding the best vineyards and coaxing out the best wines that are possible from them. They are proud of their "idiosyncratic" wines as they want to be known for originality and being different from the other wineries in the world.
Note: Reservations are required and tickets must be purchased in advance.
An Ocean of Opportunity at the Monterey Bay Aquarium
Date: TBD
Location: Monterey Bay Aquarium at 866 Cannery Row
This one-of-a-kind event is specifically for college students and young professionals who want to help in ocean conservation. Attendees will be welcomed by the Monterey Aquarium's executive director, Julie Packard.
This mixer will allow participants to learn about the newest initiatives to deal with climate change, sustainable seafood practices, and also enjoy special exhibits. This event also includes small bites, specialty cocktails and beer or wine for an extra fee.
Note: This event is 18 years and up.
Steinbeck Birthday Celebration
Date: TBD
Location: National Steinbeck Center at 1 Main Street, Salinas
This event celebrates what would have been John Steinbeck's 117th birthday with numerous family activities that kids of all ages will be sure to enjoy. Some of these include games, live music, and birthday cake for all who attend.
John Steinbeck was one of the best-known and famous American writers. He is most known for his novels, "Cannery Row", "East of Eden", and won the Pulitzer Price for his novel, "Grapes of Wrath" which described the lives of migrant workers in the Salinas Valley. The National Steinbeck Center is dedicated to keeping his legacy alive with in-depth exhibits, writing workshops, and increasing knowledge about his works regarding social justice and equality.
More Fun Things to Do in Monterey