Monterey Events in July: Fourth of July, Festivals & More Fun Things to Do

by Jill Loeffler  •

Updated: July 4, 2023
Discover the best Monterey events in July 2023. Find out what's happening in the bay area for Fourth of July and get details on the top festivals this month.
Some of my top picks include the Monterey Beer Festival, the Santa Cruz Mountains Winery Passport Day, and Carmel Bach Festival. Find information on these and other top activities in Monterey, Carmel-by-the-Sea, Santa Cruz, and more.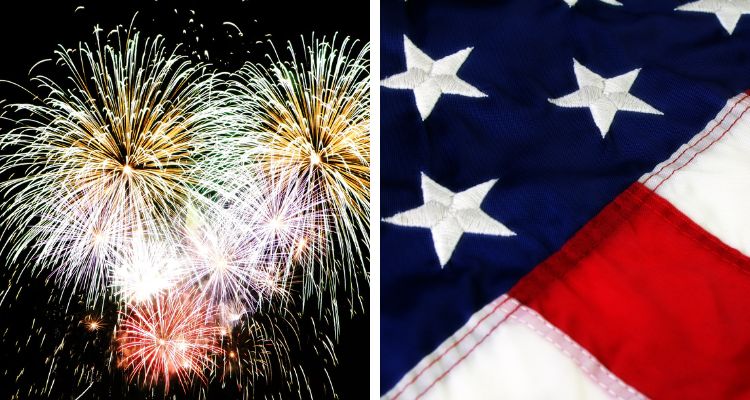 Disclaimer: I receive a small commission from some of the links on this page.

Fourth of July in the Monterey Bay Area

All of these Monterey events in July are on the Fourth of July holiday unless otherwise noted.
Aptos: This Fourth of July celebration the beloved "World's Shortest Parade" going from State Park Drive to Trout Gulch. It starts at 10 am.

Carmel-by-the-Sea: This 4th of July event in Devendorf Park offers family-friendly fun and summer food including drinks, ice cream, hot dogs, cookies and more. Make sure to get there early as all of the food and festivities are free, which means they often disappear quickly. It starts at 10 am and ends at 3:30 pm.
Pacific Grove: This festival starts a little later than the others, at 11 am and ends a bit earlier also at 3 pm, so make sure to plan ahead and join in the fun for all.
It will include live music and entertainment, food and drinks, and more. All activities are in Caledonia Park.

>> Find additional fireworks and Fourth of July celebrations around the SF Bay Area
Monterey Beer Festival

Date: 7/8
Location: Monterey County Fairgrounds at 2004 Fairground Road in Monterey
If beer is more your thing, then check out this year's Monterey Beer Festival. Discover new local beers, sample amazing gourmet goodies, and meet other beer lovers.
You will find rare selections from the breweries such as Sierra Nevada, Anchor Steam, and other lesser known ones. There will also be food to pair with your tasty brews.
This 21-and-over only event will start at 12:30 pm and end at 4 pm. Each ticket purchased will let you taste the great beers, and also allow you to take home a souvenir glass too!
>> Visit their site for ticketing information
California Rodeo Salinas

Dates: 7/20 - 7/23
Location: Salinas Sports Complex at 1034 North Main Street, Salinas
During this four-day event, you get the chance to watch PRCA Professional riders as they compete for the top prizes. Highlights for this event also include live music, horse shows and professional bull riders. In addition, this event features parades, a midway with family friendly rides and more.
You and your family can enjoy loads of exciting rodeo experiences including clowns, barrel races, a heritage museum, a kids corral, and the always spectacular Miss California Rodeo contest.
>> Visit their site for a full schedule of events and ticketing information
Hotel & Lodging Recommendations

Monterey: You will find the largest selection of hotels in and around Monterey. Higher end picks include the Spindrift Inn and Portola Hotel and Spa. You will also find some more budget friendly options if you move a few additional blocks away from the waterfront. Find my top picks for all budgets here.
Carmel-By-The-Sea: This seaside town is a bit smaller, but still offers plenty of accommodations. You will find some great luxury hotels as well as several quaint bed and breakfasts. Here are my top picks for Carmel-By-The-Sea.
Pacific Grove: This small community sits just to the north west of Monterey. They offer several great places to stay including a couple of great bed and breakfast and some budget-friendly options. Find my top 5 picks here.

Are you ready to book? Make sure to check out the great options below.

TripAdvisor: Compare prices, read recent guest reviews and find a wide selection of options.
VRBO: Another option is to rent an apartment, house, or a room around Monterey through VRBO.
Moss Landing Antique Street Fair

Date: 7/30
Location: Moss Landing
Browse thousands of collectibles and antiques during this outdoor one-day antique buying fair. Fuel up for the day with the morning pancake breakfast and enjoy food from dozens of other booths all day long.
This annual event hosts more than 200 vendors selling all types of antiques. You will be able to find pretty much any collectible antique you could imagine and more.
When you decide to take a break and grab a bite, there are choices such as a fish fry, hot dogs, burritos and the local specialty, artichokes prepared in numerous ways.
Tickets cost $5 per person while children 12 and under are free with an adult. Gates open from 7:30 am to 4:30 pm.
Monterey Scottish Games & Celtic Festival
Dates: still TBD (might not be held this year)
Location: Monterey County Fairgrounds
Spend two-days at the Monterey County Fairgrounds for this year's Monterey Scottish Games & Celtic Festival. This event features competitive events such as Highland Dancing, Heavy Athletics, and Pipe Bands.
You can also enjoy the Drum Major Classic and the Clan Village. Make sure you don't miss the popular Single Malt Whiskey Tasting seminar on both Saturday and Sunday.
Food and drinks will also be available for purchase all weekend long. Gates open at 9am each day.
>> Visit the official site for more details
Carmel Bach Festival

Dates: 7/15 - 7/29
Location: Sunset Center in Carmel-by-the-Sea
For three straight weeks, you can enjoy dozens of performances during the Carmel Bach Festival. This celebration of Johann Sebastian Bach integrates music, education and ideas. It showcases performances created, inspired or influenced by this legendary musician.
Musicians come from all over the world come to entertain and let you hear the magical songs that made Bach famous. Some of these will include a cappella groups, full orchestras, duets, and others to let you experience his music as originally intended.
This event has over 40 concerts during the three weeks. Some of these concerts are free while others require a ticket.
An event that everyone loves is the annual gala which rings in the festival season. This party includes live music, food and drinks, and a private performance for attendees.
>> Visit their site for more details
MotoAmerica Superbike Speedfest

Dates: 7/7 - 7/9
Location: WeatherTech Raceway at Laguna Seca
Get ready to rev up your engines, hear the roar of some of the fastest racing bikes anywhere, and see the best motorcyclists race around the Laguna Seca race track for 3 days. You will be thrilled and amazed by the speed and skill of these bikes and the riders all weekend long.
If you want to take a break from the races, there are loads of family-friendly events and presentations for you to check out and enjoy. You can also visit the Paddock, where the bikes will be parked, and see them up close.
For those that want to as close to the action as possible, check out the Premier Pit Row tickets. There is nothing else like them for true Superbike fans.
Tickets can be for one, two, or all three days depending on your choice.
Ideas for More Fun Things to Do

In addition to all of these fun Monterey events in July, make sure to check out some of the other fun things to do around the bay.
Whale Watching: Head out on the water this July to catch the whale migrating through the waters off the bay. This time of year, you will be looking out for humpback and blue whales. You will also get the chance to see dolphins, tortoises, and lots of birds. This tour leaves from Fisherman's Wharf daily. Find tickets for all days in July.
Monterey Bay Aquarium: The Monterey Aquarium is a must see for all visitors to Monterey. You will love the huge Open Seas aquarium. My other favorite is the Kelp aquarium with a variety of kelp from the Monterey Bay. The aquarium is open daily in July.
Historic Walking Tour: Discover the history of this amazing area. On this two-hour walking tour, you will have the choice for a stroll down Cannery Row or past locations written about by John Steinbeck. Each one offers you a look back at the long history of this waterfront town.
Additional Fun Events Nearby

Wharf to Wharf Race: Monterey Events in July

Date: 7/23
Location: Starts at Santa Cruz Wharf near the Santa Cruz Beach Boardwalk and ends at the Capitola Wharf near Capitola Village.
The Wharf to Wharf footrace is one of the most popular Monterey events in July. This 6-mile run has been ongoing for more than 45 years and continues to get better each year.
The race starts at 6:30 am. The race is limited to only 16,000 people, so make sure to sign up as far in advance as possible to get a spot.
Please check the link below for a course map and other information to help you have the best run of your life.
>> Find out more on their site
Comments? Questions? Suggestions?
I would love for you to join me in my private Facebook group! 
It's a great place to interact with me and others who know the area well.
You can ask questions, get advice for your upcoming stay, and then share your photos and advice with others when you return home. It's a great community and the fastest way to get answers to those nagging questions about your visit!