Monterey Events in May 2020: Family-Friendly Activities, Concerts, Festivals, and More
My Monterey events in May calendar offers you details on the best things to do in 2020. Top picks include festivals, nightlife ideas, wine tasting activities, and so much more.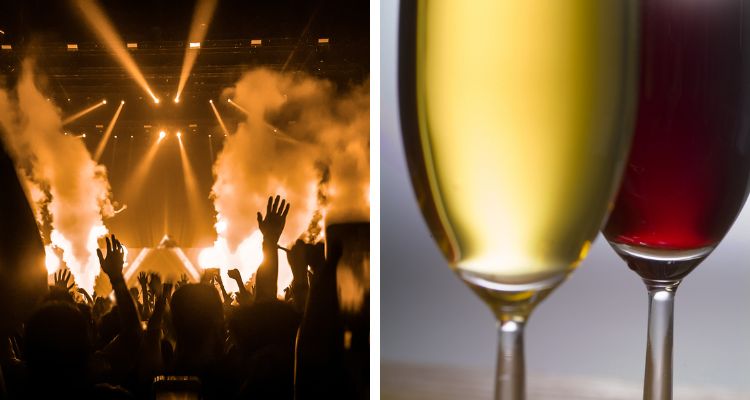 The best options this month include the Winemakers' Celebration in Carmel-by-the-Sea, shows at The Catalyst in Santa Cruz, and the California Roots Music & Arts Festival.

Disclaimer: I receive a small commission from some of the links on this page.

California Roots Music & Arts Festival

Dates: 5/22 - 5/24
Location: 2004 Fairgrounds Road, Monterey
Times: 11 am to 11 pm
Price: Depending on days and level of experiences they range $85 to $525. Children 10 and under are free with a paid adult.
Join other music lovers for this year's California Roots Music & Arts Festival. In the past this three-day festival has featured artists like Damian "Jr Gong" Marley, 311, and Rebelution. During this three-day celebration of music and arts, you can watch more than 40 bands play every year.
California Roots tries to make sure that everyone will have an enjoyable time and they provide many different food and drink options along with the music and other activities.
Some of these include vegetarian, vegan, diary-free, and gluten-free options, so you can be sure that you and your family members will be able to eat to your heart's contentment. There are also craft beers and wine bars for anyone 21 and older that wants to sample some of the best of the local area's drinks.
In addition to the general admission tickets, the festival has "Redwood VIP Passes" which include extra goodies and access to special viewing areas and events.
>> Get a full schedule of this year's performers

Winemakers' Celebration

Date: 5/2
Location: Carmel-by-the-Sea
Times: 1 pm to 4 pm
Price: General Admission $75; VIP $12
During this wonderful one-day event, you can enjoy wines and meet winemakers from Monterey County wineries. You will have the chance to taste more than 100 wines as you also sample small bites made from local ingredients and by local chefs and restaurants. It's an event for anyone that loves great wine and great food!
The setting for this celebration is wonderful too. It's held in the quaint town of Carmel-by-the-Sea which feels like an old-world European village. This is definitely one of the Monterey events in May to attend if you want to taste the best of the best of the local wine and food.
Shows in Santa Cruz

Salinas Valley Fair

Dates: 5/14 - 5/17
Location: 625 Division Street, King City, CA
Times: 11 am to 10 pm
Price: Adults $12; Seniors (60 and over) $8; Youth (6 - 18) $8; Children (5 and under) free; Parking $10; Prices can vary based on certain events and dates
This year marks the 73rd year for this fun and family-friendly festival that features live music and carnival rides. You can also watch local animal competitions, sample local wines, and enjoy a variety of fair treats.
Some of the events that the young ones will enjoy include the Kiddie Korral, Kid's Karaoke, The Amazing Flying Carpet and the Trackless Train among others. There will also be carnival rides.
You can also experience the always competitive Miss Salinas Valley Fair contest.
Ideas on Where to Stay Around the Bay

Monterey: You will find the largest selection of hotels in and around Monterey. Higher end picks include the Spindrift Inn and Portola Hotel and Spa. You will also find some more budget friendly options if you move a few additional blocks away from the waterfront. Find my top picks for all budgets here.
Carmel-By-The-Sea: This seaside town is a bit smaller, but still offers plenty of accommodations. You will find some great luxury hotels as well as several quaint bed and breakfasts. Here are my top picks for Carmel-By-The-Sea.
Pacific Grove: This small community sits just to the north west of Monterey. They offer several great places to stay including a couple of great bed and breakfast and some budget-friendly options. Find my top 5 picks here.

Are you ready to book? Make sure to check out the great deals below.

TripAdvisor: Compare prices, read recent guest reviews and find a wide selection of options.

Santa Lucia Highlands Sun, Wind & Wine Gala

Dates: Saturday, 5/16
Location: Mer Soleil Winery at 1290 River Road in Salinas
Times: 11 am to 3 pm
Price: $65 to $150; Transportation from Monterey is $35
The Santa Lucia Highlands are known for having some of the world's best Syrahs, Pinot Noirs, and Chardonnay wines in the world. This is one of the best Monterey events in May if you want to experience wine from more than 40 different member wineries.
Not only will you get to taste wine from vintners such as ROAR, Hahn, McIntyre and others, but you will also have the chance to taste some of the best small bites from restaurants in this area.
This event also features a silent auction and live music.
Did you find something you love? Make sure to pick up a bottle or two before you leave.
Tickets to Santa Lucia Highlands Sun, Wind & Wine Gala usually sell out in advance, so make sure to purchase them as early as possible for your trip. No one under the age of 21 is allowed at this event.
>> Find tickets for this fun wine and food experience
Bonny Doon Art, Wine & Brew Festival

Dates: 5/30
Location: Bonny Doon Equestrian Park at 3675 Bonny Doon Road, Bonny Doon
Times: 1 pm - 7 pm
Prices: $45 - $75
Bonny Doon is known is home to some of the best wines in the area. This festival has more than 15 wineries and breweries for you to taste and enjoy.
Art lovers will be able to purchase art, and there will be a live auction where you can bid on items such as trips, specialty items, and more.
There will be food trucks if you get hungry and lots of games. You will also be able to dance along with live music by local bands.
Note: Attendees must be 21 years or older to attend this event.
>> Find details and pick up your tickets in advance
Camp Vintage Antique Show

Dates: 5/30
Location: Earthbound Farm Stand, Carmel Valley
Times: 8 am - 4 pm
Prices: Free
Get ready to go back in time and check out what it was like in when your grandparents were young. This event is known for having great antiques with over 30 dealers in attendance.
Some of the antiques available include farmhouse relics, garden antiques, furniture, classic Americana, and more.
This event will be held rain or shine, so plan ahead since the weather in Carmel Valley can change quickly.
More Fun Things to Do Around Monterey Bay

Monterey Bay Aquarium: One of the best aquariums in the world is right here in the Monterey Bay. It's a must see on your stay. The aquarium is home to more than 500 species of Monterey Bay plants and animals.
Whale Watching: May is a fun time to head out on the water to try and spot migrating whales in the area. This time of year, you will get the chance to see humpback and blue whales as well as dozens of other sea animals. Trips leave daily from Monterey. Find tickets for all dates in May.
Food Walk: Sample local foods and learn all about the area on this fun Monterey Food Walk. You will sample both savory and sweet treats as you walk from place to place. In addition, you will also get the chance to pair some of your tastings with our top local wines and craft brews. All food is included in the ticket price. Pick up your spot on the tour today.
Steinbeck's Home Brew Fest

Dates: 5/2
Location: Salinas Sports Complex at 1034 N. Main Street in Salinas
Times: 11 am to 4 pm
Price: $40 early bird general admission; Day of event $50
This is one of the Monterey events in May that beer lovers will not want to miss. There will be more than 80 different styles of beer on hand from more than 30 amateur home brewers.
In addition, this event features food trucks, live music and a day full of fun.This event is sponsored by the Steinbeck Rotary Club to benefit education and youth exchanges around the world. So, drink up, eat a bit, and dig some cool tunes as you support a great foundation.
Amgen Tour of California

Dates: On hiatus for 2020 (might return in 2021)
Location: Laguna Seca Recreation Area; Starting line at the WeatherTech Raceway Laguna Seca
Times: 10 am until cyclists finish the stage 132 miles away in Morro Bay
Price: Free; VIP tickets ranging from $55 to $65
This 773-mile, 7 day event, will include some of the most famous cyclists from around the world as they race across the state of California.
Some of the winners have included Olympic and Tour de France winner Bradley Wiggins; Peter Sagan who has is a master of many different cycling styles including road, cyclo-cross and mountain bike; Egan Bernal who became the first Colombian to win the Amgen Tour of California; and many others that are both famous and new to the sport.
This year the 4th stage of the race will be at the Laguna Seca Recreation Area, and the starting line will be at the WeatherTech Raceway at Laguna Seca. The event is free to watch, but you can pay to be at the starting line and see all the festivities that happen there.
The tour is the only U.S. men's and women's races on the UCI WorldTour calendar, so you know you have the best of the best pushing themselves, and their team, to win it all each and every year.
Castroville Artichoke Festival

Dates: 5/30 & 5/31
Location: Monterey County Fair & Event Center at 2004 Fairground Road, Monterey
Times: Saturday 10 am - 6 pm; Sunday 10 am - 5 pm
If you love artichokes, then this festival is a must for you and your family. This annual event features a classic car show, a beautiful art gallery and a family-friendly parade. You can also sample hundreds of fun artichoke dishes.
This Monterey food event has been going on for over 6 decades and only gets better each and every year. Nearly 100% of America's artichokes come from Castroville, so this celebration is a one-of-a-kind and one of the truly special Monterey events in June.
Some of the festivities will include local chefs demonstrating their skills and showing how artichokes can be used in meals, a Kids Zone, a wine and beer garden, and loads of local musicians. You will want to check the schedules for each day as there are numerous events happening on the different stages at the same time.
>> More details and ticketing information on their site
Trans Am SpeedFest

Dates: 4/30 - 5/3
Location: WeatherTech Raceway Laguna Seca
Get ready to see some of the fastest and hottest looking race cars at one of the top Monterey events in May. Some of the cars driven include Mustangs, Camaros, Corvettes, Vipers, among others that will be sure to thrill as you watch them zoom by at incredible speeds.
If you are looking for some reminders of the past, there will also be a vintage racing car exhibit for you to enjoy when you need a break from the speed on the track.
Shows at the Golden State Theatre

Check out some of the best Monterey events in May at the Golden State Theatre. Here are their top shows this month.

Vive Oaxaca Guelaguetza

Dates: Sunday, 5/17
Location: San Lorenzo Park at 137 Dakota Street in Santa Cruz
Times: 9 am to 5 pm
Price: Adults $10; Children 5 and under are free
Step into the world of classic Oaxaca, Mexico at this lively event. With more color, culture, food, music, and crafts than you can imagine, you will love the incredible dresses and outfits that everyone wears as they celebrate.
The word "Guelaguetza" comes from a Zapotec word that translates into, "a commitment of sharing and cooperation." This festival is a perfect example of it.
In honor of Guelaguetza, there will be lots of traditional Oaxacan food, crafts, hats, drinks, and food for sale. You can also stop by the community booths to learn more about the Oaxacan culture.
This family-friendly event also has many activities for kids, so feel free to bring them along and allow them to see live music and dancing along with everything else.
Chairs and blankets are allowed as there will be many trees for shade. Because of that, there will no longer be bleacher sections so plan accordingly.
Carmel Valley Garden Show

Dates: 5/2 & 5/3
Location: Hidden Valley Music Seminars at 104 W. Carmel Valley Road in Carmel Valley
Times: 10 am to 4 pm
Price: Free; Parking $1
The Carmel Valley Garden Show is one of the Monterey events in May that has so much more than you could imagine from the name of it. Stop by to admire the professionally judged Plant and Flower exhibitions. Your kids will also enjoy the Children's Garden and many other activities specifically for them.
In addition to the flower exhibits, there is a photography contest, a silent auction, and a Garden Gala where the most outstanding arrangements are assembled. There are large number of vendors in case you want to outfit your own nursery or garden with some of the best plants and flowers anywhere.
There will also be music, food, and drinks available at the Garden Cafe.
Carmel Art Festival

Dates: Friday 5/15 to Sunday 5/17
Location: Devendorf Park in Carmel-by-the-Sea
Times: Friday: 12 noon to 6 pm; Saturday: 8 am to 9 pm; Sunday: 9 am to 3 pm
Price: Free
This 3-day event gives you the chance to see some of the best local artistry in the gorgeous village of Carmel-by-the-Sea.
This festival is the only one of the Monterey events in May that has 60 artists. Each one will be showing their talents as they paint during the exhibition live and in person. This offers you the chance to get a behind the scenes look at how they produce their artwork.
There will also be talks, live music, sculpture-in-the-park exhibits, and much more.
The artists will be competing for awards as they paint their pieces and show them at the different galleries around the area. One of the fun things to do here is vote on the painting you like the best and see if it wins the "People's Choice" award!
Last but not least, there is a Kids-Make-Art section so your little ones can experience what it is like to learn about and make their own pieces of art during the day.
Posters, hats, t-shirts and paintings are available for purchase. Paintings that aren't sold during the show will be offered at a "Buy Now" price at the end of the weekend.
Note: There are no official functions on Wednesday, the 15th or Thursday, the 16th, but many artists are painting and practicing through out the Monterey Peninsula. You are welcome to watch them and experience their work in person as they do this.

More Events Nearby