Indoor Activities in Monterey: 10 Warm Things to Do on Rainy, Cool Days in the Bay
Stay warm with these fun indoor activities in Monterey. You will find plenty of things to do on rainy or cool days in and around the bay.

My list includes top local museums. You will also find some great things to do with your entire family.

Disclaimer: I receive a small commission from some of the links on this page.

1. Monterey Bay Aquarium

Anyone who visits Monterey will want to see the incredible Monterey Bay Aquarium when you want to check out an indoor activity. It was opened in 2984 and continues to expand with new displays every year. This massive space includes almost 200 galleries and exhibits which are designed to educate you on the many habitats around this area.
Some of the favorite exhibits in it include the almost 350,000-gallon, and almost 30 foot tall, Kelp Forest. This will give you an idea of what it is like to be underwater in the Monterey Bay.
If you really want to imagine being underwater here, you will need to check out the 1,200,000-gallon Open Sea exhibit that that is 90-feet across, 35-feet tall, and 52-feet from the front to back.
This one has a massive glass wall in the front for you to look at and see all the animals in the bay. This includes sea otters, green sea turtles, ocean sunfish, sardines swimming in their schools, and even hammerhead sharks!
In case you aren't convinced yet, here are a few more statistics about it: It has more than 35,000 animals and plants in it and they are constantly changing throughout the year. There are more than 500 mammals, reptiles, birds, plants, fish and loads of other animals to see when you visit it.
2. Dali Expo

Salvador Dali was known for some of the best, and strangely interesting, surreal art in the world. Even more impressive is that he spent much of his time living in Monterey and this space has over 550 pieces of his work.
With sculptures, etchings, drawing, and even tapestries, his incredible diversity of artwork, and styles, will be sure to amaze and delight any lover of his art.
Even though Salvador Dali was born in Spain, he moved to Monterey, and specifically the gorgeous Pebble Beach during World War II. There were many other artists here, that were exploring new and exciting styles of art, and he fit in perfectly with them.
Containing the United States' largest private Dali art, this incredible museum is located on Fisherman's Wharf, so it is easy to access and enjoy much of Monterey either before or afterwards.
>> Find some additional great museums in Monterey
3. Monterey Museum of Art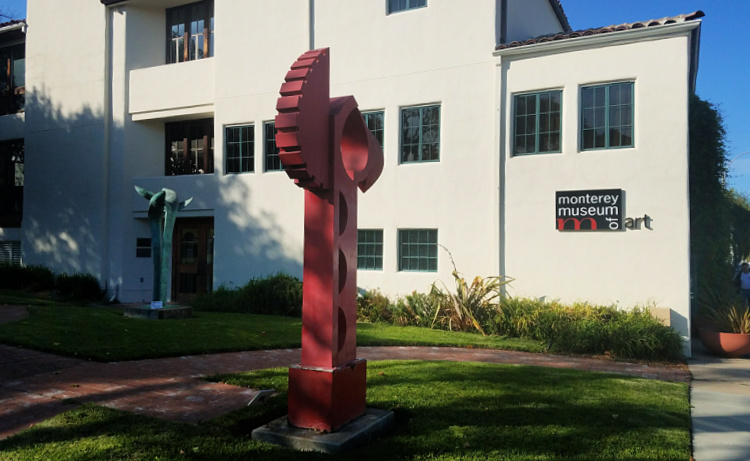 This museum is a fantastic way to spend indoors when you are in Monterey since it will give you many opportunities to explore the diverse, and beautiful, regional art from this area. With art starting in the late 1870s, and going up until the most current of today's, you can be sure to find something you'll love and want to spend time examining and exploring.
Some of the ongoing exhibits include classics like the Early California Paintings, Photography specifically taken around this area, and contemporary art also. They will give you a great timeline of how Monterey art has influenced visitors and local alike.
The museum is also known for the many traveling exhibits such as Bernard Trainor's landscape architecture, Courtney Sennish's Currents, Mid-Century Modernism by Norma Zeigle Bhaskar and many more.
You are sure to get a wide variety of artists and art styles no matter how many times you visit the Monterey Museum of Art.
Make sure to check the schedules, and information, since there are often special events. Also, there are two locations and you will want to be sure which are open and which shows are presented at each of them.
4. National Steinbeck Center

John Steinbeck is without question the most famous author from this area. For those that love his work, or those that don't know it, this is can't miss of the great indoor activities in Monterey where you can learn more about this master.
John Steinbeck was born in Salinas, just outside of Monterey and wrote about life in this small town and this area. He specifically wrote about growing up there, the workers who made this area the "Salad Bowl of the Nation" since so much of the vegetables and fruits were grown here, and their life and travails in this area.
Some of his most famous works include East of Eden, The Grapes of Wrath, and others. This museum highlights the history of the area, and the history of the writer, who won the Nobel Prize for Literature in 1962.
More than just a museum, it is also a cultural center where you can find out more about his views on social work, ecology, and how his thoughts and actions kept this area alive and well for all who lived here and now visit it.
5. Mirror Maze

Get ready to find yourself lost, and full of fun and amazement, at the Monterey Mirror Maze! This mirror maze is unlike any other as it isn't just a maze with mirrors, but many other exciting adventures and cool attractions inside of it. Located on Cannery Row, this is one of the indoor activities in Monterey that give you easy access to everything that this fun area has to offer.
Obviously, the Mirror Maze has a maze in it that is full of psychedelic and confusing wall paintings, along with hip music, and crazy lighting to confuse and amuse you as you get lost and laugh at your mistakes.
However, this is so much more than just a mirror maze as it also includes the "Lazer Challenge", where you get through it and find the vault, all while dodging lazers and the obstacle course all around you.
One of the other attractions include "The Heist" which is based on a classic crime at the InterContinental Hotel back in 1933. During this crime, all the gold in San Francisco, which was stored in the vault on Cannery Row, was stolen! You will be able to check out the display and maybe you can even figure out what happened and solve this famous crime!
NOTE: The Mirror Maze has flashing lights and it is not recommended for visitors who have light or photo sensitive epilepsy or seizures. If you do go, please go slowly and take your time, so as not to get confused or injured. It is also not recommended for small children as they can get lost or confused.
6. Highway 1 Mini-Golf & Arcade

The sister attraction to The Mirror Maze, you will find he only mini-golf location on Cannery Row. For those who enjoy miniature golf, you are in for a crazy adventure since it has loads of 3-D glow-in-the-dark exhibits including ones of the Golden Gate Bridge, Pacific Coast Highway murals, and other locations like the beautiful Big Sur and even Santa Monica in Southern California.
For those looking for a bit more than cool and crazy mini-golf, you are in luck since it also has a huge assortment of classic, and new, arcade games. Some of these games include ones like air hockey, first person shooter games for those that like to test their hand and eye coordination, Skee Ball, and so many more that you could spend the whole day here and never get bored.
Something that everyone loves is that the more games you play, the more tickets you can win, so you can take home a prize to remind you of your trip to Monterey. So, have some fun, play some mini-golf, win some prizes and enjoy your day all at one location right off of Cannery Row!
7. Wine Tasting

Views out the window at the Monterey Bay
Another one of my favorite indoor activities in Monterey is wine tasting. You will find several places in the Monterey Bay Area to taste local wines.
City of Monterey: You will find a few tasting rooms around Monterey. My favorite is The Taste of Monterey, which is along Cannery Row. Here you can sample wines as you gaze out at the beautiful Monterey Bay.
Carmel-by-the-Sea: Several local wineries have tasting rooms in Carmel-by-the-Sea. There is a large concentration of them in one area of town, which makes it a fun way to spend the day. Learn more about visiting Carmel-by-the-Sea.
Carmel Valley: The local wine region in Monterey is Carmel Valley. If you prefer to head out to get closer to the source of the wine, then you can make a quick trip here. You will find wine tasting rooms all around the town and a few out near the vineyards. If you don't want to drive, you can take a bus that will drop you off right in front of the wineries.
Learn more about wine tasting in and around Monterey.
8. MY Museum

This is not only MY Museum, which stands for the "Monterey County Youth Museum", but it is also your museum. This museum is dedicated to kids, and kids of all ages, so they can explore and learn life and experience all around them.
This museum is unlike any other as it has many classes that range from the fun Zumbini, which mixes Zumba and educational tools for kids 0-4 years old, to Make-N-Take where kids and parents will work together to strengthen their cognitive and social skills, another favorite is the Weird Science class where your youngster can try all kinds of experiments and let out their inner scientist!
There are also other classes, both continuing and new, throughout the year. Many of the classes are for ages 1 -10 years old but are enjoyable for anyone at the same time.
This museum is in Downtown Monterey, so it is easy to access from anywhere in the city and is well worth the visit for anyone and everyone.
9. Pacific Grove Natural History

This amazing museum has been in operation for 150 years and just keeps growing and becoming more impressive. When you choose to do this one of the indoor activities in Monterey, you will be amazed this beautiful area of California.
Some of the permanent exhibits that you, and your young ones, will love include the Birds of Monterey County, the Native Plant Garden, the Pacific Grove's Chinese Fishing Village among many others. They often have special exhibitions which will help you learn more about this special area.
Monterey is known for the annual migration of the Monarch Butterflies. This museum has a permanent exhibit dedicated to them, but if you are going to be in Monterey during November until February, you can see them live and in person as they fly around the sky.
The Pacific Grove Natural History Museum's Monarch Sanctuary is about 10 blocks from the Natural History museum and weather permitting, this is one of the most magical events you can experience anywhere.
>> More about visiting Pacific Grove
10. 17-Mile Drive

Now, taking a cruise down the gorgeous 17-Mile Drive may seem to a be a weird way to end our top 10 list of indoor activities in Monterey, but there is a specific reason to do that: You can stay inside your car the whole way and still get amazing views, see the sites, and enjoy some of the best of this beautiful area.
This is a perfect way to still experience and see a lot especially if it is cold or rainy.
The 17-Mile Drive is accessible from anywhere, but most start at the Shepard's Knoll where you will get a view of the Monterey Bay. Some of the other stops include the Spanish Bay Beach, Seal Rock which is home to the weird and fun Gingerbread House (you will have to get out to see this one), the world famous Lone Cypress, and the home to the U.S Open Pebble Beach Visitor Center.
There is a fee to drive the 17-Mile Drive, but it is per car and not by person, so the more you can fit into your vehicle the better!
>> Learn more about visiting the 17-Mile Drive

Comments? Questions? Suggestions?
I would love for you to join me in my private Facebook group! 
It's a great place to interact with me and others who know the area well.
You can ask questions, get advice for your upcoming stay, and then share your photos and advice with others when you return home. It's a great community and the fastest way to get answers to those nagging questions about your visit!