Monterey Events in October 2023: Halloween Activities, Festivals & More

by Jill Loeffler  •

Updated: October 5, 2023
You will find a variety of fun Monterey events in October 2023. They include a variety of fun things to do for Halloween, the annual Butterfly Parade in Pacific Grove, and Carmel's City Birthday Party.
You will find top show at the Golden State Theater and find some other fun things to do this month in and around the bay.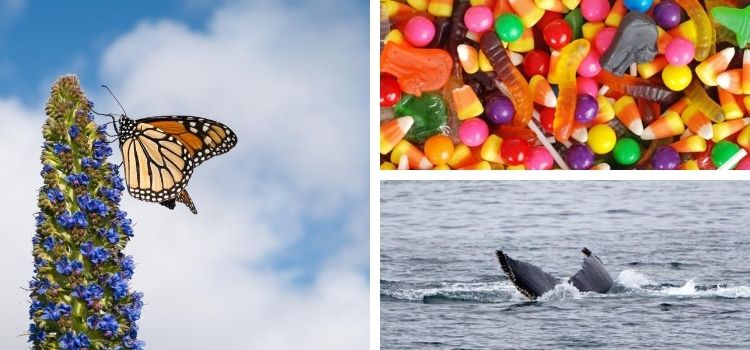 Disclaimer: I receive a small commission from some of the links on this page.

Butterfly Parade & Bazaar

Date: 10/7
Location: Robert H. Down on Pine Avenue, Pacific Grove
Time: 10:00 AM - 12:00 PM
Cost: Free to all who attend
This annual event is a welcoming of the Monarchs back to Pacific Grove. This event, by local elementary school children, starts at 10 am with the butterfly parade, which is then followed by the bazaar starting at 11:30 am. There is no better parade for kids of all ages to enjoy the incredible scenery as they wander through the streets.
If you love costumes, and cute kids, you have to visit this wonderful parade. They kids all dress up and each school grade level has different outfits which include kindergarten as butterflies, second graders as otters, third graders as farmers, fourth graders as pioneers from the old days, and last but not least, fifth graders dress up as clowns. Don't worry, however, as the clowns are funny and won't scare anyone!
The parade will end up where it started at the Robert H. Down School and the fun Butterfly Bazaar will end up the day.
Taste of Carmel

Date: 10/5
Location: Carmel Mission Basilica
Times: 6 to 9 pm
Cost: Ticket prices range from $150 (for members) to $225 for a VIP ticket
Each year, the charming coastal town of Carmel-by-the-Sea offers a night of world-class dining with fine wines. Every iteration carries a different theme (Flashback to the Rat Pack for 2023), and now that in-person events are coming back, it's "Long Time No Sea."
The menu is a bit of a surprise, but you're guaranteed to be treated to fresh, local seafood and artful creations by the best chefs in town. Plus, exquisite wine pairings. 
This exclusive culinary experience takes place in a uniquely beautiful setting, accompanied by live music and a silent auction. VIP tickets allow you to enter one hour early. 
California International Airshow
Date: 10/6 - 10/8
Location: Salinas Municipal Airport at 37 Mortensen Avenue, Salinas
If you like to fly, or just watch masters of the sky zoom around and amaze you, then the 42nd annual California International Airshow is an event that you do not want to miss!
Many of the best military pilots come from all over the globe to show you their best and compete with others to display their skills and earn bragging rights each year. Some of these include The U.S. Air Force Thunderbirds, The Canadian Forces Snowbirds, plus the U.S. navy's latest "Top Gun" jet fighter demonstration, the F35C Lightning II. This is a one-of-a-kind of all the Monterey events.
Not only are there planes speeding all over the place, there are also over 100 planes on the ground, exhibits, and displays so you can learn more about the history of flight all day long. You will also love other special performances such as sky diving, jet trucks, and other exhibits that are sure to delight all who attend this amazing event.
>> Ticketing details and more information on their site
Meet the Makers Art & Wine Walk

Date: 10/14
Location: Downtown Carmel
Times: 4 to 7 pm
Cost: Free to stroll; $45 for wine and beer tasting tickets
Enjoy an afternoon autumn art walk that begins at Devendorf Park and winds you through the quaint, colorful downtown streets of Carmel-by-the-Sea. 
This annual event celebrates the artists, vintners, and food creators who call Carmel home, allowing you to "meet the makers" directly and get to know what makes this place so special.
Each participating art gallery will display a blue lantern out front. It's free to join in on the walk, during which you'll come across impressive exhibits of photography, sculpture, painting, and more.
While you stroll, you can sip on local wines from Monterey County. With the purchase of your wine ticket, you'll get a map of the wine stations. 
Monterey History Fest

Date: no event for 2023
Location: Throughout Monterey (including Custom House Plaza, Fisherman's Wharf, Colton Hall, Lower Presidio Historic Park, and Cannery Row)
Times: 10 am to 4 pm
Cost: Free to all who attend
Discover Monterey's local history and celebrate its heritage with special exhibitions, games, cultural groups, and guided tours of the area's most famous sites. You will love walking through this historic area during this wonderful Monterey event in October.
Some of the highlights of this festival includes the self-guided Monterey Peninsula Archives Crawl. The crawl is a very popular event, so make sure to register in advance on their website.
There is also a family treasure hunt at the beautiful Stevenson House on Houston Street.
One of my other favorite events is the free walking tour starting at the Pacific House which is led by the State Parks Guides. Since the guides have a lot of knowledge about this area, you are sure to be enthralled in both the beauty and the history as they lead you around the area.
There are so many different events, and tours, that it will be very hard to decide which ones you will want to go on during this historic and magical weekend. Some of these Monterey events in November are for all ages, while some are specifically for adults.
Boardwalk Bites & Brews
Date: 10/19 - 11/18 (Thursdays & Fridays in October, Thursdays - Saturdays in November)
Location: Santa Cruz Beach Boardwalk
Times: 4 pm to 8 pm
This one of the great Monterey events in October that gives you the chance to walk around the gorgeous boardwalk, enjoy the rides there, and all while drinking great brews and eating some delicious bites!
One of the favorite events for beer and food lovers is the "Best Pairing" competition. Some of the foods range from chocolate covered bacon (don't knock it until you try it!), tacos, and other foods with the best locally produced beers.
There will also be live music and other events. Check the link below to learn more about the event, ticket prices and schedule.
>> Visit their site for details
Chili Cook-Off
Date: 10/28
Location: 400 Beach Street Santa Cruz
Times: 
10am: Tasting Kits go on sale
1pm: Public tasting begins
4pm: Winners announced at the Colonnade Stage

Cost: Boardwalk admission is free. Tasting kits are $12 each.
If you're the type of person that can never have enough chili, you definitely don't want to miss the Santa Cruz Chili Cook-Off!
All you have to bring is your appetite to join in on the fun, while professional and amateur chefs work their culinary magic, battling it out for the title of Best Chili!
City Birthday Party & Parade

Date: 10/31
Location: Ocean Avenue in downtown Carmel
Times: Starts at 4 pm
Cost: Free to all who attend
COME WISH A HAPPY 107th BIRTHDAY TO THE CITY OF CARMEL!
If you didn't know, Carmel is over 100 years old and just keeps getting better each year. Because of that, this is one of the most celebratory of the Monterey events in October each year. While you enjoy this birthday of this beautiful city, you can also enjoy their annual Carmel parade through the town.
Some of the participants in the parade will include civic groups, performers, kids in costumes, Carmel's city leaders, dressed up doggies and more!
If you get hungry during the parade, you will be happy to know that there is a free lunch at the Sunset Center parking lot that is between 9th and 10th on San Carlos Street. There is usually a special performance by a local artist or group during the lunch for you to enjoy.
Where to Stay Around Monterey Bay

Monterey: You will find the largest selection of hotels in and around Monterey. Higher end picks include the Spindrift Inn and Portola Hotel and Spa. You will also find some more budget friendly options if you move a few additional blocks away from the waterfront. Find my top picks for all budgets here.
Carmel-By-The-Sea: This seaside town is a bit smaller, but still offers plenty of accommodations. You will find some great luxury hotels as well as several quaint bed and breakfasts. Here are my top picks for Carmel-By-The-Sea.
Pacific Grove: This small community sits just to the north west of Monterey. They offer several great places to stay including a couple of great bed and breakfast and some budget-friendly options. Find my top 5 picks here.

Are you ready to book? Make sure to check out the great options below.

TripAdvisor: Compare prices, read recent guest reviews and find a wide selection of options.
VRBO: Another option is to rent an apartment, house, or a room around Monterey through VRBO.
Halloween on the Wharf: Trick or Treat by the Bay

Date: 10/31
Location: Old Fisherman's Wharf in Monterey
Times: 4 pm to 7 pm
Cost: Free to all who attend
This wonderful Halloween on the Wharf event is fun and safe, while still being somewhat scary, for kids of all ages. Many of the stores along the wharf contribute to this once-a-year-event and give away treats.
Some of these include special Halloween candy from Candy World, chocolate goodies from Carousel Candies, cookies from Scales Seafood & Steaks, among others. Candy World will also be featuring a witch for fun photo ops!
Also, be sure to enter the special Costume Contest at 5:00 pm with Master of Ceremonies David Marzetti. There are plenty of cash prizes to be won for all different age categories!
And, if you haven't been to Monterey's Old Fisherman's Wharf before, there is so much to do that you could easily spend the whole day there before the Halloween festival starts, or hang out after it. This includes possibly seeing seals, whales, and other marine life.

You and everyone you come with are invited to come in costume, so you can really enjoy the scene and be part of the event. So why not get dressed up, eat some treats, and make sure you have a spooky good time at one of the top Monterey events in October for Halloween!
More Fun Events Nearby

Trick or Treat on Lighthouse Avenue

Date: 10/28
Location: Lighthouse Avenue, New Monterey, Between David Avenue and Reeside Avenue, 99 Del Monte Avenue
Times: 2 pm to 5 pm
Cost: Free to all who attend
This annual Halloween trick-or-treat event is held at the Lighthouse District. It's the chance for kids to stroll down the avenue and see what kinds of delicious Halloween treats are available for them.
This event will happen rain or shine, so make sure to dress up in your Halloween best and bring your little goblins and ghouls down for a scary good time.
Point Sur Lighthouse Halloween Tours

Dates: 10/21 and 10/28
Times: Starts at 5:15 pm
Cost: $100 donation for each person
This is definitely going to be one of the spookiest of all the Monterey events in October. It starts out with a walking tour of the Point Sur Lighthouse just in time to watch the sun set over the Pacific Ocean and for the darkness to creep in.
You will then be treated to a light buffet dinner at the barn while Kevin Hanstick, a local actor and storyteller will tell you all about the scary history of this haunted lighthouse.
As if that isn't enough to get you all spooked out, a paranormal investigator will then tell you all about what she has found in the area while on one of her many ghost and spirit hunts through Monterey and the surrounding areas.
You will then check out the unrestored, and most definitely haunted, Triplex in Point Sur. Since you might be chilled to the bone by all this scariness, you will be treated to hot drinks and dessert at the Visitor Center to end your adventure.
Make sure to check the date of your tour as there is one on Saturday, the 21st and another on Saturday, the 28th. Also, people with disabilities will need to make special arrangements after reserving their spot. This event sells out quickly and it is best to buy your tickets as soon as you can to this most ghostly of Monterey events in October.
>> Visit their site for ticketing details
Additional Ideas for Your Monterey Stay

While there are plenty of fun Monterey events in October to keep you busy, you will also find several other fun things to do while you are here. These are just a few of my top suggestions.
Monterey Bay Aquarium: I'm often asked if a visit to the Monterey Bay Aquarium is worth it and I always say yes. This place is absolutely amazing and wish everyone had a chance to visit. The price tag might look steep, but it's one of the best aquariums in the world. Make sure to not miss this Monterey attraction during your stay. 
Half-Day Whale Watching Tour: Head out on the water for a great chance to catch whale migrating south through the Monterey Bay Area. This is one of the best places to catch these incredible creatures. The local guides know exactly where to find them. You will also get the chance to see dolphins, sea turtle, a variety of birds, and so much more. These tours leave daily. Find out more about this tour.
Electric Bike Tour: Cruise along the famous 17-Mile Drive on an electric bike. This 3-hour tour offers you the chance to see everything along the way including the famous Lone Cypress Tree, Point Pinos Lighthouse, and a few stops around Pebble Beach. This tour runs most days at 10:30am and 1:30pm. Find ticket availability here.
More Great Ideas
Downtown Pacific Grove Trick or Treating

Date: 10/28
Location: Downtown Pacific Grove
Times: 10 am to 2 pm
Cost: Free to all who attend
All your little goblins, vampires, ghosts and costumed kiddies of all ages are welcome to this family event. Being that Downtown Pacific Grove is a gorgeous location, this is a perfect way to spend a not too scary Halloween morning and afternoon.
Some of the fun events include giveaways to kids, live music, the Pacific Grove Police Department's Halloween Safety Zone where kids can play, and you can be sure they are safe and secure. Even thought it is a safety zone, you will still have to stay with your kids to make sure everyone is able to enjoy this Halloween celebration.
As would be expected, there will be lots of candy and goodies given away to your little ones. This event is held in conjunction with the Pacific Grove Museum of Natural History, who will be hosting their free Science Saturday: bats, spiders & snakes from 10am-3pm. So not only will you and your little ones have a spooky time, they will also get some educational information as well as a slightly scary and fun time.
Halloween Bonanza

Date: 10/31
Location: Oldemeyer Center - 986 Hilby Avenue, Seaside
Times: 6 pm to 9 pm
Cost: Free to all who attend
This is the perfect Halloween night party as it will be as spooky and scary as possible, while also being safe and family friendly at the same time. The quaint city of Seaside is just a 10-minute drive from Monterey and well worth the trip for ghouls and goblins.
This event is for kids of all ages, but it is specifically for kids under 10, so you know that it won't be too scary for anyone. There will be lots of good candy and snacks for all to enjoy as well as a haunted house, costume contest, face painting (which is great if you don't have time to make a costume for your little one or for yourself), carnival games with prizes that your little one can win, and even free glow necklaces for the first 500 children under the age of 10 who attend with their parents.
So, make a little detour on this Halloween and check out the Halloween Bonanza at Seaside and let your little ones enjoy this spooky and silly celebration.
Shows at the Golden State Theatre

If you are looking for some great concerts or comedians, then head over to the Golden State Theatre in Monterey. It's the premier location to catch top talent from around the world. Here is a list of upcoming shows this October.

Comments? Questions? Suggestions?
I would love for you to join me in my private Facebook group! 
It's a great place to interact with me and others who know the area well.
You can ask questions, get advice for your upcoming stay, and then share your photos and advice with others when you return home. It's a great community and the fastest way to get answers to those nagging questions about your visit!