Monterey Events in April 2023: Festivals, Shows, Nightlife and Other Fun Things To Do

by Jill Loeffler  •

Updated: April 3, 2023
My Monterey events in April calendar features the top picks from around the bay area. You will find top festivals, family-friendly events, and a few of the best things to do at night.
Some of the highest rated activities this month include the Pebble Beach Food & Wine Festival and the Big Sur International Marathon.
You will also find top things to do in Carmel-by-the-Sea, Santa Cruz, Salinas and other towns around the Monterey Bay and beyond.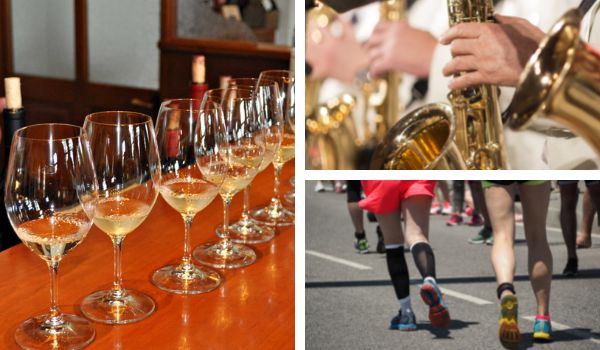 Disclaimer: I receive a small commission from some of the links on this page.

Pebble Beach Food & Wine

Dates: No event in 2023, Should return in 2024
Location: Several locations around the Pebble Beach Golf Course
Every year, the Pebble Beach Food & Wine Festival draws more than 250 wineries and 100 of the best chefs into the area. You will enjoy four days of sipping wines, watching cooking demonstrations, tasting the best these bites these chefs have to offer, and mingling with other food and wine lovers.
Located at the gorgeous and world-famous Pebble Beach Golf Course, this celebration of all things food and wine starts out with a morning celebrity golf tournament. That night you can enjoy the opening night reception before the crowds arrive for the rest of this magnificent affair.
The next three days will allow you to meet and greet the great winemakers and chefs of the world. There are special demonstrations, talks, live music and numerous interactive experiences.
>> Find more details and ticketing information on their site
Where to Stay in the Monterey Bay Area

Monterey: You will find the largest selection of hotels in and around Monterey. Higher end picks include the Spindrift Inn and Portola Hotel and Spa. You will also find some more budget friendly options if you move a few additional blocks away from the waterfront. Find my top picks for all budgets here.
Carmel-By-The-Sea: This seaside town is a bit smaller, but still offers plenty of accommodations. You will find some great luxury hotels as well as several quaint bed and breakfasts. Here are my top picks for Carmel-By-The-Sea.
Pacific Grove: This small community sits just to the north west of Monterey. They offer several great places to stay including a couple of great bed and breakfast and some budget-friendly options. Find my top 5 picks here.

Are you ready to book? Make sure to check out the great options below.

TripAdvisor: Compare prices, read recent guest reviews and find a wide selection of options.
VRBO: Another option is to rent an apartment, house, or a room around Monterey through VRBO.
Sea Otter Classic

Dates: 4/20 - 4/23
Location: Monterey, CA
See both professionals and amateurs compete in one of the world's best cycling festivals. Races include mountain bike cross country, downhill, dual slalom, short racing, and more. You can also attend the consumer bike expo, one of the largest in the world. This event brings in more than 10,000 athletes, including many of the best cyclists from all over the world, and 100,000 fans each year.
Everyone loves to watch the pros as they fly through their courses and fight to win their races all day long. However, amateurs can also ride their bikes and compete. This event also has loads of demos, which will allow you to try out new equipment and let you buy it if you want to improve your cycling skills.
When you get hungry or thirsty, there is the Sierra Nevada Beer and BBQ Garden where you can get a fill up and be ready to power through the day. The Beer and BBQ Garden is 21 and over only and you must have a valid photo ID to enter it.
>> More on this year's Sea Otter Classic
More Fun Things to Do Around the Monterey Bay

In addition to all of these great Monterey events in April, you will also find several other fun things to do. Here are a few of my top recommendations.
Whale Watching: The Monterey Bay Area is the best place to go whale watching. This time of year, keep your eye on the water to try and spot gray, blue, humpback or even sperm whales. Cruises leave several times a day from Fisherman's Wharf. Find tickets to these half-day tours.
Monterey Bay Aquarium: The Monterey Bay Aquarium is one of the best aquariums in the world. It's home to more than 500 species of plants and animals that call the bay and this area home. Their Open Sea aquarium is spectacular with more than 1 million gallons of water plus dozens of wildlife inside.
Sunset Cruise: Head out on the water for a fun sunset cruise. This two-hour journey will give you a chance to see wildlife as well as the sun setting on the Pacific Ocean. Each ticket also includes some white wine and appetizers as you sit back and relax. The cruise leaves every evening in April from Monterey.
ColorMeGreen
Date: 4/2
Location: Toro Park 501 Monterey-Salinas Highway 68 in Salinas
Time: 11 am to 3 pm
Price: $0 to $30 per person
The ColorMeGreen 5K Walk/Run is a blast for kids of all ages as this exciting race teaches kids of all ages about how to improve their health as they have lots of fun.
Walkers, and runners, will cover each other with colored dye. 
If you want to add a little bit more to your excitement, you can purchase additional dye packets to use and t-shirts to wear during this walk/run event.
>> Grab your spot for the ColorMeGreen race
Big Sur International Marathon

Dates: Sunday, 4/30
Location: Starts in Big Sur through to Carmel on Highway 1
Time: Starts at 6:45 am and ends at 1 pm
The Annual Big Sur Marathon attracts runners from around the world. It's a moderately difficult course with amazing views from the Pacific Ocean to beautiful redwoods.
You will be able to watch some of the best runners fly through the course as this is a Boston Marathon qualifier. This means there is a lot of competition and everyone is doing their best to make that race. If you are lucky enough to be watching the race from close to the starting line, you'll see doves released as the race begins.
Being that the race is in late April, it can still be quite chilly in this area so you will want to bring warm clothes and layer them as the day progresses.
>> Find out more about the race and sign up to participate
Santa Cruz Mineral, Gem, Fossil, & Jewelry Show

Dates: 4/22 - 4/23
Location: Santa Cruz Auditorium at 307 Church Street, Santa Cruz
Time: 10 am to 5 pm on Saturday, 10 am to 4 pm on Sunday
Check out some of the most interesting gems and minerals at this one-of-a-kind event in Monterey this April. This event is perfect for the whole family as there are exhibits, activities, demonstrations, artists selling their wares, and more.
You will be able to learn all about the different rocks and minerals, buy gems, fossils and other treasures. You can even buy a geode and cut it during this show.
International Flavors of Marina

Dates: No event in 2023
Location: SpringHill Suites by Marriott at The Dunes on Monterey Bay on 215 10th Street, Marina, CA
Time: 5:30 pm to 8:30 pm
Price: General admission $45 - $50
The SpringHill Suites is the perfect location for this fantastic event as it is only 2 blocks from the Pacific Ocean and has some gorgeous views of the water. At this event, you will taste some of the best foods, beers, and wines from Monterey County. You can also participate in a silent auction and win some great prizes.
This event is limited to 300 people, so you'll want to buy your tickets in advance in case it sells out.
Santa Cruz Ducky Derby

Dates: 4/22
Location: Harvey West Park at 326 Evergreen Street in Santa Cruz
Time: 10:30 am to 3:30 pm
Price: Free to attend; small cost to purchase rubber ducks
This is definitely one of the most fun of all the Monterey events in April as you will experience a race of over 12,000 rubber ducks down a manmade waterway.
This charity event is sponsored by Omega Nu and it donates the money to help students attend universities and colleges throughout the state. So not only will you be having a great time, you will also be supporting kids that want to continue their education at the same time.
This family-friendly duck derby features food, live music, lots of entertainment and carnival games. There will be a few different runnings of the ducks and the winners will be announced at the end of the festival.
Some of the past awards include dinners from local restaurants, wine, art, and much more. So, have a lot of fun and support a worthy cause at the same time!
Shows at The Catalyst in Santa Cruz

Are you looking for some great evening Monterey events in April? If so, head to The Catalyst in Santa Cruz for some live music and entertainment. Here is their schedule for this month.

Santa Cruz Vegfest

Dates: April 2024, no event this year
Location: Boardwalk's Cocoanut Grove at 400 Beach Street in Santa Cruz
Time: 11 am to 6 pm
Price: Free
Santa Cruz Vegfest is all about celebrating everything related to living a plant-based lifestyle. This event also promotes cruelty-free and environmentally sustainable lifestyles.
You will find more than 100 exhibitors on hand with free food samples. In addition, there are numerous speakers holding discussions on animal welfare, nutrition, environmentalist, and healthy eating habits. It's a wonderful way to learn about how to stay healthy and ways to help our planet.
Being that this is a family-friendly event, there are also lots of kids' activities throughout the day.
Tickets are free but you can reserve them in advance to save you time and trouble when you arrive.
>> Visit their site for details
Shows at the Golden State Theatre in Monterey

You will find some great Monterey events in April at the Golden State Theatre in Monterey. Here is a full line-up for the month.

Performances at the Sunset Center in Carmel-by-the-Sea

Santa Cruz Mountains Grand Wine Tasting

Date: 4/30
Location: The Mountain Winery in Santa Cruz
Time: 12:30 pm to 4 pm
Price: $20  - $140 per person
Santa Cruz Mountains Passport Celebration Days is the perfect time to enjoy some of the best wines from this area. The event features special wine tasting experiences at the Mountain Winery in Santa Cruz.
It's a great time to learn more about the local wines of the region, participate in their silent auction, and grab a bite to eat. The VIP tasting starts at 12:30 pm and the general admission tasting starts at 1 pm.
It's one of my favorite Monterey events in April each year.
>> Find out more about the passport and this special celebration day
More Fun Events Nearby

Comments? Questions? Suggestions?
I would love for you to join me in my private Facebook group! 
It's a great place to interact with me and others who know the area well.
You can ask questions, get advice for your upcoming stay, and then share your photos and advice with others when you return home. It's a great community and the fastest way to get answers to those nagging questions about your visit!