Monterey Events in August 2021: Street Fairs, Festivals, Wine Tasting, and More

by Jill Loeffler  •

Updated: August 2, 2021
Uncover the best Monterey events in August 2021. Discover the top festivals, family-friendly things to do, and wine tasting.

Top picks include the Monterey County Fair, Pebble Beach Concours d'Elegance, and Watsonville Strawberry Festival. Find the best things to do in Monterey, Santa Cruz, Carmel-by-the-Sea, Salinas and more.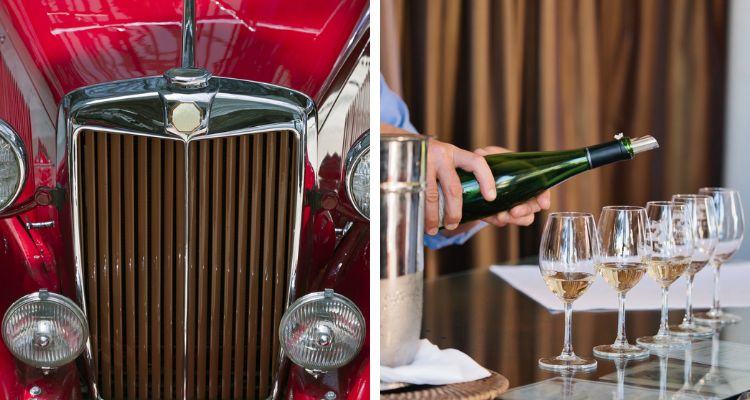 Disclaimer: I receive a small commission from some of the links on this page.

Monterey Scottish Games & Celtic Festival

Dates: Moved to 2022
Location: Monterey County Fairgrounds
Spend two-days at the Monterey County Fairgrounds for this year's Monterey Scottish Games & Celtic Festival. This event features competitive events such as Highland Dancing, Heavy Athletics, and Pipe Bands.
You can also enjoy the Drum Major Classic and the Clan Village. Make sure you don't miss the popular Single Malt Whiskey Tasting seminar on both Saturday and Sunday.
Food and drinks will also be available for purchase all weekend long. Gates open at 9am each day.
>> Visit the official site for more details
Pebble Beach Concours d'Elegance

Date: Sunday, 8/15
Location: Pebble Beach Golf Course
Stop by Pebble Beach for this year's Concours d'Elegance. This premier celebration of the automobile is highest ranking collector car competition in the world.
This annual event is part of the famed Pebble Beach Automotive Week.
Activities for the week officially kick off on Thursday with the Pebble Beach Tour d'Elegance. Cars line up starting at 7am and begin their tour at 9am. Friday is judging day where all entrance line up at the famed 18th fairway of Pebble Beach Golf Links with the Pacific Ocean as a backdrop.
Other events include an auction, an art show, and classic car forum.
>> Visit the official site for more details
Monterey Bay Greek Festival
Dates: 8/28 - 8/29
Location: Custom House Plaza & Fisherman's Wharf
The Monterey Bay Greek Festival is a two-day event with traditional food, music, and dancing. It's one of the best ways to enjoy the Greek culture. Head down to the Custom House Plaza and Fisherman's Wharf to participate in the fun.
There are also exhibits and lots more for you to enjoy and experience this year. Admission is free.
The event is on Saturday from 11am to 7pm and on Sunday from 11am to 4pm.
Top Hotel Recommendations Around the Monterey Bay

Monterey: You will find the largest selection of hotels in and around Monterey. Higher end picks include the Spindrift Inn and Portola Hotel and Spa. You will also find some more budget friendly options if you move a few additional blocks away from the waterfront. Find my top picks for all budgets here.
Carmel-By-The-Sea: This seaside town is a bit smaller, but still offers plenty of accommodations. You will find some great luxury hotels as well as several quaint bed and breakfasts. Here are my top picks for Carmel-By-The-Sea.
Pacific Grove: This small community sits just to the north west of Monterey. They offer several great places to stay including a couple of great bed and breakfast and some budget-friendly options. Find my top 5 picks here.

Are you ready to book? Make sure to check out the great deals below.

TripAdvisor: Compare prices, read recent guest reviews and find a wide selection of options.

Sand City West End Celebration

Dates: Saturday, 8/28 - Sunday, 8/29
Location: Sand City, CA
Head just a few minutes northeast of Monterey to Sand City for their annual art and music celebration. This year visit more than 100 artists open studios throughout this three-day event. You can also stop by one of more than a half dozen stages to listen to one of the two dozen bands perform.
On Saturday (11am to 6pm) and Sunday (11am to 5pm), you can visit the studios, mingle with local artists and pick up some new artwork for your house.
>> Check out the Sand City Website
Steinbeck Festival

Dates: TBD for 2021
Location: National Steinbeck Center in Salinas
This annual festival is held at the National Steinbeck Center in Salinas and celebrates the life and works of John Steinbeck.
It features films, speakers, panel discussions and more on the history of the area and John Steinbeck's work.
It's open to the public and it's a great place to meet other John Steinbeck fans.
>> Visit their official site for more festival details
Additional Fun Ideas for the Monterey Bay Area

Food Walking Tour: Sample the best of the Monterey Bay on this fun, food walking tour. You will sample a number of items from local, neighborhood restaurants. You will also get the chance to sample local beers and wine. The tour runs for three hours most Thursdays - Sundays. 
Monterey Bay Aquarium: No trip to Monterey is complete without a visit to the Monterey Bay Aquarium. With thousands of animals and more than 500 species, a visit here offers you the chance to learn all about the wildlife in and around the Monterey Bay. It's open daily in August.
Watsonville Strawberry Festival

Dates: Saturday, 8/8
Location: Historic Downtown Watsonville
The annual Watsonville Strawberry Festival is scheduled for early August. This colorful event features crafts, entertainment, and two days of family-fun.
Make sure to check out the pie eating contests throughout the weekend. Walk around historic downtown Watsonville as you sample strawberry treats, admire crafts from local artists and enjoy all of the entertainment on the main stage.
This is one of the top Monterey events in August. It runs from 11am to 5pm on Saturday.
>> Check out their official site
Tequila & Taco Music Festival

Dates: TBD for 2021
Location: San Lorenzo Park in Santa Cruz
If you love tacos, don't miss this year's Tequila & Taco Music Festival in Santa Cruz. All weekend long, you get the chance to chow down on a variety of different types of tacos. You can also listen to live music and kick back with a nice tequila drink.
On Saturday, they will be hosting the Top Shelf Tequila sampling (available for those with the special Tequila Experience ticket). This runs from 11:30am to 3:30pm.
Sunday is all about the Margarita! Several types of Margaritas will be on sale all day.
Admission is $10 per person and $40 with the Saturday sampling. All tacos, drinks, and other food and beverage are available for purchase inside the festival.
>> Pick up your entry tickets today
Rolex Monterey Motorsports Reunion

Dates: Thursday, 8/12 - Sunday, 8/15
Location: Weathertech Raceway in Laguna Seca
If you love cars, you are going to love the Rolex Monterey Motorsports Reunion. It's a lineup of 550 of the best cars in 14 different racing groups.
See everything from historic cars (as old as 1911!) up to more modern versions to 2016. All cars will race on this historic 2.238-mile road course at some point during the weekend and many will compete more than once.
You will also get a chance to see some of the cars close-up as you learn more about its history. In addition to racing, there will also be plenty of family-friendly events including pit tours, autograph sessions, book signings and more.
>> Visit their site for more details
Salinas Valley Food & Wine

Date: Saturday, 8/7
Location: Oldtown Salinas
Head to downtown Salinas for this year's Salinas Valley Food & Wine Festival. Walk through the historic downtown area to sample local, California, and international wines.
You can also enjoy small bites from local restaurants and chefs. Stop by the artisan booths to admire some of their handcrafted creations. You can also sit back, relax and enjoy some live music throughout the event.
You will also get the chance to sample some great local craft brews. Admission to the festival is free. You will need to purchase beer and wine tickets for the samplings.
>> Visit their site to learn more
Tri Santa Cruz

Date: Sunday, 8/8
Location: Starts at Depot Park in Santa Cruz
Soak in the views as you race in this year's Tri Santa Cruz. The event features both a sprint and (Olympic) international length triathlon. The event also includes categories for both Clydesdale and Athena racers.
This event is also great for beginners. They will be featuring a non-competitive friends and family race for those just starting out or those not wanting to participate in the hard-core competition.
The course will feature a sheltered swimming area and a mostly flat bike and run course, which makes it perfect for beginners and seasoned professionals.
>> Visit their site to register today
Additional Events Nearby