Whale Watching Monterey Bay


by Jill Loeffler  •

Updated: June 6, 2022
Monterey is one of the best places in the area to go whale watching. The cool waters off the Monterey Bay create the perfect feeding ground for many species of whales. These waters also attract hundreds of whales every year as they migrate north for feeding season. 

During your whale watching tour, you will get the chance to see gray, humpbacks and blue whales. Others that sometimes come through this area include fin, minke and beaked whales. 

In addition to whales, you will get the chance to see several species of dolphins including bottlenosed, risso's and pacific white-sided dolphins. Other animals on the waters are porpoises, leatherback turtles and more than 100 species of marine birds. 
You might also see some sea otters, sea lions and some of the 300+ species of fish that all call this area home.
Disclaimer: I receive a small commission from some of the links on this page.

Best Times to Go Whale Watching

The best times to go whale watching in Monterey Bay are in the summer and fall months when the humpback and blues are here. The winter and spring months are a great time to catch gray whales.
Here are the whales and other animals you might see each season: 
December to May: Gray, Killer (Orca), Sperm whales
May to November: Humpback, Blue
All Year Long: Bottlenose Dolphins, Dall's Porpoise, Harbor Porpoise, Sea Otters, California Sea Lions, Harbor Seals, Northern Right Whale Dolphin, Pacific White-Sided Dolphins, Risso's Dolphins, Common Dolphins
The only time when it's hard to see whales in these waters is from late-November to mid-December. While many tour operators still offer whale watching trips, they cannot guarantee you will see any whales during this time.

Local Operator Recommendations

Many of the local tour operators offer similar tours at reasonable prices. You can book online in advance or once you arrive in Monterey.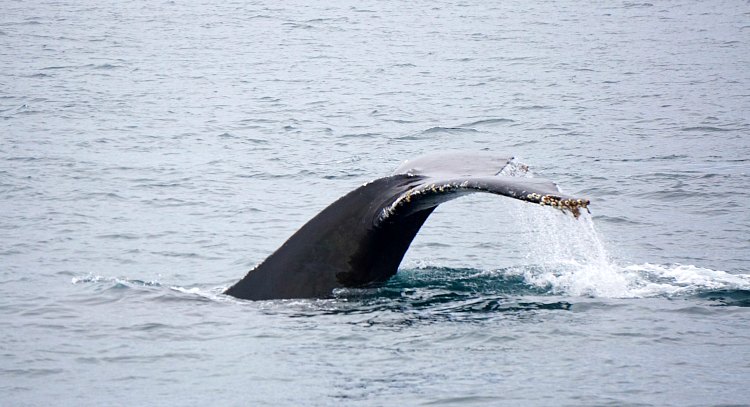 Here are some additional details on the top two whale watching tour operators in the area. 

Discovery Whale Watching

One of the highest-rated Whale Watching Companies in Monterey is Discovery Whale Watching. On their trips, you'll learn all about the local wildlife from a marine biologist or naturalist.
These trips offer you the chance to see whales, a variety of dolphin species, and dozens of local birds. Live commentary from your on board marine biologist allows you to learn about everything you see and to ask questions.
Your cruise starts at Old Fisherman's Wharf, sails past the historic Cannery Row, and then you enter the Monterey Bay National Marine Sanctuary. 
You'll be aboard for about three to four hours. Hot beverages are available on board.
>> Find out more about this cruise including ticketing information
Prefer to head out at night? Discovery Whale Watching also offers a sunset whale watching cruise. This one lasts about 2 hours and offers you the chance to see whales and other marine animals.
>> Find out more about their sunset cruise here
Princess Monterey Whale Watching

Many people rave about their experience with Princess Monterey Whale Watching. They have been in the business for more than 30 years and all of their whale watching tours include narration by a trained marine biologist/naturalist. 
Princess Monterey Whale Watching offers whale watching tours all year long. They offer two to five trips a day depending on the season. They often have more trips on Saturday and Sunday.
Each of their trips last around 2.5 to 3 hours. Given the proximity of where the whales typically feed near Monterey Bay, this is plenty of time to find them. 

You will meet at Monterey's Fisherman's Wharf for your tour. You must check in at least 30 minutes prior to your departure. 
Late April to late May, they also offer a special Extended Killer Whale Cruises. These cruises go a little further out into the ocean and last around 5.5 to 6 hours. They only run them on Saturdays during this time. 
Book your whale watching tour directly on Princess Monterey Whale Watching's site.

Monterey Bay Whale Watch 

Another company I like to use is Monterey Bay Whale Watch. They offer the longest whale watching trip in the Monterey Bay.
A marine biologist is on board every trip and provides narration during your cruise. Their experts are also happy to answer any of your questions.
May - November Tours

Monterey Bay Whale Watch offers both a morning and afternoon trip daily. The morning trips typically leave around 10 am and last about four hours. 

During this time, they also offer shorter afternoon trips. These leave Fisherman's Wharf at 2:30 pm and last around three hours. The afternoon tours are also less expensive.
They also offer a few other trips, but they are not offered every day so you'll have to check the calendar to confirm the times for the day of your cruise.
December - April Tours

From December to April, they offer two tours a day. These tours last between three and three and a half hours. 

From mid-January to mid-April, they offer a breakfast trip on Saturday mornings. This trip leaves at 7 am.

Head to Monterey Bay Whale Watch's website to book your whale watching adventure in advance.

Seven Tips to Help You Make the Most of Your Journey

These seven tips will help you will want to take a little time to prepare for your journey. Here are just a few of the things you will want to do or bring along with you to fully enjoy the trip.
1. Avoid Getting Seasick: If you've ever had motion sickness, then I recommend you do some preparation to avoid seasickness before you arrive for the trip. I typically take Bonine about 30 minutes before departure. I like it since it doesn't make me drowsy. You can also use non-medication products such as wristbands. Check out these top-rated seasickness products on Amazon.
2. Wear Warm Layers: Even on a warm sunny day in Monterey, you will want to bring several layers of clothing to stay warm. The ocean breezes are refreshing, but cool. By wearing layers, you can add and remove items as it heats up and cools down.

3. Wear Flat Soled Shoes: You are able to walk around the boat during the journey. For your safety, I recommend only wearing comfortable, flat-soled shoes. 

4. Beware of the Sun's Rays: Do not forget your sunscreen. Even on cloudy days, it is important to protect your skin from the sun's rays.

5. Pack a Snack: Most tour company offer snacks and beverages on-board. However, most also allow you to bring your own food and drinks. By bringing your own, you can save a little money and make sure you have something you enjoy.

6. Go in the Morning: If possible, it's best to book one of the morning tours. The waters are calmer during this time of day and there is less of a chance of your tour being cancelled. 

7. Bring Your Camera: Make sure you bring along your camera so you can capture the whales you see on your adventure. For most of the trip, you will not have many problems keeping your camera dry. However, I often bring a small bag that I can use to quickly cover my camera in case it starts raining or water sprays onto the boat.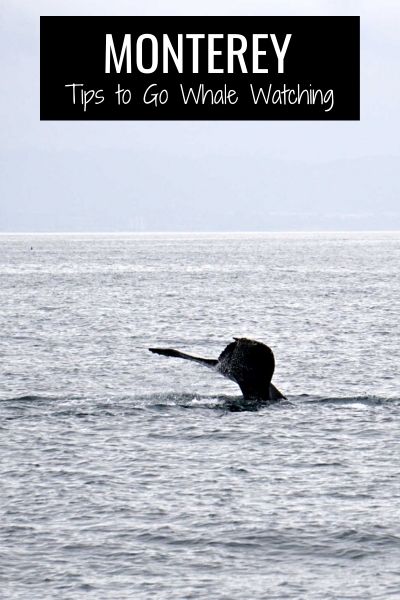 Comments? Questions? Suggestions?
I would love for you to join me in my private Facebook group! 
It's a great place to interact with me and others who know the area well.
You can ask questions, get advice for your upcoming stay, and then share your photos and advice with others when you return home. It's a great community and the fastest way to get answers to those nagging questions about your visit!