Sonoma Wineries:15 Fun Places for Wine Tasting

by Jill Loeffler  •

Updated April 13, 2021
A visit to these Sonoma wineries offers you the chance to sample some of the best wines from the area. They include those near Healdsburg and Santa Rosa. My recommendations are from several regions including the largest in the county: Dry Creek Valley, Sonoma Valley, Alexander Valley, & Russian River.

My list includes everything from the best Pinot Noirs to tasty Chardonnays to hearty Cabernet Sauvignons. Read on for more ideas on the best places to taste during your visit to Sonoma County.

NOTE: Most wineries all around Sonoma County are by reservation only.
Ripe grapes hanging from a vine in Sonoma County, CA.
Disclaimer: I receive a small commission from some of the links on this page.

1. Buena Vista Winery

Address: 18000 Old Winery Rd, Sonoma
Tasting: Outdoor only by appointment
Buena Vista Winery makes the top of my list. It's a fitting location for them as they were the first premier winery in California when they opened in 1857.
A stop at this historic winery includes a chance to sample some of their new releases and their library wines. Their standard tastings are around $20 to $30 per person. You can also call ahead to book a more personalized visit such as their "Barrel Tour and Tasting" or their "Be the Count Blending Experience."
The Buena Vista is one of the Sonoma wineries where you can enjoy a picnic. It's just a short drive from the Sonoma town square.
2. Clos du Bois

Address: 19410 Geyserville Ave, Geyserville
Tasting: Walk-ins welcome
Clos du Bois winery is another great option if you are looking for a starting point on your wine tasting adventure. Clos du Bois has been around since 1974 and is well known for having a great selection of top-quality wines.
It is in the small town of Geyserville, which is an up and coming area for delicious wines. It is near both the Dry Creek Valley and Alexander Valley so you can have a large range of wines to choose from since the two areas are very different.
One of the reasons to go tasting at Clos du Bois is that they have three distinctly different tasting choices. One is just the premier tasting, the second is the barrel and vineyard tour, and the third is Marlstone Experience which includes the vineyard tour but allows you to mix wines so you can even be a winemaker for a day!
3. DeLoach Vineyards

Address: 1791 Olivet Road, Santa Rosa
Tasting: Reservations required.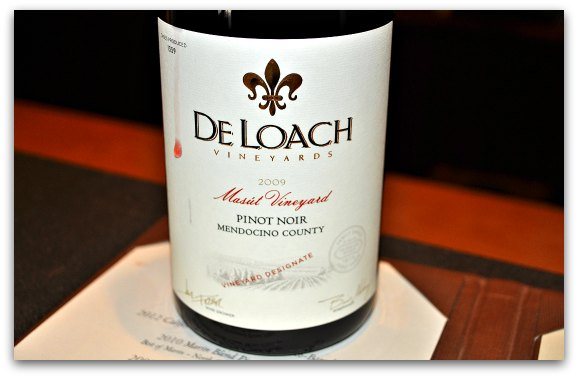 DeLoach Vineyards is one of the Sonoma wineries that offers an experience you don't want to miss. They offer great wines for those into healthy living and want to try some wines that are made in the "old world" style. DeLoach Vineyards devotes itself to this premise as all the wine they make is both organic and biodynamic.
One of the choices you want to make when you visit DeLoach Vineyards is which of the numerous tasting options you want to take advantage of while you are visiting there. They have over half a dozen different tasting methods, including a barrel tasting, a cellar tour and tasting, or even a delicious picnic lunch in their vineyard with your favorite bottle of their wine.
4. Dry Creek Vineyard

Address: 3770 Lambert Bridge Road, Healdsburg
Tasting: Reservations required.
If you haven't been to Dry Creek Vineyard, you are missing out on a very special winery. Dave Stare opened Dry Creek Vineyards back in 1972. He was an innovator because he started making Sauvignon Blanc before anyone else even thought of it. If you like Sauvignon Blancs, or any of their other wines including Zinfandel, Chenin Blanc, Meritage and many more, it is a winery you will want to visit.
Their winery and tasting room look like a beautiful castle in the middle of the Dry Creek Valley. Their tasting room is open to the public and you can take paid tours. They also have a gorgeous picnic area where you and your group can eat your lunch and enjoy yourself as you taste. Another bonus is that they have two different electric vehicle chargers in the parking lot for you to use and charge your car.
5. Dutton Goldfield

Address: 3100 Gravenstein Highway North, Sebastopol
Tasting: By reservation only.
Dutton Goldfield is in the town of Sebastopol. If you don't know of either the town, or the winery, you are for a very pleasant surprise. Sebastopol is a rustic and beautiful town where the locals all know each other, and you'll be welcome as you walk around and experience it.
Dutton Goldfield is known for their delicious Chardonnays, Pinot Noirs, and Zinfandels. They also have some lesser known wines like Gewurztraminer and Rieslings which taste like liquid gold. Their tasting experiences rival any other winery out there with their tasting room, the tasting where you learn all about Dutton Goldfield's history as you sit on their outside patio, or their wine and chocolate pairing.
If you are looking to try something totally out of the ordinary, check out their wine and sushi pairing that is sure to delight anyone who loves both. As with all the Sonoma wineries listed here, they charge an extra fee for tours and special tasting.
6. Francis Ford Coppola

Address: 300 Via Archimedes, Geyserville
Tasting: Reservations required.
If you are a movie buff, you'll know the name Francis Ford Coppola, director of famous movies such as The Godfather, The Cotton Club, and Apocalypse Now. If you aren't a movie buff, well you'll know him for his exquisite and award-winning wines.
If you've ever dreamed of tasting wine, eating food, and overlooking a gorgeous valley from a castle, then Francis Ford Coppola is the winery for you. You can start with the tasting in their stunning tasting room, or possibly choose to taste and see how the bottling line works as you tour the facility, or one of my personal favorites, the blind tasting, where they turn off the lights and you learn to trust your senses and really "see" which wines are your favorites.
The winery also has a museum dedicated to his movies, and live, so you are welcome to visit those and get a bit of Hollywood history as you taste his wines. The Francisco Ford Coppola Winery also has a fantastic restaurant and a pool bar for those that want a different experience.
7. Gundlach Bundschu

Address: 200 Denmark Street, Sonoma
Tasting: Appointment only
Gundlach Bundschu was opened in 1858. It is one of my favorite Sonoma wineries for numerous reasons; It is sustainably farmed so they use solar power, maximize the use of birds and insects to minimize any use of fertilizers, and recycle everything that they can.
Another reason we love Gundlach Bundschu is that their wines are amazing, and they have cave tours! If you've never experienced a cave tour, it is a must do, and especially when you have a glass of wine. They also have wine tastings paired with food. If you really want an experience unlike any other, ask about the "Pinzgauer Excursion." This is an Austrian army vehicle tour where they will take you all around the vineyard, as you enjoy their wine, and end the tour with a wine and cheese pairing.
If you want to try a few different types of wine, Gun Bun (as the locals call it) has ones like Cabernet Franc, Tempranillo, and a Tempranillo Rose. Make sure to schedule in advance as this is one of the Sonoma wineries where you have to make an appointment. As with every winery on this list, remember that the tours and tastings will be an add on.
8. Hanna

Address: 9280 Highway 128, Healdsburg
Tasting: By appointment only.
The northern bay area is most known for the huge redwood trees but also the massive oak trees that often protect the vineyards from storms and the wind. If you've ever wanted to have one of these huge trees over you as you taste delicious wine, then Hanna is a winery you will want to visit and explore as they have a specially prepared picnic under the oak tasting just for you and your guests.
Located on Highway 128 in Alexander Valley, it is surrounded by a beautiful flora that will make you think you are in a world thousands of miles away from the hustle and bustle of the big cities.
As well as the classics like Chardonnay, Cabernet Sauvignon, Merlot, Hanna also has rarer wines like Malbec or Meritage which is a Bordeaux blend.
In case you can't make it to Healdsburg, Hanna also has a second tasting room in Santa Rosa at 5353 Occidental Road.
9. Iron Horse

Address: 9786 Ross Station Road, Sebastopol
Tasting: Appointment only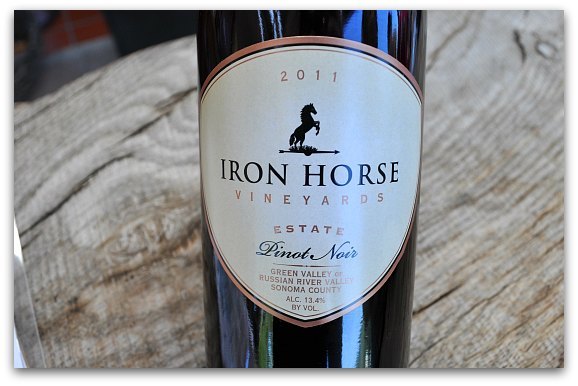 If you've read this list and wondered where the sparkling Sonoma wineries are, you have just found what you are looking for and waiting to find. Iron Horse is also in the small town of Sebastopol and a perfect place to drink delicious wines and have some scrumptious food as you view Mount Saint Helena in the distance.
Most sparkling wine is made with either Chardonnay or Pinot Noir grapes. So, one of the benefits of visiting Iron Horse is that you can taste the grapes that make the sparkling wines in their native state and then see the difference as they are developed into sparkling wines.
When you make your reservations, make sure to check out the Winemaker Truck Tour where you get to tour the winery with the winemaker in their private truck.
Wine Tasting Fact: Here's a little secret you can use to impress all your friends, and even the locals: The reason it is named "Sparkling Wine" is that it can only be called "Champagne" if it comes from that region in France. Cool secret, right?

Don't forget that tours and tastings have an extra fee added to them compared to the basic tasting, just like all of the other Sonoma wineries mentioned on this list.

10. J. Vineyards

Address: 11447 Old Redwood Highway, Healdsburg
Tasting: Appointment
If you are looking for some more delicious sparkling wine from one of the top Sonoma wineries, then you are going to glad you stopped by J. Vineyards. Since J. Vineyards is just north of Santa Rosa it is a great winery to visit as you enter, or leave, the Healdsburg wine region. J. Vineyards is rather famous for their sparkling wine that has a large "J" on it and nothing else. It really stands apart as does this winery in their service and style.
As the sparkling wines start with just the varietal grapes, you also get the chance to taste still wines at J. I am often told that being able to compare the different styles make the tastings even more inviting and interesting. There are several different tasting choices so make sure to see which one is right for you.
11. Mauritson's

Address: 2859 Dry Creek Road, Healdsburg
Tasting: Appointment required.
Mauritson's started out in 1868 growing their grapes, and then selling them, to Sonoma wineries around the valley. For those that know their wines, the Rockpile region is regarded as one of the best in all Dry Creek Valley. After many years, the family decided they wanted to express their own style and started a winery. They produced their first Zinfandel in 1998 and have never looked back.
Something to note about Mauritson's is that they produce a few different varietals, so they are very diligent and specific about each one. A bit of important information for your visit is that Mauritson has 4 different labels that they produce wine under, so make sure to try them all.
Although they may not have as many tasting options as some of the other Sonoma wineries on this list, you will enjoy their personal attention and cozy tasting room as you sip their delightful wines.
Wine Tasting Deals on Groupon

You will find some great wine tasting deals for Sonoma wineries on Groupon. Here are a few that are currently running.

Battaglini Winery & Vineyard: $5 Buys You a Coupon for $5 Off a Wine Tasting for Two Plus 20% Off a Bottle of Wine, near Santa Rosa, check for availability
Harvest Moon Estate And Winery: Save up to 40% off wine and cheese tasting plates for one, two or four people, near Santa Rosa, check for availability
Williamson Wines: Wine and Food Pairing for Two or Four at Williamson Wines in Healdsburg (Up to 48% Off), check for deal availability

*Note: Most deals last for 120 days after purchase, so make sure to check the exact terms before purchasing.

12. Ridge

Address: 650 Lytton Springs Road, Healdsburg
Tasting: Appointments only.
Out on the sublime little road of Lytton Springs, where there are only a few Sonoma wineries, Ridge sits on the edge of a pretty vineyard. Ridge is known for producing wines both in Sonoma County and the Santa Cruz mountains (about 150 miles south), so you will get to taste wines from two very different appellations which are both sustainably farmed. Few Sonoma wineries afford this opportunity so make sure to take advantage of this and plan your trip accordingly.
They have an open tasting room but if you want a special experience you can book either their semi-private tasting or their private tasting. Like all the wineries on this list they can accommodate groups if you give them enough time.
Ridge is famous for some of the best Zinfandels, Cabernet Sauvignons, and Merlots. If you feel a bit more adventurous, and haven't tried some of the more exotic wines, you can check out their Petite Syrahs, or Petite Verdot. Make sure to plan ahead as there is an extra charge for the more extensive tastings and tours.
13. Rued

Address: 3850 Dry Creek Road, Healdsburg
Tasting: Reservations requested.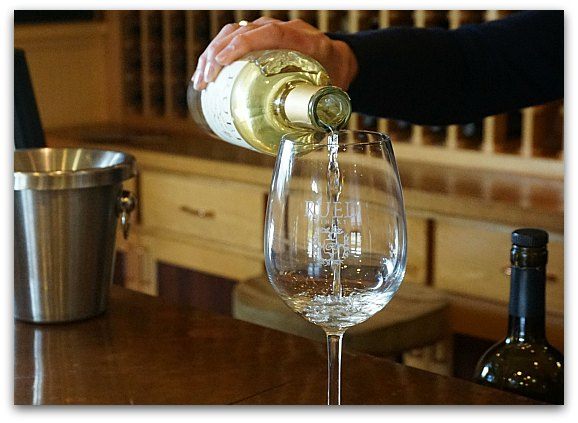 Rued Vineyard is a small, family owned, winery. They are known for their incredible Zinfandels, Chardonnays, and Sauvignon Blancs. Rued was opened in 2000 when the owners decided to stop only selling their grapes to other Sonoma wineries and make their own extraordinary wines. If you are lucky, you might meet one of the family in the tasting room as they often help when they aren't making the wines.
Being that they are a family owned winery, they welcome anyone to come in their cozy tasting room and learn about their wine and wine making process. Since it is one of the smaller testing rooms, you often will learn more and sometime even strike up conversations with the other visitors. From what I been told, people often learn of other Sonoma wineries to visit during their visits here.
Beyond the tasting, Rued Wines also offer a picnic table for you to enjoy the lunch you bring and have a complimentary glass of wine as you eat. If you want to learn more, they have a private tour, which includes tastes directly from the barrels, and concludes at the picnic table with cheeses and other snacks.
14. Silver Oak Alexander Valley

Address: 7300 Hwy 128, Healdsburg, CA 95448
Tasting: Appointments required.
Just a quick drive east of Healdsburg on Highway 128 lies the beautiful Silver Oak Cellars. This tasting room is gorgeous with amazing panoramic views of the Alexander Valley and Silver Oak's lovely estate.
Not only is the winery, and tasting room, beautiful, but the wines are known to be some of the best Cabernet Sauvignons around Napa or Sonoma County. One of the reasons that they are so well known is that Silver Oak decided to only focus on Cabernet Sauvignon long ago since they wanted to perfect it. And, trust me, they have done just that.
If you are a Cabernet Sauvignon lover, or if you want to become one or just learn more about this varietal, they have many different choices along with the basic tasting at their winery.
Some of these include wine and food pairing, vertical tastings (vertical tastings are from different years so you can taste how each vintage differs from the others), or the special tasting where they combine their Cabernet Sauvignon with other wines from their partner winery, Twomey.
As with all the wineries on this list, the tours and tastings have an added fee.
15. Thumbprint

Address: 102 Matheson Street, Healdsburg
Tasting: Reservations required.
Located in the heart of the center of Healdsburg, Thumbprint has one of the most fun tasting rooms as they have art exhibits as well as great wine. Thumbprint is known for their extensive list of wines (over 25!), so this gives you a chance to try many different varietals, at one sitting. Add to the list that they are all sustainably farmed, but unlike most Sonoma wineries, they are also vegan!
Like many of the Sonoma wineries on this list, they offer food and cheese pairings with wine. Unlike most wineries, you do not need to make an appointment to do the pairings, so just walk in and let your palate decided which is best for you.
They have the usual wines, but since they grow over 25 different varietals, you can experience wines that are hard to find at most wineries. Some of these include Gewurztraminers, Malbec, and some of their more playfully named wines like Arousal or Climax, which are blends of different varietals. Again, as with all of the wineries on this list, there is an extra charge for the food and cheese pairing.
Hotel Deals in Sonoma

Booking.com: Save on your Hotel in Sonoma with Booking.com, Planet Earth's #1 Accommodation Site. No booking fees ever!
TripAdvisor: What's the #1 hotel in Sonoma County? Read reviews & find hotel deals on TripAdvisor!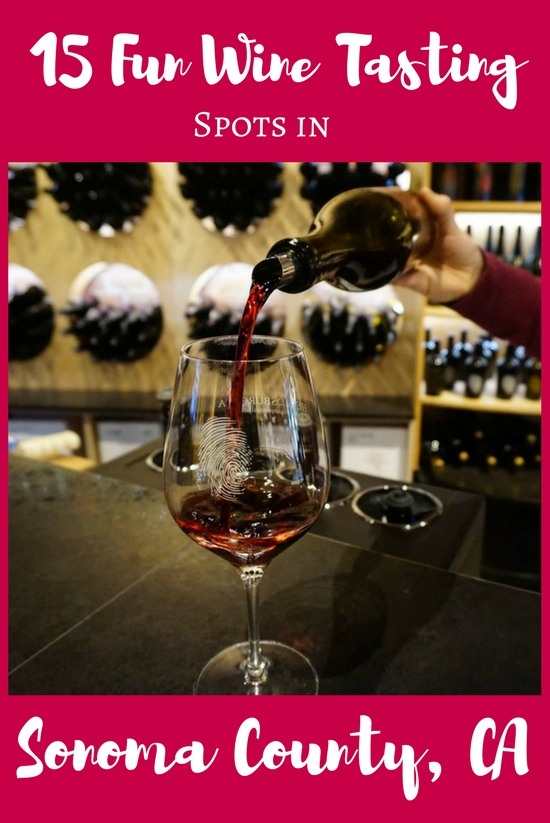 BACK TO TOP