29 Unforgettable Things to Do with Family in Northern California

by Jill Loeffler  •

Updated: January 30, 2023
You will find dozens of fun things to do with your family in Northern California. Some of my favorites include the Walt Disney Family Museum, the Santa Cruz Beach Boardwalk, and Yosemite National Park.
My list includes options in San Francisco and throughout the Bay Area. You'll also find options in Monterey, Yosemite, Napa, and beyond!
Disclaimer: I receive a small commission from some of the links on this page.

1. California Academy of Sciences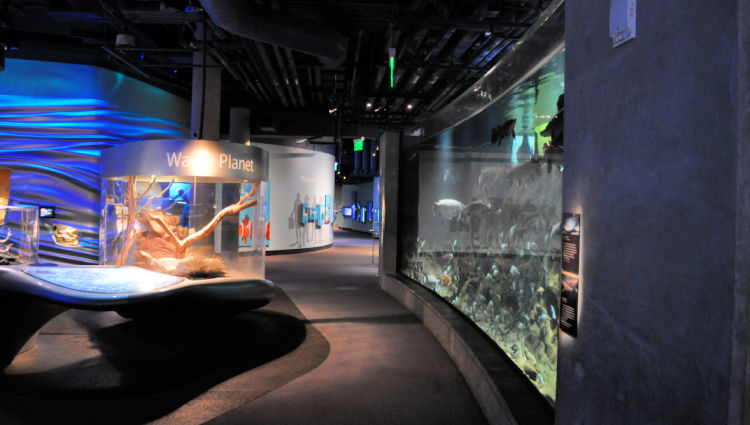 Located in Golden Gate Park, this museum has something for everyone. There is an aquarium, loads of exhibits for all ages, a rainforest you can walk through, and even a planetarium.
Kids really love the Kimball Natural History Museum, which allows them to use hands-on exhibits to learn about the history of the world.
I love seeing their eyes widen as they look up at the massive Tyrannosaurus rex skeleton or walk underneath the 87-foot-long blue whale skeleton!
They also have special events like sleepovers and workshops. If you need a bit to eat or something to drink while you are there, they have a lovely cafe, or you can check out their outdoor restaurant.
Last but not least, feel free to pick up some toys or souvenirs at their gift shop. It is a great place to start your adventure for things to do with your family in Northern California.
>> Book your tickets in advance
>> More about visiting the California Academy of Sciences in Golden Gate Park
2. Walt Disney Family Museum
Another great museum in San Francisco is the Walt Disney Family Museum. Located in the Presidio, this museum sits in a historic army building and takes you through the life and times of the creator, Walt Disney.
You will walk through exhibits about his early life, see some of the first renderings of Mickey Mouse (when he was known as Steamboat Willy), and offer you the chance to see other famous characters created by the Disney franchise.
You can also head to the theater to watch one of their most famous cartoons on the big screen.
>> More about what there is to see at the Walt Disney Museum in San Francisco
3. Bay Area Discovery Museum

Designed for kids ages six months to around ten years of age, this remarkable attraction allows them to explore their world differently. They can interact with the exhibits to learn about the world and how things work, play in nature, and more!
The Discovery Museum is 7.5 acres wide, or about 3 hectares, so your little ones will have loads of space to run around and play. There are art studios, a Giant Instrument Walk, all kinds of lawn games, and the Gumnut Grove, where you walk amongst the trees and get to see a treetop view of the area (it is safe).
Other favorite outdoor exhibits include "Paint My Ride," where the kids (and you, too!) can take broken-down cars and paint them as cool masterpieces of art.
There are so many features to this museum it's hard to capture them all. There are several places to grab a bit to eat or drink, and even water bottle filling stations.
And, just in case, there is a nurses' station if someone gets a boo-boo or ouchie. Also, everyone will love the views located near Golden Gate Bridge.
>> More things to see and do in Sausalito
4. Exploratorium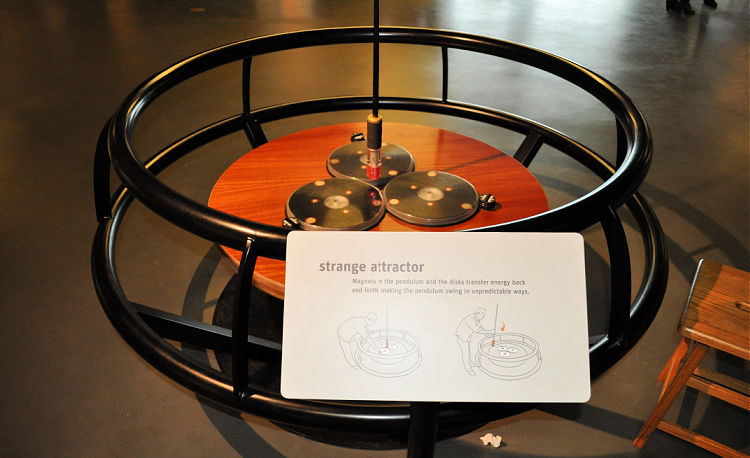 The name explains it all, as anyone can explore this excellent museum. This is unlike any other in the Bay Area as there are loads of interactive exhibits that involve thought, movement, and more.
Some include using infrared vision, a cloud chamber, and the "Out Quiet Yourself" path, where you walk as silently as possible (as parents, you'll probably LOVE this one for your kids!).
Other favorites include the "Turntable," which is a massive turntable that is constantly spinning, where your kids can put rolling objects on it and watch them roll around.
Another is "Rolling Through the Bay," where they can drop ping-pong balls through a magical San Francisco mockup made from toothpicks! It has to be seen to be believed!
It is almost impossible to explain how much there is to do here since it is constantly changing with traveling exhibits, special events, fun classes, and more.
There is a special "After Dark" experience depending on the day you are there and it is worth checking the website to find out more about it. It is one of the great things to do with the family in Northern California.
>> Pick up your tickets in advance
5. Aquarium of the Bay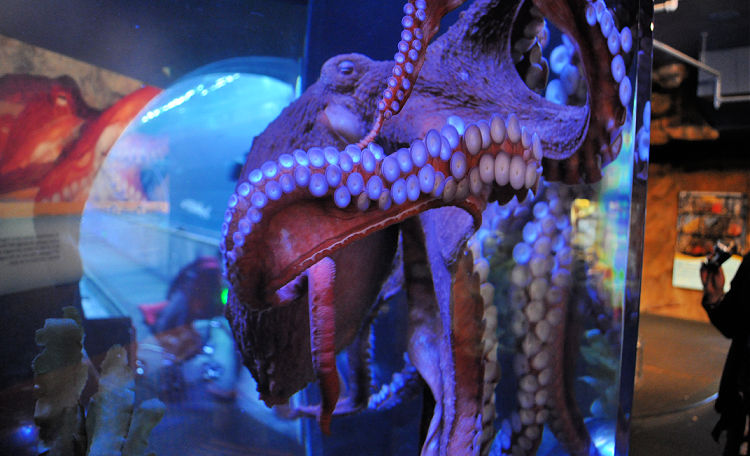 As you can imagine, you will be fully enveloped in the Bay Area's aquatic wildlife environments when you go through this beautiful aquarium. With over 24,000 marine animals here, you'll see jellyfish, otters, bat rays, and more.
Some of the exhibits have several different jellyfish while others have turtles. One of the favorites is the Sharks of Alcatraz Tunnel! This is a clear walk-through tunnel where sharks, sting rays, and other creatures swim all around you.
There is also another clear tunnel that has pretty much everything that lives in the bay. So, you get two for the price of one.
Kids always love getting their hands wet at the two touchpools, where they can come into contact with all kinds of animals that are safe to touch and learn more about them.
The Aquarium of the Bay is located on Pier 39.
>> Pick up your tickets in advance
>> More about visiting the Aquarium of the Bay
6. Monterey Bay Aquarium

Probably one of the best aquariums in the world, this one is located about 2 hours south of San Francisco. Even though it isn't that far from SF, you'd be surprised at how different the animals and flora are from those of the bay.
Kids will love seeing the sharks, sea otters, jellies, and my personal favorites, the African penguins. Watching them waddle around and eat their food always makes me laugh.
You also get to see what it is like for these animals to live in their habitat, whether that be a massive kelp forest, the beach, and other seascapes.
The highlight of the Monterey Bay Aquarium is, without a doubt, its 90-foot-tall windowed viewing area. This is where loads of animals swim all day, and watching them cruise around the massive tank is incredible. It feels like they are right there, and you feel you can almost touch them.
There are also a restaurant and a few stores if you want to do some shopping on your trip here.
>> What to expect when you visit
7. San Francisco Zoo

It's all happening at the SF Zoo! Families love the zoo because they can take their time to play and run around while simultaneously learning about the world.
Animals here include lions, tigers, elephants, Komodo dragons, bald eagles, green-winged macaws, and so many more it is impossible to list them all.
Families love to watch the animals get fed as the keeper gives an educational talk about them. Some days, you may even be able to feed a giraffe yourself if you are lucky!
There are fun rides such as the Dentzel Carousel and the Little Puffer miniature steam train. There's also the Elinor Friend Playground, where kids can mess around on play structures modeled after various natural habitats.
There are also a few restaurants and shops if you want to pick up some toys or gifts.
You can easily spend a whole day with all the exhibits and activities. It is another one of the great things to do with the family in Northern California.
>> Where there is to see and do in the San Francisco Zoo
8. Muir Woods National Monument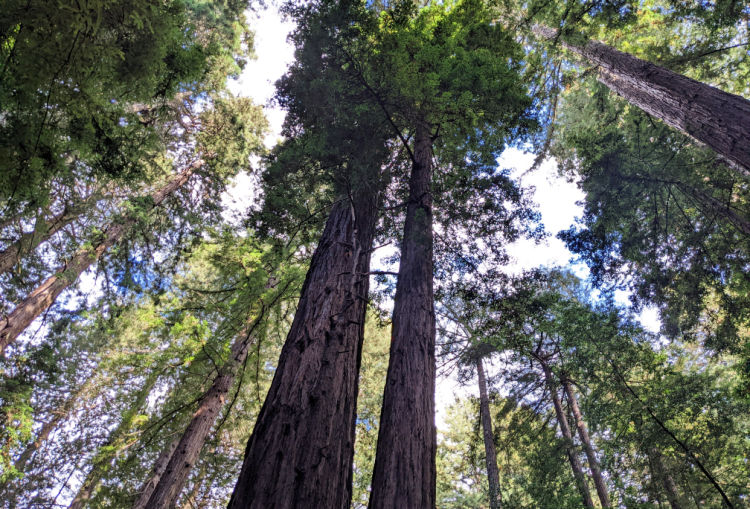 As you travel from San Francisco across the Golden Gate Bridge and towards Muir Woods National Monument, the scenery will change before your eyes. It turns into an old forest with lots of tall redwoods. It will become greener and very relaxing.
Then, when you enter Muir Woods, it will seem like you have entered a world that existed eons before humans walked the Earth, when nature was king.
You will be enveloped by redwood trees over 250 feet tall and 15 feet wide! The air you breathe will feel different because there is so much more oxygen, and you'll feel more invigorated and alive.
The paths take you around through the forest, which is wonderfully calming. Even kids become silent in awe, looking up at the majesty of these trees. It is an excellent way for them to learn and for you to have some quiet at the same time.
You can even take your kids' photo by a fallen tree that shows hundreds of years of history through its rings.
Best Muir Woods Tours
9. Angel Island

While Alcatraz is a more famous island, Angel Island is a not-so-hidden gem and is the largest island in the bay!
Originally home to the Coast Miwok Native Americans, Angel Island has become a catalog of everything that has happened in this area up until today. This ranges from being a civil war camp to an immigration station to now being a state park.
It is a perfect place for families since there is so much to do here. Some options include hiking on the 5-mile paved perimeter road, where you can see all kinds of historical sites. Others include visiting the former barracks where detainees engraved poems on the walls.
You and your little ones can climb and crawl around the old Battery Drew, Ledyard, and Wallace gun stations (they are safe).
Families love taking the tram tour as it lets you learn all about the island and also includes an audio guide. In reality, there is so much to do here, it is hard to describe it all.
Last but not least, this island affords some of the best views of all the cities surrounding the bay.
>> Details on what there is to see and do here
10. Santa Cruz Beach Boardwalk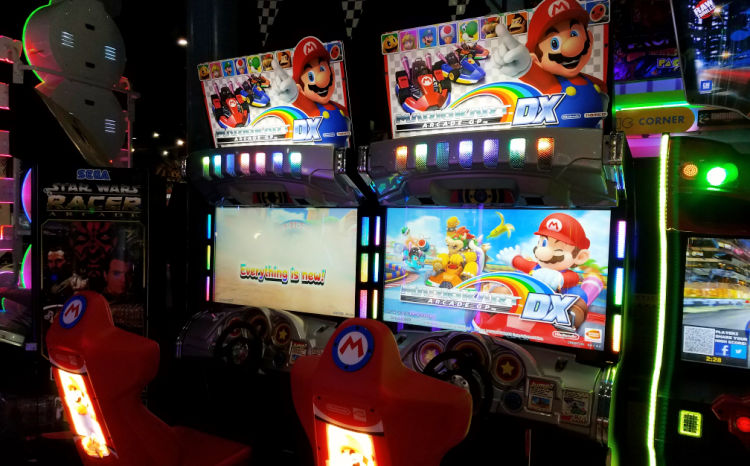 A few hours south of the City, you and the family will find almost everything you could ever want to do in one location.
There are carnival games where you can test your skills by shooting basketballs through hoops, breaking plates by throwing balls, or kicking a ball through a goal.
If you are into more physical activity, there is laser tag, mini-golf, bowling, and more.
Of course, no boardwalk would be an actual boardwalk with rollercoasters and fun rides. And Santa Cruz delivers big time! It has all kinds of rides that spin you around, drop you down, and flip you over.
The most famous and must-ride is the Giant Dipper, a classic wooden coaster that has been operating since 1924! Some of these are height limited, so check ahead.
There are so many restaurants and eateries that you'll find something for everyone in your family. You can also check out the wide variety of stores to buy souvenirs.
The views from the Beach Boardwalk are lovely, and you could easily spend a few hours there just taking in the bay's beauty.
They usually have some weekday specials, so check ahead and see if you can save a few bucks.
11. Golden Gate Bridge

One of the most beautiful bridges in the world, the Golden Gate Bridge is an architectural icon that should be visited by everyone who comes to San Francisco.
As you come towards it from the San Francisco side, you will see the twin 746-foot tall towers rising above it and the beautiful cables going up and down them. You will get views of the bay, the Pacific Ocean, SF, Marin, and more.
There is nothing like walking over the Golden Gate Bridge and enjoying the experience with your family since it is such a magical structure. You can also bike or drive it if you want.
Even just hanging out and doing nothing while enjoying the view is always wonderful.
Most people don't realize this, but there are great exhibits on both sides of the bridge. On the San Francisco side, there is a nice welcome center and plaza where you can learn about its history or take a free walking tour.
Of the many things to do with the family in Northern California, this is a must-see.
>> The best places to photograph this beauty around SF
12. Yosemite National Park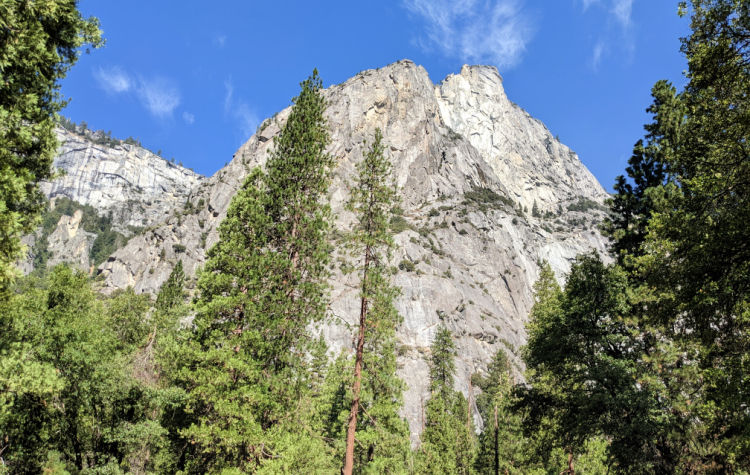 Simply stated, Yosemite National Park is a one-of-a-kind nature experience unlike any other in the world.
Even before you enter the park, you will be in awe of the beauty and massive mountains. The grasses, trees, and wildlife will be around you, and you will feel like you are coming into a natural wonderland.
When you arrive, you'll see the majestic attractions, including El Captain, Yosemite Falls, and Half Dome, among others. The vistas across the fields and lakes are awe-inspiring and relaxing beyond belief.
There are roads, paths, trails, and many beautiful ways to get around and see the park. A decent amount of the area is ADA-compliant.
There are many camping sites and a few hotels. There are also places to grab food, museums, and art galleries. There are exhibits to help you learn more about the history of this magnificent natural park and so much more.
There is nothing like seeing Yosemite National Park as a family because it is so amazing and such a life-changing experience.
>> Fun things to do in Yosemite National Park with kids
>> Recommendations on where to stay
13. California State Railroad Museum

Choo choo! Located about 1 hour northeast of SF is the Capital of California, the city of Sacramento. It may not be as famous as San Francisco, but it has some beautiful hidden gems you want to check out.
The California State Railroad Museum is a perfect example of one. You can check out some of the old west and how people got around during that time using these massive locomotives.
You get to check out the 19 steam locomotives and experience what it was like in the olden days.
However, the biggest thrill is the 50-minute ride on the Sacramento Southern Railroad. You'll have several choices of cabins to sit in and great views no matter which one.
If you've never ridden on a classic steam-engine train, it is a blast. And if you have, it is still a great time for all, especially the kids.
There are many exhibitions, including one with over 1,000 vintage toy trains, a Georgia Northern Gold Coast Railcar you can visit, and others.
14. Lassen Volcanic National Park

About four hours north of San Francisco, Lassen is one of the lesser-known national parks in Northern California. It's a shame because it has gorgeous views, beautiful meadows, and numerous volcanoes (don't worry, it is safe).
The beauty of Lassen Volcanic National Park is that each season gives you a very different landscape and experience. Therefore, no matter when you visit, you see something new and different.
This could range from wildflowers to snow, meaning you might hike, climb, mountain bike, or snowshoe on your trip. With over 150 miles of trails, you'll find something wonderful no matter what you choose to do.
One of the top attractions here is the Sulphur Works. This is a hydrothermal area you can visit any time of the year. Here you will see sulfur as it billows and steams out of crevices, the weird colors of the land around it, and smell a smell you won't smell anywhere else (for better or worse!).
It is one of the top things to do with the family in Northern California when you want to get outside.
>> Details on more National Parks in Northern California
15. Turtle Bay Exploration Park

Located in the city of Redding, about 4 hours north of San Francisco, this is probably the biggest park on this list. It covers about 300 acres, and you could easily spend all day here.
There is the main indoor museum, with exhibits such as their river aquarium, the walk-through cave, a small aquarium, and more.
However, that is just the tip of the iceberg. There are also guided walks in the garden, animal parades, and my favorite: the animal artists' presentation, where the animals themselves show off their talent.
People love going across the "Sundial Bridge." This is a bridge in the form of a sundial, so depending on the time you walk across it, the shadow of the sun will change accordingly. And it is MASSIVE, so it throws a massive shadow.
Since this is such a huge park, you can play for hours and hours and never run out of things to do. They have many fun special events, so it is worth checking their website.
16. Roaring Camp in Felton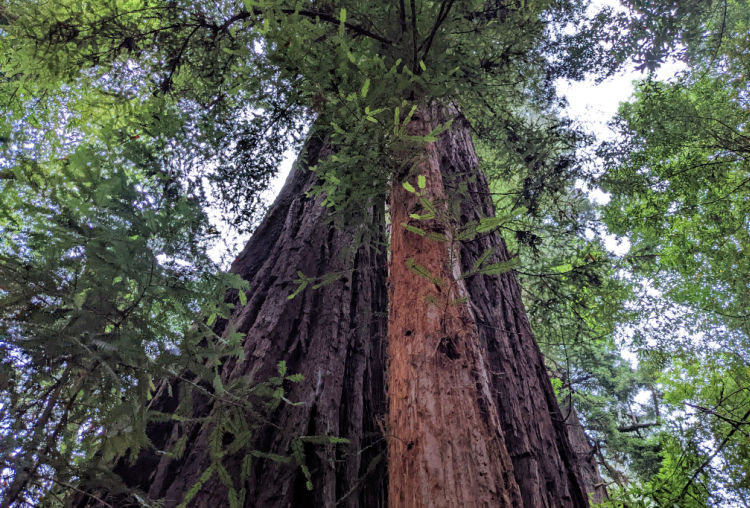 Head into the Santa Cruz mountains about an hour and a half south of SF for Choo Choo #2! I love Roaring Camp because it feels like going back to the 1880s, when the railroads were the primary mode of transportation through the mountains.
The Redwood Forest Steam Train is a huge classic engine that billows steam constantly as it pulls you along the trails. This main train takes you through the redwoods, while a second train takes you down to the beautiful city of Santa Cruz, just 6 miles south.
The ride takes about 75 minutes, and you sit in open-air cars, which give you a fantastic 360-degree view of everything. These trains were used to haul the massive redwoods out of the forest. They are awe-inspiring.
To give you even more of an idea of what life back in the train days was like, the employees wear gear and clothes from that time. The architecture also fits the period, including a covered bridge, general store, train depot, and more.
If you need to grab a bite, you'll find all-American options at Georgie's Cook House and the Chuckwagon BBQ.
Roaring Camp has several other engines, including five diesel ones, which may also run depending on the day. They have special events too, so you'll want to check ahead and see if anything else fun is happening during your visit.
17. Lava Beds National Monument

When you read "Lava Beds," you probably think of just a bunch of fields full of lava. Well, you'd be correct because there are nearly 50,000 acres of fields and areas to hike.
However, the place is so much more than just lava fields! It starts with a fantastic visitor's center that will give you all the information you need to see this impressive area.
Beyond what you can see above ground, what you can find underground is even more exciting. There is the Mushpot Cave which has lights and information so you can learn all about the area. The Valentine Cave is easy to get into and walk around.
Lastly, the Skull Cave is nice and large, even though it has a scary name.
If you want to explore more, there are more than 800 caves, some with bats and other animals roaming around them!
You can take tours led by rangers, and sometimes there are special events such as Living History Day, where people dress up as if it were the 1800s.
Lava Beds is another one of the things to do with your family in northern California that is a true hidden gem.
18. Point Reyes National Seashore

Everyone wants to see the ocean when they come to California, and Point Reyes is a perfect place to do that.
There are miles and miles of trails to explore with all kinds of options. These include hikes from under an hour to over 3 hours. You can go along the coast or through the gorgeous forests.
There are over 1,500 species of plants and animals here, so you will always find something new and exotic. It's also been home to numerous native cultures through the years.
You can also check out the campgrounds if you want to spend some time immersed in nature and enjoy the beauty and quiet. You can even fish in some areas of Point Reyes National Seashore.
I highly suggest checking out the visitor's center and the lighthouse before you head out since there is so much to do.
Point Reyes is about 1 hour north of San Francisco and a beautiful drive near the coast.
19. Humboldt Redwoods State Park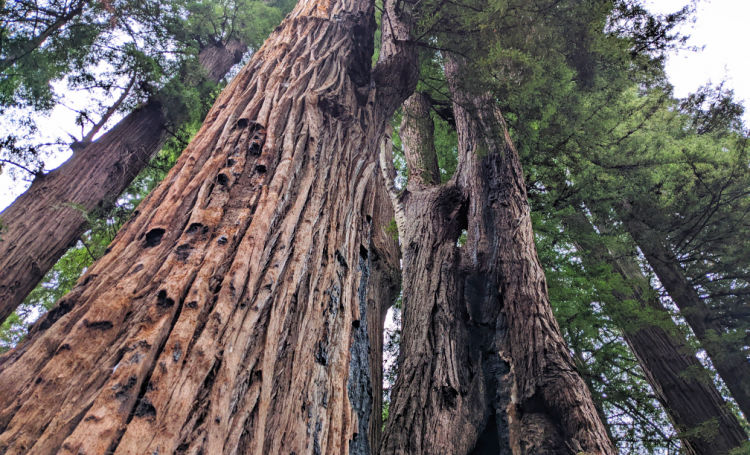 For those who have ventured up to Napa and Sonoma wine country and want to go farther up north, make sure to check out this park.
The area alone is worth visiting since it is so full of beauty and nature, but the park makes it even more special. The park is over 53,000 acres, so it is massive, and you could spend weeks here and never even come close to seeing it all.
There are about 17,000 acres of old-growth redwoods, which means the trees will be over 250 feet tall and 15 feet wide!
I love to do the 31-mile Avenue of the Giants drive through the forest and just be amazed by the towering redwoods. You can also visit the beautiful Eel River and hike on the many trails.
There are camps sites and even a horse camp. It is the perfect place for any family that loves the outdoors.
Don't miss the drive-thru and walk-thru trees, which kids love because they get to see the inside of the giant trunks.
The city of Humboldt is also a beautiful place to visit and enjoy. It takes about 4 hours to drive to Humboldt Redwoods State Park from San Francisco.
>> More great redwoods around Northern California
20. Oakland Zoo

The Oakland Zoo is an excellent option if your family is looking for things to do in Northern California. Located across the bay just half an hour east of SF, this zoo is as unique as the one in SF.
Every zoo visitor wants to know what animals are here. Some include elephants, lions, chimpanzees, pythons, blue and yellow macaws, Asian forest scorpions (YIKES), and more!
If your kids want to watch the animals get fed, this is the perfect place as there is usually a feeding every 30 minutes or so, for all kinds of different creatures.
The zoo also has tours and lots of fun rides, including ones that go through the animals' natural habitats, so you can see how they live in nature. There is also a special Children's Zoo, which includes a petting yard and live animal encounters so your little ones can see them up close and play with them.
One of my favorites is the Tropical Rainforest, where I have seen all kinds of birds, chimps, tamarins, and other creatures I'd never seen anywhere else before.
Last but not least, they often have special events, so make sure to check ahead.
21. Lake Tahoe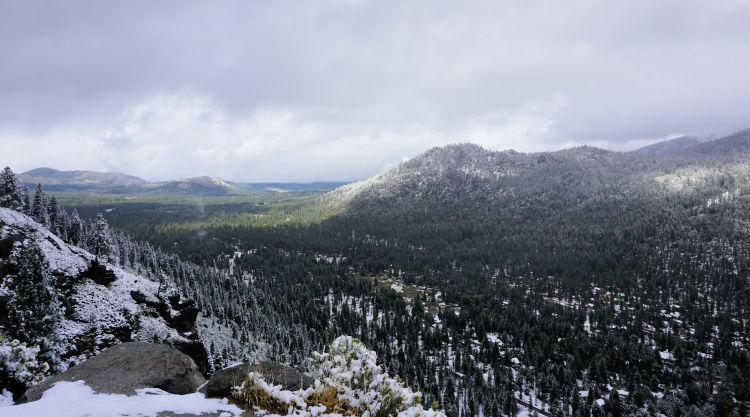 Depending on the weather, Tahoe is about 4 hours away from SF. As it is up in the Sierra Nevada Mountains, you will enter a natural wonderland no matter which season you visit.
The city of South Lake Tahoe is very pretty and a nice place to eat or stay, but people come here for the lake. It is truly magnificent, and the shore stretches for miles. One look at it and the shimmering blue will make you want to stay forever.
Depending on the season, you can choose skiing, snow tubing, or just playing in the snow. If it is warmer, there is hiking, swimming, and cycling. There are beautiful paths to walk around the lake and the Taylor Creek Visitor Center, where you can find out about this amazing area.
You can get out on the lake by renting a boat, taking a kayak, sailing, jetskiing... the options go on and on! There are loads of restaurants, shops, and more to ensure you have everything you need during your visit.
Lake Tahoe is a delight for families of all ages and a wonderful way to see a different part of Northern California.
>> More great mountain towns around Northern California
22. Six Flags Discovery Kingdom

Instead of making you choose between an amusement park and a zoo, Six Flags gives you both in the same location.
Animal exhibits include fun ones like the Alligator Isle and the Butterfly Habitat. They also have dolphin shows and a giraffe encounter where you can see them at their eye level! If you really want to experience something special, check out their Backstage Safari.
If you are looking for rides, this is the place for you and your family. There are swinging ships, high-rising weather balloons, kid-sized trains, and much more.
For the bigger kids, there are roller coasters and all kinds of other thrill rides.
Six Flags has loads of games, shops, restaurants, and play areas for the whole family to enjoy regardless of age. Make sure to check the website, as they often offer special events and shows depending on the season and date.
This is the perfect place if you are looking for things to do for your family in Northern California.
Located in the city of Vallejo, Six Flags Discovery is across the Bay Bridge and about an hour northeast of San Francisco.
23. Yosemite Mountain Sugar Pine Railroad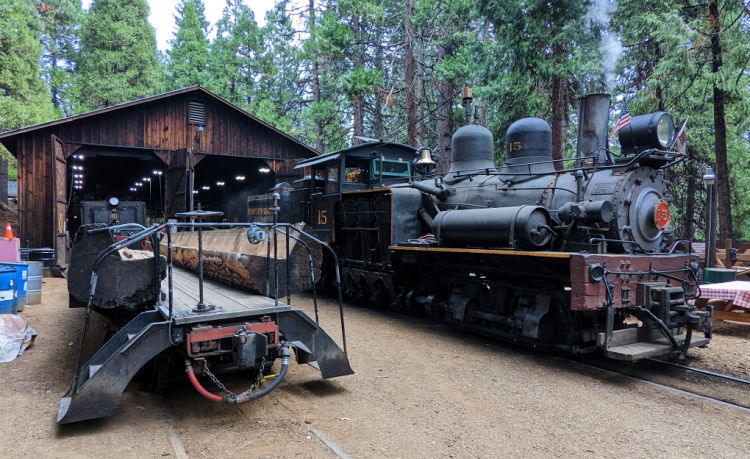 All aboard for Choo Choo #3 on my list! The Sugar Pine Railroad is located on the south end of Yosemite and is a total steam-powered blast!
This massive steam engine runs through the pine forest, and you can get a glimpse of what it was like when the workers pulled these huge trees out of the region.
I love that there are a number of cars with roofs, as well as two that are made out of trees and are open-air so you can see 360 degrees around you. Kids especially love to ride on these for the awesome view.
The 1-hour train ride will take you through the forest, and you will pass one of the fallen trees that is so massive, you can almost reach out and touch it.
There are also moonlight train rides, special events, and more, depending on when you visit.
They've also built a small "town" with several stores and more to give you an idea of what it was like back in the day. You can buy some fun toys and souvenirs and grab a drink or a bite to eat.
>> More about the Sugar Pine Railroad tours
24. Sporting Events

The San Francisco Bay Area is home to several highly-ranked professional, semi-pro, and college teams. Here you can watch baseball, football, hockey, soccer, basketball, and others.
Our top teams include the Golden State Warriors, the San Francisco 49ers, and the SF Giants. You can also watch the San Jose Sharks, the Oakland Athletics, and San Jose Earthquakes.
Other local teams are at UC Berkeley in the East Bay, Stanford in the Peninsula, and the Santa Cruz Warriors in the South Bay.
>> Check out a schedule of upcoming games and information on most of our top teams
25. Safari West

Sometimes you want to get closer to the animals than you can in a zoo, and Safari West is the place to do just that. With over 900 animals to see, you will be amazed at how close you can get to them, giving you a sense of what being in the African wild is truly like.
You will be in trams that take you through their massive 400-acre preserve on a "safari." While on this trip, in a jeep that has several levels of seats so you can get different views and feel like you are entering the world of the savannah.
Some animals you'll see include cheetahs, Masai giraffes, impalas, lemurs, rhinos, and zebras. (They do not have elephants, lions, or tigers.)
Safari West offers special events, such as a behind-the-scenes walk or the ability to meet a rhino up close and in person. If you want an even more in-depth experience, you can also spend the night in a majestic tent inside the park.
There is a cafe there in case you need a bite to eat or something to drink. The menu includes vegan, vegetarian, gluten-free, and omnivore choices.
Safari West is located in the heart of the Sonoma Wine Country, thanks to its climate and spacious grasslands, about 1 hour north of San Francisco.
26. Old Faithful Geyser of California

Located in the beautiful wine country town of Calistoga, this hidden gem is a fun escape when you want to get away and see something out of the ordinary. The geyser erupts every 15 - 3o minutes and blows off a massive plume of steam, making a booming sound.
This Old Faithful is not as big as the one in Yellowstone National Park, but one of the great things about visiting is that there is so much more to do here for a family and for kids.
This includes a farm and petting zoo with llamas, mountain goats, and horned sheep.
If you want your little ones to learn more about the area, there is a small geology museum. There are picnic tables and bocce ball courts when you want to relax and grab a bite.
Since you will be in the middle of wine country, you can see this kid-friendly attraction while exploring other parts of the area and have a fun family outing in Northern California at the same time.
27. Año Nuevo State Park

This unique park allows you to see the huge, magnificent elephant seals all year round. These creatures can get up to 15 feet long and weigh up to almost 5,000 pounds!
So, imagine seeing almost 10,000 of these massive animals, some bigger than cars, bashing around as they fight each other! It is a sight to behold and one you will never forget.
Because it is a significant breeding area, the native flora and fauna are protected and flourish. Other animals include sea lions, otters, coyotes, and many more. There are even docent-led tours if you want to learn more and get closer to them safely. It is a bit of a hike, so be prepared for that.
If you want to learn more about these animals and the area, there is a natural history exhibit, bookstore, and theatre. There are restored 19th-century buildings, so you can get an idea of what living here was like back in the early days. I love the old broken-down 19th-century lighthouse.
It is about 1 to 1.5 hours south of San Francisco and a gorgeous drive along the coast on Highway 1.
28. The Mystery Spot

Also about an hour south of San Francisco, the Mystery Spot in Santa Cruz will turn you and your family upside down!
This is fun for kids of all ages because it is a "mystery" how gravity seems to lose all grip on reality here!
When you visit, you can stand inside the buildings, and you'll think you are falling over, but you will be able to stand up. There is a tour that is about 45 minutes long.
There is also a very enjoyable 30-minute hike which you can take either before or after your tour. It is a great way for your whole family to enjoy nature through the magnificent redwoods.
There is also a little snack shack if you want to grab a bite or drink.
The Mystery Spot is a gorgeous, fun stopover when you are in Santa Cruz.
Note: Many portions of it are situated on slopes that can make it difficult for people with mobility impairment to navigate. Please check in advance to make sure it will be safe for your family.
29. Children's Discovery Museum San Jose

This is a great museum for kids and teens as it is both indoors and outdoors and has lots of space to run and play.
Instead of being a museum where kids sit and look at the exhibits, they interact with them and make the exhibits come to life. Kids love the two-story Amazing AirMaze, where air blasts objects all around tubes, and kids get to see them move.
Others include Bill's Backyard, where kids can climb, build, dig, and play outdoors as they learn about nature. One of the favorites of all guests, including adults, is the outdoor World of Bubbles exhibit. Here you and your kids can play with bubbles using tubes, wands, tubs, and all kinds of other tools and see how they grow and pop!
These are just a few of the choices you have here, and you could easily spend a whole day discovering more. There are so many fun things for a family to do at the Children's Discovery Museum while visiting Northern California.
It is located in San Jose about 1 hour south of San Francisco.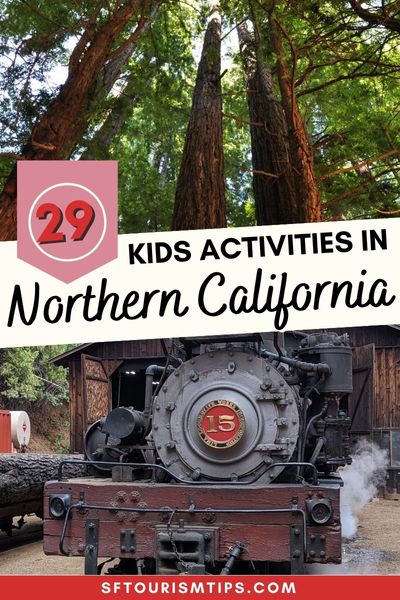 Comments? Questions? Suggestions?
I would love for you to join me in my private Facebook group! 
It's a great place to interact with me and others who know the area well.
You can ask questions, get advice for your upcoming stay, and then share your photos and advice with others when you return home. It's a great community and the fastest way to get answers to those nagging questions about your visit!