Northern California Coastal Towns: 17 Gems Along the Pacific Coast

by Jill Loeffler  •

Published: June 7, 2023
Northern California Coastal Towns offer you the opportunity to relax near the beach, do a little shopping, and check out their historical sites.
Some of my top picks to stop at on the northern California coast include Half Moon Bay, Fort Bragg, and Monterey. Others include Sausalito, Carmel-by-the-Sea, and Santa Cruz.
You will find several of these beach towns along the Pacific Coast Highway south of San Francisco. Others are in more remote areas along the coast north of SF.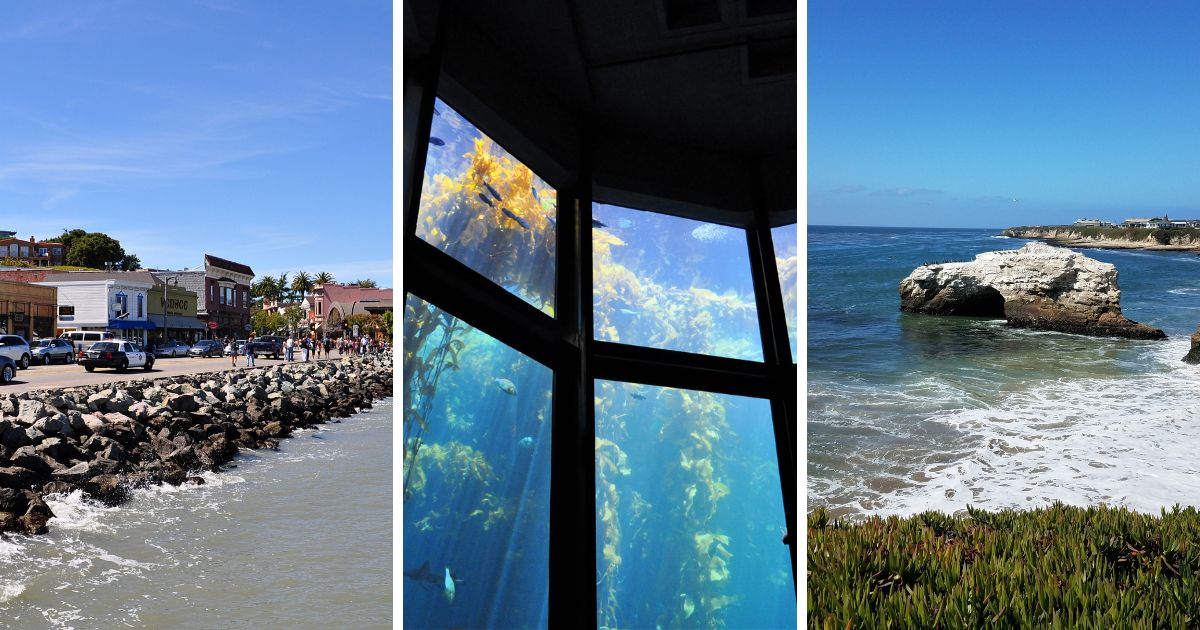 Disclaimer: I receive a small commission from some of the links on this page.

1. Half Moon Bay
Even though it is only about 1 hour south of San Francisco, you'll feel like you are in a different world when you visit Half Moon Bay. This beautiful area will give you a wide range of activities no matter what you like to do, including horseback riding, hiking, cycling, bird watching, golfing, cruising along a bike, or sunbathing, depending on the weather.
There are loads of wonderful little stores in this quaint Northern California coastal beach town, and you will feel like you've stepped back in time when you get here.
You'll definitely want to do some shopping and buy some fun mementos or keepsakes for when you get back home.
You'll find several great restaurants, and seafood is a popular choice. I typically like to stop at the Half Moon Bay Brewing Company for a bite to eat and to enjoy a locally brewed beer.
You will also find some quaint bed and breakfasts along with some great hotels and motels.
>> Find more great ideas for visiting Half Moon Bay
2. Bodega Bay
Another delightful beach town that is well worth the visit is Bodega Bay. I love this one because, depending on our route, you can either cruise the whole way by the coast or hit the wine country on the way.
You will find great ocean views, and the beach here is beautiful. You can even take horseback rides on it if you want. What makes the views from Bodega Bay even more amazing is that, depending on the season, you can do some whale watching as they migrate to and from their breeding grounds.
Another one of the fun things to do here is to go hiking along this area's many different trails and paths. In fact, there are over 20 miles of trails.
Some offer views of the beach and ocean, while others will give you amazing views of the hills and mountains. You'll also see some birds and other wildlife around you as you hike.
You will want to make sure to dine on the local seafood as this tiny town is famous for its crab and shrimp.
Some other interesting attractions include the church where Alfred Hitchcock's "The Birds" was filmed and the Children's Bell Tower, a 17-foot tall tower with 140 bells, all of which are different sized and different types.
Bodega Bay is about one and a half to 2 hours north of San Francisco, depending on whether you drive on the coast or through the mainland.
3. Pacific Grove
If you decide to go south of San Francisco, you will find the beautiful town of Pacific Grove. This is another one of the gorgeous northern California beach towns as its population is only about 15,000 people, and it is located about 2 hours south of SF.
Pacific Grove is one of the most peaceful locations you will find anywhere. Their cute downtown area offers several great places to eat and do a little shopping.
You can also enjoy some water activities, go for a hike along the coast, or check out the John Denver Memorial.
You will also find one of the entrances to 17-Mile Drive along Pebble Beach on the southern end of town.
>> Find out more about visiting Pacific Grove
4. Crescent City
Heading back up north, we go towards Crescent City, about a 6-hour drive away from San Francisco. It is another small northern California beach town with about 7,000 people in it and is mostly a stopping point as people travel back and forth from Oregon to California.
However, don't let that stop you from going here, as it is full of wonders and great things to do. Some of the favorites include Jedediah Smith Redwoods State Park, which is home to massive Redwood trees that will tower over your head.
Other favorites are the Battery Point Lighthouse & St. George Reef Lighthouse. Depending on when you visit, you can possibly tour the Battery Point Lighthouse.
If you are a movie buff, then this is a great place for you as a number of different movies were filmed here, and you'll want to check them out. Some of these include E.T., Star Wars., and more.
5. Fort Bragg
The first thing that you will hear from other people when you mention Fort Bragg  is "Are you going to visit Glass Beach?" As you can guess, that is because there is a beach with all kinds of colored glass on it. Luckily, the waves have worn down the glass, which is rounded and quite beautiful.
This small town is also full of cute stories, great parks, tidepools, and other fun things to do.
Another great stop is Triangle Tattoo & Museum.
Fort Bragg is about three and a half hours north of San Francisco.
6. Carmel-by-the-Sea
Just about 15 minutes south of Pacific Grove, you have the tiny beach town of Carmel-by-the-Sea, with a population of around 3,000 residents.
Even though it's small, you will find a lot of fun things to do here.
You can do a little shopping, check out their incredible art galleries, or do a little wine tasting.
The historic Carmel Mission is here as well, and it is absolutely beautiful both inside and out.
It's one of the best Northern California beach towns, and its largest beach, Carmel Beach, is spectacular.
>> More fun things to do in Carmel-by-the-Sea
7. Stinson Beach
Like many Northern California coastal towns, Stinson Beach has its roots in the late 19th century and the region's rise in dairy farming. Just over half an hour's drive from the Golden Gate Bridge, the town is now a popular vacation destination for people looking to spend time away from the city.
The beach is a major attraction being wide, with soft sand and shallow water - a perfect choice for kids to enjoy sun, sea, and sand. Whale watching is possible at some points during the year, and the fantastic rock formations that provide the backdrop make for a spectacular sight.
Accommodation can be found in and around the town, and there are RV parks. Red Rock Beach, just five miles away, is a popular and welcoming clothing-optional beach.
The Point Reyes Lighthouse - built-in 1870 - is also worth a visit, while the small town is home to interesting shops, cafes, and restaurants and still retains much of the Old World charm.
Stinson Beach is among the friendliest Northern California coastal towns, with a choice of nature reserves, many miles of hiking and cycling trails, and much more.
8. Eureka
Among the larger northern California coastal cities in California, Eureka has a rich history and played a significant role in the logging industry that drove much of the region. Founded on Humboldt Bay in the middle of the 19th century, the city was also involved in the California Gold Rush. Before that, it had been home to the indigenous Wiyot people for many centuries.
Today, Eureka is famous for its spectacular Victorian-era mansions and houses, especially the famed Carson House, which - like most of the Old Town Eureka - has been restored to its original state. The city has many examples of Victorian architecture that are considered important, displaying the region's prosperity in the 19th century.
The Sequoia Park Zoo is worth visiting in this charming Northern California coastal city, which includes a large and entertaining playground for kids, plus the various wildlife reserves in the region.
The city offers a wide variety of restaurants, coffee shops, places to stay, and many interesting stores.
Eureka is difficult to beat for a fascinating slice of California history and worth it for its unique and ornate Victorian architecture alone. Located on US Route 101, this is an ideal choice for a vacation in a friendly and welcoming coastal town.
9. Santa Cruz: Northern California Beach Towns
Sitting in a prime spot overlooking Monterey Bay is the famous and thriving city of Santa Cruz. With a choice of stunning beaches on a spectacular coastline, this city has a rich cultural history and one also famed for its surf culture.
The historic Boardwalk, which dates from 1907, cemented the city's popularity as a seaside and beach resort and continues to do so today.
You can also soak in the outdoors by visiting the magnificent redwood forests that cover the glorious Santa Cruz Mountains near the city.
Santa Cruz is home to several State Parks and Beaches, including Natural Bridges State Beach, one of the most spectacular Northern California beaches.
Other attractions in and around Santa Cruz include the world-famous Santa Cruz Surfing Museum (find more great museums here). The coast here is regarded as among the best surfing waters in the world, and the city has a rich history involving surf culture. There are also many other museums, art galleries, and festivals charting the history and development of this colorful and friendly city.
As a popular tourist destination, there are plenty of accommodation options and RV parks not far from the city. Many miles of hiking and cycling trails can also be enjoyed; if fishing is a hobby, Santa Cruz Wharf is an excellent spot.
>> More fun things to do in Santa Cruz
10. Mendocino
A fascinating small town on a headland surrounded by the Pacific Ocean, Mendocino has become a popular tourist destination despite boasting a population of around 1000 people.
This charming Northern California coastal town offers a surprising number of guest houses and bed and breakfast options, and the small and secluded beach is a great place to relax.
If you visit Mendocino, you may have seen it before. The town is a popular outdoor setting for many movies, but it is perhaps a long-running TV show that may make it more familiar.
The hugely popular Murder, She Wrote - starring Angela Lansbury - doubled as the fictional Cabot Cove, where crime writer Jessica Fletcher famously lived. The property used as her home in the series is now a B&B in the town!
There are two State Parks in the vicinity with a choice of hiking trails popular with bird watchers, and Mendocino has an established artists' colony, thanks to its picturesque location. The downtown commercial area offers a choice of restaurants, shops, and galleries and is worth visiting.
Great Places to Stay Around Northern California
11. Jenner
One of the smallest yet most charming Northern California coastal towns is Jenner, also known as Jenner-by-the-Sea. With a population of around only 120 people, there is not much in the way of commerce at Jenner, but it does have one major attraction.
Goat Rock Beach, part of the Sonoma Coast State Beach, is a wonderfully evocative stretch of sand famous for family days by the sea.
Jenner is located on the Pacific Ocean coast at the mouth of the Russian River and was founded in the 1850' by the Jenner family. State Route 1 runs through the town.
For a full family day out, Stillwater Cove Regional Park is a few miles to the north and is famous for its historic single-room schoolhouse. There are picnic facilities and access to a fine beach.
12. Sea Ranch
A privately owned community that stretches for 10 miles along the Pacific coast, The Sea Ranch offers a unique and rewarding opportunity to enjoy this wonderful part of California.
Occupying a fantastic location at the northern end of the Sonoma Coast, the permanent population numbers around 1100, and it is believed that half the homes at The Sea Ranch are for rent.
This beautifully considered and eco-friendly community is a sublime vacation place. Guests get the use of Sea Ranch golf links, a Scottish-style course in a beautiful setting, and access to tennis courts and 50 miles of private trails offering stunning views of the ocean and the wildlife.
The Stengel Beach Coastal Access Trail is recommended, a short walk that ends at a staircase taking visitors to a tranquil beach below.
This is just one of many coastal trails that are to be found within Sea Ranch. The Ranch Cafe is the place to eat, with a great choice of fresh pastries, breakfast, and lunch options.
This is the place for a romantic break, a relaxed family holiday, and a genuine opportunity for nature lovers and walkers.
13. Bolinas
Less than 30 miles from San Francisco by road is the small coastal town of Bolinas. As with many such places, it has its present-day foundations in the mid-19th century.
A charming town popular with visitors, Bolinas residents are somewhat reclusive, and vacationers will find no direction signs indicating the route to the town, so make sure you know your route before you arrive.
Bolinas is bordered by Point Reyes National Seashore, a large protected reserve famous for its varied wildlife, including many bird species. Point Reyes Lighthouse is a popular attraction, especially during the season when whales migrate.
Bolinas Museum is another interesting feature, with galleries of local art, exhibitions about the town's history, and regular events and auctions for locals and visitors.
Bolinas Beach is one of many in the region, popular with vacationers. RV parks are also within easy reach of this attractive Northern California coastal town.
Beach access is from the downtown area, and visitors may also want to visit the country park - Agate Beach - where many tide pools are protected as part of a marine conservation area, and Alamere Falls, one of only two coastal waterfalls in the USA.
14. Sausalito
Few Northern California coastal towns offer such easy access to San Francisco as the charming city of Sausalito. Just a few miles north of the Golden Gate Bridge, this friendly and welcoming city now has a flourishing arts community thanks to its picturesque location.
It is famous for its many houseboats that add color and charm to the city.
There are many public parks in Sausalito - including Tiffany Park and Martin Luther King Park - and several beaches with public access.
Most people visit from San Francisco by ferry and explore its small downtown area.
My favorite things to do here are to enjoy some seafood at one of its waterfront restaurants. Many offer great views of San Francisco and places all around SF Bay.
You can also spend some time shopping along Bridgeway.
It's a great way to spend a morning or afternoon while visiting Northern California.
>> More about visiting Sausalito
15. Tiburon
Located on the Tiburon Peninsula, which reaches out into San Francisco Bay, the small town of Tiburon in Marin County is a great place to spend a few hours during your visit.
Home to many boutiques, restaurants, and cafes, Tiburon has come a long way since its industrial past and is now a pleasant and charming town.
Proximity to San Francisco and the convenience of the ferry services have boosted the town's reputation as a vacation destination, and it now caters to tourists more than industry.
Founded in 1920, Sam's Anchor Cafe is popular in fine weather as it has waterfront outdoor seating, while there are a number of upscale restaurants in the downtown region.
Two hotels in Tiburon offer accommodation for visitors, but be aware they are popular in-season thanks to the easy access to the city and its many sights and attractions.
Take the ferry to the famous San Francisco Ferry Building and explore from there. As with many Northern California coastal towns, Tiburon's rich history and culture stretch back centuries. The evidence remains in the shape of some old and treasured buildings.
>> More about the ferry from SF to Tiburon
16. Capitola
The Santa Cruz County town of Capitola is among the most popular tourist destinations in the region. A colorful and welcoming city that grew alongside the logging industry in the 18th century, it is home to many fine restaurants, some with spectacular views across Monterey Bay.
With many beaches - including Capitola Beach and New Brighton Beach, among others - there is plenty here for a fun family holiday.
Built in 1924, the protected Venetian Court dates from the 1920s and is regarded as the first Condominium Beach Community in the USA. Behind it, many more brightly colored homes can be seen on the hills, making this a unique and spectacular sight.
Capitola Village and Esplanade is where you will find boutiques, restaurants, and cafes, while 41st Avenue is the city's business center.
The main shopping area also provides access to the beaches, which are beautiful places to relax and enjoy the fine weather the region is known for.
The larger city of Santa Cruz, famous for its historic boardwalk, is just a few minutes away by road. Capitola is a relaxed yet vibrant city with a friendly aura that is worth visiting.
17. Monterey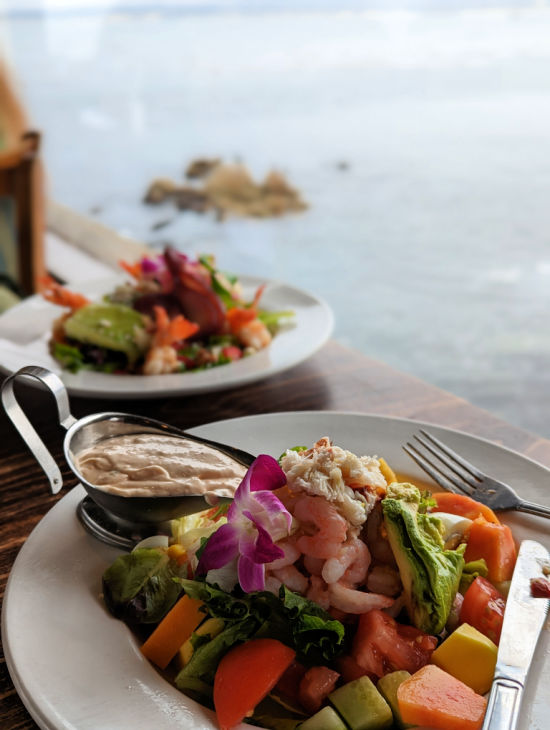 The historic city of Monterey is one of the most delightful beach towns in California. With a selection of fine public beaches, plus a variety of parks and other attractions, it is one of the most popular tourist destinations in the region.
Monterey is popular with campers and RV tourists and offers plenty of choices, while accommodation within the city is plentiful.
Major attractions include the Monterey Bay Aquarium, which informs and engages with its fabulous displays of local marine wildlife.
The bay itself is a protected marine life reserve. As a major city, you will find many fine restaurants, cafes, and interesting shops in the downtown area and the coastal locations.
The historic district of Cannery Row is the place to go to explore the art and culture of the city, with many galleries and exhibitions to enjoy. The town is also famous for the Monterey Jazz Festival, which claims to be the oldest such festival in the world.
Enjoy whale watching from Old Fisherman's Wharf, and you may even spot sea lions in the bay and many other marine creatures.
Lively, fun, and friendly, Monterey is a good choice for a family vacation.
>> More tips to visit Monterey
Comments? Questions? Suggestions?
I would love for you to join me in my private Facebook group! 
It's a great place to interact with me and others who know the area well.
You can ask questions, get advice for your upcoming stay, and then share your photos and advice with others when you return home. It's a great community and the fastest way to get answers to those nagging questions about your visit!