Monterey Events in September: Festivals, Wine Tasting, and More Things to Do

by Jill Loeffler  •

Updated: September 5 2023
Discover a full calendar of the best Monterey events in September 2023. My guide includes options all around the bay including Santa Cruz, Salina, Carmel-by-the-Sea, and others.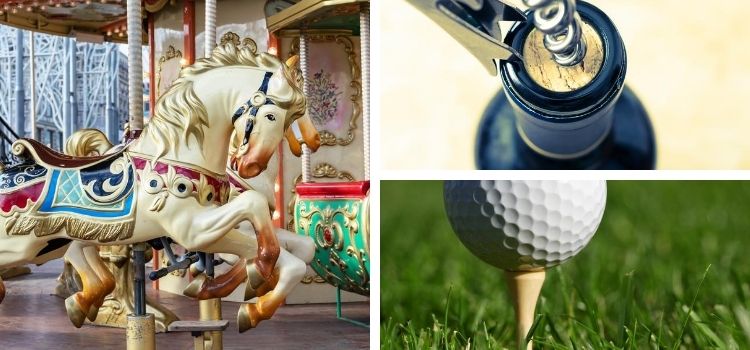 Top picks this month include the Monterey County Fair, PURE Insurance Championship at Pebble Beach, and the Capitola Art & Wine Festival.

Disclaimer: I receive a small commission from some of the links on this page.

Firestone Grand Prix of Monterey

Dates: 9/8 - 9/10
Location: WeatherTech Raceway Laguna Seca
This is the IndyCar fan's dream event as it is the final race that will award the driver, and his team, the open-wheel series crown for 2023.
Some of the best in the world have raced here, and this year will be no exception. You will want to plan ahead and make sure to get close to the action, so you hear the roar of the engines and feel the blast of air as these cars speed along the track.
Monterey County Fair

Dates: 8/31 - 9/4
Location: Monterey Fairgrounds
The annual Monterey County Fair offers live music, family entertainment, and more. All performances are free with admission tickets.
Check out some of the events, such as farmers showing off their livestock and the Jr. Livestock Auction. There are also carnival rides and more fun for kids of all ages.
Click the link below for more information. It's one of the top Monterey events in September.
>> Visit their site for a full schedule and more details
Monterey Bay Greek Festival (cancelled for 2023)
Dates: event cancelled for 2023
Location: Custom House Plaza & Fisherman's Wharf
The Monterey Bay Greek Festival is a two-day event with traditional food, music, and dancing. It's one of the best ways to enjoy the Greek culture. Head down to the Custom House Plaza and Fisherman's Wharf to participate in the fun.
There are also exhibits and lots more for you to enjoy and experience this year. Admission is free.
The event is on Saturday from 11am to 7pm and on Sunday from 11am to 4pm.
Santa Cruz Greek Street Food Festival

Dates: 9/8 & 9/9
Location: Prophet Elias Greek Orthodox Church at 223 Church Street, Santa Cruz
This festival celebrates everything special about the Greek culture and its people. You will enjoy music, dancing, events, and more when you attend this two-day festival. It is almost always voted the "Best Street Festival in Santa Cruz County."
You can shop at the agora and find beautiful Greek Jewelry, pottery, and much more. And what Greek Festival would be complete without loads of great Greek food such as Souvlaki, Gyros, Baklava and more.
If you don't know what those are, or haven't tasted them before, then this is a can't miss celebration for you. Don't miss out as this is one of the best Monterey events in September every year!
All ages are welcome, and admission is free on both days.
The festival runs from 5 pm to 10 pm on Friday, and from noon to 10 pm on Saturday.
Santa Cruz Mountain Sol Festival

Dates: 9/15 - 9/17
Location: Roaring Camp Meadows in Felton, CA
This two-day mountain music festival takes place in a beautiful setting and features artists like the String Cheese Incident, The Devil Makes Three, and many more. The bands cover genres from rock to blues, folk to jazz, and even funk and reggae.
Bring blankets and pillows to get comfy on the lawn. You can buy tickets for either day of the festival (Saturday or Sunday), or both. Many weekend-long attendees choose to camp nearby.
One especially cool feature of the festival is that they offer a 'Sol Train' shuttle option that will take you roundtrip from the Santa Cruz Beach Boardwalk and back on an actual train. (This requires a separate ticket, but it also comes with a separate back entrance to the festival.)
Flavors of Pacific Grove
Date: 9/28
Location: Various locations around Pacific Grove
Times: 5:30 pm to 8 pm
One of the wonderful Monterey events in September includes this fun and charitable event at the Pacific Grove Gold Club House. Each year there are over 120 donations auctioned off that include golf packages, accommodations, trips, and restaurant certificates, among others.
In addition to the auction there are a number of the best chefs that work in Pacific Grove and the Pacific Grove Golf Club House that will make sure to please your palate with their most delicious delicacies. Wine, beer and seltzer tastings will be offered at various locations throughout the event. Plus, there will also be live entertainment.
This is a truly beloved event every year and tickets usually sell out in advance, so it is best to purchase them as early as possible. Tickets sell at $70 per person.
Festa Italia

Dates: 9/8 - 9/10
Location: Custom House Plaza
This annual event celebrates the Italian culture and its history in the city of Monterey. It's a three-day event at the Custom House in downtown Monterey. It includes entertainment, raffles, a bocce tournament, a parade, Italian food and more.
There is an opening mass at the San Carlos Church and then the parade starts at 12 noon. It begins at 500 Church Street and continues through Downtown Monterey ending at the festival's location at the Custom House Plaza.
One of the local favorite events is the blessing of the fleet directly following the parade.
Admission is free.
>> Visit their site for a full schedule
Fun Activities Around the Monterey Bay

In addition to these top-rated Monterey events in September, you will also find other fun things to do throughout the month. These are just a few of my favorites.
Monterey Bay Aquarium: My first recommendation for the Monterey area is always the aquarium. This amazing attraction is consistently voted as one of the best aquariums in the world. Step inside to learn more about the hundreds of species of plants and animals that call the Monterey Bay home.
Half-Day Whale Watching Cruise: Head out on the water in search of whales this September in Monterey. This cruise lasts about three and a half hours and offers you the chance to learn all about some of Monterey's most popular guests. This time of year, you are most likely to see Humpback and Blue Whales as they migrate through the area. You will also want to be on the look out for birds, dolphins, sea turtles, and other local animals. Find out more about this tour.
E-bike Tour: Another fun option for September is to ride around the bay area on an ebike. This tour includes a cruise along the beautiful 17-Mile Drive. Your tour starts with a brief training on your ebike, so all riders are comfortable before you leave. You will then explore several locations along 17-Mile Drive including John Denver Memorial, the Point Pinos Lighthouse, & Asilomar Beach. Your ebike will allow you to go further and faster, so you can see more. Learn more and reserve your spot on this tour today.
Monterey Jazz Festival

Dates: Friday, 9/22 - Sunday, 9/24
Location: Monterey County Fairgrounds
Heading into its 66th year, the Monterey Jazz Festival is the longest running jazz festival in the country. Routinely known as the best jazz festival in the USA, and possibly the world, this is a can't miss event.
Even though it is labeled as a jazz festival, this massive musical gathering also includes soul, rock and roll, hip hop and much more.
This year's event will once again feature top named artists including Thundercat, Ben Flocks Trio, and the Next Generation Jazz Orchestra.
There are different packages for tickets, so be sure to check the link below and find just the right one for you.
>> Visit their site for this year's schedule and ticketing information
Santa Cruz County Fair

Dates: Wednesday, 9/13 - Sunday, 9/17
Location: 2601 East Lake Avenue, Watsonville
This fair has been going on for over 100 years and just continues to get better and more exciting. For seven full days, experience carnival rides, magicians, animal acts, pet shows and so much more including the fan favorite tractor parade.
Attendees love the horse show and the skill and beauty of the horse and rider as they move around the ring. There are lots of exhibits and vendors selling all types of goodies.
There will be lots of events for kids, and adults, since this is an all ages event. Last but not least, there is live music during the event during the daytime and at night.
Check the link below for schedule and ticket prices.
>> Visit their site for more information
PURE Insurance Championship Impacting The First Tee at Pebble Beach
Dates: Tuesday, 9/19 - Sunday, 9/24
Location: Pebble Beach Golf Links and Poppy Hills Golf Course
This is one of the best golf events if you want to see pros, amateurs and juniors from all over the world. This is a 3-day and 54-hole tournament that is widely regarded as one of the most prestigious, and beautiful, in the world.
Some of the players that have attended, or will attend, this event includes Mark Calcavecchia, Fred Couples, Lee Janzen, and many other famous golfers. The amateur round includes 81 teams of two players each.
Juniors aged 15 to 18 years old, from all over the US will also compete at Pebble Beach Golf Links. You will also get to see many legendary golfers as they help mentor these up and coming athletes. This is one of the great Monterey events in September for golf lovers.
>> Visit their site for more details and ticketing information
Capitola Art & Wine Festival

Date: 9/9 & 9/10
Location: Stockton Avenue and Esplanade in Capitola
This fantastic 2-day event will let you experience the best of food, wine, art, and music from the Santa Cruz area. The city of Capitola hosts this 40th annual event and overlooks the Monterey Bay which offers amazing views all along the festival.
Some of the fun events you will find here include checking out pieces from the over 160 artists, tasting delicious wine from the over 20 wineries, and eating fantastic food made by local chefs with local foods.
There will also be great entertainment for the whole family including live music and exhibitions by street performers, dance groups, and more.
Prices and time depend on event. Please check the link listed below to find out specifics.
>> Visit their official site for details
Aloha Outrigger Races
Date: Saturday, 9/16
Location: Santa Cruz Wharf
Time: 8 am - 2 pm
Get ready for some exciting outrigger racing with the Pu Pu 'O Hawaii Outrigger Club! These thrilling short-course races are perfect for beginners or those new to paddling. Don't miss the chance to cheer on the racers or take part in the races yourself! You can enter a 4-person crew online, and you'll be provided with the equipment needed to get racing. 
Each team also receives four t-shirts and plenty of fun is guaranteed! Entries are limited and accepted on a first-come, first-served basis.
Plus, you can also enjoy the captivating hula performances by the talented Kūhai Hālau O Mehanakealohakalaua'eikapoli Pā 'Ōlapa Kahiko. It's an event you won't want to miss! Children must be at least twelve years of age
>> Visit their official site for details
Tri Santa Cruz
Date: Sunday, 9/24
Location: Starts at Depot Park in Santa Cruz
Soak in the views as you race in this year's Tri Santa Cruz. The event features both a sprint and (Olympic) international length triathlon. The event also includes categories for both Clydesdale and Athena racers.
This event is also great for beginners. They will be featuring a non-competitive friends and family race for those just starting out or those not wanting to participate in the hard-core competition.
The course will feature a sheltered swimming area and a mostly flat bike and run course, which makes it perfect for beginners and seasoned professionals.
>> Visit their site to register today
Comments? Questions? Suggestions?
I would love for you to join me in my private Facebook group! 
It's a great place to interact with me and others who know the area well.
You can ask questions, get advice for your upcoming stay, and then share your photos and advice with others when you return home. It's a great community and the fastest way to get answers to those nagging questions about your visit!